DUE TO THE SIZE AND AMOUNT OF GRAPHICS USED IN THIS ARTICLE, IT IS SUGGESTED THAT YOU DOWNLOAD THE PDF VERSION FOR BETTER USEABLITY.
Recent food science graduates received a median starting salary of $45,000. That was one of the findings of an exclusive survey conducted by the Institute of Food Technologists.
IFT has conducted a biennial salary survey among all its members for many years, but this year IFT decided to focus on starting salaries—the salaries that future leaders in the food field begin their careers with.
With almost 95% of graduating IFT student members having Internet capability, IFT decided to conduct, for the first time, a salary survey via the Internet. This would simplify and speed up responses, compared to the mailed-out questionnaires previously used. The survey was conducted for IFT by Research Results, Inc., Fitchburg, Mass.
In December 2001, the company sent an e-mail message to all former IFT student members in the United States whose e-mail addresses IFT had and who graduated in 2000 or 2001. The message asked them to access a 19-question questionnaire on the Internet. The e-mail message was sent to 632 former students, and those who had not responded by the deadline date were sent a reminder. Of the 632 people who were sent the message, 254 responded, representing a 40% response. Of the respondents, 209 (83%) were employed full-time; 32 (13%) were in graduate school.
Salary Data
The data presented below and on the next two pages are for full-time employees. The mean is the arithmetic average. The median means that half of the respondents make more than that amount and half make less. Data are presented for all responses, but the readers should note that the number of respondents (N) for some categories is low.
Demographic Data
Who are these new employees in the food field? The typical starting employee is most likely a 26-year-old white woman with a degree in food science and technology working in research and development in the food industry. Of the respondents, 80% (71% of men and 84% of women) received their highest degree in food science/technology. The field that received the next highest response was food engineering, with only 4% responding (10% of men and 2% of women).
by Neil H. Mermelstein
Editor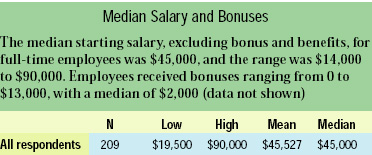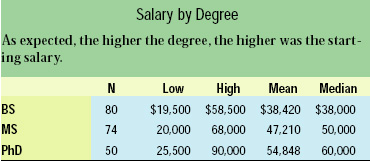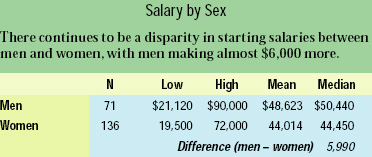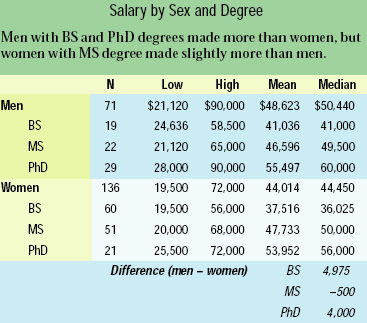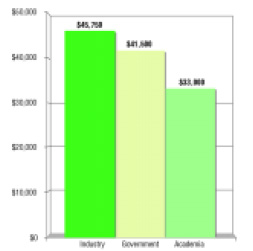 --- PAGE BREAK ---