Food scientists and related professionals from around the world will meet in New Orleans, La., July 16–20, 2005, to explore new developments and share their knowledge during the Institute of Food Technologists' 2005 Annual Meeting + FOOD EXPO®.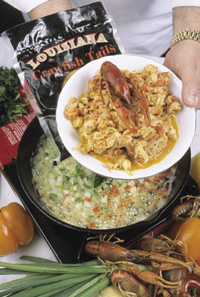 The event will enable attendees to obtain new and valuable information, make and renew contacts, and gather ideas for their professional and business development. Here are some of the highlights of the event.
Learn What IFT Is Doing and Honor Your Colleagues
At the opening session, the Awards Celebration, on Saturday evening, July 16, President Herbert Stone will present his State-of-the-Institute address. You will learn what IFT has done this past year and what's being planned for the future—and how they affect you and your discipline.
Following his address, you can help us honor your colleagues for their outstanding achievements as we recognize this year's Achievement Award Winners and newly elected Fellows.
Hone Your Decision-Making Skills
During the Keynote Session on Sunday morning, Malcolm Gladwell, best-selling author and staff writer for The New Yorker magazine, will transform your thinking on decision making, communication, and the management of trends and change.
His most recent book, Blink—The Power of Thinking Without Thinking, draws on cutting-edge neuroscience and psychology to understand and hone our decision-making skills. Gladwell introduces us to the term thin-slicing, which refers to the ability of our unconscious to find patterns in situations and behavior based on very narrow slices of experience. The best decision makers, he says, are those individuals who can thin-slice or select the few pertinent factors that matter from an overwhelming number of variables.
In his first book, The Tipping Point, Gladwell offered organizations new tools for understanding and exploiting trends. The book presents a new way of understanding why change so often happens as quickly and as unexpectedly as it does.
Ideas and behavior and messages and products sometimes behave just like outbreaks of infectious disease. They are social epidemics. Gladwell will discuss how these concepts relate to the food industry during his keynote address. He was recently selected as among the 100 most influential people by Time magazine.
Experience New Products from Around the World
In two New Products Showcase pavilions on the Food Expo floor, market research firms Mintel and Innova will focus on new food product trends, emerging flavor trends, and overall taste trends.
--- PAGE BREAK ---
Following its very successful interactive pavilion at last year's Food Expo, Mintel will again feature its Global Trends & Tasting presentations. With more than 98% of those who attended last year's session stating that they had "learned something new," you're almost certain to come away with fresh knowledge. This year, Lynn Dornblaser and David Jago will be using their expert insight to investigate two major themes: "Health and Wellness" and "Flavor Trends." You'll learn how the most intriguing launches differ throughout the world and are shaping new product trends. Following each trend presentation, you'll have the opportunity to see and taste more than 50 products that illustrate these trends around the world.
The Mintel presentations and tasting sessions will be held in booth 5526 as follows:
Sunday, Health and Wellness at 2:00 p.m. and Flavor Trends at 4:00 p.m.
Monday, Health and Wellness at 2:00 p.m. and Flavor Trends at 4:00 p.m.
Tuesday, Health and Wellness at 12:00 p.m. and Flavor Trends at 2:00 p.m.
New to Food Expo this year, Innova will feature its Taste the Trend presentations in booth 1915 on Sunday, Monday, and Tuesday from 11:00 a.m. to 5:30 p.m. The presentations by Innova's experts will include tastings of nine original beverage concepts, complete with displays of their packaging materials and ingredient listings. Three beverage concepts will be prepared on-site and presented each day, followed by tasting sessions. Nine major concept themes will be displayed on posters. In addition, resource information will be distributed to provide additional reference.
Visit these pavilions to see new products and innovative applications in the global marketplace. Unique, original insights will provide a very special learning experience.
Watch Chefs and Food Scientists Work Together
At the IFT/RCA Product Development Pavilion (booth 232), presented by IFT and the Research Chefs Association, watch as teams of food scientists and research chefs, assisted by students, formulate and prepare innovative products for retail and foodservice markets. They will explain their development steps and distribute samples to the audience.
Here's the schedule of presentations:
Sunday, Fine Dining at 2:00 p.m. and Manufacturing at 4:00 p.m.
Monday, Beverage at 12:00 p.m., Fine Dining at 2:00 p.m., and Retail at 4:00 p.m.
Tuesday, Theme Restaurants at 12:00 p.m., Quick-Service Restaurants at 2:00 p.m., and Retail at 4:00 p.m.
--- PAGE BREAK ---
Face Your Business Fears
What is the one thing that could cause your company to go out of business, and what can you do to prevent it? Small details overlooked or not handled properly could cause you to close your doors permanently. Monday morning's Hot Topic session (20), "Building Consumer Trust: Top Fear Factors in 2005," will attempt to answer this question and will explore a variety of top fears that affect the food industry and its businesses.
Among the topics the speakers will address are: Will the volatile costs of commodities, including natural gas, price you out of the market? How a simple recall and public perception of its cause can be detrimental if not handled correctly by your risk management team. The growing threat of bioterrorism and what U.S. companies are doing to protect the integrity of the world's food supply. The threat of legal claims and the potential risk for your company as America struggles with health issues related to obesity.
The speakers will present case-history examples of what could go wrong, as well as steps your company can take to protect itself.
Implement Nutrition Recommendations
Tuesday morning's Hot Topic session (55) will address "Opportunities and Limitations of Food Science and Technology in Implementing Nutrition Recommendations Through Food-Based Solutions." The science that drives nutrition recommendations is complex and continuously evolving, and so are the advances in food science and technology that enable product innovation to help consumers implement them. However, there are frequently limitations to what food science and technology can do to deliver such products.
This Hot Topic session will explore ways to establish a dialogue between the food science community and public health stakeholders to manage the limitations and leverage the capabilities that food science can bring to bear on public health recommendations. The topic of obesity will be used as an example to identify the potential of food science to provide food-based solutions to this dilemma, and to explore how such capabilities can be understood and leveraged among all public health stakeholders.
Learn About the New Dietary Guidelines
On Tuesday morning, in a special session entitled "State of the Food Industry Forum," food industry leaders will discuss adapting product development strategies to address the new 2005 Dietary Guidelines for Americans. They will delve into the challenges of reformulating foods—for example, to reduce sodium content—while delivering safe, nutritious, and appetizing products for Americans who are increasingly focused on wellness through food. The speakers will discuss the Dietary Guidelines, how they were developed, food industry perspective, and communication and education challenges.
--- PAGE BREAK ---
Continue Your Education
In addition to the Technical Program, IFT offers 1- and 2-day continuing-education programs on Friday and Saturday, July 15–16. These Pre–Annual Meeting programs focus on such topics as understanding flavor, understanding liability, ingredients for health and wellness products, culinary training, functional foods, legal concerns, partnering food industry quality systems, commercializing nonthermal technologies, and mastering innovative product design. Registration is available through www.am-fe.org or on-site at the Hilton Riverside Hotel.
Preview the Program and Exhibits
During the Technical Program on Sunday through Wednesday, more than 1,800 oral and poster presentations will provide you with information on the newest developments in food science and related areas—a way to help you keep up with the expanding state of knowledge of food science and technology.
And 2,200 exhibit booths featuring products and services from more than 1,000 companies from around the world await you at this year's Food Expo, which will be open from 11:00 a.m. until 5:30 p.m. on Sunday through Tuesday. A 2-hour break between the morning and afternoon technical sessions will allow you to visit the exhibits without missing the technical presentations you want to attend.
In the following pages, Food Technology's editors preview selected technical sessions, papers, and exhibits to help you determine in advance which of them you will want to be sure you get to.
Ingredients will be covered by Donald Pszczola and Karen Banasiak, Nutraceuticals by Linda Milo Ohr, Processing by Peter Clark, Packaging by Aaron Brody, and Safety & Quality by Bob Swientek. These sections are followed by a complete list of Food Expo exhibitors and their booth numbers and the complete Technical Program as of press time.
We hope that this Preview will entice you to attend and help you plan your schedule ahead of time in New Orleans.
The complete technical program, abstracts, and exhibitor descriptions are also available in searchable form online at www.am-fe.ift.org. You can also register online via the site.
We look forward to seeing you in New Orleans!
---
Become a Wine Expert 
IFT's Fermented Foods & Beverages Division will present a program entitled, "How to Select & Taste Wine Like an Expert." The session will take place from 5:30 to 7:30 p.m. on Sunday at the Hilton Riverside Hotel. It will answer such questions as: Why do wine experts rarely use the term "grapey" to describe wine even though it's made from grapes? Where do all those other aromas and flavors come from? How can I enhance my ability to smell and taste wine like an expert? How can I look and be more confident ordering wine in restaurants?
--- PAGE BREAK ---
Come and enjoy two hours of sensory exploration where these and many other of your wine-related questions will be answered by Certified Wine Educator Patrick Dodd, E&J Gallo Winery's Director of Education and Hospitality. You will come away with an understanding of the basics of wine and feel comfortable and knowledgeable when ordering, buying, and tasting wine.
Course registration is $100 and includes membership in IFT's Fermented Foods & Beverages Division. You can sign up for the course online when you register for the IFT Annual Meeting + Food Expo at www.am-fe.ift.org or on-site. Tickets are limited.
---
Attend IFT's International Food Safety & Quality Conference
At this full-day conference, "Challenges to International Trade," to be held on Wednesday, July 20, in conjunction with the IFT Annual Meeting + Food Expo, leading experts from industry, academia, and government will focus on food safety and quality with special emphasis on global food production.
Sessions include "Major Animal Disease Implications for International Trade," "Food Defense/Food Security," and "International and Domestic Regulations, Policies, and Standardization Issues." Luncheon speaker Robert Tauxe of the Centers for Disease Control and Prevention will speak on "Innovations in Public Health: Surveillance and Outbreaks."
A separate registration of $50 is required for this conference, including lunch, and registration is open only through Monday, July 18. See www.am-fe.ift.org for details.
In support of its mission, vision, and values, the Institute of Food Technologists continually strives to provide unparalleled programs and services that are at the forefront of the industry, for the benefit of the audiences it serves. Such programs and services may include partnerships with other organizations. These working relationships should not be misconstrued to represent an expressed or implied endorsement of such organizations, or their products, services, and programs.