The popular self-help book Men are from Mars, Women are from Venus sought to improve communication between men and women by focusing on the differences between the sexes, such as different emotional needs.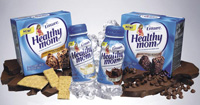 Men and women also have different health and nutritional needs, opening the door to specific functional foods and supplements for each sex. The market for gender-specific foods, however, is still young. Of the new products tracked between January 2000 and January 2005, 0.6% were aimed at women and 0.2% were targeted at men, according to a report by Research and Markets Ltd., "Gender Marketing Strategies in Food and Drinks: Future Profit Opportunities, Best Practice Innovation and NPD." The report states that "Top gender targeted categories such as meal replacements and diet foods, health drinks and energy drinks reveal that gender targeting tends to fit with products with health benefits."
Another report, "The US Market for Women's Foods and Beverages," from Packaged Facts, a division of MarketResearch.com, concurs that energy drinks and the snack bar category show high propensity to gender targeting. For example, in the snack bar category, 28 of the 1,007 products launched in the past five years were launched explicitly for female consumers, with just six launched specifically for men. In the energy drink category, 3.4% of the 583 new products were aimed at either men or women specifically.
Both men and women face heart disease and cancer as the top two leading causes of death. However, the types of cancer are different, leading to different nutritional ingredients that may benefit these conditions. In addition, aside from heart disease and cancer, men and women have different health concerns, such as menopause for women. The following is a brief look at some of the ingredients that have recently been reported to have benefits for individual sexes.
Women's Health
The Packaged Facts report identifies women as one of the most important consumer groups for functional foods because they have more specific health and nutrition needs than men, such as during pregnancy, post-partum, menstruation, and menopause.
• Heart disease is the No. 1 cause of death for women in the United States., responsible for nearly 489,000 deaths each year, according to the Mayo Clinic. Omega-3 fatty acids, soy protein, oat beta-glucan, and, most recently, grape polyphenols have all been shown to benefit women's heart health.
Researchers from the University of Connecticut and Columbia University used a lyophilized grape powder (LGP) consisting of 92% carbohydrate and rich in flavans, anthocyanins, quercetin, myricetin, kaempferol, and resveratrol to evaluate the effects of grape polyphenols on key risk factors for coronary heart disease in 24 pre- and 20 post-menopausal women (Zern et al., 2005).
--- PAGE BREAK ---
Plasma triglyceride concentrations were reduced by 15% in the pre-menopausal women after they had taken the grape powder, and by 6% in the post-menopausal women. Levels of plasma low-density-lipoprotein (LDL) cholesterol and apolipoproteins B and E were also lower. The researchers concluded that "Through alterations in lipoprotein metabolism, oxidative stress, and inflammatory markers, LGP intake beneficially affected key risk factors for coronary heart disease in both pre- and postmenopausal women."
• Cancer is the second leading cause of death of women in the U.S., with breast cancer being the second-leading cause of cancer death. The American Cancer Society estimates that more than 211,000 women will be diagnosed with breast cancer in 2005.
Soy protein, which is most commonly linked with benefits in heart health, may also help in the fight against breast cancer. Regular consumption of soy protein–containing foods and beverages was recently shown to reduce the risk of breast cancer in women by as much as 22% (Yan and Spitznagel, 2005a).
The meta-analysis showed not only a reduction in breast cancer risk in both pre- and post-menopausal women, but also demonstrated that adolescent soy intake may be related to a lower risk of developing breast cancer later in life. The study is part of the evidence in a petition the Solae Co., St. Louis, Mo., filed with FDA for a qualified health claim linking consumption of soy protein–containing foods and beverages to a reduced risk of certain types of cancer, including breast, prostate, and colon cancer.
• Osteoporosis is a major concern for women, especially after menopause. Several nutritional ingredients have research supporting their benefits for women after menopause, including prebiotics and omega-3 fatty acids.
An enriched inulin, Raftilose® Synergy1 (Orafti Active Ingredients, Malvern, Pa.), was shown to improve calcium and magnesium absorption in post-menopausal women (Orafti, 2004). The study, conducted at the Palo Alto VA Health Care System in California, involved 15 healthy post-menopausal women. Results showed that the enriched inulin could enable post-menopausal women to increase their calcium uptake by as much as 20%.
Researchers also examined its effect on absorption of magnesium. Studies have indicated that some postmenopausal women with osteoporosis have a significant reduction in magnesium levels in both serum and bone. The study showed an increased magnesium uptake by up to 20% compared with the placebo. The enriched inulin powder contains a specific distribution of carefully selected chain lengths of inulin and oligofructose.
Scientists at Purdue University and Indiana University School of Medicine recently showed that a balance of omega-3 and omega-6 fatty acids may help prevent bone loss seen with post-menopausal osteoporosis (Watkins et al., 2005). They found that diets with a low ratio of omega-6 fatty acids to omega-3 fatty acids minimized the bone loss typically brought on by estrogen deficiency, which is common in post-menopausal females.
The study assessed bone mineral content and bone mineral density in ovariectomized rats. "We saw in this study that omega-3 fatty acids are associated with a better blood profile of bone health, and with higher bone mineral density, in the absence of estrogen," said Bruce Watkins, Professor and Director of Purdue's Center for Enhancing Foods to Protect Health. "A 5-to-1 dietary ratio of omega-6 to omega-3 fatty acids led to a conservation of bone mineral content that we didn't see with a 10-to-1 ratio."
--- PAGE BREAK ---
Men's Health
Heart disease is also the leading cause of death among men in the U.S. In 2002, 429,682 men died of heart disease. A study of 1,000 adults commissioned by Nurture Inc., Devon, Pa., found that high cholesterol ranked as the No. 1 health concern for men. According to the study, 77% of men said they are concerned about high cholesterol.
The company offers OatVantage, a highly concentrated source of cholesterol-lowering oat soluble fiber. A recent study highlighted the ability of the fiber to lower cholesterol by delivering intestinal viscosity. (Nurture, 2005). The intestinal viscosity of the fiber was compared to a cellulose control in male rats. Nurture's product delivered almost 4,000% more intestinal viscosity than the cellulose, 48% more than cooked oatmeal, and a 29% decrease in cholesterol.
As with women, cancer is the second-leading cause of death for men in the U.S., and prostate cancer is the second-leading cause of cancer death in men. Lycopene is the nutrient most consumers associate with men's health and prevention of prostate cancer. Currently, FDA is reviewing a qualified health claim for the link between lycopene and reduced risk of prostate cancer. LycoRed Natural Products Industries, Ltd., Woodbridge, Conn., recently announced that it received word that FDA was satisfied with the company's determination that its natural tomato lycopene, Lyc-O-Mato® Powder, is safe for functional food use, opening the door for fortification of foods with lycopene. The ingredient contains beneficial tomato phytonutrients, including lycopene, beta-carotene, and tocopherols.
Soy protein, flax lignans, and vitamin D have also recently been shown to help. A review of eight population studies showed that regular consumption of soy protein–containing foods and beverages may reduce the risk of prostate cancer in men by as much as 30% (Yan and Spitznagel, 2005b).
A 20% flax lignan extract, LinumLife® Extra, from Acatris Inc., Minneapolis, Minn., was shown to be beneficial in the treatment of benign prostatic hyperplasia (BPH) in Wistar rats (Acatris, 2005). BPH is a non-malignant enlargement of the prostate gland that causes urinary obstruction among middle-aged men.
--- PAGE BREAK ---
The study findings show that the rats fed with the extract in their diet had significantly smaller prostates than the rats with induced BPH on a diet without it, said Marian Verbruggen, R&D Manager at Acatris. "Earlier studies using flaxseeds have been conducted showing similar results. We are excited about the study's promising findings with a 20% lignan extract. Further studies in humans will follow in the near future."
Another study showed that vitamin D may also protect against prostate cancer (Davis, 2005). Researchers reported that men with higher levels of vitamin D in their blood were almost half as likely to develop aggressive forms of prostate cancer as those with lower amounts.
"Our findings suggest that vitamin D plays an important protective role against prostate cancer, especially clinically aggressive disease," said lead investigator Haojie Li, Research Fellow at Brigham and Women's Hospital and Harvard University School of Public Health. The research was presented at the 2005 Multidisciplinary Prostate Cancer Symposium in the U.S.
---
Formulating for the Expecting Woman
When it comes to women, health concerns and nutritional needs change with life stages. For example, pregnant and breastfeeding women require folic acid and omega-3 fatty acids to aid in their baby's development. Supplements that target this population are hitting the shelves.
For example, Ensure Healthy Mom™ Shakes and Snack Bars are new products from Ross Products Div. of Abbott, Columbus, Ohio. With at least 20 vitamins and minerals, the shakes and snack bars are made specifically to help meet the unique nutritional needs of pregnant women, nursing mothers and women who may soon become pregnant. They are designed to complement the prenatal vitamin and help provide women with the protein, calcium, and other nutrients their bodies need for their babies, like iron, folic acid, and vitamins D and E.
Another example is Expecta™ Lipil®, a docosahexaenoic acid supplement for pregnant and breastfeeding moms offered by Mead Johnson Nutritionals, Evansville, Ind. Each softgel provides 200 mg of supplemental DHA from a non-fish source.
by Linda Milo Ohr,

Contributing Editor, Denver, Colo.
[email protected]
References
Acatris. 2005. New study confirms positive effect of flax lignan extract on prostate health. Press release, May 23. Acatris, Inc., Minneapolis, Minn.
Davis, J.L. 2005. Vitamin D may lower prostate cancer risk. WebMD Medical News. Feb. 18.
Nurture. 2005. OatVantage proves superiority in building cholesterol-lowering viscosity. Press release, April 25. Nurture, Inc., Devon, Pa.
Orafti. 2004. Press release, Oct. 7. Orafti Active Ingredients.
Watkins, B.A., Li, Y., and Seifer, M.F. 2005. Dietary ratio of n-6/n-3 PUFAs and docosahexaenoic acid: actions on bone mineral and serum biomarkers in ovariectomized rats J. Nutritional Biochemistry. Uncorrected proof, in press. Available online June 21.
Yan, L. and Spitznagel, E. 2005a. A meta-analysis of soyfoods and risk of breast cancer in women. Intl. J. Cancer Prevention 1: 281-293.
Yan, L. and Spitznagel, E. 2005b. Meta-analysis of soy food and risk of prostate cancer in men. Intl. J. Cancer Prevention. Online publication ahead of print, June 8.
Zern, T.L., Wood, R.J., Greene, C., West, W.L., Liu, Y., Aggarwal, D., Shachter, N.S., and Fernandez, M.L. 2005. Grape polyphenols exert a cardioprotective effect in pre- and postmenopausal women by lowering plasma lipids and reducing oxidative stress. J. Nutr. 135: 1911-1917.