Flavor is one of the most important aspects of a food or beverage and will determine that product's success or failure in the marketplace. The development of artificial sweeteners has come a long way over the past several decades, but one of the major complaints consumers have about some of these sweeteners is their taste.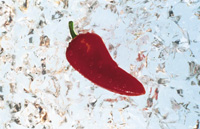 In his Ingredients article elsewhere in this issue, Don Pszczola writes about how several different ingredient developments showcased at this year's IFT Food Expo have evolved in response to changing demographics; consumer demands, such as complaints about taste; health concerns and the increasing amount of research linking certain foods and ingredients with the development of certain diseases; and a desire to improve on the ways in which ingredients interact with each other to ensure more successful food and beverage products. The development of flavors has not been exempt from this.
Attendees walking the show floor at this year's IFT Annual Meeting + Food Expo® could see examples of how flavors are being developed for and used in healthier food and beverage products; how consumers who are developing a more sophisticated palate are demanding more authentic flavors; and how the changing demographics of many countries around the world continue to drive flavor trends.
Let me concentrate for a moment on the third point I just made. What I noticed most at this year's Food Expo was the abundance of prototypes featuring what could be called international and regional flavors. The popularity of these flavors has increased as more people travel to other parts of their own country or abroad; more information about other cultures is made available through the Internet, print, and broadcast; and people are willing to try new foods and beverages.
Market researchers from Mintel, Chicago, Ill. (phone 312-932-0400; www.mintel.com), shared information about flavor trends at its Global Trends & Tasting presentation. Information from the company's Global New Products Database examined flavor trends in three key categories (salty snacks, ready-to-drink juices, and sugar confectionery) in four geographic markets (Asia Pacific, Europe, Latin America, and North America). The findings show that while there is some overlap in the popularity of some flavors across the geographic regions (orange was the top flavor for ready-to-drink juices in all four regions for the period 2003–June 2005), many of the popular flavors are reflective of the types of foods consumed in those regions.
For example, in Asia where seafood is abundant, it is no wonder that fish and shrimp were among the top 10 flavors for salty snacks in the Asia Pacific region. Likewise, in the Latin America region, popular flavors for ready-to-drink juices and candy reflect many of the indigenous fruits (lime, mango, and guava).
The results show some interesting trends, even though the geographic regions are not as defined as I think that they should be. For instance, Mexico often gets placed in the general region of Latin America even though the cuisine and many of the ingredients and flavors are different from the cuisines of Puerto Rico and Cuba, two other countries often included in the Latin America region.
--- PAGE BREAK ---
Walking the Show Floor
The following are descriptions of some of the interesting developments in and use of flavors that were served at Food Expo. Many of the developments can be categorized into an "international and regional flavors" category. I have also included a few other noteworthy prototypes and innovations, some of which will illustrate how flavor ingredients have evolved in some of the ways I mentioned earlier.
• The Savory Side of Chocolate. ADM, Decatur, Ill. (phone 800-637-5843, www.admworld.com), offered a smorgasbord of food and beverage items that featured ADM ingredients, including many inspired by New Orleans cuisine. One prototype worth noting was Bread Pudding with Chili Chocolate Sauce. Americans and Europeans use chocolate as a sweet seasoning, but this is not always the case in many other cultures. For example, many ancient cultures in Latin America combined chilies and savory spices with cacao. Certain recipes for mole, a favorite sauce in Mexico, call for mixing chilies, garlic, tomato, and spices with just a small amount of chocolate.
In the bread pudding prototype, ADM combined a food popular in England with the savory flavors of Central America. The pudding was flavored with Merckens® Falls Dark Chocolate, De Zaan® Cocoa Powder, chili paste, ginger, and vanilla.
Other exhibitors showcased other prototypes that combined chocolate with the flavors of savory spices, and descriptions of these are included elsewhere in this article.
• Bitter Blocker and Flavor Stabilizer. Blue Pacific Flavors & Fragrances, City of Industry, Calif. (phone 800-248-7499 or 626-934-0099, www.bluepacificflavors.com), showcased two new ingredients in beverage applications. Its B-Block™ is said to provide masking properties for soy protein, milk or whey proteins, B vitamins, and other vitamin and preservative blends, such as sodium benzoate and potassium sorbate. This blend of bitter-blocking and flavor-enhancing compounds blocks astringent notes from being tasted while simultaneously lifting and enhancing the overall desirable flavor of a food or beverage.
Functional foods and beverages are growing in popularity so Blue Pacific created the compound to help eliminate the bitter and astringent "off notes" that functional ingredients such as vitamins, minerals, soy, and preservatives typically impart to functional food products. It also contains flavor-enhancing compounds, which increase the perceived intensity of the other desirable flavors in the food or beverage.
Another product the company debuted at Food Expo was StabilEase™, a functional natural flavor enhancer. The proprietary product enhances the creamy flavor and mouthfeel in ice cream and dairy- and soy-based beverages and has the added functionality of protecting dairy and soy proteins from separating when acidified. According to the company, this flavor enhancer helps developers to create all-natural-flavored milk or soymilk acidified beverages, which can be made stable for up to six months at ambient temperatures. These beverages require no retort, aseptic, or UHT processing, can be hot filled, and can be filled into clear or cloudy PET, glass, or plastic bottles.
--- PAGE BREAK ---
• Fruit-Flavored Water that Truly Tastes Like Fruit. Danisco USA Inc., New Century, Kans. (phone 800-255-6837, www.danisco.com), has developed a line of fruit flavors based on highly sensitive real-time and quantitative measurements of the release of volatiles responsible for human taste perceptions. This, the company said, helps to make the flavor taste like the real fruit. Commonsense™ Flavors were specifically formulated for use in flavored waters and include Natural Apple Flavor, Natural Orange Flavor WONF, Natural Peach Flavor, Natural Raspberry Flavor WONF, and Natural Strawberry Flavor.
The company featured its True Waters beverage, which included the flavors from the Commonsense line. No-added-sugar versions were formulated to also include the Aura™ Flavors, which are said to provide a clean, fresh taste with no bitter or unpleasant aftertaste. Danisco designed each True Waters beverage according to the sweetness perception and acidity level of the real fruit.
• Exotic Fruit-Flavored Beverages. With steamy conditions outside the exhibit hall, I could not wait to stop by the booth of David Michael & Co., Philadelphia, Pa. (phone 215-632-3100, www.dmflavors.com), to try some beverages that combined exotic fruit flavors from Mexico, Asia, South America, and Africa with more familiar flavors. This concept was a great example of how some ingredient suppliers are experimenting with various ethnic flavors to give consumers something new and exciting.
One thing that I noticed is that while some of the flavors were ones I have never tasted, others had the flavor of more familiar fruits that I have eaten. Some of the interesting flavors that David Michael showcased in its "Mardi Tropicals" beverages were Marula Mango, which combined the tart flavor of marula (Natural Flavor Marula Type), a fruit that grows wild in areas of southern and western Africa, with mango and vanilla flavors (Natural Mango Flavor WONF , Natural Vanilla Flavor WONF ).
Tamarind is a popular spice in Asian and Latin American cuisines and is also a favorite candy flavor in Mexico. Unripened tamarind is sour, but ripened tamarind is sweeter. This flavor (Natural Tamarind Flavor WONF) was used with pear and vanilla flavors (Natural Pear Flavor WONF , Natural Vanilla Flavor WONF ) in Tamarind Pear.
Lulo Lime featured lulo and lime flavors (Natural Flavor Lulo Type, Natural Lime Flavor WONF ). Lulo, which is indigenous to Peru, Ecuador, and southern Colombia, has a taste that is similar to pineapple-lemon.
Acai Raspberry was another example of what many exhibitors say is a flavor that is growing rapidly in popularity, acai.
--- PAGE BREAK ---
• And the Oscar Goes to… FONA International, Geneva, Ill. (phone 630-462-1414, www.fona.com), rolled out the red carpet for attendees at this year's Food Expo. Its booth, designed like a movie theater, even included a concession stand that featured favorite theater foods infused with the company's flavors.
There was frozen yogurt (with N&A Caramel Apple Flavor, cookies (with N&A Honey Flavor and Artificial Cinnamon Flavor, popcorn (with NorCap N&A Hot Jalapeño Flavor, NorCap Artificial Cheddar Cheese Flavor, and NorCap Artificial Butter Flavor), and juice (with Artificial Guava Flavor). The concession stand also included two other interesting prototypes: Glazed Donut Flavored Hard Candy and Kiwi Champagne Flavored Beverage.
The company developed the glazed donut-flavored hard candy to give consumers an indulgent sweet taste in a small package with minimal calories and fat. According to the company, adults and children are becoming more open to trying food products or the taste of food products that have been incorporated into nontraditional product forms, such as peanut-butter-and-jelly ice cream and cookies-and-cream candy bars. The hard candy combined the flavor of vanilla with buttery-fried-cake notes.
To tie into the movie premier theme of its booth, the company showcased a champagne-flavored beverage in which the champagne flavor complemented the sweet-tart flavor of kiwi.
• Indian-Inspired Flavor Ingredients. Walking around the show floor, I noticed many ethnically diverse prototypes in which exhibitors showcased their ingredients. While Mexican cuisine and flavors continue to be hot in the United States—many of the interesting uses of flavors I am writing about in this article are Mexican—and Asian cuisine and flavors are rapidly growing in popularity, several exhibitors told me that the next big trend in cuisine and flavors will be Indian.
Kerry Ingredients, Beloit, Wis. (phone 608-363-1200, www.kerryamericas.com), featured a natural East Indian BBQ flavor profile adapted for the American palate in a pizza application, Chicken Tikka Pizza. According to the company, consumer interest in Indian-style cooking is growing but Americans prefer small changes and are not that likely to accept new food forms. The pizza is made with several natural ingredients, including dry sauces, seasonings, and marinades, and is a recognizable food form that helps in new-product trials.
• Chocolate-Coated Chicken. Here is another offering that combines savory flavors with chocolate. Kerry's Choco-potle Chicken Thigh Strips combine dark chicken meat with dark chocolate flavored with chipotle pepper in the mole tradition of southern Mexico. The combination of these flavors should appeal to consumers who are looking for more authentic Mexican food than the local fast-food taco restaurant offers.
• Home-Cooked Flavor Without Cooking at Home. Cooking a meal from scratch or almost from scratch at home can take hours to balance flavors and textures. Food product developers will be able to capture home-cooked flavor without increasing their cooking and manufacturing times when they use Pan Drippings Flavors, a new line of home-style flavorings developed by Kraft Food Ingredients Corp., Memphis, Tenn. (phone 901-381-6500, www.kraftfoodingredients.com).
--- PAGE BREAK ---
Chicken Pan Drippings Flavor, used in Holiday-style Turkey Cranberry "Rangoon," captures the flavor of roasted chicken, is available with or without sage flavor, and adds an intense, fatty chicken flavor to foods.
Beef Pan Drippings Flavor, used in Roasted Beef Pan Drippings Salisbury Steak, has savory beef fatty notes, enhances beef character in beef-containing applications, improves the flavor of lower-cost cuts of beef, and helps minimize warmed-over flavor.
• Grill Flavor—More than Just Barbeque. Several grill and roast flavors were featured in ethnic-themed foods by Red Arrow Products Co., Manitowac, Wis. (phone 920-769-1100, www.redarrowusa.com). According to the company, grill flavors in the past have been one-dimensional and often imparted what is described as a butane note. So the company investigated the characteristic flavors that develop when vegetables, red meats, and white meats are grilled and found that the flavor characteristics most frequently attributed to the grilling process were char-grill notes, charred notes, savory juices, smoke compounds, and flavors from a heat source such as charcoal. The company recreated this combination of flavors in a line called Grillin'®, and demonstrated how these grill flavors and a roast flavor complement ethnic cuisine.
In a bistro-like setting, Red Arrow used its flavors from this line in three menu items. Mediterranean Spiced Mushrooms Stuffed with Grilled Vegetables featured Grillin' 5400 Series, a flavor developed to complement vegetables with a char-grilled flavor closely identified with vegetables finished on the grill. The char-grill, savory, and smoky notes are balanced to complement the vegetables without overwhelming the palate.
Lime Cilantro Marinated Grilled Chicken used the Grillin' 5600 Series, which was developed to complement white meat products such as chicken, turkey, and pork. The flavor contains roasted, caramelized, slightly smoky, and char-grill notes to reproduce the effect of outdoor grilling.
Soy Sesame Marinated Grilled Beef used the Grillin' 5800 Series, which captures the darker-roast caramelized, smoky, and char-grilled notes that become prominent when red meat is grilled. This taste sensation develops in meat seasoned with this ingredient, during different methods of cooking, including flat-top grilling or microwaving.
The company also featured Steamed Wontons Stuffed with Thai Spiced Roasted Pork, which was made with Roastin' 3106, a natural dark-roasted pork flavor.
--- PAGE BREAK ---
• Tomatoes Take on a New Twist. With the growing popularity of cooking shows on television and the increasing number of cookbooks in bookstores, it is no wonder that consumers are getting more creative in their use of traditional ingredients. Take sun-dried tomatoes, for instance.
Traditional uses for sun-dried tomatoes have been in salads and spreads and as toppings for pizza. Valley Sun Products of California Inc., Newman, Calif. (phone 209-862-1200, www.valleysun.com), showcased prototypes of some quite different uses of sun-dried tomatoes and how their characteristic flavor can enhance the overall flavor of some well-known foods. Sun-dried Tomato Guacamole Sun-dried Tuna Salad, and Sun-dried Cole Slaw represent different ways to use sun-dried tomatoes in recipes that call for other types of tomatoes or no tomatoes at all.
• Make a Splash with Chile Peppers. Vegetable Juices Inc., Bedford Park, Ill. (phone 708-924-9500, www.vegetablejuices.com), produces a line of chile pepper juices, purees, dices, and sauces. For Food Expo, the company made a beverage using one of its chile purees to illustrate how ingredients from its chile pepper line can be used.
Cranberry Cider with a Chipotle Splash was quite an unusual combination of flavors. I am used to cranberries being combined with apples or pears, so I was quite intrigued when I saw this combination. The beverage is mostly cranberry juice; the chipotle puree and spice blend are used at very low levels but still help to tone down the tartness of the cranberry juice.
• A Wild Time South of the Border. Wild Flavors Inc., Erlanger, Ky. (phone 859-342-3600, www.wildflavors.com), showcased some exotic flavors in several Mexican-themed prototypes developed as a result of the increasing popularity of foreign cuisine and growth in the Mexican population in the U.S. At its booth, I saw another example of chocolate being used to flavor a product that you usually do not think chocolate would complement. Chocolate Balsamic Vinaigrette was a blend of chocolate and balsamic vinegar, combining the cocoa flavor of chocolate and the tanginess of the vinegar.
Wild used its hibiscus flavor to create an agua fresca (fresh water), Agua de Jamaica (hibiscus). This beverage, popular in Mexico, is made from dried hibiscus petals and sugar. Hibiscus has tart and fruity notes and its taste is similar to that of citrus, and the sugar in the beverage helps to counter the tartness.
--- PAGE BREAK ---
The company also featured its tequila lime seasoning in Tequila Lime Trail Mix. The blend of spice and heat with a touch of lime was applied to a mix of nuts, pepitas, papaya, pineapple, and sunflower seeds, but the company said that the seasoning mix can be customized for specific product requirements.
Probably the most interesting of the prototypes shown was an herbal tea that contained flavors not only from Mexico but also from other regions around the world. Dragonfruit Sea Buckthorn Yerba Mate Energy Tea was a tea brewed from the leaves of the yerba mate plant, found in South America. The sweet-tasting dragonfruit hails from Mexico and Central America. There are many different types of buckthorn plants, which are indigenous to northern Europe and Asia and mountainous regions in China. The berries of sea buckthorn have an acidic taste.
Overall Themes
As obvious from the above discussion, I noticed several overall themes regarding the use of flavors at this year's Food Expo.
Hispanic cuisine and flavors are popular, especially Mexican. Whether incorporating chilies into sweet applications or using chocolate in savory applications, the influence of Mexican cuisine is growing.
Ginger, either the spice or natural or artificial flavor, was used in many prototypes that I did not mention in this article. The use of this spice to flavor food and beverages is used in Indian and some Asian (Thai) cuisines, and as these cuisines grow in popularity around the world, we will see ginger and ginger flavor being incorporated into more formulations as a main flavor ingredient or as a flavor ingredient layered with other flavors.
Alcohol flavors were used to complement everything from savory snack mixes to fruit-flavored juices. Actual alcohol was used by food technologists and chefs to prepare fine-dining and quick-serve items at the IFT/RCA Product Development Pavilion.
Finally, use of the acai fruit is gaining in popularity—acai flavor was featured on its own or in combination with other flavors in many prototypes, including hard candy and juices.
This article presented just a small sampling of what is new in the flavor industry and how some of the changes made by the flavor industry resulted from overcoming challenges of using flavors in healthier food and beverage products, consumer demands, and shifting demographics. The future will present more changes as product developers are faced with new challenges.
by Karen Banasiak,
Assistant Editor 
[email protected]