The Institute of Food Technologists' 65th Annual Meeting + Food Expo®, held in New Orleans, La., on July 12-16, 2005, attracted more than 18,000 attendees and featured many technical presentations, exhibits, meetings, short courses, and social events—as well as changes in format from previous events. Here are some highlights.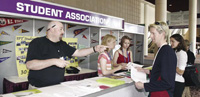 Awards Celebration & Welcome Reception
In a departure from previous IFT Annual Meetings, the Awards Ceremony took place on Saturday evening, followed by the Welcome Reception, and the Keynote Session was held the next morning.
At the Awards Celebration, IFT President Herbert Stone (1) welcomed the attendees, saying that exciting changes are underway in the organization to build on IFT's accomplishments. In his State-of-the-Institute speech, he said that "to maintain our promising momentum, create a flexible and nimble environment for growth, and assure that IFT remains a worldwide leader in providing sound science," IFT has established four task forces addressing strategic development, governance, board leadership, and the Annual Meeting scientific program.
He then presented plaques to this year's Achievement Award winners and newly elected Fellows. Gustavo Barbosa-Cánovas (2) received the Nicholas Appert Award, IFT's highest honor, for his preeminence in and contributions to the field of food technology. Stone then thanked immediate Past President Ann Hollingsworth for her service to IFT and introduced IFT's President-Elect Margaret Lawson (3), who takes office as President this month. IFT Student Association Chair Rodney Green presented her with a gavel donated by the Student Association, and Stone gave her Roberts' Rules of Order. Lawson then introduced President-Elect II Dennis Heldman, who will take office as IFT President in September 2006.
At the Welcome Reception following the Awards Ceremony, attendees visited with friends and colleagues and enjoyed New Orleans music and cuisine (4) and (5) .
Keynote Session
At the Keynote Session on Sunday morning, IFT's Executive Vice President Barbara Byrd Keenan (6) presented welcoming remarks. Food Technology Editor-in-Chief Bob Swientek (7) unveiled the redesign of IFT's flagship publication and invited attendees to pick up a copy at IFT's booth in the exhibit hall. Keenan announced a cooperative project with Discovery Education to encourage food science as a career, and Discovery Education's Steve Seidel (8) presented a short video about his organization and said that the Discovery team would be photographing and interviewing during the Annual Meeting + Food Expo for use in the video that would be distributed in educational kits to 18,000 high school science and guidance departments in January 2006.
--- PAGE BREAK ---
Keenan then introduced Kenneth Quinn, (9) head of the World Food Prize Foundation, who announced to the scientific community via the IFT Annual Meeting that this year's winner of the World Food Prize is Modadugu Gupta of India for pioneering the development and dissemination of low-cost techniques for freshwater fish farming by the rural poor. The choice of the IFT Annual Meeting as a forum for announcing the winners, Keenan said, is "a paramount example of the prestige and esteem in which IFT is held around the world." Quinn, former U.S. Ambassador to Cambodia, encouraged IFTers to nominate colleagues from the food science and technology profession for future prizes.
Keynote speaker Malcolm Gladwell (10), best-selling author of The Tipping Point and Blink and staff writer for The New Yorker magazine, told the audience that sometimes better decisions and creative ideas come from less information, not more. Championing the power of intuitive thinking and insight, Gladwell said that intuitive thinking is at the core of what it means to be an expert in a field. This kind of thinking is mysterious, he said, meaning that it comes from the unconscious and people do not have access to the reasons behind their decision. Asking people to explain their reasoning can actually interfere with intuition, a particular problem in areas such as consumer research. After his presentation, Gladwell answered questions from an enthusiastic crowd (11). After the keynote session, IFT's three Presidents—from left in (12), President Stone, President-Elect Lawson, and Past President Hollingsworth—posed with Executive Vice President Keenan for a photo.
This year's 14 Achievement Award winners and 12 newly elected Fellows (13) (see details in the October 2005 issue) were also featured in the Hall of Honor in the convention center lobby. The Fellows were also honored at the Fellows Reception on Saturday afternoon.
Pre-Meeting Programs
Eight two-day and one one-day continuing education programs were presented on the Friday and Saturday preceding the Annual Meeting. Topics included flavor, ingredients for health and wellness products, culinary training, functional foods from concept to market, food laws and regulations, doing business in the global marketplace, food industry quality systems, nonthermal technologies, and innovative product design. Chef Charlie Baggs (14) demonstrated culinary techniques to the 28 attendees in the culinary training program. Some of the pre-meeting programs may be repeated throughout the year.
Other New Approaches
This year's Annual Meeting also included several other new features apart from the Technical Program, including a State of the Food Industry Forum on the 2005 Dietary Guidelines for Americans (see sidebar on page 34), a project management skills workshop, a wine seminar, a retirement planning session, and a first-timers orientation.
During the wine seminar (15) sponsored by IFT's Fermented Foods & Beverages Div. on Sunday, Certified Wine Educator Patrick Dodd (16) showed participants how to select and taste wine like an expert.
--- PAGE BREAK ---
Meetings and Social Events
At its meeting on Friday, the Executive Committee (17) approved, among other things, the budget for 2005–06 and preliminary reports by the Task Force on Governance, which is looking at improving the overall governance structure of IFT; the Committee on Divisions, which is looking at strategies for improving the member experience in the Divisions; and the Task Force on Annual Meeting Scientific Programming, which is looking at ways to improve the scientific program.
At the Council meeting on Saturday, a new format allowed for greater focus on the advisory role of Council as a major mechanism for bringing substantive issues to the attention of IFT decision makers. The three reports mentioned above were presented to the Council. Michael Davidson (18) gave the Committee on Divisions report, while Councilors listened (19). President Stone and Executive Vice President Keenan answered questions regarding the roles of and communication between staff and volunteers.
After a discussion led by Jeff Cufaude on the importance of environmental scanning, the Council broke into caucuses to identify those emerging trends and issues of greatest significance for IFT. Leslie Herzog (20) led the Eastern Region caucus (21). Common themes identified in the caucuses included communication, increased globalization, consumer fears (and incomplete and/or misleading public information), IFT branding and public relations, and IFT member recruitment and retention.
At the IFT Foundation Board meeting on Monday morning, Board chair John Ruff (22) discussed fundraising for IFT's Discovery Education project. Board members Jonathon Merkle and Embola Ndi (23) and Al Clausi and Skip Rosskam (24) listened to the investment report. President Stone and Past President Hollingsworth (25) attended as ex-officio Board members.
At the President's Forum on Tuesday morning, Mary Wagner (26) delivered her treasurer's report to IFT Fellows and Section and Division chairs (27). Participants discussed what Sections and Divisions could do to support the Discovery Education project locally, such as by following up with teachers and counselors after the education kits have been delivered.
At the New Officers Workshop on Tuesday morning, current and in-coming officers and others interested in becoming leaders within IFT Sections or Divisions heard a short "State of IFT" report" by Past President Hollingsworth (28) and participated in an interactive demonstration about IFT Web sites and listservs, presented by IFT's Web staff. A presentation by student representatives tackled the subject of generational issues facing IFT. The presentations were followed by breakout sessions on section issues, division issues, and Council issues.
At the Past Presidents Dinner on Sunday evening, 14 past presidents of IFT (29) got together with the current president and president-elect to reminisce and socialize. Also attending were Executive Vice President Keenan and her predecessor Dan Weber.
--- PAGE BREAK ---
The International Lounge (30), hosted by the International Div., was busy as usual throughout the Annual Meeting. More than 3,200 Annual Meeting attendees came from 87 countries outside the United States this year.
Technical Program
The Technical Program, which began on Sunday afternoon and continued through Wednesday afternoon, featured more than 1,800 presentations on all aspects of food science and technology and its related disciplines. There were 65 symposia, 25 oral technical sessions, 40 poster sessions (with 61% of the total presentations), 2 Hot Topic sessions, 5 forums, 5 Division Lectures, 3 New Products & Technologies sessions, and 4 video theater sessions.
As in last year's meeting, there was a 2-hour break between the morning and afternoon technical sessions to allow attendees to visit the Food Expo exhibits without missing the technical presentations they wanted to attend.
Among the many speakers on the Technical Program were the Food and Drug Administration's Barbara Schneeman (31) discussing FDA's approach to qualified health claims; FDA's Robert Buchanan (32) in the food defense symposium speaking on identification of vulnerabilities and risk assessment; Jenny Scott (33) presenting the Food Microbiology Div. Lecture on her 25 years as a trade association microbiologist; Huub Lelieveld (34) presenting his Nonthermal Processing Div. Lecture on tackling the hurdles to implementation of new technologies; and Arthur Klatsky (35) in the session on nutrient-dense foods answering the question, "Can wine improve your health?" Audience size and makeup (36) varied by session topic and schedule. Poster sessions (37) each morning and afternoon gave attendees as much time as they wanted to discuss the papers with the presenters.
Food Expo
This year's Food Expo (38) featured 1,050 companies exhibiting in 233,900 sq ft of active exhibit space (see photos in articles throughout this issue). Of these companies, 188 exhibited at Food Expo for the first time this year and were identified as new exhibitors by signs at their booths.
In contrast to previous years, in which Food Expo ran 31⁄2 days, this year Food Expo was open Sunday through Tuesday, eliminating the half-day morning hours on the last day of the Annual Meeting. Exhibitors embraced this change.
A major new IFT Member Services Booth on the show floor (39) highlighted IFT's varied benefits and services for members. Staff members were on hand at each of the numerous stations to explain IFT's services, publications, and activities and answer questions. At the publications station, staff member Arnina Holliman (40) explained how to submit manuscripts to Journal of Food Science electronically via Manuscript Central. IFT publications were on hand for attendees to take, including the newly redesigned Food Technology (41) and the IFT Today show daily newspaper.
At the IFT Foundation station in the IFT booth, an electronic presentation highlighted some of the activities supported by the Foundation, including IFT Expert Reports, scholarships and fellowships, Student Association resources, and continuing education resources. A drawing was held each day among those attendees who filled out a short survey, and Frances Martinez, Deviprasad Pai, and Loretta E. Schafer each received a $100 American Express gift card.
--- PAGE BREAK ---
Food Expo featured six special pavilions: A Product Development Pavilion cosponsored by IFT and the Research Chefs Association (see article by J. Peter Clark elsewhere in this issue); two New Products Showcase Pavilions cosponsored by IFT with Mintel and Innova (see article by A. Elizabeth Sloan elsewhere in this issue); a Food Ingredients (Fi) International Pavilion featuring exhibitors from outside the U.S.; a Healthy Food Ingredients Pavilion; and an International Food Safety & Quality Pavilion.
After Food Expo closed at 5:30 p.m. on Wednesday, exhibiting companies donated 7,130 lb of product to the Second Harvesters Food Bank hunger-relief organization (42). That brings the total donated by Food Expo exhibitors over the past eight years to 107,555 lb. The following companies donated products: ADM, American Purpac Technologies, Balchem Encapsulates, Baltimore Spice, Barrington Nutritionals, Barry Callebaut, Blue Valley Foods, Border Foods, Budenheim, Cherry Marketing Institute, Comax Flavors, Custom Culinary, Domino Specialty Ingredients, BioPolymer, Golden County Foods, Golden Peanut Co., Griffith Laboratories, Hormel Foods Specialty Products Div., Innova NA, International Fiber Corp., Jon-Lin Foods, Kellogg's, Kemin Health, Leprino Foods, Moark, Mushroom Canning Co., National Starch Food Innovation, Nitta Gelatin NA, Nutrinova, Patrick Cudahy, Richmond Baking, Roquette America, Sempio Foods Co., Solae Co., Specialty Minerals, Tecnaal, Tetra Pak, TH Foods, Tragon Corp., Traina Foods, Valley Research, Watson, and Wild Flavors. Freeman Companies and Sullivan Transfer donated their time and labor to collect and transfer the food items donated.
At the site-selection sessions held during the Food Expo, 495 companies contracted for 174,000 sq ft of exhibit space for next year's Food Expo in Orlando, Fla.
International Food Safety & Quality Conference
Another addition to the Annual Meeting + Food Expo this year was IFT's 4th International Food Safety & Quality Conference, "Challenges to International Trade," on Wednesday, held for the first time in conjunction with the Annual Meeting (see article by Rosetta Newsome elsewhere in this issue).
During a break in the conference, Executive Vice President Keenan met with IFT's next "Three Presidents" for an informal discussion in the hall (43).
Employment Bureau
The IFT Employment Bureau was busy as usual during the Annual Meeting. Hiring representatives from 80 companies conducted one-on-one interviews. More than 350 job opportunities were posted, and 280 attendees were interested in learning of new opportunities and the chance to interview on site.
--- PAGE BREAK ---
Publications
In addition to the IFT Annual Meeting & Food Expo Program and Exhibit Directory, attendees received the IFT Today newspaper each day as they entered the Convention Center. The 32-page newspaper included news and articles prepared by the IFT publications staff and other contributors.
Sponsorships
Several companies sponsored various activities at the Annual Meeting + Food Expo, helping to support IFT. They included ADM, American Egg Board, Cargill, Chemidex, Paul N. Gardner Co., Inc., Griffith Laboratories, Kraft Food Ingredients, and National Food Lab. Other companies and organizations also sponsored student activities.
Student Activities
Many IFT Student Association activities took place during the IFT Annual Meeting + Food Expo.
• Student Association Booth. Students used the booth to learn about student activities at the Annual Meeting as well as about the Student Association itself. Membership chair Greg Gharst of North Carolina State U., at left, provided information to an inquiring student (44).
• Chapter Presidents Workshop. In this 3-day workshop (45) on Saturday, Sunday, and Tuesday, incoming student chapter presidents met with Student Association officers and guest speakers to gain insights about Student Association programs. The leaders of the Student Association, including officers, chapter presidents, competition chairs, and others, posed for a group photo (46).
• Fun Run. On Monday morning, 175 early risers gathered in New Orleans' Audubon Park to participate in the 5th Annual Fun Run (47). The 5-K run or 1-mile walk, sponsored by the IFT Student Association and the IFT Foundation, was the most successful so far, with more than 300 registrants and contributors. It grossed more than $30,000 designated for scholarships and fellowships awarded by the IFT Foundation.
Among the male runners (48), Paul DiGrappa came in first, with a time of 15 minutes and 24 seconds; Joel Rich came in second at 18:28; and Suresh DeCosta finished third at 18:29. Among the female runners (49), Terri Bell finished at 21:09; Rachel Prososki came in second at 21:13; and Segoline LeClerque came in at 23:42.
Plaques and certificates were awarded to the winners, and all participants received a t-shirt designed by the IFT Student Association. Jaime Rudolf of the U. of California, Davis, received a roundtrip airline ticket as the event's top fundraiser. Taylor Wallace of the U. of Kentucky was chair of this year's Fun Run.
ConAgra Foods, CoroWise Brand, David Michael & Co., and Kraft were Gold Level sponsors of the event, IFT's Food Laws & Regulations Div. was Silver Level sponsor, and IFT's Chicago Section and Yum! Brands were Bronze Level sponsors.
--- PAGE BREAK ---
• Professional Development Symposium. On Monday afternoon, the Student Association held a symposium entitled, "What Is Professional Development? Ask Some IFT Presidents." Nine past and current presidents of IFT and the Student Association told about their background and careers, then answered questions from the audience. Among the IFT presidents were Gilbert Leveille (1983–84) (50) and Daryl Lund (1990–91) (51). Among the Student Association presidents participating were Rodney Green (2004–05) (52) and Jaime Rudolf (2003–04) (53).
• SpeedNetworking. Designed to be free of the stress of a formal interview setting, this session (54) on Monday evening allowed each participating student to spend 5–10 minutes with an industry representative to introduce him- or herself and gain valuable networking experience, then move down the line to the next one.
• Mixer. This event, sponsored by PepsiCo on Monday evening included student chapter tabletop displays, product samples and gifts from the company, and the opportunity for students to visit with IFT staff and officers.
• Welcome Assembly & Achievement Awards. Following the Mixer, the Student Association leaders were introduced, and Student Achievement Awards were presented to 12 student chapter members who made outstanding contributions to the success of their chapter. The awards, sponsored by Campbell Soup Co. and coordinated by Student Association Membership Chair Greg Gharst of North Carolina State U., consist of a plaque and cash applicable to the student's Annual Meeting registration.
The recipients (55) were Andrew Neilson, Brigham Young U.; Hoan-Jen Eunice Pang, Rutgers U.; Jasmine Kuan, Iowa State U.; Jessica Hof, Cornell U.; Karen Allen, Utah State U.; Marie Antoniewski, U. of Wisconsin; Mary Thao, Fresno State; Nese Basaran, Washington State U.; Parthiban Muthukumarasamy, U. of Manitoba; Tri Duong, North Carolina State U.; Valerie Mercier, U. of California–Davis; and Yvonne Chukwumah, Alabama A&M U.
• Anniversary Celebration. To celebrate its 30th anniversary, the Student Association held an informal party in the French Quarter on Tuesday evening and unveiled a large poster display documenting three decades of student activities. The organization began as the Student Div. in 1975 and became the Student Association in 1982.
Competitions
The Student Association sponsors or cosponsors the Product Development Competition, Chapter of the Year Competition, College Bowl Competition, Undergraduate Research Paper Competition, and Graduate Research Paper Competition. The winners are presented below. The IFT Divisions also sponsor student paper competitions, and the winners were announced at the annual breakfast meeting of the Phi Tau Sigma Food Science Honorary Society on Friday morning.
--- PAGE BREAK ---
• Product Development Competition. The U. of Wisconsin team (56) won this year's IFT Student Association Product Development Competition for its development of Healthy sTart, described as "a hand-held, bowl-shaped crunchy crust of blended grains generously filled with a creamy strawberry yogurt spread topped with strawberries and blueberries. This combination provides energy, protein, dietary fiber, iron, calcium, vitamins, antioxidants,and phytochemicals as a nutritional jumpstart for your heart. Healthy sTart is a frozen product that can be conveniently prepared by defrosting in the microwave."
Cornell U. came in second for its development of Bocados, a frozen snack with a Latin flair, two-bite snacks with a sweet guava filling and savory cheese sauce inside a corn dough shell. Chapman U. came in third for its development of Schookie, a next-generation school cookie for healthy kids; a pre-formed frozen dough to be baked in school kitchens, the chocolate chip product meets new strict dietary guidelines for school meals.
The competition is cosponsored by the IFT Student Association, which awarded a plaque to the first-place team, and Masterfoods USA, which provided travel grants of $1,000 for each of the six finalist teams and awarded $4,000, $2,500, and $1,000 to the first-, second-, and third-place winners, respectively. Tom Nack of Rutgers U. was the competition chair.
• Chapter of the Year Competition. This award is given to the student chapter that has the most active participation at local and national levels. The Rutgers U. student chapter (57) was named Student Association Chapter of the Year for the sixth time in ten years. Frequent award winner North Carolina State U. took second place for the second year in a row, and Cornell U. took third place.
General Mills presented a plaque and $1,000 to Rutgers and certificates and $500 and $250 to NCSU and Cornell, respectively. Cornell was also named Most Improved Chapter and received an additional $200. Didem Z. Icoz of Rutgers U. was the competition chair.
• College Bowl Competition. This competition, a highlight of the student activities at the Annual Meeting, always draws large crowds (58). Teams from universities in each of the six geographical areas of the Student Association compete in regional competitions, and the six finalists compete at the Annual Meeting.
In the final round of the 21st Annual Intercollegiate Food Science and Technology College Bowl Competition on Monday night, the Brigham Young U. team (Andrew Neilson, Heather Farnsworth, Devin Rose, Robert MacKenzie, and Jacob Briggs)—shown at left in (59) competing in an early round against the U. of Minnesota team—beat the Rutgers U. team (Kiran Vyakaranam, Grace Lowry, Shiby Paul, Meredith Neilland, Rohan Tikekar, and Stacey Long).
General Mills, Inc. provided $1,000 travel grants for each finalist team, as well as an award of $1,000 to the winning team and $750 to the runnerup. Bradley Wright of North Carolina State U. was the competition chair, Mike Helser was the moderator, and, from left in (60), Joe Regenstein, Maribeth Cousins, and Roger Clemens were the judges.
--- PAGE BREAK ---
• Undergraduate Research Paper Competition. (61) In this competition, Mila Wihodo of Purdue U. took 1st place, Stephanie Moriartey of the U. of Alberta 2nd place, and Darryl Holliday of Louisiana State U. 3rd place. The competition was sponsored by the IFT Student Association, Phi Tau Sigma, and E.&J. Gallo Winery. Gallo provided a $300 travel grant to each finalist and $500, $350, and $250, to the 1st-, 2nd-, and 3rd-place winners, respectively. Nese Basaran of Washington State U. was the competition chair.
• Graduate Research Paper Competition (62). In this competition, Ashley Bond of Louisiana State U. took 1st place, Yuwana Halim of Ohio State U., 2nd place, and Puntarika Ratanatriwong of Ohio State U. 3rd place. The competition was sponsored by the IFT Student Association, Procter & Gamble Co., and Phi Tau Sigma. P&G provided a $500 travel grant to each finalist and $1,000, $750, $500, to the 1st-, 2nd-, and 3rd-place winners, respectively. Demet Guzey of the U. of Massachusetts was the competition chair.
Next year in Orlando
The 2006 IFT Annual Meeting + Food Expo will be held in Orlando, Fla., on Saturday, June 24, through Wednesday, June 28. Plan to attend!
Photos and additional sidebar continue on page 34.
Annual Meeting + Food Expo photos throughout this issue are by Oscar Einzig.
---
Senior Food Officials Discuss Dietary Guidelines and Sodium
IFT held its 8th annual "Partnership for Growth" meeting on July 19 during the 2005 IFT Annual Meeting + Food Expo. More than 100 invited senior food officials attended the meeting, which was moderated by
Todd Abraham
, Vice President of Global Technology and Research Strategy at Kraft Foods, Inc. and Chair of IFT's Senior Food Officials Committee.
--- PAGE BREAK ---
The morning session addressed key and emerging issues facing the food industry. John Bode, a lawyer with Olsson, Frank, and Weeda, provided an update on "The Current Legislative Scene." Formerly Assistant Secretary for Food & Consumer Services with the U.S. Dept. of Agriculture, he summarized the political climate and congressional activities, including the 2007 Farm Bill, country-of-origin labeling, the National Food & Agricultural Science Act, and obesity and nutrition labeling. He also explained the "Safe Food Act," which calls for establishment of a single food agency.
Eric Hentges, Executive Director of USDA's Center for Nutrition Policy & Promotion, discussed the influences of the 2005 Dietary Guidelines for Americans and MyPyramid, released earlier this year. He explained the significant changes that were made to the previous Dietary Guidelines and Food Guide Pyramid. Public response to these changes has been overwhelmingly positive, he said. He covered the challenges and future plans for the Food Guidance System, such as new methods for outreach and different versions of MyPyramid.
He concluded by discussing how the food industry can help to implement the changes detailed in the 2005 Dietary Guidelines for Americans, such as decreasing fat intake and increasing intake of whole grains, fruit, and vegetables.
Cory Bryant, IFT Research Scientist, discussed "IFT's Food Terrorism Initiatives." He explained that IFT has completed its first five-year contract with the Food and Drug Administration, which included two classified food defense task orders. As part of its second five-year contract with FDA, IFT is conducting Food Defense Awareness Training. The objective is to raise awareness of food defense among industry personnel on matters pertaining to potential intentional contamination of the food supply. Agent/product examples are demonstrated using a discussion matrix developed by the training team with the focus on potential vulnerabilities and consequences.
Susan Borra, Executive Vice President at the International Food Information Council, was the luncheon speaker. She addressed trends in consumer attitudes on health, nutrition, and sodium, sodium in the media, and global views on sodium.
Consumers believe food and nutrition play a "great role" in maintaining or improving health, and exercise ranks almost equally as high, Borra said. They are concerned about nutrition, aware of the role that certain foods play in a healthy diet, and often alter their diets in light of this. However, taste is still the most important characteristic in food selection, ranking above nutrition.
Although consumers read the nutrition facts panel and know the nutrients listed, she added, they are confused by conflicting information about nutrition. Reports of health harms and benefits from foods mentioned in the media are almost equal. The implication of high sodium intake has increased as a source of harm to human health in the media, and the mention of sodium in articles has also increased in recent years. In other countries, salt is more of a concern to consumers than it is here. However, U.S. consumers still have a negative perception of sodium, and lower-sodium foods are frequently perceived to have poor taste. Borra noted that consumers prefer food that is good-tasting but has less sodium, creating a challenge for food scientists.
--- PAGE BREAK ---
The afternoon session continued the focus on sodium. Lawrence Appel, Professor of Medicine at Johns Hopkins University School of Medicine spoke on sodium's impact on public health. He addressed the relationship between sodium, blood pressure, and cardiovascular disease. Decreased blood pressure, he said, may reduce the risk for cardiovascular disease, and he also mentioned therapies for hypertension, including reduced salt intake.
Appel indicated that sodium reduction would be difficult for most Americans, based on current sodium intake averages, and would require behavioral changes. He called for collaboration of the food industry and public health officials to help consumers make these changes.
Gary Beauchamp, Director of the Monell Chemical Senses Center, discussed sensory perception of salt. He outlined the mechanisms of taste perception and how human taste preferences develop. Individual sensitivity to salt varies, he said, and preferred saltiness of foods may be due to dietary levels of exposure.
Beauchamp advised that although the use of little salt is advised in the Dietary Guidelines, this is difficult for manufacturers as they must deal with sodium added during processing, the multiple functions of salt in food, and the attractiveness of a salty taste to consumers. The challenges of determining whether to have a gradual or abrupt change in sodium levels of foods and selection of foods to be altered were also discussed.
Maurice Smith, Scientific and Regulatory Affairs Manager with Unilever Health Institute, brought up "Issues of Food Safety and Functionality" related to sodium. In Europe, he said, sodium reduction varies from country to country, although recommendations to reduce sodium intake are universal. In the United Kingdom, the Food Standards Agency is working with the food industry to reduce levels of salt in processed foods and to provide clear and meaningful information on product labels. Smith stated that the food industry is currently addressing sodium concerns and that consumers are becoming more aware of sodium issues.
Mark Zoller, Senior Vice President of Research and Chief Scientific Officer with Senomyx, discussed "Biotechnology Perspectives" for sodium in the future. Senomyx uses proprietary taste receptor–based assays and high-throughput screening technologies to discover and develop taste modulators for the food industry.
He discussed the discovery of human receptors and ion channels for taste and how altering receptors and channels may provide ways to change the taste of salt in the human body. Possible ways to alter the salt-taste, he said, include enhancement or blocking of salt receptors, replacing sodium with potassium chloride, understanding the effects of salt on other tastes, and finding sources for other salt-taste modulators.
—Sarah F. Davis, R.D., Program Specialist, IFT Dept. of Science and Communications
--- PAGE BREAK ---
State of the Food Industry Forum Addresses Dietary Guidelines
For the first time ever, IFT held a special "State of the Food Industry Forum" during its Annual Meeting + Food Expo in New Orleans, La. The July 17, 2005, forum addressed the timely topic, The 2005 Dietary Guidelines for Americans. Todd Abraham, Vice President of Global Technology and Research Strategy at Kraft Foods, Inc., served as moderator. Almost 200 people attended.
Connie Weaver, Distinguished Professor and Head of the Dept. of Foods and Nutrition at Purdue University, discussed "The Dietary Guidelines Process and the Outcome." Weaver, part of the 13-member 2005 Dietary Guidelines Scientific Advisory Committee, had first-hand knowledge to share.
The guidelines, she said, help give dietary advice to consumers, set policy for food assistance programs, establish overarching goals for nutrition monitoring, nutrition research, and national health objectives, set the framework for standards in food labeling and fortification, and also aid in food product development. The new guidelines for the first time quantified physical activity, made recommendations for trans fat, gave quantities in patterns instead of servings, and advised on discretionary calories.
Cal Dooley, President and CEO of the Food Products Association, gave "A Food Manufacturing/Food Industry Perspective." The food industry rapidly meets consumer demand for new products and labeling with reformulating and repackaging, he said. The food industry has already been working to meet the new recommendations of the Dietary Guidelines by reformulating products to increase whole grains and fiber, and decrease fat, trans fat, cholesterol, and sodium.
Dooley said that a wide variety of products are available to consumers with health claims and comparisons that serve to educate the consumers and provide them with the necessary information to make informed choices. He pointed out that many food companies have Web-based consumer education available as well.
Sylvia Rowe, President and CEO of the International Food Information Council, discussed "Communication and Education Challenges." There is increased media coverage of health and nutrition topics, she said, but, unfortunately, with multiple messages from multiple sources, consumers are more confused than ever. She urged nutrition and food science professionals to partner together and provide clear and unified messages to consumers. The language of messages should motivate consumers and not be difficult to comprehend.
Rowe also noted the need for more consumer research and personalization of messages to fit consumers' lifestyles, thereby addressing issues important to them.
—Sarah F. Davis, R.D., Program Specialist, IFT Dept. of Science and Communications
by Neil H. Mermelstein,

Executive Editor 
[email protected]