In its second year at the IFT Annual Meeting + Food Expo®, the IFT/RCA Product Development Pavilion, cosponsored by the Institute of Food Technologists and the Research Chefs Association, brought together eight teams, each consisting of food scientists, chefs, and students, to create novel food products in less than a month, while still working their "day jobs" and being widely dispersed around the country.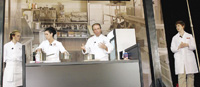 The teams prepared their products on or off stage and served samples to enthusiastic audiences while team members took turns describing their role in the development of the product and the challenges they faced. The results were impressive.
Salvaging Success from Near Disaster
Under such demanding product development circumstances, it is not surprising that there can be surprises. As one person noted, chefs must be quick on their feet in a restaurant kitchen if something goes wrong while customers are waiting impatiently for their meal. The Low Country Riders team, charged by the organizers with developing a product for a theme restaurant, faced just such a challenge. John DaLoia from McCain Foods, Robin Balter from OSI Industries, Sean McCormack from Ed Miniat, Inc., and Leah Sarris, recent graduate of Johnson and Wales, conceived an entrée of sweet potato–encrusted pork roast to evoke the cuisine of the Carolina coast.
As with most of the teams, the members drew on their employers' various strengths. Thus, DaLoia used his expertise in potato processing and McCormack used Ed Miniat's ability to cook whole-muscle meats. The original concept had been to water cook whole-muscle pork in polymer bags, enrobe the meat with a sweet potato batter, then fry the pork and slice it into single portions.
In the course of shipping products among the various sites, there was some freeze–thaw abuse, so that when the team attempted to fry the roasts in New Orleans, the batter did not adhere. On the spot, they salvaged the coating, added some egg from an exhibitor to improve adhesion, cut the pork shoulder into smaller pieces, and created a new version, achieving the same flavor combination they had intended. The samples were tasty, reminiscent of pork barbecue. The professional presentation gave little hint of the tension and stress the team must have experienced.
Warm Ice Cream
The WD 50 team, led by Chef Wylie Dufresne of WD-50 restaurant in New York, with Ron Jolicoeur from Griffith Laboratories, Brittany Thomas Klimstra from TIC Gums, and Mark Jarrad, student at the University of Georgia, tackled the challenge of making warm ice cream, something Dufresne had failed to accomplish in his restaurant. Dufresne is known for his deconstruction of familiar dishes, such as his deep-fried mayonnaise, tongue, lettuce, and tomato sandwich in which everything has an unexpected form.
--- PAGE BREAK ---
So, what is warm ice cream? Well, it needed to be warm, it needed to provide a sensation of melting, and it needed to have air incorporated. It also was to be dairy based. Brittany drew on her knowledge of gums to suggest methylcellulose, which gels as it is heated, in contrast to most other gums, which tend to melt. Skim milk was found to work better than other dairy products, such as cream, whole milk, and nonfat dry milk. Microcrystalline cellulose was tried as an ice substitute, but did not give the correct melting sensation. Finally, a combination of xanthan gum, methylcellulose, and modified gum acacia yielded a very light, warm foam.
So, why warm ice cream? Dufresne is classically trained, but he believes strongly in having fun with his cooking. He likes to challenge his customers' expectations, and he believes almost anything can be done. With the help of his talented food scientists, he created a signature dessert that certainly was surprising.
In this team, as with several others, the younger members did much of the explanation. The chefs, even when as well-known as Dufresne, were notably self-effacing. Likewise, most teams emphasized that each member contributed, no matter what the presumed role seemed to be. For example, many teams prepared nutrition labels, specifications, and cost analyses, and often these were calculated by the student members.
Drinkable Desserts
The Bottoms Up team, consisting of John Namy from Pecan Deluxe Candy Co., Philip Fox from Innova/Griffith Labs, and John Kennedy, recent graduate of the University of Nebraska and now at Wells Blue Bunny, developed four drinkable desserts. Beyond the products, the team developed a complete business concept, anticipating that franchised outlets could offer the beverages in flights of four small cups or separately. Process flow sheets, logos, specifications, and labels were all presented. Fox, as a meat scientist, learned from the team interaction.
The products themselves were intended to evoke international tastes, so they included cinnamon tostada, crème brulee, tiramisu, and chocolate fountain. Two were served hot and two cold. All were prepared from dry bases involving starches, sweeteners, and flavors to which milk and ice were added in the case of cold beverages, or milk and hot water for warm drinks. This team only needs a venture capitalist to go to market.
--- PAGE BREAK ---
Savory and Sweet Sauces
Three teams developed sauces that could be manufactured commercially while delivering a fine culinary-quality experience.
The Sourcerers of Sauce team, consisting of Robert Buono from Eatem Foods, Bob Kaminski from Wixon, James Brisson from To-Jo Mushrooms and To-Jo Food Products, and Heather Johnson, student from Clemson University, targeted a low-sodium mushroom sauce and a low-sodium veal demi-glace. They relied on a salt replacer from Wixon but used some fresh ingredients, such as onions, carrots, celery, and mushrooms. The sauces were kettle cooked in small batches and frozen in pouches. A major challenge was to mask the typical bitterness of potassium, used to replace the sodium in salt.
In this case, as in others, the chef who prepared a gold-standard sauce had to learn how to use commercially available ingredients and flavors. The final product was a compromise, with some fresh material and some prepared bases and flavors. At one point, Johnson suggested adding coffee grounds to provide some flavor and color to the demi-glace, but the final formula did not include them.
The Toque and Lab Coat Alliance team was challenged to create a retail product. The team consisted of Lana Merrick from Willow Brook Foods, Walter Zuromski from Chef Services Group, Elizabeth Holton from Frito-Lay, and Ashley Tiveron, student from the Culinary Institute of Canada, giving the team an international flavor. The target product was inspired by raspberry crème anglaise, a dairy-based, ready-to-serve dessert sauce.
The product is packaged in a plastic tub and distributed refrigerated or frozen. Ingredients include cream replacer, raspberry puree, Chambord flavor, butter, cream cheese, and some other functional ingredients, such as gums, sugar, and citric acid. The process was simple cold blending. Unique to this team was a complete hazard analysis and HACCP plan.
The Fine Dining team, consisting of Jay Kimbal from John Folse & Co., Mike Morrison from Flavorchefs, Christina Staunton from Nestlé USA, and Kevin McCarthy, student at the University of Cincinnati, wanted to deliver the characteristic flavors of New Orleans cooking while reducing the labor of preparation. They presented a delicious shrimp-and-asparagus bisque and a Bananas Foster sauce. The bisque used starches to improve freeze–thaw stability, bases instead of stock, and flavors instead of sauteeing, in part to save time in preparation. For the same reason, a commercially available 10:1 wine reduction was used instead of taking the time to boil down wine.
The Bananas Foster sauce used brown sugar syrup and corn syrup instead of trying to melt a large quantity of brown sugar, which not only is time consuming but also could be dangerous. The concept with both products was to maintain the typical flavor while reducing the kitchen labor required to deliver a fine dining experience.
--- PAGE BREAK ---
Healthy Foods for Kids
The Culinology Crusaders team consisted of Brian Yager from Archer Daniels Midland, Carolina Abella from Lawler Foods, Catherine Proper from ConAgra Foods, and student Neil Howard from Alabama A&M University. Assigned to develop a product for quick-service restaurants, they chose to focus on the healthy-foods-for-kids niche.
The challenge was how to deliver a nutritious and sweet product. The team took advantage of having a baker among their number and developed a pull-apart monkey bread with dipping sauces, including a sugar-free chocolate.
The team also involved the audience in thinking about hand-held Caribbean-inspired entrees that were filled pastries with various glazes.
A Unique Cooking Utensil
The Marrakesh Express team, inspired no doubt by coordinator Jonathan Silverman from Williams-Sonoma, conceived Tagine Sensations, exploring the art and science of clay-pot cooking. Other members of this team were Danny Bruns from Kerry Seasonings, Erica Boyd from Boar's Head Provisions, and Sylvia Gaysinsky, student from the University of Massachusetts.
Tagine is both the name of a distinctive pot used in Morocco and the name of a stew slowly cooked in the pot. The retail concept was to sell the pot, the characteristic spices, and the recipe as a kit, hoping for the same popularity that pizza stones and garlic roasters realized.
The pot has a conical top in which vapors condense during cooking, so the liquid returns to the stew. Characteristic flavors include ginger, cayenne, salt, and black pepper. Near the end of cooking, the stew is finished with lemon and cracked green olives.
--- PAGE BREAK ---
Common Themes Presented
Attendance declined a bit for the last two presentations, but the earlier ones were well attended, with active questioning and discussion from observers. The point was repeatedly made that food scientists and chefs complement each other in food product development. Students consistently enjoyed their interaction with experienced professionals, and even they and other younger team members contributed substantially to each team's success.
The common themes seemed to be the use of a gold standard to define a goal; the use of flavors, bases, starches, and gums to replace labor-intensive procedures and to provide freeze–thaw stability; and the use of medium- to large-scale processing techniques, such as kettle cooking, pouch packaging, and freezing, to enable practical manufacturing.
The Product Development Pavilion is not only an exciting event on the Food Expo floor but also a tangible example of the Institute's effort to reach out to compatible professionals in the food industry and to educate its members on the contributions of those with culinary training.
---
Continuing the Cooperation

This year's Product Development Pavilion was actually the fourth cooperative product development event between IFT and RCA. The first cooperative event was at IFT's 2003 Midwest Food Processing Conference, the second was at the 2004 IFT Annual Meeting + Food Expo, and the third was at IFT's 2005 Midwest Food Processing Conference.
John Matchuk of T. Hasegawa was the vital organizer behind the scenes for all four, and sometimes the server of samples as well. Jan Miller of IDF, Rob Brannan of Ohio University, and Chris Hansen of Quest International are leading the preliminary planning for 2006. If you are interested in participating in future programming, contact Roy Hlavacek at IFT ([email protected]).
by J. Peter Clark
,
Contributing Editor,
Consultant to the Process Industries, Oak Park, Ill. 
[email protected]