The Institute of Food Technologists held its 4th International Food Safety & Quality Conference on July 20, 2005, in conjunction with IFT's 2005 Annual Meeting + Food Expo® in New Orleans, La.. The more than 300 attendees came from 35 countries to hear experts in the areas of food safety and food quality discuss issues that affect international food trade. This article summarizes the presentations.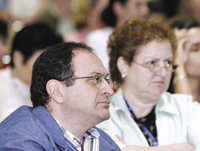 Animal Disease
Avian influenza (AI), caused by small RNA viruses of varying pathogenicity, is considered a notifiable disease by the World Organization for Animal Health (OIE), said David Swayne, Director, Southeast Poultry Research Laboratory, U.S. Dept. of Agriculture/Agricultural Research Service. The mild form of the disease (LPAI) manifests in respiratory disease, decreased egg production, and secondary respiratory bacterial infections. The high pathogenicity form (HPAI)—the one inhibitory to trade—involves multiple organs and results in high mortality.
AI viruses, he said, can potentially be transmitted to humans via inhalation or contact with oral/nasal mucus membranes or conjunctiva; no direct epidemiological evidence exists for transmission via consumption of raw meat products. Swayne noted that while the virus is a public health threat, only certain strains have potential to cross over to humans, and measures such as poultry vaccination and cooking or pasteurization can minimize the threat.
Relating international trade practices to food safety issues, Paul Clayton, Vice President, Export Services, U.S. Meat Export Federation, pointed out that consumers are the key factor influencing international trade. Thus, their increasingly educated perceptions are vital, he said.
Noting that trade negotiations can quickly become political, Clayton said that they have a strong and vital scientific base, as long as Sanitary and Phytosanitary (SPS) issues are the focus. The basic SPS issues of regulatory concern, which have increased in number during the past decade, are foot-and-mouth disease, bovine spongiform encephalopathy (BSE), tuberculosis, antibiotics, hormones, pesticides, genetically modified organisms, microbiology, good manufacturing practices, and physical risks.
Clayton said that the different beliefs and practices (e.g., the European Union's precautionary principle) of various countries and scientific voids (e.g., lack of risk assessments, process control understanding, or HACCP food safety management) warrant consideration. Very few of the countries having such voids accept the codes and standards of the OIE, Codex Alimentarius, and World Health Organization (WHO), he said. Thus, SPS education and training of our trading partners is needed worldwide. World Trade Organization (WTO) fundamentals—transparency, harmonization, equivalency, and national treatment—can be viewed as a "guiding light," he said.
--- PAGE BREAK ---
The science and epidemiology of BSE in North America was addressed by Guy H. Loneragan, Epidemiologist, Feedlot Research Group, and Assistant Professor, Beef Cattle Health and Management, West Texas A&M University. The primary mode of transmission of the BSE agent, coined "prion," is through consumption of contaminated foods, he said. Unlike the transmissible spongiform encephalopathy agents of scrapie and chronic wasting disease, there has not been any demonstrable transmission horizontally.
Surveillance, he said, is a cornerstone of regional and national management of the risk of BSE, which is rare in all countries. Testing done for surveillance does not protect human health, but removal of specific risk materials does, he said. The agent is undetectable with current tests until the animal is in pre-clinical or clinical stages of disease, at 5–8 years of age, which is where testing is targeted.
Loneragan said that the results of recent intensive surveillance efforts in the United States and Canada indicate that BSE among high-risk cattle in North America is extremely low—0.025 BSE cases/10,000 tests in the U.S. and 0.38 cases/10,000 tests in Canada, compared to 9.2, 6.04, and 3.85 cases in the EU in 2002, 2003, and 2004, respectively. He stated that although it is probable that more BSE cases could occur, the BSE burden in the U.S. and Canada is extraordinarily low.
Gary Weber, Executive Director, Regulatory Affairs, National Cattlemen's Beef Association, also addressed BSE, and legislative dimensions. He said that although BSE became a household word in 1996, it was spreading around the world long before that.
He listed the multiple actions that have been taken to reduce BSE risk to animal and public health and noted that NCBA has made efforts to make sure the public health community and others have information about the differences between BSE, Creutzfeldt-Jakob Disease (CJD), and variant CJD (vCJD), and maintain focus on the science of BSE prevention.
Consumer confidence is high, Weber said, and has increased since regular tracking began in 1996. As for the future, he said that the Food and Drug Administration is discussing additional risk control measures that may result in feed regulation changes. The U.S. beef industry remains profitable, he added, despite supplying a smaller percentage of beef to the domestic market and having lost its Japanese and other markets. Weber anticipates that international export markets will reestablish over time, with increased comfort in the U.S.'s low risk status and regulations to protect animal and public health.
--- PAGE BREAK ---
Food Defense/Food Safety
With first-hand insight into dealing with hurricanes, Marion F. Aller, Director, Div. of Food Safety, Florida Dept. of Agriculture and Consumer Services, described key elements of response plans for disasters.
Having a written plan and communication "up, down, sideways, and in all directions" is a necessity, she said. Because disasters sometimes strike during response to their impact elsewhere, a "continuity of operations plan" is also important. The written plan should address personal safety first, emergency kits, local field operations centers, and coordination with headquarters. The emergency kits should include sufficient forms for documentation, extra batteries for everything that operates on batteries, identification signage, sufficient inspections supplies, tire repair kits, personal items (e.g., mosquito repellant), and a schedule for review/replenishing.
The plan should address such internal factors as physical location of staff (evacuation plan), call tree, and regular briefings between field and headquarters staff. External communications should include listings of contact information for the multiple agencies of one's regulated community and other regulators, and contact information for the public for whom consistent messages (e.g., boil-water advisories) are vital.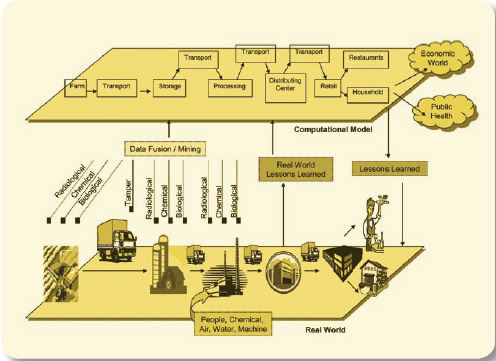 Richard Linton, Professor of Food Safety, Purdue University, described the use of computer modeling to improve decision-making capabilities for biodefense. The approach used in the model that Linton described includes economic, public health, and food distribution data; forecasts economic and public health information; and includes a tabletop simulation for teams of varying responsibilities (e.g., government and news media).
A food-related scenario demonstrating the model tracks illness identification and its various ramifications (e.g., recalls and public health impact) on a daily basis. Linton said that decision making in the virtual food defense scenario has provided the following lessons: communication up and down the food flow chain is critical and challenging; news media play an important role as information source; approaches to intentionally added contaminants differ from those for food safety; and human resource screening is important.
Robert Tauxe, Chief, Foodborne and Diarrheal Diseases Branch, Centers for Disease Control and Prevention, described collaborative epidemiological surveillance programs based on molecular subtyping, and explained why they are critical for food safety progress in the U.S.
PulseNet—a national network of public health laboratories performing pulsed-field gel electrophoresis (PFGE)—is particularly good, he said, for identifying outbreaks of a new diffuse scenario that would have otherwise gone unnoticed due to geographically wide product distribution and low-dose, low-attack rate. The ability to collaboratively detect multistate outbreaks by matching specific PFGE patterns is crucial to finding the major outbreaks and driving farm-to-table prevention.
Tauxe said that PulseNet now exists in China and is being developed in Asia, Latin America, and Europe. In fact, he added, outbreaks in the U.S. have been detected through PulseNet activities in other countries. Although the food supply is definitely safer now than it was 10 years ago, Tauxe said there is still more to be done to control Escherichia coli, multiply-drug-resistant Salmonella, pathogens associated with produce, and Vibrio in raw shellfish.
--- PAGE BREAK ---
Jennifer C. McEntire and Cory M. Bryant, Research Scientists, Institute of Food Technologists, described IFT's contractual initiative with FDA to develop a training course for food manufacturers. The course is intended to raise awareness of the potential for attack, food manufacturing vulnerabilities, highly hazardous agents by which specific products and processes may be compromised, and potential public health consequences of attack.
Implemented so far for the dairy and baking industries, the training course uses a decision analysis module that IFT developed using Analytica software from Lumina Decision Systems, Los Gatos, Calif. The module takes into account agent characteristics, food manufacturing processes, and other items. Vulnerabilities common across the industry and unique to individual plants can be identified and their health impacts assessed.
Characteristics of effective agents, McEntire and Bryant said, are miscibility/solubility; lack of odor, color, or flavor; stability to heat, light, acid, or alkali; potency; and difficulty of diagnosis and treatment. High-risk factors, farm-to-fork, are easy access and poorly supervised areas. Risk factors at the product/process stage are large batch size, uniform mixing, serving size, and short shelf life.
Frank Busta, Director, National Center for Food Protection and Defense, summarized IFT's 4th Research Summit—on food defense—held in April this year. The main areas of food defense that Summit participants concluded need research are sampling and detection methods; decontamination of contaminated products, people, and places; risk communication; traceability of food products; and economics. Busta also said we need a multidimensional database of which agents, foods, conditions, detection methods and decontamination methods are pertinent. For more information, see "Defending the Food Supply" in the August 2005 issue of Food Technology.
Regulations, Policies, and Standardization
Rebeca Lopez-García, Principal, Logre International Food Science Consulting, described the challenges presented for international trade involving Latin America. Given the diversity of countries constituting the region, she said, inadequate or outdated legislation, regulations, and resources among different governments (e.g., dictatorships) and legal systems are substantial challenges. Coupled with these is lack of adequate sanitary water and basic food safety issues. Free trade led many countries to write regulations and some to develop product certifications (e.g., Mexico's melon standard).
Despite the challenges and differences in capacity, she said, the region has great export potential and is an attractive market. The poverty and general population needs, however, must not be forgotten, she added.
Elsewhere around the globe, China is emerging as a trade giant, but with some administrative confusion struggles exist there as well, said Ping-fan Rao, Professor and Director, Institute of BioTechnology, Fuzhou University and Vice President, Chinese Institute of Food Science and Technology. China has experienced rapid trade and business growth due to standardization issues and acceptance of international standards.
--- PAGE BREAK ---
Another driving force for China, Rao mentioned, is a better fed, happier population consequently more aware of food safety. China established a Ministry of Health in 2001 and a State Food and Drug Administration and State Business Administration in 2003 to deal with food hygiene and has since been very busy updating food standards. The outcome has been positive, he said, with a more vigorous food import and export of safer food products.
A newly established Food Safety Institute of the Americas (FSIA) will provide harmonized food safety and security information and education and will promote increased effective participation in Codex, said Linda Swacina, Executive Director, FSIA. The Institute will focus first on products under the jurisdiction of the U.S. Dept. of Agriculture's Food Safety and Inspection Service but wants to add other food products as well. Cooperative agreements have been signed with the University of Florida and Miami Dade College, who have been assisting in development of a strategic plan. FSIA is adding partnerships with other organizations as well.
U.S. and European regulatory activities regarding flavor ingredients were reviewed by Charles Manley, Vice President, Science and Technology, Takasago International Corp. Flavor ingredients, he said, are reviewed for safety (with toxicological studies included as warranted) by the Expert Panel of the Flavor and Extract Manufacturers Association (FEMA). The outcome of FEMA's review—the FEMA GRAS list—is published in Food Technology, most recently in the August 2005 issue. FEMA is harmonizing the GRAS list—which grew from 1,130 substances in 1965 to 2,068 in 2004—with Europe and will be doing the same with Japan as well.
He added that internationally, the Joint Expert Committee on Food Additives and Contaminants (JECFA) of the United Nation's Food and Agriculture Organization and World Health Organization performs flavor safety assessments, based on such criteria as structure, intake, and threshold of concern. Currently 1,580 flavors are approved by JECFA as safe. Through JECFA, the much needed worldwide specifications for flavors are being developed, Manley reported.
An international supplier certification program, the Safe Quality Food (SQF) program of the Food Marketing Institute (FMI), was described by Jill Hollingsworth, Vice President, Food Safety, FMI. The goals are to establish a credible third-party system to reduce the number of audits to which suppliers are subject, and maintain a reliable system for verifying food safety programs.
SQF, which is compliant with internationally recognized standards, provides three levels of third-party audits of food safety, quality, and management systems for all suppliers from farms to manufacturers via licensed accredited certification bodies, Hollingsworth said.
by Rosetta Newsome is Director, Dept. of Science and Communications, Institute of Food Technologists, 525 W. Van Buren St., Chicago, IL 60607 
[email protected]