Two New Product Showcase Pavilions cosponsored by IFT with Mintel and Innova alone were worth the trip to New Orleans for IFT's 2005 Annual Meeting + Food Expo®. And they'll be an absolute "must" next year for anyone in the food, restaurant, or ingredient industries worldwide.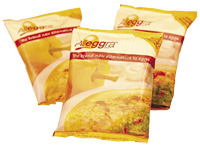 At Mintel International's GNPD Global Trends & Tasting sessions, visitors were able to examine products and packages and sample a wide array of innovative new foods and beverages from around the world—from high-fiber soups and cereals to jalapeño microwave popcorn and peppermint water. They were also brought up to date on key health and wellness directions for new products and flavor trends in some of the most active food categories.
At Innova's Taste the Trend exhibit and new product showcase, in addition to showcasing cutting-edge products, Innova stunned attendees by short-circuiting the product development process and presenting nine entirely new beverage concepts of their own—complete with product names, formulations, final packaging, marketing strategies, and great-tasting samples (see sidebar "Beverage Design the Innova Way"). Innova also offered detailed analyses of 10 of the hottest new product directions, including low-glycemic-index (low-GI) foods and beverages and innovative occasion-targeted concepts.
The World According to Mintel
Beverages, followed by bakery, confectionery, dairy, sauces/seasonings, and snacks continue to drive global new product introductions in 2005, according to Mintel. Four out of 10 new beverages were introduced in Europe, followed by 26% in North America and 24% in Asia Pacific.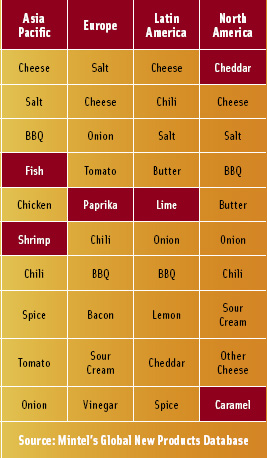 • Flavor Spotlight. Mintel analyzed flavor trends in salty snacks, ready-to-drink (RTD) juices, and sugar confectionery. While cheese and salt are the favorite snack flavors around the world, others are unique to their region, such as Cheddar and caramel to North America, lime to Latin America, paprika to Europe, and fish/shrimp to the Asia Pacific (Table 1).
More meaty flavors are appearing in snack foods worldwide, such as PepsiCo Do Brasil's Cheetos cheeseburger-flavored corn snacks in Brazil and Asda's Extra Special Hand Cooked Beef & Horseradish Crisps in the United Kingdom. Ethnic flavors are being applied in new ways—witness Act II's Jalapeño Flavored Microwave Popcorn in the U.S. or ROTA International's Wild Snacks Sweet Chilli & Native Spices Bread Sticks in Australia.
Orange and apple are the favorite RTD juice flavors worldwide. Cranberry is a "Top 10" flavor unique to the U.S., guava to Latin America, carrot to Europe, and vegetable to the Asia Pacific. Combination orange flavors, like Parmalat's Jeunesse Orange & Mango juice, are another strong trend, as are unusual flavors such as Hidrosabores' Jamaycool Hibiscus Water or PepsiCo's Casera sangria-flavored soft drinks in Mexico.
Strawberry remains the favorite flavor for sugar confectionery around the world. In North America, sour ranks behind strawberry and fruit as the most popular flavors; watermelon is 7th, followed by lemon and mint, according to Mintel's Global New Products Database. Mint is the 3rd favorite confectionery flavor in Europe and Asia Pacific and 5th in Latin America. Tamarind is a "Top 10" flavor unique to Latin America, and licorice and raspberry to Europe. Effem Mexico's Skwinkles tamarind candy, Shakashaka Gummi Cool Cider candy in Japan, and Amarelli's Bianconeri licorice mints in Italy exemplify the international diversity of confectionery flavors.
--- PAGE BREAK ---
Mintel reported that ethnic flavors for prepared meals are also on the rise, citing Safeway's Safeway Select Gourmet Cha Siu Bao and Trader Joe's Tuna in Red Panang Curry Sauce as two mainstream U.S. examples. Spicy seasonings and well-known flavors venturing into unexpected categories such as Daesang Foods' Chungiungwon Banana Mayonnaise for kids in South Korea are other fast emerging trends. Other key directions are adult flavors; intense sensations such as Brain-Twist Beverage's Fair Warning High Intensity Sensation drink in the U.S. and Nestlé's Yorkie Ice Cool Mint Blue Ice Chocolate Bar in the UK; and crossover flavors from one category to another, like Nissin Cisco's Green Tea Cereal in Japan.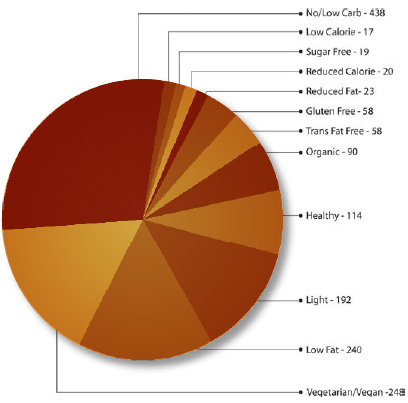 On the restaurant side, Mintel GNPD's Menu Insights Group reported that the Caribbean flavor/ingredient profile is drawing crowds to restaurants. No-/low-carb, vegetarian/vegan, low fat, light, healthy, organic, trans-free, and gluten-free are the most frequent restaurant menu item health claims in 2005 (Figure 1).
• Avoidance Health Claims. The top global health claims in 2005 focus on low-fat, vitamin/mineral fortification, and no additives/preservatives, according to Mintel. With the exception of low-calorie and low-sugar, the top five new product health claims vary by region. Mintel splits health claims into two segments: avoidance (or "minus") and added value (or "plus") claims.
In North America, low fat is still the most prominent "minus" new product positioning, although the number of new low-fat and no-additive products is slowing. Low-carb peaked in 2004, but strong growth continues in low-sugar, while low-calorie and reduced-calorie continue to rise. Portion-control packaging, such as Nabisco's 100 Calorie packs, is another major trend.
Low-fat products are also leading new "minus" intros and are seeing steady growth in Europe. Although low-carb was primarily a UK issue, it also peaked in Europe in 2004; not surprisingly, growth of low-sugar and low-calorie new products has slowed in 2005. However, Mintel reports rapid growth in new low-GI foods, such as Biocentury's Gluceminus chocolate bar in Spain and Céréal bar in Belgium, albeit from a small base. Sodium also peaked in Europe in 2004. Low-calorie, low-sugar, no additives, low-carb, and low-fat are the top European "minus" claims.
In Asia Pacific, Mintel reports that no-additive new products far and away dominate the "minus" category, although there is steady, but not spectacular growth, in low-fat, low-sugar, low-cholesterol, and low-calorie—the remainder of the top five health claims. And in Latin America, low-calorie, low-fat, and low-sugar grew in 2004. Low-cholesterol new products enjoyed strong growth, as did no-additive products.
--- PAGE BREAK ---
• Positive Health Claims. In North America, all-natural is the most frequent "positive" new product category, followed by organic, fortified, vegetarian, and added calcium. Although all-natural appears to be slowing down, growth remains strong for organic introductions. Added fiber claims are also slowing, while whole-grain booms; fortified new products are stable.
A serving of General Mills' Fiber One Honey Clusters provides 14 g of fiber (more than 50% of the Daily Value) and are low in fat. Kashi's Mighty Bites Whole Grain Cereal contains a unique blend of choline, iron, zinc, and vitamin C for "developing minds." Mintel also reports that whole grain is adding to "balance" as a trend, best exemplified by Stouffers' Lean Cuisine Spa Cuisine line.
In Europe, the number of organic new product introductions grew again in 2005, while all-natural growth began to slow. Mintel reported steady growth of new vegetarian products and rapid growth in gluten-free and added fiber. New fortified foods and beverages have slowed.
In Latin America, vitamin/mineral fortification dominates "plus" new products by a large margin, although there is also strong growth in all-natural, calcium-fortified, and whole-grain, while those featuring added fiber wane. Products with multiple fiber sources such as Kellogg's All-Bran high-fiber cereal bar with 3 Fibers (wheat, oat, and linseed) in Mexico is fortified with 12 nutrients; Nutrimental's Ativa Oats & Legume soup mix in Brazil is whole-grain, natural, and cholesterol- and additive-free.
Similarly in Asia Pacific, vitamin/mineral fortification dominates "plus" new product claims. Functional claims only appear in the top five most frequent claims, along with calcium, natural, and vegetarian. "Black Foods" are also gaining in popularity such as QP's 5 Grain Black Vinegar Drink Mix in Japan or Jiangsu Tongye's black sesame paste beverage. "Ying & Yang" foods are also gaining in popularity, including PepsiCo's Lay's Cool Cucumber potato chips and Nestlé's Caja Roja chocolates in China.
Products for learning and concentration in children, such as Natural Fruit & Beverage Co.'s Supajus "think drink" orange juice for kids with omega-3 DHA and St. Ivel's Advance fresh milk with omega-3 in the UK, are another up-and-coming "plus" trend, as are free-from foods for those with food allergies/intolerances—positioned for lifestyle choices, not medical needs. Mintel also expects probiotics to make their mark in North America and for daily-dose fruit and vegetable "shots" to catch on, such as Unilever's Bestfoods' Knorr Vie apple, carrot, and strawberry drinks in Belgium and the Netherlands and Hero's Fruit2Day juices in the Netherlands.
More information about Mintel's presentations is available from Josh Motz ([email protected], www.mintel.com).
Innova Fast-Forwards the Future
Innova identified 10 new product areas that they believe hold significant opportunity in the years ahead:
1. Harnessing Low-GI Potential. In 1999, the World Health Organization recommended that people in industrialized nations base their diets on low-GI foods to prevent obesity, heart disease, and diabetes. Innova reported that low-GI, Glycemic Load, and diabetic-friendly foods are quickly moving mainstream, spawning markets for weight control, diabetes management, sustainable energy, and improved concentration.
Innova also discussed the sweetener, fiber, and prebiotic ingredient systems in use for low-GI products. Australia, where foods can carry a low-GI symbol, and the UK, where No. 1 retailer Tesco offers more than 500 low- and medium-GI foods, are setting the pace. Low-GI foods include Prestige, a classic vanilla ice cream in Malaysia; Play, an Australian orange mineral water for kids; Warburton's' bread in the UK; Golden Grain Mission's Bow Tie Pasta in the U.S.; Dr. Fedon Lindberg's Pizza in Norway; Irish Yogurts symbiotic low-GI yogurt in Ireland; and non-fat Yoplait in Australia.
--- PAGE BREAK ---
2. Chefs Create Super Success. Innova drew attention to the tremendous impact that chefs are having worldwide in enhancing the flavor, quality, and trendiness of finished food products. In Europe, a quality seal from a chef/taste organization such as the International Taste & Quality Institute (ITQI), which tests and awards a "seal of approval" for on-pack use, is highly regarded. In France, where chefs are now lending their names to mass-market-ready meals, sales grew 22% in 2004. B&DFL's chef-inspired chilled Strawberry & White Balsamic Soup brought a new concept to desserts, while Belgium's vegetable chef Frank Fol is moving vegetable tapenades and Legumaise mainstream (see sidebar "Chefs Serve Up 10 Points to Chew On").
3. Special-Needs Foods. From infants to octogenarians, the market for foods formulated for special dietary needs continues to grow, and meal replacements have diversified to meet their needs. Innova points to whey protein's diverse benefits, from blood pressure lowering to weight and muscle maintenance to energy and bone health. Milram Vitality Spoonable Whey in Germany and Gerlina whey protein bars for weight control in Spain are among the popular products. In 2007, DMV will launch a product aimed at Clostridium difficile, a bacterium causing hospital and nursing-home diarrhea.
Mead Johnson's MCT Oil (medium-chain triglycerides) substitutes for fat calories for those who poorly digest fats. Japan's Megmilk Glucosamine Yogurt is another new glucosamine product. Vincent Foods' Oh Mama! is a new bar formulated with DHA for pregnant women, while Ensure Happy Mom Shakes and Snack Bars curb cravings during pregnancy.
4. Keeping Kids Healthy. Marketers are on the march to improve children's health. U.S. Hain Celestial Groups' Earth's Best Organic brand teamed up with Sesame Street, a well-known kids' TV program, offering a line of healthy foods formulated for growing children. In the UK, MiniScoff organic ready meals, which are low in sugar, fat, and salt, put "real food back on the table." German marketers concerned about declining meat sales are introducing healthier meat products for kids, such as Reinert's poultry-based Teddy Sausage, which has <15% fat and provides 36–53% of a child's DV for calcium.
In the Netherlands, Knorr launched a vegetable and fruit "shot" in 100-mL bottles that meets 50% of the RDA for fruits and vegetables. Innocent launched smoothies for kids containing only fruit and pure juice. In the Netherlands and South Africa, Funky Grapes have become a big hit with kids. HealthPops are functional lollipops from Cape Town.
5. Targeting the Occasion. From gasoline stations to long commutes, consumers are eating when and where they have time, and marketers must target these occasions. As snacking and grazing increase worldwide, consumers will eat more frequently in less time. Innova reports that snacking will account for 70% of UK meals by 2014. Half of UK consumers ate a main meal alone in 2004, and 39% are single households. Germany's Lorenz offers World Selection canned snacks with a peelable top for car cup-holders. Chilled convenience foods such as Asda's Extra Special Lamb Shanks in Mint Sauce are fit for entertaining. Germany's Feinkost Dittmann's Tapas Espanola and the Netherlands' Lutéce Party are set to capture the popular tapas market. German-based Speewaldhof's Get One! has repositioned the gherkin, packaging it with a plastic lid and fork as an on-the-go snack. Redesigned After Eight packaging has given new life to Nestlé's premium chocolates.
6. Ingredient Solutions. Innova presented a roundup of some of the innovative ingredients meeting today's hottest market trends, from Tate & Lyles' packaged Fruit Sugar positioned in the UK as low-GI; to Ades light orange-flavored soy drink with orange juice colored with curcumin and beta-carotene in Chile; to Discovery's Guacamole Dip in the UK colored with lutein. Innova also discussed sugar replacers and provided charts of usage of specific food additives in new products today.
7. Taking the LDL Challenge. Innova reviewed the cutting-edge foods, beverages, and ingredients positioned for cardiovascular health, blood pressure regulation, and cholesterol control. Alleggra Foods Ltd. has launched a soy-based alternative to liquid eggs in the UK and the U.S., with 65% less saturated fat, 20% fewer calories, and more protein than shell eggs. In Japan, the blood pressure-lowering drinks such as Yakult's Pletio Pretio Functional Drinks keep streaming onto the market, while Albert Heijn launched the first bread in the Dutch market scientifically proven to lower cholesterol—Vitaalbrood Pro Fit, containing beta-glucans. Almonds are increasingly being promoted worldwide as cholesterol lowering.
--- PAGE BREAK ---
8. Technology. Innova also previewed new technologies from around the world, ranging from self-heating cans to breath droplets which deliver a two-tiered flavor punch, to beverage straws with micro-aromas.
9. Dairy and Non-Dairy Innovation. In a market where flavor innovation had previously been the premier growth factor, health is moving center stage. The global dairy business is alive with new on-target concepts, ranging from Italy's Paradi's strawberry-flavored milk drink with probiotics, CLA, and omega-3s, to France's Musculaire high-protein dairy drink that contributes to muscle mass maintenance, to Japan's Yatsugatake Co-enzyme Q10 Yogurt and Italy's Jeuness skimmed milk with antioxidants and vitamins.
Soy beverages enjoyed 34% growth in Europe in 2004, and Innova reported on a variety of innovative products. Germany's Sojaland's soy & Joy cholesterol-free orange passion fruit soy drink and Christinen's low-calorie multi-fruit drink with soymilk are two new approaches in Europe.
10. Packaging Power. From Spain's Quilmes beer and Anheuser Busch's beers in aluminum bottles, to a new Russian innovative juice container which allows two separate drinks to mix into a drink cocktail from Alupak's Peelican, the world is alive with a new packaging power.
Innova reviewed the new tips and tricks of the packaging trade, from Heineken's Draught Keg, to windowed bread packaging in Finland, to a novel closure for beer cans in the Netherlands.
More information about Innova's presentations is available from Lu Ann Williams ([email protected], www.innova-food.com).
---
Beverage Design the Innova Way
Innova's
Taste the Trend
exhibit presented nine innovative new beverage concepts the company developed—just for Food Expo—via a fast-track concept development process. They are discussed in priority order below:
• SnackShot is a tomato-flavored, savory weight-loss drink designed as a healthy alternative to sugary snacks. It is formulated with conjugated linoleic acid (CLA) and promoted for its low-GI weight-loss advantage. It also offers a serving of vegetables. The product is packaged in a small, easy-to-pocket, 90-mL bottle, sold in packs of four.
• Breakfast Boost is an orange-flavored morning energy drink formulated with guarana extract. This convenient morning pick-me-up is an alternative to coffee and a healthier option than Red Bull, as it is a full meal replacement. It is packaged in a slim, trendy, pouch-like bottle.
• My Joey, a fortified high-fiber drink in banana flavor, is designed to help ensure the most critical nutritional needs of children: fiber, vitamins, and minerals. It's packaged in a very cool bottle with a non-leaking sports top.
• HydroPlus is an isotonic near-water sports drink with a starfruit flavor, presented in a clear, sleek, "serious sports" bottle with a sports cap. Promoted for hydration or refreshment, it's targeted to hip, young urbanites as a sleek alternative to ordinary water; it is mineral enhanced and charged.
--- PAGE BREAK ---
• LaTanga is a fun, refreshing drink in wild fruit flavors with guarana and assai. It hits a trendy Latin theme promoted for those who want to "Go Wild! We Won't Tell." Aimed primarily at women, it's packaged in a unique center popup can.
• Sense is a premium refreshing drink designed to "rest + refresh." It contains apple, acerola, and pitanga in a sleek, upscale metal bottle for those who deserve something especially elegant.
• ReVite is a fun and functional anti-aging wellness drink targeted at older adults. It comes in orange, mandarin, and aloe vera flavors and is packaged in a slim, easy-to-grab bottle.
• Polycin, a beverage in pear flavor with passion fruit and extracts, is designed for anti- aging and made with green coffee polyphenols.
• Matti, formulated with mate and apple juice, is a stimulating answer to the tea craze, now mimicking the espresso trend of years ago.
---
Chefs Serve Up 10 Points to Chew On

Innova interviewed chefs at the esteemed International Taste & Quality Institute in Brussels, Belgium, with an eye for future food industry trends and guidance. Here are 10 talking points:
1. Traditional recipes are making a comeback as consumers look for foods that are more natural and authentic. Natural ingredients and ideas are paramount.
2. There is a trend to simpler foods that taste great. Always remember, something that is basic will always be good.
3. The meat/vegetable balance needs to be re-evaluated; spend less on meat and more on vegetables, which add flavor and color.
4. Emphasis should be on maximizing flavor and freshness so that food can be prepared in larger portions.
5. Use the same ingredients, but prepare them in a different way.
6. Cooking at low temperature preserves taste and texture. Consumers won't slow cook as it takes too much time, but they enjoy the classic foods and flavors.
7. Look for "lost" and by-gone tastes and traditional techniques that offer a quality aspect.
8. Associate pleasure and health. Health will be at the base of everything. To change eating patterns we have to go through kids first.
9. Organic is an endangered category. Too many roles and different standards. Consumers are loosing trust.
10. One needs to find the right balance between cost and quality.
---
And the Winner is…

During Mintel's tasting sessions, attendees were asked to "Vote for Your Favorites" of the more than 100 health & wellness and flavor-trend products showcased. Here's how they voted:
Health & Wellness
1. General Mills Fiber One Honey Clusters cereal (USA)
2. Omega 3 Naranja y Melocoton Juice (Spain)
3. SKI Raspberry Rush Smoothie Bars (Australia)
4. SKI Smoothie Balls, Tropical Tango (Australia)
5. Aquascents water bottles (USA)
6. Kashi Mighty Bites cereal (USA)
Flavor
1. Dreyer's Dibs ice cream snacks (USA)
2. Wolfgang Puck Self-Heating Latte (USA)
3. Trader Joe's Tuna in Red Panang Curry Sauce (USA)
4. Lipton Morocco Infusion (Belgium)
5. Little Notions … Snack Range (UK)
6. Spicy Oriental Beef Flavor Snacks (UK)
by A. Elizabeth Sloan,
Contributing Editor 
President, Sloan Trends, Inc., Escondido, Calif. 
[email protected]