From providing vitamins, minerals, protein, and fiber to reducing the risk of coronary heart disease and aiding in weight management, nuts have emerged as both a healthy snack and a nutritional ingredient. The health image of nuts was given a boost in 2003 when the Food and Drug Administration approved a qualified health claim for nuts that linked most nuts, as part of a diet low in saturated fat and cholesterol, to a reduced risk of heart disease. In addition, Mukuddem-Petersen et al. (2005) concluded that the consumption of 50–100 g of nuts (almonds, peanuts, pecans, and walnuts) more than 5 times/week as part of a heart-healthy diet may significantly reduce total cholesterol and low-density-lipoprotein (LDL) cholesterol in normo and hyperlipidemic individuals.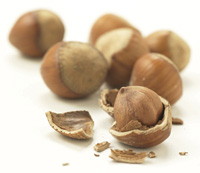 What follows is additional research that focuses on the health benefits of almonds, hazelnuts, pecans, pistachios, and walnuts.
Almonds
According to the Almond Board of California, Modesto, Calif. (phone 209-549-8262, www.almondboard.com), a 1-oz serving of almonds provides 35% of the daily value (DV) of vitamin E, 3 g of dietary fiber, 6 g of plant-based protein, and 8% of the DV of calcium. Research points to the antioxidant properties of almonds, as well as the nut's role in brain health and weight management.
For example, Milbury et al. (2006) found that a serving of almonds contains a comparable amount of flavonoids as a serving of broccoli or a cup of brewed black or green tea. According to the Society for Neuroscience (2005), research conducted at the University of Illinois–Chicago showed that when Alzheimer's transgenic mice are fed a diet rich in almonds, their cerebral amyloid load, a hallmark of Alzheimer's disease, is reduced and their performance in memory and learning tests improves.
A study presented by the Almond Board of California (2006) this past October at the Obesity Society Annual Scientific Meeting 2006 indicated that almonds are satiating, and that eating up to 2 oz/day may play a role in managing weight. Researchers at Purdue University had 20 overweight women eat nearly two servings of almonds/day for 10 weeks. Half of the women consumed almonds for the first 10 weeks and then no almonds for the second 10 weeks, while the other women followed the reverse pattern.
The researchers found that during the time the women were eating almonds, they did not increase their physical activity, and their metabolism did not increase. Yet, despite the 300 calories' worth of almonds they were eating each day, their weight and body mass index did not increase. The researchers concluded that the women found their daily almond snack to be very filling and naturally compensated in their caloric intake at other times of the day.
--- PAGE BREAK ---
Hazelnuts
Hazelnuts have a low percentage of saturated fat and are a rich source of antioxidants, dietary fiber, and phytochemicals. Moreover, they are an excellent source of vitamin E, according to the Hazelnut Council, Jersey City, N.J. (phone 201-633-8686, www.hazelnutcouncil.org). Mercanlgil et al. (2006) found that eating 1 serving/day of hazelnuts favorably altered multiple plasma lipid variables and reduced the risk of coronary heart disease. The consumption of 40 g/day (approximately 1-1/3 oz) of hazelnuts by 15 hypercholesterolemic adult men resulted in a significant increase in monounsaturated fatty acid (MUFA) intake. Both dietary cholesterol concentrations and body weights of subjects remained stable throughout the study. The study showed that a high-fat and high-MUFA-rich hazelnut diet was superior to a low-fat control diet because of favorable changes in plasma lipid profiles, thereby positively affecting the coronary heart disease risk profile.
Pecans
Pecans contain more than 19 vitamins and minerals, including vitamins A and E, folic acid, calcium, magnesium, phosphorus, potassium, several B vitamins, and zinc. A 1-oz serving of pecans has about the same amount of fiber as a medium-sized apple and provides 10% of the DV for fiber, according to the National Pecan Shellers Association, Atlanta, Ga. (phone 404-252-3663, www.ilovepecans.org).
Haddad et al. (2006) found that eating pecans every day may inhibit unwanted oxidation of blood lipids. The aim of the study was to determine whether plasma concentrations of tocopherols and measures of antioxidant capacity and oxidative stress are affected by the consumption of pecans. The results presented evidence of the potential protective effects of pecan consumption in healthy individuals.
Pistachios
According to the California Pistachio Commission, Fresno, Calif. (phone 559-221-8294, www.pistachios.org), a 1-oz serving of pistachios contains more than 10% of the DV for dietary fiber, vitamin B-6, thiamin, phosphorus, and copper. In an analysis of the phytosterol (cholesterol-lowering properties) content of nuts and seeds, Phillips et al. (2005) found that of the products typically consumed as snack foods in the United States, pistachios and sunflower kernels were the richest in phytosterols (270–289 mg/100 g).
--- PAGE BREAK ---
Kocyigit et al. (2006) examined the effects of the consumption of pistachio nuts on plasma lipid profile and oxidative status in 24 healthy men and 20 healthy women with normal lipid levels. The subjects consumed their regular diets during a one-week period. After this period, half of the subjects (12 men and 10 women) were randomized to a group fed a regular diet and the other half were randomized to a group fed pistachios, which involved substituting pistachio nuts for 20% of their daily caloric intake for three weeks.
After three weeks, the mean plasma total cholesterol, malondialdehyde (MDA) levels, and total cholesterol/HDL and LDL/HDL ratios were significantly decreased, while HDL and antioxidant potential (AOP) levels and AOP/MDA ratios were significantly increased in the subjects on the pistachio diet. The results indicate that the consumption of pistachio nuts decreased oxidative stress and improved total cholesterol and HDL levels in healthy volunteers.
Walnuts
A 1-oz serving of walnuts provides 2.6 g of alpha-linolenic acid, 2 g of dietary fiber, and 4 g of protein, according to the Walnut Marketing Board, Sacramento, Calif. (phone 916-922-5888, www.walnuts.org). Reiter et al. (2005) showed that walnuts are a source of melatonin, a hormone that protects cells against oxidative damage. The study found that mean melatonin concentrations were 3.5  1.0 ng/g of walnut.
Cortes et al. (2006) suggested that walnuts may protect the body's arteries from the harm associated with eating a meal high in saturated fat. The researchers hypothesized that walnuts would reverse postprandial endothelial dysfunction associated with consumption of a fatty meal. They randomized in a crossover design 12 healthy subjects and 12 patients with hypercholesterolemia to two high-fat meal sequences to which 25 g of olive oil or 40 g of walnuts had been added. The researchers concluded that adding walnuts to a high-fat meal acutely improved flow-mediated dilation independently of changes in oxidation, inflammation, or plasma asymmetric dimethylarginine.
by Linda Milo Ohr,
Contributing Editor, Denver, Colo.
 [email protected] 
References
Almond Board of California. 2006. New study: Almonds curb appetite and can help in managing weight. Press release. Oct. 30.
Cortés, B., Núñez, I., Cofán, M., Gilabert, R., Pérez-Heras, A., Casals, E., Deulofeu, R., and Ros, E. 2006. Acute effects of high-fat meals enriched with walnuts or olive oil on postprandial endothelial function. J. Am. Coll. Cardiol. 48: 1666-1671.
Haddad, E., Jambazian, P., Karunia, M., Tanzman, J., and Sabate, J. 2006. A pecan-enriched diet increases a-tocopherol/cholesterol and decreases thiobarbituric acid reactive substances in plasma of adults. Nutr. Res. 26: 397-402
Kocyigit, A., Koylu, A.A., and Keles, H. 2006. Effects of pistachio nuts consumption on plasma lipid profile and oxidative status in healthy volunteers. Nutr. Metab. Cardiovasc. Dis. 2006. 16: 202-209.
Mercanlgil, S.M., Arslan, P., Alasalvar, C., Okut, E., Akgül, E., Pinar, A., Geyik, P.O., Tokgözoglu, L., and Shahidi, F. 2006. Effects of hazelnut-enriched diet on plasma cholesterol and lipoprotein profiles in hypercholesterolemic adult men. Eur. J. Clin. Nutr. Advance online publication. Sept. 13. doi: 10.1038/sj.ejcn.1602518.
Milbury P.E., Chen, C.Y., Dolnikowski, G.G., and Blumberg, J.B. 2006. Determination of flavonoids and phenolics and their distribution in almonds. J. Agri. Food Chem. 54: 5027-5033.
Mukuddem-Petersen, J., Oosthuizen, W., and Jerling, J.C. 2005. A systematic review of the effects of nuts on blood lipid profiles in humans. J. Nutr. 135: 2082-2089.
Phillips, K. M., Ruggio, D.M., and Ashraf-Khorassani, M. 2005. Phytosterol composition of nuts and seeds commonly consumed in the United States. J. Agric. Food Chem. 53: 9436-9445.
Reiter, R.J., Manchester, L.C., and Tan, D. 2005. Mealtonin in walnuts: Influence on levels of melatonin and total antioxidant capacity of blood. Nutrition 21: 920-924.
Society for Neuroscience. 2005. Back to basics: Diet may help maintain brain function and treat brain disorders. Press release. Nov. 14.