Get set for some wild times in the restaurant business. Economic worries have diners trading down to less-expensive eateries and buying up to premium foods.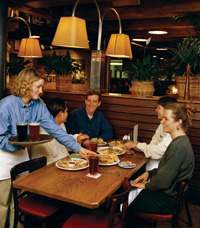 High-spending Boomers are rushing back to restaurants after the kids have gone, with a new set of menu demands and culinary styles almost diametrically opposed to those of Generation Y, long the heaviest users of restaurants.
Although restaurant visits have traditionally declined with age, hard-working Baby Boomers, who continue to buck retirement, will rely on restaurants for convenient meals and indulgent rewards, creating a new, lucrative, and virtually unexplored older dining segment.
Trading Down, Buying Up
Although hard hit by high gas/energy prices and rising interest rates, the restaurant industry is projected to grow at a 3% real rate this year and through 2007, marking 15 years of consecutive growth (Technomic, Inc., 2006a).
Although consumers are not giving up dining out or buying take-out meals, they are "trading down" from more-expensive full-service, casual dining, and mid-scale eateries and increasing their visits to fast-casual and quick-service restaurants. NPD Group reports that QSR traffic for June 2006 vs 2005 rose 3% and casual dining fell 1% (Duecy, 2006a).
At the same time, overwhelmed Americans of all income levels continue to reward themselves by "buying up" to more-upscale, adventuresome, or socially conscious fare, putting pressure on fast-food, fast-casual, and other limited-service restaurants to add more premium items and dual-pricing value-driven strategies (Sloan, 2006).
Long John Silver's Lobster Bites, Papa John's Sicilian Meats Pizza, and Carl's Jr.'s Pastrami Burger are perfectly positioned for this new buy-up/trade-down behavior. Innovative culinary concepts aimed at the value end of menus will see unprecedented demand.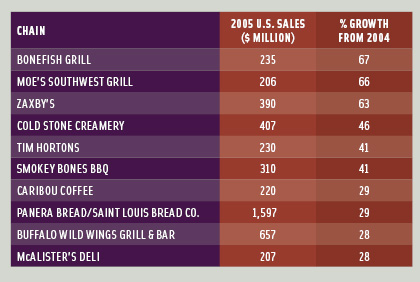 Fast-casual restaurants like the upscale Bonefish Grill, which was the fastest-growing restaurant chain with sales over $200 million in 2005, and Panera Bread, which led growth in the limited-service segment, are well-positioned for the trading down/buying up trend (Table 1; Technomic, 2006a). Eyeing the dinner category, Panera added six new hand-crafted Crispani flatbread pizzas with all-natural fresh toppings and was the first major restaurant chain to introduce an all-natural and/or organic child's menu in 2006.
Limited-service bakery/cafés (with sales up 28%) were the fastest-growing menu category in 2005 (Technomic, 2006a), followed by beverage/coffee shops (up 20%) and limited-service Mexican, full-service seafood, and limited-service "other sandwich" (each up 12%). Starbucks, with more than half of stores now offering drive-thru service, posted a 21% sales gain.
Take-out/take-home meals are on the rise and are one of the few 2006 growth areas for casual restaurants, according to NPD (Duecy, 2006a). One reason is that traditional menu add-ons such as beverages can be more economically sourced from home. About one-quarter (23%) of casual take-out dinners included chicken, 21% Asian, 15% seafood, 14% pizza, 11% pasta, 9% Mexican, 7% sandwiches, 6% main salads, 5% beef, and 4% burgers (NPD, 2006a). Strong opportunities exist for more-affordable appetizers, sides, desserts, and breakfast items.
--- PAGE BREAK ---
In the casual-dining segment, bar and grill sales have been another bright spot, accounting for 10% of Applebee's overall sales in 2006 and 29% of all casual-dining visits for those age 18–34 in 2005, according to NPD (Duecy, 2006b). With 4 million young adults turning age 21 each year for the next 10 years, and Empty Nesters sending spirit and wine consumption to its highest level in decades, "mixology" might just become a national culinary sport (Sloan, 2005).
Bar food is another fast-emerging segment. In addition to incremental business from cocktail companions, smaller tidbits can provide a more-affordable means to sample a restaurant's signature dishes and draw a larger and younger budget-concerned clientele. McCain's Latin Latitudes Empanadas offer bold flavor and are a perfect drink accompaniment.
With home entertaining on the rise, cashing in on special events and business catering is another hot trend, with sales projected to grow 8.4% this year (NRA, 2006a). Even QSRs are getting into the act. Boston Market caters weddings/special events with silver-service and tuxedo-clad waiters. Rubio's Mexican Bar and Grill has a complete set of party taco and burrito kits. Einstein Bros. Bagels advertises its "fancy, schmancy catering," and Red Lobster will deliver fresh seafood right to your door.
Upgrading to more gourmet concession foods at sports arenas and an increasing reliance on restaurants for snacks are projected to increase sales of their respective segments by 7.6% and 8.4% in 2006 (NRA, 2006a). Managed services for primary/secondary schools, colleges/universities, and hospitals/nursing homes are also turning in strong gains.
Breakfast remains one of the strongest dayparts. NPD reports that morning QSR sales are up 8% for the quarter ending March 2006 (Duecy, 2006c). While working adults age 25–49 and seniors, who are most likely to eat a morning meal, are the heaviest users of QSR breakfasts, busy moms with children are a new fast-growing segment. Dunkin' Donuts is testing a personal breakfast pizza, and McDonald's is testing Cinnamon Melts.
And the competition is getting tougher. Two-thirds (67%) of consumers increased "brown-bagging" over the first six months of 2006 (up 8%), and 48% ordered more take-out foods from supermarkets (up 9%) (Technomic, 2006b). NPD reports that foodservice sales at convenience stores increased 15% in June 2006 vs 2005 (Duecy, 2006a). Some chains are moving into retail stores to boost sales—e.g., Cold Stone Creamery is testing its ice cream restaurants in Target stores.
Ironically, while more-affluent consumers are emotionally but not particularly fiscally affected by higher gas prices, they'll continue to view indulgent dining as an affordable means of entertainment, sending sales of the fine-dining segment up 5.2% in 2006 (NRA, 2006a). Moreover, diners who trade down may well splurge at fancier restaurants for special occasions.
Generational Drivers
Dramatic demographic shifts are posing yet another challenge to the foodservice industry and will force operators to cater to the diverse needs of the 72 million Gen Yers now age 12–29 and the 76 million aging Boomers now 42–60. With Gen X one-third the size of these two "sandwich" generations, foodservice markets aimed at busy families with children will soften over the next 5–7 years (Sloan, 2005).
Aging diners will put unprecedented pressure on operators to provide healthier menu options. Brought up on the Basic 4, Boomers expect a "balanced" plate of protein, starch, and vegetables when it comes to restaurant meals, although they seem quite willing to forego the bread.
--- PAGE BREAK ---
Those age 45 and older order fruits and vegetables in restaurants twice as often as any other age group. More than half (56%) of diners age 55 and older and 52% of those age 35–54 always or sometimes traded potatoes for vegetables at fullservice restaurants last year (Technomic, 2005a). Men 55–64 ordered significantly more vegetables in 2005, suggesting that they may well be under-menued (PBHF, 2005).   
Boomers are most likely to order seafood, Gen Yers chicken, and Gen Xers chicken or beef (R&I, 2005). Novelty fish, such as skate, shark, and yellowtail snapper, and regional seafood, such as Lake Superior trout, are a good bet with Boomers. The Olive Garden's Shrimp and Asparagus Risotto is right on target for Boomers, combining mild Tuscan flavors, vegetables and grains.
Older diners lean toward olive oil vs butter in fish preparations, citrus flavorings, fruit toppings, liquor glazes, and crunchy nut and whole-grain crusts. Crunchy and crispy, now second only to fresh as the most-popular menu descriptors in fine dining, are being driven by the Boomers, according to Mintel (Archibald, 2006a).
Boomers are more likely to order steak and salads and are demanding less-filling and healthier soups. Wonton, clam chowder, egg drop, hot and sour, vegetable, and chicken noodle soup were the most-ordered restaurant soups in 2005 (NPD, 2005a). Chef variations on clam chowder, vegetable, tortilla, and baked onion soups, like Morton's Five Onion Soup, represent the latest soup culinary trend (Technomic, 2006c).
Older diners will likely boost dessert orders, which now end only 14% of restaurant meals (NPD, 2006b). Most likely to eat dessert are Seniors (32%), Empty Nesters (18%), who constitute the largest number of U.S. households, and Singles, who are the second-largest household unit. Lighter and portion-controlled but indulgent desserts will be in high demand. It's hard to choose just one when waiters at Darden's Seasons 52 restaurant in Orlando bring a peg-board dessert sampler full of shot glass-sized indulgent treats at the end of the meal.
Candy carts piled high with fine chocolates/confections have found a new niche at the end of the meal. So have hot and cold "drinkable desserts," such as new-age Grasshoppers or Brandy Alexanders or a specialty milk shake such as Carl's Jr.'s Oreo Cookie Flavor Shake. White chocolate, chocolate with espresso flavor, and fruit cobblers are also currently on trend.
In contrast to their younger counterparts, Boomers are the least interested in gourmet, spicy, and ethnic foods. The ethnic foods eaten regularly by those age 50–64 are Italian (84%), Chinese (75%), Mexican (70%), German (26%), Japanese (23%), Greek (19%), Indian (14%), Thai (12%), and Middle Eastern (9%) (MSS, 2005).
Boomers are most comfortable with upscaled comfort and classic foods. They are the most interested in details about specific food ingredients, and are the drivers of authentic cuisines and regional fare. More financially well off, Boomers are the strongest supporters of socially driven menu trends, including Fair Trade and locally/sustainably grown foods (NMI, 2006).
Conversely, the on-the-go Gen Yers are driving the explosive market for restaurant snacks. Three-quarters (74%) of Americans eat snacks in the evening, 57% in the afternoon, and 45% mid-morning. NPD reports that for the quarter ending February 2006, QSR traffic was up 7% from 5 to 10 a.m., 3% from 11 a.m. to 2 p.m., 7% from 3 to 4 p.m., flat from 5 to 8 p.m., and up 11% from 9 p.m. to midnight (Duecy, 2006d).
Men age 18–34 are driving this new late-night eating occasion, dubbed the "4th meal" by Taco Bell, and account for 22% of all traffic. Teens make up 25% of traffic from 3 to 5 p.m. (Duecy, 2006d). About one-quarter (28%) of high school boys and 18% of high school girls skip lunch and meet their friends at fast-food restaurants in the afternoon for snacks (Aramark, 2005). Key target opportunities are more affordable and sharable snacks for teens, hold-me-over heartier tidbits for those who will be eating a late dinner, and lighter snacks for women and seniors.
--- PAGE BREAK ---
And there's lots of room to grow. In 2006, only 25% of Americans bought snacks from foodservice venues (Technomic, 2006d), and only 7% of consumers rated as excellent the selection of foodservice snacks, 10% taste, 4% value, 3% healthfulness, and 4% cost.
Those under age 35 are twice as likely to order appetizers as those over age 55 (Technomic, 2006e). Sales of appetizers fell in 2005, largely because of a lack of lighter options for women. Diners say they'd be more likely to order appetizers if they came in adjustable quantities (48%), were healthier (26%), or were more unique (24%).
America's favorite appetizers are Mozzarella sticks (34%), wings (23%), potato skins (20%), nachos (20%), and onion rings (19%). Shrimp cocktail, spinach/artichoke dip, quesadillas, calamari, and French fries were named by 12–17% of diners (Technomic, 2006e). Smoked and grilled seafood, spicy finger foods, and Mexican-inspired bolder-flavored appetizers are among the latest trends.
When it comes to dipping sauces, 49% of diners find ranch the most appealing, 30% BBQ, 25% hot sauce, 25% sweet 'n sour, 20% blue cheese, and 15% sweet and spicy (Technomic, 2006e).
Gen Yers have the highest consumption of ethnic foods, and their tastes are quite different from those of their older counterparts. Of those age 18–28, 40% name Chinese as their favorite food, followed by Mexican, Japanese, Italian, Indian, Mongolian BBQ, and Middle Eastern (Packaged Facts, 2006). Gen Yers are also the most interested in trying new menu items and are the most likely to say they'd like to eat gourmet everyday; the Boomers and Matures are the least likely.
Menu Minders
Chicken, sandwiches, and pizza are among Americans' most favorite entrees when dining out or taking home, but seafood, main-dish salads, Asian, and Mexican are coming on strong (NPD, 2005b). Pasta will make a full recovery from the low-carb movement, with promotions such as Olive Garden's Never Ending Pasta Bowl.
In sandwich chains, operators are moving toward more premium ingredients and gourmet positionings. Quiznos menus a Chicken Milano on Rosemary Parmesan Bread, including chicken, Italian cheese, tomato, spring mix, sun-dried tomato pesto, and Tuscan basil mayo. Chicken parmesan and pulled-pork sandwiches are other current menu trends.
Whole-grain and more exotic breads are another strong trend. Wendy's offers Frescata sandwiches, and 7-Eleven features a new line of Ciabatta-based sandwiches, including Brown Sugar Turkey.
Sandwich shops are also adding breakfast sandwiches to compete with QSRs and are also featuring bolder, more authentic flavors for spreads/sauces, stronger cheeses such as Blue and gorgonzola, and applewood-smoked bacon (Technomic, 2006f).
Pizza now accounts for 10% of all foodservice sales (Technomic, 2006g). Nine out of 10 consumers say that fresh toppings are the most important ingredient for creating a good pizza, followed by flavorful cheese, sauce, crust texture, dough flavor, and that the pizza is made to order. Take-and-bake is a fast-growing market trend.
Steak, Asian, taco, and seafood are among the hottest new salad directions. Mintel (2006a) reports that lighter dressings are getting unprecedented menu attention, with new vinaigrette flavors like tamarind, salsa, shallot, ginger, black walnut, and cranberry. Houlihan's offers a banana-ginger vinaigrette dressing on its Ahi Tuna Salad.
--- PAGE BREAK ---
With sales volume of carbonated soft drinks falling for the first time since 1985 and consumer purchasing behaviors shifting away from sugary and higher-calorie beverages, operators will need to rebalance their beverage options. Energy drink sales jumped 81% in 2005, sports drinks 21%, bottled water 11%, and ready-to-drink tea 2% (BMC, 2006).
Among young adults, water is now the most frequently consumed beverage, and flavored waters are coming on strong. Contrary to popular belief, coffee consumption increases with age, and with Boomers returning to restaurants, lighter coffee blends that are not as bitter as those preferred by young adults should help increase snacking traffic (Mintel, 2005).
Fries and pizza top the list of restaurant meals most ordered for and by kids age 6 and under, followed by nuggets, burgers, ice cream, non-fried vegetables, Mexican, rice, macaroni and cheese, and fruit (NPD, 2005c). Along with bolder flavors, more ethnic options, and increased choice, young diners also want more courses, especially appetizers. Half (48%) of kids age 6–11 and 42% of teens want to share their food (Yankelovich, 2005).
Emerging Culinary Directions
With a growing penchant for bold flavors and with young adults already taking pad Thai and sushi for granted, the integration of foreign cuisines into the American menu will accelerate. But it will be driven by food forms that are in some way familiar to Americans, like empanadas, Argentinean savory stuffed bite-sized pies, or Pho, a Vietnamese beef noodle soup.
Spanish, Thai, Jamaican, Indian, and Moroccan cuisines are mainstreaming onto menus nationwide, according to Mintel (Archibald, 2006). Expect Spanish tapas, paella, cured hams, cheeses, gazpacho, romesco sauce, and Spanish paprika to move into the spotlight, along with dishes from the Basque and Catalonian regions of Spain. California Pizza Kitchens' new Thai Curry Noodles combine elements of both Indian and Thai cuisine, two Gen Y favorites.
Bold flavors and flaming meats on skewers—destined for a variety of dipping sauces—emanating from Brazil and Argentina are another strong new culinary direction. Expect Chimichurri—a sauce made from vinegar, olive oil, fresh parsley, dried oregano, and pepper flakes—and South American stuffed "sandwiches" such as arepas and pupusas to be sure bets.
Western Indian cuisine and the "familiar" foods, especially stews, from northern Africa will begin trickling onto menus. Expect more of India's regional and classic vegetarian dishes—heavily laden with mustard seeds, fenugreek, curry leaves, coriander, coconut, and red chilies—to gain in popularity. Updated Turkish kebabs will also continue to make a dramatic presentation.
The trend to layering flavors, crispy crusts, and stuffed meats, such as Maple Leaf Farms' Filled Duck Breast Filets stuffed with pear and gorgonzola cheese, will continue. Expect greater use of grilling, smoking, cooking in parchment to hold in flavor and keep calories down, and techniques like braising and stewing that permit utilization of cheaper cuts of meat. Red Lobster offers Fish in a Bag, baked with fresh lemons, herbs, and vegetables, and Olive Garden features Chianti Braised Short Ribs. Watch for various forms of pesto and aioli; greater utilization of wine, port, and sherry in cooking, including salad dressings; and bold cheeses, exotic fruits, and gourmet rice almost anywhere.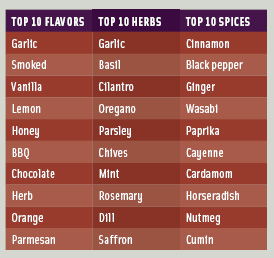 Table 2 lists the top 10 flavors, herbs, and spices most frequently mentioned on menus (Mintel, 2006b). The top five flavor descriptors on menus nationwide are spicy, seasoned, sweet, zesty, and tangy.
--- PAGE BREAK ---
Healthy Does It
The time for healthier menu development is now! About half of all diners say they always make an effort to eat healthier when dining out, although 36% never go as far as ask for healthy customized orders (NRA, 2006b). Mintel (2006b) reports that 54% of those who dine out rate low-fat, gluten-free, vegetarian, or heart-healthy as important or very important.
Consumers most frequently associate healthfulness with freshness on restaurant menus (Technomic, 2005b). Fresh-baked, made-on-premise and made-to-order were found to be the most motivating menu descriptors. Carl's Jr.'s Hand-Scooped Ice Cream Shakes and Malts convey a nostalgic fresh image.
Diners also determine if a food is healthy by the type of ingredients (54%), amount of fat (50%), type of oil (35%), calories (34%), sodium (32%), portion size (31%), carbs (23%), and amount of butter (20%) (Technomic, 2005b). Inherently healthy items—fruits, vegetables, whole grains, yogurt,olive oil, nuts, and fish—are the ingredients that signal "healthy."
With 66% of Americans saying that organic foods are better-tasting and 77% that they are fresher, it's not surprising that natural meats and organic ingredients are mainstreaming onto menus (FMI, 2005). Mintel (2006b) reports that organic is right behind fat-free, low-fat, light, and low carb on the list of the top 10 nutrition ingredient claims on menus across all dining types. Organic ranks No. 1 in fine dining; milk-fed and naturally raised also made the top 10 list.
Seasonal, homemade, artisan, house-made, local, and natural are other descriptors beginning to appear on fine-dining menus (Archibald, 2006). With 47% of consumers interested in buying Fair Trade Certified foods and 48% foods from farms that practice sustainable agriculture, these menu categories are poised for growth (NMI, 2006).
At the same time, pressure continues to mount on removing trans fats, food allergens, antibiotics/hormones, gluten, and MSG and reducing calories and sodium levels on menus. Mintel (2006b) reports that 170 new trans fat-free menu items were added in the year ending June 2006 and 56% of them appeared in fast-casual chains. Au Bon Pain has launched baked sandwiches with 0 g of trans fat. The warm sandwich, baked in parchment paper, contains roasted turkey medallions, English cranberry Wensleydale cheese, tangy Dijon mustard, almonds, and warm Rosemary Focaccia bread.
Without a doubt, salt will be the next hot issue. The American Medical Association is calling for a 50% reduction in the amount of sodium in restaurant foods. In addition, the National Institutes of Health, National Academies of Science, U.S. Dept. of Agriculture, World Health Organization, and more than 40 professional and scientific organizations have come to the same conclusion. With bold cuisines mainstreaming onto menus, replacing salt with more pungent herbs will be easier than ever. Hormel Food Co.'s 100% natural, reduced-sodium Hormel Natural Choice Sliced Deli Meats will have high appeal to health-conscious guests.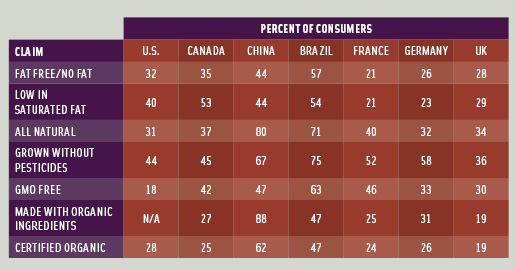 And as international markets become a key growth area for major restaurant chains, these health issues will follow suit. HealthFocus (2006) reports that in major foodservice markets outside the U.S., many concerns are stronger than in the U.S. (Table 3). The 25% of the Top 500 chains that operated outside the U.S. posted an average international sales growth of 11.8% in 2005 (Technomic, 2006b).
Restaurants a Way of Life
With "having no time to cook" far and away the No. 1 reason that consumers eat out or take home foods and with Boomers extending the years of active restaurant use among older adults for the first time in history despite temporary economic concerns, the future of the restaurant industry will be more exciting than ever.
Moreover, younger Gen Y consumers brought up on take-out and the Food Channel will raise the bar on more adventuresome dining and send waves of more exotic cuisines, foods, and ingredients skyrocketing mainstream. Most important, operators must move toward more healthful menu options and closer-to-the-farm sourcing, which are now key menu drivers across all ages, demographics, and ethnicities.
by A. Elizabeth Sloan, Ph.D., a Professional Member of IFT and Food Technology Contributing Editor, is President, Sloan Trends & Solutions, Inc., P.O. Box 461149, Escondido, CA 92046 ([email protected]).