Digestive ailments range from constipation and diarrhea to irritable bowel syndrome, diverticulitis, and colon cancer. According to the National Digestive Diseases Information Clearing House, Bethesda, Md., 60–70 million people in the United States experience digestive diseases.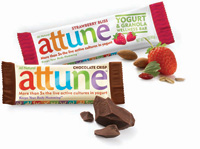 Retail products that promote overall digestive health for everyone from infants to seniors are available at the market and continue to be developed. Nutrition bars, cereals, and beverages make claims that they benefit the digestive system with ingredients such as probiotics, inulin, oligosaccharides, and more. Here are some ingredients that show promise in aiding digestion.
Probiotics
Probiotics are live microorganisms that colonize the intestinal tract and provide many benefits. They most often are found in yogurt but are also being increasingly included in cereals and nutrition bars. The Kashi Co., La Jolla, Calif. (phone 858-274-8870, www.kashi.com), recently launched Kashi Vive™, a shelf-stable cereal that contains probiotics. Promoted to purify and strengthen the digestive system, it contains Lactobacillus to improve the balance of good and bad bacteria in the digestive system. It also contains ginger to ease and calm digestive ailments such as indigestion; fiber and natural broccoli extracts to purify the digestive tract and liver; and calcium and vitamin D to aid in the regeneration and strengthening of healthy intestinal cells.
Attune Foods, San Francisco, Calif. (phone 800- 641-4508, www.attunefoods.com), has introduced Attune Yogurt and Granola Wellness Bars, which contain three different specially formulated probiotic strains—called Lafti® probiotics—manufactured by DSM Food Specialties, Parsippany, N.J. (phone 610-650-8480, www.dsm.com). These probiotics are part of the natural flora in the digestive system. Each bar contains more than 10 billion probiotics as well as the prebiotic inulin.
Ingredient suppliers are developing new applications for probiotics. Chr. Hansen, Hørsholm, Denmark (phone +45-45-7474-74, www.chr-hansen.com), offers a range of probiotic strains suitable for restoring balance in the gastrointestinal tract. The company, together with Kerry Group plc, Tralee, Ireland (phone +353-66-718-2000, www.kerrygroup.com), developed a probiotic orange juice called Dawn for the Irish market, which contains the company's probiotics BB-12® and LA-5®. Chr. Hansen and Central American ice cream producer Dos Pinos developed a probiotic ice cream.
--- PAGE BREAK ---
The company also announced that it is participating in an international bioinformatics project to further understand why bacteria perform the way they do, and to discover additional healthful effects of lactic acid bacteria. This could lead to the development of improved probiotic food products. Bioinformatics is a science that involves converting complex biological data into concrete knowledge using sophisticated mathematical models and statistics.
Danisco USA Inc., Madison, Wis. (phone 800-255-6837, www.danisco.com, www.howaru.com), demonstrated that oral administration of Lactobacillus acidophilus NCFM™ probiotic strain shows potential as an alternative to traditional intestinal pain killers (Danisco, 2006a). When scientists put intestinal epithelial cells in contact with various lactic acid bacteria, the probiotic strain induced a significant expression of receptors that exert an analgesic effect.
Consumption of Danisco's Howaru™ Acidophilus is said to increase the level of intestinal lactobacilli and improve the activity of the intestinal microflora, reducing the level of toxic amines and carcinogen-activating enzymes. Last year, the company introduced Howaru Restore, a mixture of probiotic strains that helps maintain and restore healthy gut flora. It is said to promote the growth of bifidobacteria and return bifidobacteria to normal baseline levels following antibiotic therapy (Danisco, 2006b).
Prebiotics
Prebiotics, nondigestible fibers that serve as a food source for probiotics, are also showing up in novel applications. This year, Kraft Foods Inc., Northfield, Ill. (phone 800-323-0768, www.kraft.com), introduced Breakstone's and Knudsen LiveActive Cottage Cheese for Digestive Health, which contain inulin. Inulin is also present in the recently launched Beech-Nut Good Evening baby cereal and jarred food from Beech-Nut Nutrition Corp., St. Louis, Mo. (phone 800-233-2468, www.beechnut.com), to help babies' digestive health.
Prebiotic suppliers are helping manufacturers develop innovative ways to use prebiotics. For example, in January, Tate & Lyle, Decatur, Ill. (phone 800-526-5728, www.tateandlyle.com), announced the launch of two new ingredient systems for fortified beverages as part of its new Enrich™ service: Multi-Fruit Drink Enrich and Flavored Water Enrich. These are said to help manufacturers create great-tasting, fortified drinks that contain high levels of prebiotic fibers, probiotics, proteins, and vitamins.
--- PAGE BREAK ---
Prebiotics not only work synbiotically with probiotics but also could protect probiotics through microencapsulation. Ann et al. (2007) evaluated the effects of prebiotic substrates on the growth of L. acidophilus ATCC 43121 and investigated the use of these prebiotics as coating materials for microencapsulation. The microencapsulation of L. acidophilus ATCC 43121 cells with selected prebiotic substrates (sorbitol, mannitol, lactulose, xylitol, inulin, fructooligosaccharide, and raffinose) and an enteric coating material was carried out by a dry surface-reforming process. The cell growth significantly increased in the presence of fructooligosaccharide, lactulose, and raffinose. The highest survival rate observed was when it was double-microencapsulated with fructooligsaccharide.
Emerging research and supplier innovation continue to enhance the variety of prebiotics available, including inulin, polydextrose, resistant starch, and fructooligosaccharides.
• Inulin. Bouhnik et al. (2007) showed that consuming 2.5 g of inulin twice a day exerted a prebiotic effect in healthy volunteers by stimulating bifidobacteria growth. The researchers randomly assigned 39 healthy volunteers to two groups and gave the subjects either 2.5 g of inulin or a placebo twice a day for four weeks. The fecal bifidobacteria counts increased in the subjects who took the inulin, whereas the count did not change in the subjects who took the placebo. The Lactobacillus counts did not change in the experimental group but decreased in the control group.
Kolida et al. (2007) demonstrated that 5 g/day of Frutafit® inulin, which is offered by Sensus America LLC, Monmouth Junction, N.J. (phone 646-452-6140, www.sensus.nl), had a prebiotic effect without side effects in adults. In addition, Kim et al. (2007) showed that Frutafit had a prebiotic effect in formula-fed babies.
Rafter et al. (2007) showed that several colorectal cancer biomarkers can be altered favorably by synbiotic intervention using a combination of an oligofructose-enriched inulin, Beneo Synergy1™, manufactured by Orafti North America, Malvern, Pa. (phone 610-889-9828, www.orafti.com), Lactobacillus rhamnosus GG (LGG), and Bifidobacterium lactis Bb12 (BB12). The study was conducted on 37 colon cancer patients and 43 polypectomized patients. The researchers found that synbiotic intervention resulted in significant changes in fecal flora—Bifidobacterium and Lactobacillus increased and Clostridium perfringens decreased.
--- PAGE BREAK ---
Cargill Health & Food Technologies, Minneapolis, Minn. (phone 866-456-8872, www.cargillhft.com), announced last year the expanded GRAS status of its Oliggo-Fiber® brand of inulin and oligofructose products, making prebiotic use more versatile for formulators. The inulin was previously deemed GRAS for use in a list of specified foods, but the "general food use" approval means that it can be used in many more foods with no limitations other than those specified by current good manufacturing practices.
• Polydextrose. This polysaccharide is composed of randomly cross-linked glucose bonded by types of glycosidic bonds. Danisco USA Inc., Elmsford, N.Y. (phone 913-764-8100, www.danisco.com, www.litesse.com), manufacturers Litesse® polydextrose, which is resistant to hydrolysis by human digestive enzymes. After ingestion, it passes intact into the colon where it is partially fermented by the colonic microflora. Research has indicated that it enhances saccharolytic (carbohydrate) fermentation, thus reducing colonic pH; selectively stimulates the growth of bifidobacteria and lactobacilli; enhances immune response; and may reduce risk of colon cancer.
Danisco has also developed a line of fruit snack prototypes that show the versatility of its polydextrose. These prototypes were created using products from the Danisco portfolio, including Litesse Ultra™ Polydextrose. The company has also developed strawberry yogurt–filled confections and vanilla wafers that contain its probiotic culture, Howaru Dophilus, Litesse, and Lactitol. The combination creates a synbiotic effect with digestive health benefits.
• Resistant Starch. This starch from high-amylose corn helps maintain a healthy colon and digestive system. National Starch Food Innovation, Bridgewater, N.J. (phone 800-743-6343, www.foodinnovation.com), offers a form of high-amylose corn resistant starch, known as Hi-maize® 5-in-1 Fiber. According to the company, 12 studies demonstrated that the high-amylose corn RS2 resistant starch promotes intestinal/colonic health. They show that Hi-maize encourages the growth of health-promoting bacteria as prebiotic fibers, significantly increases the production of short-chain fatty acids, and prevents DNA damage induced by high-protein diets.
• Fructooligosaccharides. Nutra-Flora® short-chain fructo-oligosaccharide (scFOS®) from GTC Nutrition, Golden, Col. (phone 303-216-2489, www.gtcnutrition.com), is a natural prebiotic fiber derived from cane or beet sugar. By supporting the growth of probiotics, it provides health benefits such as improved calcium absorption and a strong immune system. This year, the National Organic Standards Board approved Nutra-Flora to be included on the National List of non-organically produced ingredients that are allowed to be used in organic products.
by Linda Milo Ohr,
Contributing Editor, Denver, Colo. 
[email protected]
References
Ann, E.Y., Kim, Y., Oh, S., Imm, J.-Y., Park, D.-J., Han, K.S., and Kim, S.H. 2007. Microencapsulation of Lactobacillus acidophilus ATCC 43121 with prebiotic substrates using a hybridisation system. Intl. J. Food Sci. Tech. 42: 411-419.
Bouhnik, Y., Raskine, L., Champion, K., Andrieux, C., Penven, S., Jacobs, H., and Simoneau, G. 2007. Prolonged administration of low-dose inulin stimulates the growth of bifidobacteria in humans. Nutr. Res. 27: 187-193.
Danisco. 2006a. Lactobacillus acidophilus NCFM™: A probiotic alternative to traditional intestinal pain killers? Danisco USA Inc. press release, Dec. 12.
Danisco. 2006b. Danisco introduces Howaru™ Restore—The supplement to good health. Danisco USA Inc. press release, Oct. 18.
Kim, S.H., Lee, D.H., and Meyer, D. 2007. Supplementation of baby formula with native inulin has a prebiotic effect in formula-fed babies. Asia Pacific J. Clin. Nutr. 16: 172-177.
Kolida, S., Meyer, D., and Gibson, G.R. 2007. A double-blind placebo-controlled study to establish the bifidogenic dose of inulin in healthy humans. Eur. J. Clin. Nutr. Advance online publication. Jan. 31. doi: 10.1038/sj.ejcn.1602636
Rafter, J., Bennett, M., Caderni, G., Clune, Y., Hughes, R., Karlsson, P.C., Klinder, A., O'Riordan, M., O'Sullivan, G.C., Pool-Zobel, B., Rechkemmer, G., Roller, M., Rowland, I., Salvadori, M., Thijs, H., Van Loo, J., Watzl, B., and Collins, J.K. 2007. Dietary synbiotics reduce cancer risk factors in polypectomized and colon cancer patients. Am. J. Clin. Nutr. 85: 488-496.