On June 6, 2007, IFT President Dennis Heldman presented the 2007 Congressional Support for Science Awards to United States Senators Saxby Chambliss of Georgia and Blanche Lincoln of Arkansas for their outstanding contributions to science-based agriculture, food, and nutrition policies.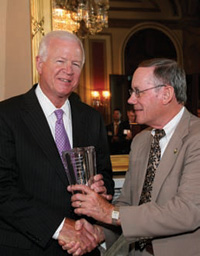 The presentations were made during a reception in the U.S. Capitol Building attended by IFT Executive Vice President Barbara Byrd Keenan, President-Elect John Floros, Past President Margaret Lawson, and other past presidents and IFT members, as well as senior government officials from several agencies, past and present members of Congress, and representatives of science societies and the legal profession.
The reception marked the seventh year that IFT has presented the award. Represented by a crystal vase, the award is presented each year to two members of Congress to recognize outstanding contributions to science-based food policies and to increase the role of science in policy development in order to enhance the safety, nutritional value, affordability, and variety of foods available to consumers.
Senator Saxby Chambliss has demonstrated exemplary service in Congress since he was first elected to the House of Representatives in 1994. He gained valuable experience during his four terms in the House, being instrumental in drafting two Farm Bills. In 2002, he was elected as Georgia's 63rd U.S. Senator.
Chambliss is currently the ranking Republican member of the Senate Committee on Agriculture, Nutrition and Forestry, and during the 109th Congress he served as Chairman of the Senate Agriculture Committee. Through these committee appointments, he has emerged as a leader and gained the reputation as an expert on agricultural issues by consistently supporting sound agricultural policies.
He oversees agricultural policy that affects the safety, affordability, and production of the nation's food supply and has held many hearings dealing with agricultural issues, such as biotechnology in foods, food safety, and livestock concerns. He has focused on improving federal support for food and agricultural research. As a ranking member of the Senate Agriculture Committee, Chambliss is in a pivotal position for advancing food science in research and food regulatory programs, as well as federal food and nutrition programs.
Reflecting on the modern application of food science to agriculture in Georgia, Chambliss remarked that "peanuts, cotton, and tobacco are no longer the only crops produced there. Now nearly every fruit and vegetable imaginable can be produced in Georgia."
Chambliss embraces the U.S.'s responsibility to help feed the world, and he recognizes the strong need for good farm policy: "Agricultural research is needed to continue to ensure that the U.S. has the highest quality, safest, and most affordable food in the world."
Senator Blanche Lincoln has served in Congress since she was elected to the House of Representatives in 1992. In 1998, at age 38, she became the youngest woman ever elected to the U.S. Senate.
During her long service in Congress, Lincoln has garnered an ever-increasing list of accomplishments. She serves on the Senate Committee on Agriculture, Nutrition and Forestry; Committee on Finance; Committee on Energy and Natural Resources; and other influential committees. As one of the Agriculture Committee's top-ranking Democrats, she was appointed Chair of the Production, Income Protection and Price Support Subcommittee for the 110th Congress. As a member of these committees, she is able to have a voice on national priorities like farm policy, alternative energy, and education.
As Congress considers a new Farm Bill this year, Lincoln has recognized the critical importance of policy affecting food and nutrition, and therefore the need for increased funding for food and nutrition research. She urged the Senate Budget Committee to support America's agricultural producers and endorse adequate funding for new opportunities. She recently drafted legislation to enhance the safety of aquaculture and seafood imports, showing her focus on improving and safeguarding the nation's food supply.
Recalling her upbringing on an Arkansas farm, Lincoln remembered her father's "application of the latest scientific knowledge and technological advancements to make wise decisions as they applied to crops." She advocates applying the same responsibility today in her approach toward food policy decision making. She acknowledged "the rewards that come from good science," as well as food scientists' "important role in the global marketplace."
by Sarah F. Davis,
Staff Scientist, Office of Science,
Communications, & Government Relations, Institute of Food Technologists, 1025 Connecticut Ave., N.W., Washington, DC 20036 
[email protected]