Philip E. Nelson, a past President of IFT and food science professor at Purdue University, has won the $250,000 World Food Prize for his research and development of large-scale storage and transport of fresh fruits and vegetables using bulk aseptic food processing and packaging.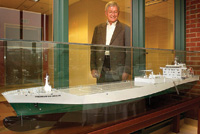 This technology has significantly reduced postharvest waste and spoilage and greatly increased the availability and accessibility of nutritious food worldwide, particularly in emergency situations, stated Ambassador Kenneth Quinn, President of the World Food Prize Foundation, at a special ceremony at the United States State Department last month announcing Nelson as the 2007 Laureate.
"Dr. Nelson's pioneering work, which began with tomatoes and later included a variety of seasonal crops, has made it possible to produce ultra-large-scale quantities of high-quality food," said Quinn. "This food can then be stored for long periods of time and transported to all corners of the world without losing nutritional value or taste."
In the developing world, this technology has made it affordable and convenient to transport and deliver a variety of safe food products without the need for refrigeration, averting loss due to spoilage. For example, Citrosuco, a leading orange juice producer based in Brazil, has used the bulk aseptic technology in a cargo vessel to ship up to 8 million gal of orange juice to the U.S. and Europe.
In addition, more than 90% of the approximately 24 million tons of fresh tomatoes harvested globally each year is aseptically processed and packaged for year-round remanufacture into various tomato-based food products, according to the World Food Prize Foundation.
The technology—used in school nutrition programs around the globe—also has proven to be a critical advancement in times of food crisis. With the aid of aseptic food technology, potable water and emergency food supplies were distributed to survivors of the 2004 tsunami in Southeast Asia, to the United States victims of Hurricane Katrina in 2005, and to other disaster situations worldwide. "Affordable and safe movement of food is critical in fighting world hunger, and Dr. Nelson's technologies will help reach those in need," said Josette Sheeran, Executive Director of the United Nations World Food Program, who spoke at the ceremony. The World Food Program was one of several organizations to support the nomination of Philip Nelson.
Bulk Aseptic Technology
In the early 1970s, Nelson's research led to the discovery of methods and equipment to preserve perishable food at ambient temperatures in very large carbon steel tanks (beginning with 100-gal tanks and increasing in capacity to 1.8 million gal). By coating the tanks with epoxy resin and sterilizing the valves and filters, food products were able to be stored and removed without reintroducing contaminants. As a result, enormous quantities of pathogen-free food could be distributed to plants around the world for final processing and packaging.
Later, partnering with the Scholle Corp., Nelson developed a low-cost aseptic, bag-in-box system for preserving and shipping foods, such as tomato paste. By the 1980s, this technology had spread throughout the global food industry. Working with another company, Fran Rica Manufacturing (now part of FMC), Nelson engineered a variation of the bag-sealing fitment as a membrane that ruptures during the fill; the bag is then resealed aseptically with a sterilized cap.
In 1976, Purdue University and Phil Nelson received the IFT Food Technology Industrial Achievement Award for the bulk aseptic storage and transportation system. In 1989, on its 50th anniversary, the Institute of Food Technologists recognized aseptic processing and packaging as the leading innovation in food science of the past 50 years. In 1995, Nelson received IFT's highest honor—the Nicholas Appert Award—for his preeminence in and contributions to the field of food technology, particularly in the area of aseptic technology. Nelson served as IFT President in 2001–02.
"Bulk aseptic processing and packaging is recognized among the world's greatest food innovations" during the past 70 years, according to Al Clausi, former IFT President and current member of the World Food Prize Council of Advisors that includes former U.S. Presidents Jimmy Carter and George H.W. Bush and former Philippine president Corazon Aquino, among others. "This modern advancement in food science and technology compares with Clarence Birdseye's frozen foods, the microwave oven, and concentrated frozen juices developed by U.S. Dept. of Agriculture research labs," said Clausi.
Nelson is the second IFT member to receive the World Food Prize in its 21-year history. In 1991, Nevin S. Scrimshaw was recognized for his lifetime achievements in identifying and fortifying local food sources to reduce diseases associated with malnutrition in developing nations around the world. Among his other many achievements, Scrimshaw also founded the Dept. of Nutrition, Food Science, and Technology at Massachusetts Institute of Technology in 1961.
Nelson's interest in food preservation technology dates back to his youth when he worked at his family's Morristown, Ind., tomato farm and canning factory. The canning operation was subject to the seasonality and perishability of the tomato crop.
The World Food Prize Foundation annually recognizes the achievements of individuals who have advanced human development by improving the quality, quantity, or availability of food worldwide. Norman E. Borlaug, recipient of the 1970 Nobel Peace Prize for his work in alleviating world hunger, established the World Food Prize in 1986. The award is considered the Nobel Prize of agriculture and food.
The 2007 World Food Prize and its $250,000 award will be formally presented to Nelson on October 18 during ceremonies at the Iowa State Capitol in Des Moines. The presentation is part of the World Food Prize's Norman E. Borlaug International Symposium, which will focus on "Biofuels and Biofood: The Global Challenges of Emerging Technologies." Further information about the World Food Prize and the Laureate Award Ceremony and Symposium can be found at www.worldfoodprize.org.