Ingredient exhibitors, educational programming, and networking events are on the agenda for the 11th annual SupplySide East trade show and conference slated for Monday to Wednesday, April 27–29, at the Meadowlands Exposition Center and neighboring Holiday Inn in Secaucus, N.J.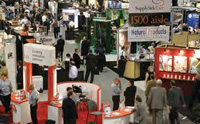 The trade show portion of the event, held on Tuesday and Wednesday, will feature exhibitors showcasing ingredients and technologies, including vitamins, herbs, flavors, sweeteners, probiotics, omega-3s, and more. The exhibit floor will be open from noon to 5:30 p.m. on Tuesday and from noon to 4:30 p.m. on Wednesday.
More than 30 sessions—led by researchers, regulators, and trend experts—are planned. Programming will be organized in four tracks—two on nutrition, one on food/beverage, and the fourth under the cosmeceutical banner. The food/beverage and cosmeceutical tracks are new to SupplySide East this year.
"The two new tracks will nearly double the number of presentations in the education program," said Peggy Jackson, director of publishing for SupplySide East organizer Virgo Publishing. Two new science advisory boards were assembled to assist with developing education session content.
Highlights of SupplySide East educational programming include the following.
• Vasilios Frankos, Ph.D., director of the Food and Drug Administration's dietary supplement program, will give an update on GMP (good manufacturing practice) inspections, AERs (adverse event reports), new dietary ingredients, and FDA enforcement activities.
• Mintel's Lynn Dornblaser will speak about up-and-coming ingredients for cosmeceuticals and personal-care products.
• Dr. Harry Preuss of Georgetown University Medical Center will discuss weight management and ingredient functionality.
• Brian Kuz, director of business insights at Red Bull North America, will speak about the energy drink category.
• Euromonitor's Daniel Latev will provide an overview of the global health and wellness market.
• Leaders of the American Herbal Products Association, Council for Responsible Nutrition, and Natural Products Association will participate in a two-part State-of-the-Industry presentation.
• Nicole Butterfass, manager of quality systems at American Dairy Queen, will discuss food safety in a global economy.
• The Hartman Group will present data from its new Healthy Eating Trends 2009 syndicated study.
• Mark Blumenthal, founder and executive director of the American Botanical Council, will cover trends in the herb marketplace, including up-and-coming ingredients.
• CRN's Andrew Shao and Nutrilite's Michelle Stout will speak about ingredient supplier qualification and GMP compliance.
• Dr. Jack Bukowski of Harvard Medical School will review recently published clinical trials on nutrients that affect the immune system.
The education program runs from noon to 4 p.m. on Monday and from 9 a.m. to noon on Tuesday and Wednesday.
In addition to the regular SupplySide East programming, the Natural Products Association is offering "An Advanced Course on the Final FDA GMP Rule for Dietary Supplements," which will run from 8 a.m. to 5 p.m. on Monday and from 8 a.m. to noon on Tuesday. Speakers will discuss the impact and provisions of the final rule; participants will learn what is expected and the consequences of noncompliance. Registration is additional for this event.
On Monday, a SupplySide Happy Hour is planned for 4 p.m. to 5 p.m. at the Meadowlands Exposition Center immediately after the day's education program concludes. On Tuesday, the Opening Reception will be held in the exhibit hall from 4 p.m. to 5:30 p.m. As SupplySide East draws to a close on Wednesday, an Appreciation Reception will take place on the exhibit floor from 3 p.m. to 4:30 p.m. All three receptions are open to all attendees, speakers, and exhibitors.
More information on the event is available at www.supplysideshow.com/east.