When it comes to food, it's a small, small world. Taste, price, health, convenience, and private label continue to be the major food drivers for the vast majority of consumers worldwide (Nielsen, 2008).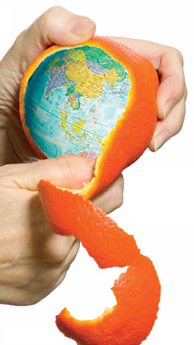 The global recession has forced many of us to change our food behaviors in similar ways. From New Zealand to the United Kingdom, consumers across the globe have cut back on dining out, and, increasingly, are cooking from scratch, baking, and entertaining at home. The frenetic pace of daily life and new generations of consumers with limited cooking skills are creating an unprecedented demand for more food options that are both contemporary and convenient.
At the same time, the desire for more excitement and adventure through foods knows no boundaries. The infatuation with celebrity chefs, the advent of "little foodies," and the desire to reward ourselves with indulgent food luxuries are all truly global phenomena.
When it comes to health issues, no one is immune. With 1.6 billion people overweight and more people in India and China diagnosed with coronary heart disease than in rest of the world put together (WHO, 2006), health remains on the global front burner.
Similarly, societal issues affect us all. Ethical concerns, the move to social networking, safety challenges, and sustainability are key themes worldwide.
Our expedition around the world has identified some exciting new trends and food/beverage concepts that address our emerging needs, set a new direction, or are simply "very good ideas" with the potential to be transferred to new markets. This global review of new products was made possible by Innova's Food & Beverage Database, which is fueled by a network of international field researchers who report on new food and drink launches from around the world.
Upgraded Basics
Move over garlic and herbs, Blue cheese, ham, lemon, and rose are among the new directions for flavored butters; sea salt, fresh herbs, and low-sodium options also add appeal to butter. Meggle Rosmarinbutter from Germany, for example, is made with fresh rosemary.
Move over garlic and herbs, Blue cheese, ham, lemon, and rose are among the new directions for flavored butters; sea salt, fresh herbs, and low-sodium options also add appeal to butter. from Germany, for example, is made with fresh rosemary.
Oil marketers are blending four, five, and even six types of oil to produce unique health and flavor properties. In France, Monoprix Bien Vivre Huile 4 Graines is made by pressing four different seeds.
Premium flavor combinations, spiking with wine/spirits, all natural/no MSG, lower sugar/ lower sodium, and Indian flavors are among the fastest-growing global sauce trends. Sauces made with extra ingredients and in extra-strength formulations are offered in a variety of markets. In Japan, Yamaki Triple Strength Seasoning Soy Sauce has a reduced salt content. In the UK, Uncle Ben's Oriental Sweet & Sour Cooking Sauce comes in Extra Spicy and Extra Pineapple varieties. In New Zealand, Patak's Vindaloo is labeled for "extra hot spice lovers."
--- PAGE BREAK ---
Super spicy and "sweet heat" are in. Fondua offers Original Wasabi Sauce with Horseradish. Tuna, green/black olives, fancy mushrooms, whole beans, wine, and large chunks of meat/poultry are the new tomato-based pasta sauce add-ins. Watch for white and clear pasta sauces to gain in popularity. Bertolli offers Carbonara and Quattro Formaggi sauces in Germany. LaSelva Kinder-Tomatensauce, available in Poland, is a tomato sauce just for kids. Adding extra vegetables to sauces to meet the 5-A-Day objective, as does Panzani Objectif 5 Legumes pasta sauce in France, is a welcome new sauce positioning.
Wine is being added to steak sauces and mustards, used as a brine for olives, and, in Spain, even paired with sauerkraut. Fruit flavors are finding their way into pasta and are being added to frozen ready meals.
Meat alternatives are now marinated, enhanced with herbs, offered in ethnic flavors (especially Asian), and even formulated with fruit, e.g., Sainsbury's 6 Pork-Style Sausages with Apple in the UK. Rice burgers and organic wheat and real vegetable patties, e.g., Natur Activ Bio Vollkorn Laibchen in Germany, represent other new directions in the category.
Spices are being sold in single-serve sachets, e.g., TSP Spices' Individual Spice Packets, as are sauces, e.g., DoséO Poivre and Pesto. Flavored sugars—cinnamon sugar in Portugal and almond sugar in Poland—and flakes, e.g., coconut or chocolate, are other new flavorizing aids.
Home baking is also heating up with super-spicy bread and cake mixes. Other unique baking tools include liquid flavors that add aroma and flavor in baked goods without affecting the texture, e.g., orange blossom in Germany or peppermint flavoring in Taiwan; dried lemon or orange peel crystals; flavored baking powder, e.g., Yoa Black Forest Flavored Baking Powder in Indonesia or wine-flavored powders in Germany.
The Next Course
"Skinless" sausages/hot dogs and meats made or served with fruits are among the new directions that product developers are taking protein. Cheese is moving to the center of the plate. In the Netherlands, breaded cheese fillets are sold as a main course.
"Skinless" sausages/hot dogs and meats made or served with fruits are among the new directions that product developers are taking protein. Cheese is moving to the center of the plate. In the Netherlands, breaded cheese fillets are sold as a main course.
Specifying the breading or crusting ingredients, e.g., ciabatta, Panko, potato, nuts, or seeds, is a hot new trend among makers of breaded/fried protein products, along with a new emphasis on extra crisp, crunchy, and chunky breading. Marketers are adding a thin layer of vegetables, e.g., spinach, under fried protein crusts, for a healthier image.
The 100-calorie trend has extended to single-serve, ready-to-eat salads. In Germany, Weight Watchers offers a calorie-reduced noodle, chicken, mushroom, and broccoli salad with only 3% fat. In Guatemala, Express Light Lunch Personal Salad is sold in a cup-shaped plastic shaker. Yogurt is the new base for creamy dressings. Real fruit juice, fruit/vegetable chunks, and seeds/nuts for added texture are being incorporated into dressings.
Weight Watchers also is offering fresh sandwiches for weight management in France and the UK. In the UK, Go3Chicken and Sweet Tomato Wrap Sandwich is fortified with omega-3 fatty acids. Classic European stuffed breads with meat fillings, e.g., Stromboli, and cheesy mashed potato pocket sandwiches for kids are other emerging trends.
--- PAGE BREAK ---
Herbs and spices and fruit flavors are receiving increased emphasis in the soup sector. Baxters in the UK offers Deli Inspired Aromatic Chicken Soup with Thai Herbs; Knorr markets an Orange Soup made with butternut squash and carrots in France. Sweet and sour soups, soups in microwavable pouches, and tea-based soups in the Far East are other new directions for soup  makers.
Global trends in the fresh and frozen ready meal category include chef signature dishes, recipes with wine, foods touting specific herbs and spices, products that have been marinated for a deeper flavor, and more fish/seafood, e.g., paella, fish pot pies, etc.
Italian was the most popular flavor/cuisine among new products launched around the globe in 2008, followed by Indian and Chinese, according to Innova Market Insights (Figure 1). Emerging cuisines, including Caribbean, Moroccan, and those of South American countries, are likely to influence the next wave of global flavor trends.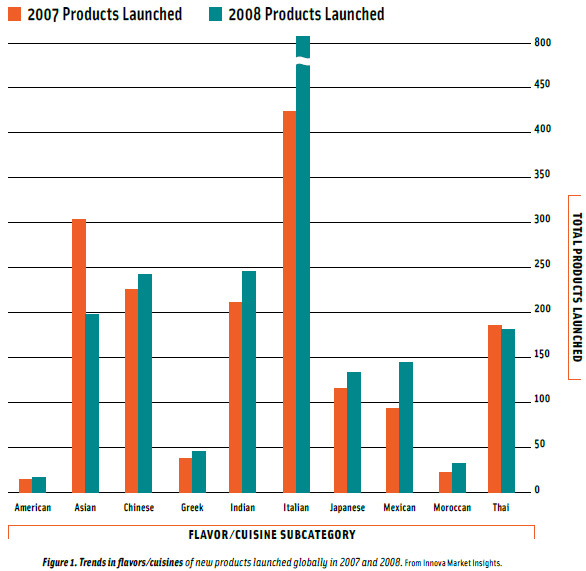 With the current economic crisis causing consumers to buy less expensive cuts of meat and to use smaller portions, slower cooking, roasting, smoking, and regional barbecue flavors from around the world will gain in popularity. Convenience foods suited for preparation in woks and slow cookers represent another strong international trend. Cauldron Teriyaki Tofu Wok Sizzlers marketed in the UK are tofu pieces ready to be cooked in a wok.
Quince, chimichurri, camu camu, maple syrup, barbacoa, cloudberry, sea salt, gold kiwifruit, yacon, and osmanthus are the top global flavor varieties set to break out of niche status in 2010, predicts Innova.
Snacks, Treats, and Temptations
Procter & Gamble has broken new ground in the salty snack market with its Pringles Light Aromas line in the UK; it includes varieties with an ethnic flavor such as Greek Style Cheese and Spicy Thai. Pringles Rice Infusions chips treat UK snackers to savory meal flavors, e.g., Sweet BBQ Spare Rib and Peking Duck with Hoisin Sauce.
Nut flavors, multi-herb seasonings, international barbecue flavors, and tapioca as a flavor variety are other new directions in the salty snack category. In France, Curly les Curlettes Pistache puffed corn snacks come in pistachio, hazelnut, and other flavors. Adding herbs for a fresher image, marinating, and offering unique hot n' spicy flavors such as green tea wasabi are new trends in the nut category. In the UK, KP Baked & Seasoned Peanuts are flavored with caramelized onion, balsamic vinegar, and herbs.
Italian flavors such as mozzarella garlic herb and exotic vegetable flavors, e.g., Glico Sozai-ha Pretz Asparagus (asparagus-flavored pretzel sticks) from Malaysia are turning up in the snack and cracker category.
Decadent, upscale sweet treats and confections remain a strong international trend, as do sophisticated desserts such as NOM Dairy's Naturally Good Senga Strawberry & Morello Cherry Compotes, which are marketed in Ireland and the UK.
Italian specialties, especially Panna Cotta and Tiramisu, continue to cross borders. Provenance is another important trend. In Germany, Dr. Oetker's flavored desserts highlight the origin of the chocolate; in Lithuania, Solo Italia offers la Truffe, a caramel and Madagascar vanilla truffle.
In Europe, ice cream is sold in tubs topped with a layer of real fruit pieces, and chocolate-coated ice cream bars are chock full of nuts and feature toppings of coconut, toffee, caramel, or even bilberry pieces. Real pieces of fruit mixed with cream are sold in small gable-top cartons, and frozen smoothie bars made with 70% crushed fruit are offered. Premium dessert toppings, especially those with liquor, e.g., UK's The Bay Tree Blackcurrant & Port Syrup, are on the rise, and yogurts with chocolate shavings and nuts packaged under the lid are positioned as dessert items.
Mini versions of main dishes and sandwiches, e.g., mini barbecue riblets in Iceland, chicken Kievs in the UK and Australia, and ham rolls filled with fresh cheese in France represent an exciting trend in the hot snack and finger food market. Small breaded wheels of cheese, e.g., Camembert, mini gourmet sausages with dip, samosas with meat and fruit, fish goujons, and Indian hors d'oeuvres are other popular ideas.
--- PAGE BREAK ---
Just Kidding!
Kids the world over love fun foods made just for them. In Puerto Rico, Kellogg's markets Cocoa Krispies Cereal Straws; in South Korea, Kabaya Sakusaku Chocolate Biscuits come in cute cookie panda faces. In the Netherlands, Heinz ketchup is sold in fun little 200 ml squeeze bottles for kids.
Nestlé Ice Cream Pops are bite-sized, chocolate-covered vanilla ice cream "beans" sold in the Philippines. In Europe, Nestlé's Nesquik Flipz! Chocolate Dairy Dessert with Chocolate Sauce comes in little pots—which invert for a very special treat. Germany's Wagner's Piccolinis mini kids' pizzas come in a noodle and sausage variety.
Candy and dessert marketers are promoting the milk content of their products and adding yogurt, fruit purees, and cereal to provide crunch, texture, and health appeal. In Brazil, Royal Gelatina Morango gluten-free gelatin is fortified with vitamins A, C, and E. In Belgium, Hopla's chocolate is formulated to be "tooth-friendly."
Products that are natural, gluten-free, low in sodium, and/or made without added sugar continue to gain traction in kids' foods as fortification penetrates new categories. In the UK, Marks & Spencer's Fantastic Fish Pies ready meals for kids are sodium-controlled.
Healthy innovation is most widespread in the global baby food market, estimated to reach $37.6 billion in sales by 2014 (Markets and Markets, 2009). Marketers are targeting parents of the youngest consumers—lowering sodium, offering gluten-free, and adding fiber, protein, or nutrient-dense purees to baby foods. In Australia, Heinz's Little Kids Rice Bars have 80% less sodium than their conventionally formulated counterparts.
Baby soups, exotic meal flavors, e.g., Szchuzan Beef, and added herbal ingredients are other trends in baby/toddler foods. In Vietnam, infant cereal is being enhanced with protein, e.g., soy and chicken. In France and Spain, fish is frequently featured in baby meals, soft cheese in desserts.
In Vietnam, the BeechNut DHA+ARA line includes a Peaches, Oatmeal & Cinnamon Soufflé offering for babies older than 6 mo. Taurine is among the new ingredients being added to baby biscuits in China.
Juice drinks, e.g., Heinz's Baby's Own Pear Fruit Drink marketed in Vietnam, are "diluted ready-to-drink" to coincide with pediatrician's recommendations. Knorr Vie Kidz Vegetables and Fruits is among the first fruit and vegetable drinks positioned to help children up their fruit and vegetable intake.
Organic smoothies with no genetically modified ingredients, organic mineral water, and bottled water are new infant/toddler drink directions in the UK. Exotic flavors, e.g., pomegranate bilberry juice, drinking yogurt, ready-to-drink liquid cereals and teas, e.g., Bobovita's Southern Fruits Flavored Instant Tea for Babies targeted to those 5 mo and older in Poland are examples of other hot trends.
Even baby drinks are getting functional. Hero Baby Lactis Fresa is among the first flavored dairy drinks for babies formulated with prebiotics and nucleotides.
Sleep aids and milks, e.g., Plasmon Tisana Erba Luiga—Herbs Infusion marketed in Italy, are designed to help babies to sleep. Calming drinks, e.g., Frutonyanya Apple Drink with Chamomile and Linden Extracts, available in Russia, help to calm babies from age 6 mo.
--- PAGE BREAK ---
Even Better 'Better-for-You' 
No additives/preservatives, non-allergenic, natural, gluten-free, low-fat, and no trans fat lead the list of better-for-you claims worldwide through June 2009, according to Innova. Low/no saturated fat claims have begun to appear on product packaging. In the UK, Waitrose ready meals such as Chicken Tikka Masala with Pilau Rice carry a "low-saturated-fat" flag.
Traditional low-fat and low-sodium claims are showing up on a more diverse assortment of products. In Japan, Lotte's gums carry "no fat" and "no sodium" claims. Oil marketers are touting their high oleic acid content, natural antioxidants, vitamins A, E, and D, omega-3s, omega-6s, and, sometimes, plant sterols. Omega-3s are increasingly moving into ready meals, e.g., HK Via Pippuriharka Black Pepper Beef Stew in Finland, and soups, e.g., Nissin Chicken Soup with omega-3s in Mexico.
Heart, digestive, and brain health are the top condition-specific claims associated with spreads/oils worldwide, according to Innova. In Austria, Rama Idee Margarine touts its "nutrients for the brain"—DHA (docosahexaenoic acid), vitamin B, and ALA (alpha-linolenic acid). Protein powders and seeds, including flax, linseed, sunflower, poppy, and millet, are being added to baking ingredients and mixes. Digestive claims referencing prebiotic content have also appeared in the bread and baking mix categories. In Mexico, La Morisca Light Hotcake Flour is rich in fiber and prebiotics.
Products that are very high in fiber are appearing in many markets. In Canada, Kellogg's All-Bran Buds deliver 44% of the recommended daily fiber in just one-third cup. BARLEYmax, a new, high-fiber "supergrain" developed by CSIRO in Australia is now available in Goodness Superfoods Digestive 1st and Protein 1st breakfast cereals in Australia. With twice the dietary fiber of regular grains and four times the resistant starch content, BARLEYmax is said to promote better bowel and digestive health.
Unrefined sugars and Demerara specialty raw cane sugar are healthier sugars catching on around the globe. In Portugal, McEnnedy American Way Vanilla- Cinnamon Suger Seasoning contains Vitamin C; in Columbia, Incauca Light Activ sweetener includes L-carnitine; and in Hong Kong, Taikoo White Sugar  is fortified with calcium and zinc.
Innova reports a significant rise in new products containing superfruits, led by pomegranate, açai, acerola, and goji. Golden kiwi and ruby red grapefruit are gaining in popularity. Innova identified jujube, jackfruit, and cloudberry as other fruits to watch. Wild berries such as plum and sour cherry and exotic fruit varieties such as mulberry, wild cowberry, and Mara de Bois strawberries are other hot trends.
Fortification of cheeses is becoming a more widespread practice. In the Philippines, Ques-O-Cheesy Spread is enhanced with vitamin A and calcium; in the Ukraine, Ternopil White Cheese with Iodine & Protein for Smart Kids is offered.
Dairy-free and lactose-free products are increasing in prevalence, and strong growth is predicted in the years ahead for beverages made from grains, nuts, and other milk alternatives.
Banner Beverages
The natural trend in beverages continues to spiral. More than 1,000 soft drinks launched globally in the year ending in March 2009 were positioned with a "natural" claim, according to Innova. While activity is dominated by bottled water and fruit drinks, there is some spillover into natural carbonated beverages with the use of all-natural flavors, as well as a return to natural sugar rather than artificial sweeteners or high-fructose corn syrup. In Taiwan, Blue Sky Organic Ginger Ale Soda is sweetened with organic cane juice.
The natural trend in beverages continues to spiral. More than 1,000 soft drinks launched globally in the year ending in March 2009 were positioned with a "natural" claim, according to Innova. While activity is dominated by bottled water and fruit drinks, there is some spillover into natural carbonated beverages with the use of all-natural flavors, as well as a return to natural sugar rather than artificial sweeteners or high-fructose corn syrup. In Taiwan, is sweetened with organic cane juice.
--- PAGE BREAK ---
Health has always been a popular selling concept in both the dairy and juice categories, but now consumers increasingly are paying attention to the ingredients in these beverages and the health benefits they provide. Heart health, gut/digestive health, and brain health are areas with escalating activity. Pura HeartActive milk from Australia contains plant sterols to help lower cholesterol; Ehrmann Prebiotic 0.1 Light Yogurt Drink in Grapes & Cereal flavor from Russia is enriched with streptococcus thermophilus and lactobacillus bulgaricus to promote digestive health. With smoothies moving into the spotlight, new daypart and meal replacement opportunities are also arising in this category. In the UK, Sainsbury's Taste the Difference Date & Banana Breakfast Smoothie contains oatmeal.
Getting your daily fruit and/or vegetable portions is made more convenient with products like Garden Shots formulated with spinach, apple, and kiwi and marketed in Denmark by Edens Garden and Muller Little Stars High Fruit Yogurt Smoothies from the UK, which claim to contain "over 10 times more fruit than the leading children's yogurt drink brand."
Blending for higher nutrient content is very prevalent in fruit-based drinks. In Italy, Santal Blu Mixed Fruit Juice contains red grape, apple puree, plum, elder, cherry, and bilberry juice. Fruit particulates in beverages are also more popular outside the United States; Frubob Fruit Float Peach, a 100% natural peach fruit drink with real fruit pieces bobbing inside, is available in the UK and the Netherlands. Vegetable extracts are even finding their way into bottled waters. Pascual Nature Descanso Herb Flavored Mineral Water from Spain contains lime blossom, lemon balm, chamomile, and vegetable extracts.
In the tea category, antioxidant claims are moving into the natural realm with superfruits, e.g., pomegranate, açai, blueberry, and goji berry, and green tea mixtures showing up in ready-to-drink products as well as teabags.
Flower flavors, e.g., jasmine, hibiscus, rose, lavender, and chrysanthemum, and vegetable flavors are the latest trends. In South Korea, JN Food's Kokuma is a  sweet potato tea; Tea Ismbalken's Oksusu Suyom Cha is a corn tea.
Coffee product launches with ethical claims such as fair trade are growing in popularity as are convenient forms of coffee products such as coffee pods, sachets, and sticks for single-serve or on-the-go consumption. Dessert flavors, e.g., chocolate and tiramisu, herbs and spices, and fruit flavors are new trends. In Malaysia, Nescafé Body Partner 3 in 1 Coffee Mix has a Ginger & Honey flavor variety. Nescafé's Homecafé Orange & Caramel Flavored Café Latte is available in Japan.
The international market for performance foods and drinks is another growing opportunity. Over a five-year period, this market has generated nearly $20 billion in sales, led by strong growth in performance drinks, energy drinks, sports waters, amino acid drinks, protein drinks, and specialized carbohydrate drinks (Leatherhead, 2006). As the performance market becomes more specialized and the global consumer ages, watch for products geared to older exercisers. Fruit-flavored Isostar Digest Plus from France is a hydrating and performance beverage for people with sensitive stomachs; the product claims a neutral pH and no acidity.
Fully Functional
Products with a digestive/gut health claim again topped the list of condition-specific foods and drinks introduced globally in 2009, followed by those with claims referencing heart health, energy/alertness, oral health, weight management, and immune health (Figure 2). The global nutraceutical market was estimated at $124 billion in 2008 and is expected to reach nearly $177 billion by 2013 (BCC Research, 2009).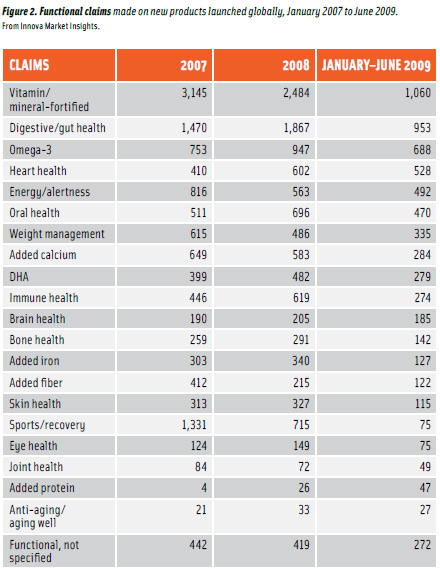 While the "horsepower" race continues for higher numbers and more specialized strains of probiotic bacteria aimed at more specific health benefits, e.g., Danone's Activia Delizia Yogurt in Italy with Bifidus Actiregularis to prevent  stomach swelling and acid, it is the addition of prebiotics that is grabbing attention in the digestive/gut health segment. Prebiotics, whether on their own or in conjunction with probiotics (synbiotics), are showing up in a wide variety of products.
--- PAGE BREAK ---
Worldwide, the Innova database tracked 1,820 new products with a prebiotic positioning in 2008, up from 1,134 in 2007. While dairy and soy drinks, baby formula, cereal/energy bars, and breakfast cereals remain the top categories for prebiotics, the healthful microbial food ingredients also are being added to waters, crackers, cookies, dessert mousses, pasta sauces, and soups. In the UK, Zile Bonbons Function Soft Chews are toffees that contain prebiotics.
Low-acid foods/beverages and herb-containing foods, e.g., Berri Australian Fresh Fibre for Digestive System, low-acid orange juice in Australia, and Guiliani Caramelle alle Erbe digestive Herb Candies in Italy, are other relatively new directions.
Foods and beverages that help boost immunity should enjoy renewed interest as consumers look to protect themselves from the H1N1 flu pandemic. Innova reports that the leading global product ingredients connected to immunity are vitamin C, probiotics, zinc, echinacea, garlic, copper, chromium, magnesium, manganese, and potassium. Cactus pear, Oriental plum, and the tropical fruit noni are other up-and-coming options. In the UK, Green Bay Organic UMF 15+ Manuka Honeysuckers Pure Honey Lozenges are made with Manuka honey, known for its powerful antibacterial properties.
Blood pressure- and cholesterol-lowering dairy products, oils, and spreads; high-magnesium milk; and products fortified with omega fatty acids, coenzyme Q10, plant sterols, gamma aminobutyric acid (GABA), and phytochemicals such as anthocyanins remain among the emerging trends. In the UK, Optifit Cholessterol (with a name designed to communicate its function) is a cholesterol-reducing, multi-fruit yogurt drink with added plant sterol esters; in Spain, Gullon Active Glucanos Exquisite Cookies contain beta-glucan from oats to help regulate cholesterol.
Perhaps the most exciting new functional offerings on the global scene are the super-satiating products for weight control. In such formulations, high fiber and protein content are used to help consumers stave off hunger. Fabuless (a mix of oat and palm oils), PinnoThin (an appetite suppressant extracted from pine nuts), and Beneo (oligofructose) are among key ingredients showing up in satiety products. Naturally Gorgeous White Chocolate & Coffee Bar with PinnoThin is available to UK consumers looking for a product that will deliver satiety—and make them feel good about themselves.
Lipton's Linea brand of teas is promoted for its slimming potential; new 50-ml bottles contain double the catechin content of standard green tea. Guarana, carnitine, B vitamins, secang wood (Caesalpinia sappan), green coffee extract, Epigallocatechin gallate (ECGC), probiotics/synbiotics, and Fraxinus excelsior seed extract are other ingredients being used to increase metabolism for weight loss. Conjugated linoleic acids (CLA), chitosan, and NeOpuntia fiber are among the ingredients associated with fat redistribution. In Slovenia, Ego Slim & Vital peach yogurt contains coenzyme Q10 and L-carnitine.
Anti-aging is also moving beyond the beauty niche. Despite the recent withdrawal of Danone's Essensis probiotic dairy drink in France, so-called "beauty from within" products appear to be making a significant impression, particularly in Europe, reports Innova. Collagen, antioxidant vitamins A, C, and E, plant extracts, and superfruit ingredients are key tools for product developers. Moreover, Innova Market Insights tracked 586 new products positioned with an "aging well" platform in 2008, up from 492 in 2007; 80 of these 586 products fall into the juice category, 22 are yogurts, and 20 dairy drinks. Beautywater Q10 is a new sparkling drink in Japan containing coenzyme Q10. In Taiwan, Yoplait offers a light collagen-containing yogurt drink.
Caffeine, choline, coenzyme Q10, folic acid, GABA, gingko biloba, ginseng, guarana, iron, L-carnitine, omega-3s DHA and EPA, phosphatidylserine, sunflower seed, taurine, vitamin B complex, and vitamin B-12 are among the key ingredients in the mental health/ mental energy segment. In the Philippines, Kape Alert! 7 in 1 Mocha Surge Coffee contains Korean ginseng, gingko biloba, and green tea. IQ Plus Brain Drink from Germany is a cocoa-flavored milk drink with phosphatidylserine for brain health, and in Switzerland, Actlife Memory Margarine contains DHA.
The number of new product introductions targeted specifically to diabetics—products with positioning beyond low sugar and low fat—is also on the rise, according to Innova. With the World Health Organization projecting that the prevalence of diabetes worldwide will rise from 171 million in 2000 to 366 million in 2030, such products will find a welcome market. LoGiCane is a recently launched all-natural, low-glycemic-index cane sugar from Australia. In Italy, Panmon-viso Fibra Activa breadsticks formulated with psyllium and other fibers are positioned as suitable for diabetics. In Japan, Mr. Mark Chees Wholegrain Biscuit is made with liquid malt extract and is safe for diabetics.
Without a doubt, consumers' increasing demand for functional products that can improve or enhance their health and lifestyle, along with their desire for new food experiences, more convenient food forms, and product accessibility will continue to provide marketers and manufacturers with opportunities for new product innovation. Look for many of these new ideas to provide a fruitful start for successful concept development in markets around the globe.
---
A. Elizabeth Sloan, a Professional Member of IFT and Contributing Editor of Food Technology, is President, Sloan Trends Inc., 2958 Sunset Hills, Suite 202, Escondido, CA 92025 ([email protected]).
The author thanks Innova Market Insights (www.innova-food.com) for access to its Innova Food & Beverage Database, monthly newsletters, and photos.