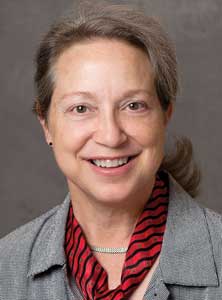 Nielsen receives teaching award
Purdue University Professor of Food Science Suzanne Nielsen was one of two recipients of the U.S. Department of Agriculture (USDA) National Excellence in College and University Teaching Awards for Food and Agricultural Sciences for 2017. An IFT member, Nielsen has been a professor at Purdue since 1983. She served as department head for 10 years, currently serves as a faculty fellow for the Office of Corporate and Global Partnerships, and continues to teach her signature course, Food Analysis.
"Dr. Nielsen lives our college's mission every day. She is dedicated to the students she teaches as well as to her research," said Karen Plaut, interim dean of Purdue's College of Agriculture. "We are incredibly grateful to her and proud of this recognition of her extraordinary dedication and achievements."
Nielsen has received numerous teaching, research, and mentoring awards over the course of her career, including recognition from Purdue University, teaching and achievement awards from the Institute of Food Technologists, and alumni awards from the University of Nebraska and the University of Minnesota.
The USDA National Excellence in College and University Teaching Awards were launched in 1992 and are the product of a partnership among the USDA National Institute of Food and Agriculture, the University of Florida, and the Association of Public and Land-grant Universities.
IFSH honors Petran
IFT member Ruth Petran, vice president of food safety and public health at Ecolab, has been honored for her contributions in the area of food safety. The Institute for Food Safety and Health (IFSH) at Illinois Institute of Technology has recognized her with its 2017 Darsh Wasan Food Safety Award.
Petran was honored for her contributions to advancing public health as an expert in food safety microbiology for industry; her many service activities for professional scientific societies; her writing, editing, and training activities; and her participation in national and international food safety advisory groups. She is an enthusiastic supporter of the IFSH collaborative research program.
Mary Lou Tortorello, branch chief, food technology, U.S. Food and Drug Administration, Center for Food Safety and Applied Nutrition, paid tribute to Petran. "Ruth is second to no one in her enthusiasm and support for the research conducted by our scientists," said Tortorello.
IFT17 sessions available online
If you attended IFT17 as a Total Access registrant, you have free access to the online session catalog through July 2018 using the promotion code sent to you. The catalog contains more than 88 session recordings (audio synced with presentation slides), PDFs of presenter handouts (for sessions in which permission was granted to record audio and share handouts), and ePosters. The catalog extends the value of IFT17 by providing convenient access to sessions you may have missed, or ones that may be of greater interest to you now based on what you're working on.
If you did not attend IFT17, you can still access these sessions. Pricing varies. Click here to access the catalog.
---
In Memoriam
Edmund A. Zottola
, professor emeritus of food microbiology, Dept. of Food Science and Nutrition at the University of Minnesota, passed away peacefully on October 4 from complications due to Alzheimer's disease.
Ed was an actively engaged IFT member and served with distinction in many capacities since joining IFT in 1970. He chaired and served on numerous awards juries and multiple committees, including the Continuing Technical Education, Program, Higher Education, Finance, Publications, and Fellows Activities Committees. He was active in the Food Microbiology Division, the Dairy Foods Division, and the Minnesota Section during his 46 years as an IFT member.
One area that he actively researched was biofilms, and he wrote a very popular IFT Scientific Status Summary on microbial attachment and biofilm formation. For his many contributions to the field of food microbiology, he was elected a Fellow of IFT and was also an inaugural Fellow of the International Association for Food Protection (IAFP).
During his 31 years at the University of Minnesota, he worked in Extension, sharing his practical knowledge of microbiology with the food industry; he also taught several courses in the department. A prolific researcher and writer, he mentored more than 45 graduate students, including 30 MS degree and 15 PhD candidates. He was a beloved advisor who was always available to provide advice, counsel, and assistance to his students. He encouraged them to present their research at IFT and IAFP meetings, where they successfully competed in graduate student paper competitions. Today, his students hold prominent positions in major food corporations, where they work to keep the food supply safe. He was an excellent teacher, caring mentor, and friend to his students as well as colleagues, and had a profound impact on all of them. He will be sorely missed.
—Robert B. Gravani, PhD, CFS, President, Institute of Food Technologists, 2010–2011
IFT also notes the passing of the following members: Thomas P. Smith, Anthony Thomlinson.
---
Register for IFT18 Short Courses
One of the best avenues for professional development is taking a short course from IFT at our headquarters in Chicago. Explore the options for 2018 below and visit http://u7.ift.org/meetings-and-events/short-courses.aspx for more information.
Feb. 15-16
Food Science for the Non-Food Scientist
March 22-23
Food Laws & Regulations
April 20
One Intensive Day With Food Labels
May 10-11
Allergen Management (in partnership with Mérieux Nutrisciences)
Aug. 23-24
Foreign Supplier Verification (in partnership with Mérieux Nutrisciences)
---
Section Meetings
Southern California
December 20:
SCIFTS Holiday Party.
Buena Park, Calif. Click
here
.
New York
January 9: Dinner meeting. Nyak, N.Y. Click here.
Have some news to share about yourself or another IFT member? Email [email protected].