In this edition of New Product Explorations, we check in on what was trending at the 2017 Winter Fancy Food Show, including some cool new beverages, and explore the special blend of flour one bakery is using to create breads with seed-to-loaf transparency.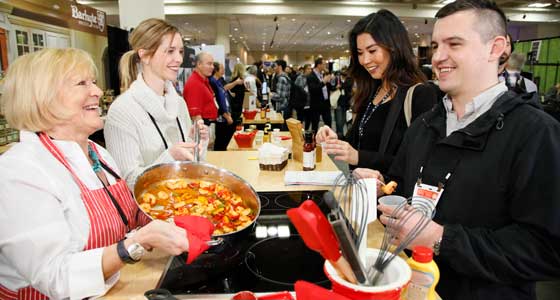 Innovative Food Groups at the Winter Fancy Food Show
At this year's Winter Fancy Food Show, small and large companies alike presented more than 80,000 products that they hoped would inspire and delight today's consumers, who are more attracted than ever to healthier, better-for-you foods that taste good and are fun to eat. "Consumers want to indulge, they want to treat themselves, and they want to eat well, and increasingly, that's not two different things," said Denise Purcell, head of content for the Specialty Food Assoc., which produces the show, and standout products on the floor merged these attributes for a show floor that was inspiring, innovative, and delicious.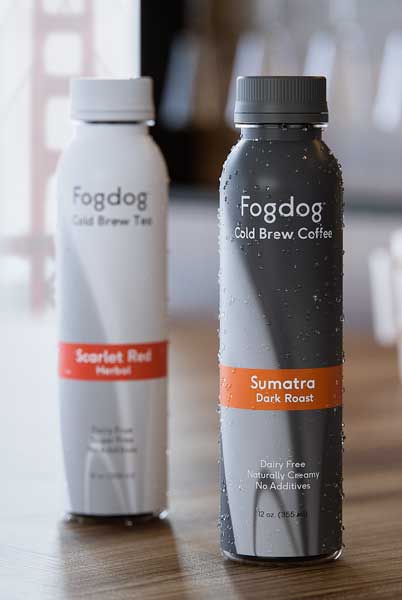 Brewing Up New Beverages
Cold-brew coffee has retained its cool factor, and a number of companies introduced new versions of the iced beverage. Califia pairs its almond milk with coffee infused with nitrogen for a creamy mouthfeel akin to Guinness, while Jittery John's adds chicory and brazil nuts into its ready-to-drink cold-brew beverage that uses beans sourced from a women's coffee cooperative in Colombia. Fogdog Cold Brew Tea and Coffee, meanwhile, created a proprietary hydrodynamic cold-brewing method that uses constantly moving, ice cold water to process its coffee beans, infusing the coffee with oils without extracting bitterness, resulting in a mild but flavorful coffee with a creamy consistency.
There were also some interesting coffee alternatives on the show floor, including Crio Bru, ground cacao beans that are brewed like coffee for a beverage with the caffeine content of decaf coffee and a slightly chocolatey taste. Macaccino uses ground maca, which grows at a higher elevation than any other plant in the world and is native to the Andes, in its superfood drink powders. Maca provides energy without caffeine and can assist in digestion, the company says. On the tea side, Tea Drops are organic pressed teas infused with spices and organic raw sugar that dissolve in boiling water and can be consumed without filtering. Primal Essence's Organic Super Teas, meanwhile, feature extracted tea concentrates that can simply be squirted into hot or cold water; each 1.5-ounce bottle makes more than 50 cups and is rich in phytonutrients.
The bone broth trend is still heating up, but some companies are putting a new spin on it. Sun-Fed Ranch offers a lower-sodium version of the beverage, and Bonafide Provisions debuted the first frozen organic bone broth, which the company says helps preserve the product's nutrients since it isn't canned or further processed. EPIC showcased its bison bone broth and apple cider beverage, which was created for the holidays but which the company's founder expects to become a top-selling product. Bone broth has also made its way into snacks, serving as the base for Kaleidoscope Foods' kale chips; founder Alexandra Hudson says that she was inspired to incorporate it into the products as a way to boost the nutritional content and add flavor. They come in flavors such as Spicy Seaweed with Dates & Bison Bone Broth and Fennel with Fuji Apples & Lamb Bone Broth.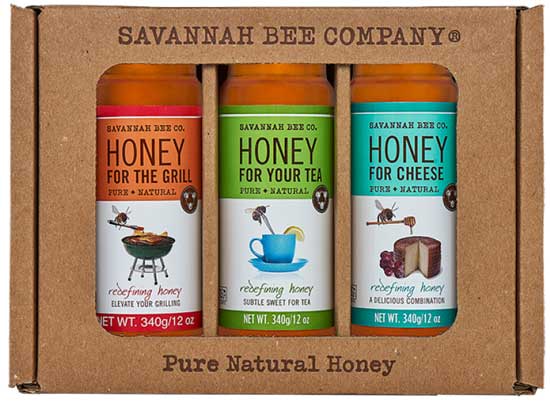 Sweet on Natural Sweeteners
With consumers eschewing white sugar—one attendee at the Sunday morning trends session said some shoppers wouldn't even taste her samples because they contain sugar—makers of natural sweeteners like honey and maple syrup are getting their share of the spotlight and creating some interesting twists on these familiar products. Savannah Bee Co.'s line of drizzling honeys are targeted for specific usage occasions—for grilling, in tea, or on cheese—helping consumers understand what variety of honey works well in different applications. The company also makes a line of spreadable creamed honeys, including a chocolate variety. Honey was also present in several confections, including Lake Champlain's It's Hot, Honey honey-and-habanero bar and Droga Chocolate's Money on Honey, a honey caramel–filled confection; the company donates some of its profits to bee research. Bee Free Honee, meanwhile, is a honey-like product made with apples that is intended to give bees a break; it claims that each jar helps save the lives of 7,500 bees.
Infused maple syrups were also a big hit. Crown Maple offered varieties with Madagascar vanilla and cinnamon, and Runamok Maple presented syrups infused with Makrut lime leaf, hibiscus flower, elderberry, and cardamom. Both companies also offered barrel aged and smoked options as well. Maple also found favor as a drink: Sap on Tap Maple Waters are made from the natural sap water tapped from maple trees before it is processed into syrup, resulting in a hydrating drink that contains 40 calories or less and twice the manganese of a cup of kale.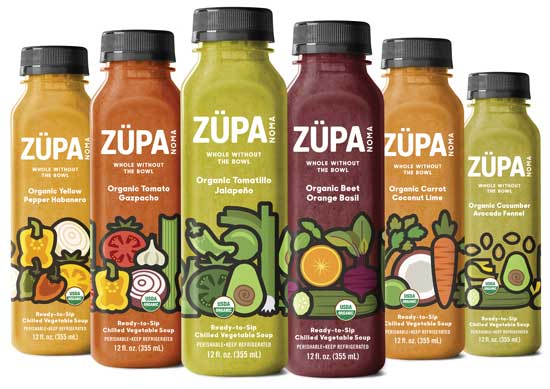 Powering Up With Superfoods
Superfoods—those ingredients that are said to provide health benefits like antioxidants and energy—have expanded into all eating occasions. Teranga infuses baobab powder—high in fiber, iron, magnesium, and calcium—into four flavors of small-batch juice drinks, while Kuli Kuli includes dried moringa, which comes from an African tree, in a line of Moringa Green Energy Shots that contain half a cup of leafy greens and the caffeine equivalent to a cup of coffee. The company, which was funded by Eighteen94 Capital, Kellogg Co.'s venture capital fund, also makes a line of bars that contain all nine essential amino acids.
Tru Vibe's line of meal-replacement smoothies contain the ideal proportions of fats, plant protein, and carbs, along with medicinal mushrooms, antioxidants, and probiotics, according to cofounder Jason Dekker. Züpa Noma's creators, meanwhile, bill its product as a superfood soup; the "whole without the bowl" drinkable soups pack four servings of veggies and 85% less sugar than cold-pressed fruit juice into each 12-ounce container. Primal Kitchen's snack bars, meanwhile, contain 15 grams of protein, 6 grams of fiber, and more collagen than a cup of bone broth, which the company says aids in bone and joint health as well as hair and nail health.
For dessert, SeJoyia's Superfood Cookies pair almond and coconut for nutrient-rich treats that are free from gluten, and Living Intentions' Activated Superfood Popcorns draw on superfood flavors like maqui berry and lucuma and added probiotics. BluePlanet, a chocolate company based in Ohio, teamed up with the Cleveland Clinic and Ganeden to offer decadent, 72% dark chocolates packed with probiotics and more antioxidants than anything consumers would find in the produce section, according to owner Joel Fink.

Vinegar for Vigor
The benefits of vinegar have long been celebrated in certain circles, but drinking vinegar is going mainstream. Fire Brew draws on a traditional herbalists' recipe for its apple cider–based health shots, which also include a variety of good-for-you ingredients such as habanero peppers. Being healthy can be fun and exciting, explains cofounder Valerie Roth. Suja's apple cider–based drinking vinegars go the opposite route, blending vinegar with fruit juices for a mild, muted beverage with 4 billion CFUs of vegan probiotics, about equal to a serving of kombucha (tangy fermented tea); each bottle contains cold-pressed fruits and vegetables and about 30 calories and 6 grams of sugar.
Shrubs—another name for drinking vinegars—have appeared on an increasing number of bar menus, and Crafted Cocktail's shrubs were positioned as a natural cocktail enhancer; they come in such flavors as Asian pear, blackberry, and ginger. Sonoma Co.'s apple cider–infused drinking vinegar is complemented with lemon and vanilla and intended to be mixed with sparkling water for a healthful soda-like drink or spirits for something stronger, and Vitox's apple cider and cold-pressed juice blends come in a variety of vibrant flavors, including grapefruit and pineapple; these can be mixed with water and tea or beer and vodka.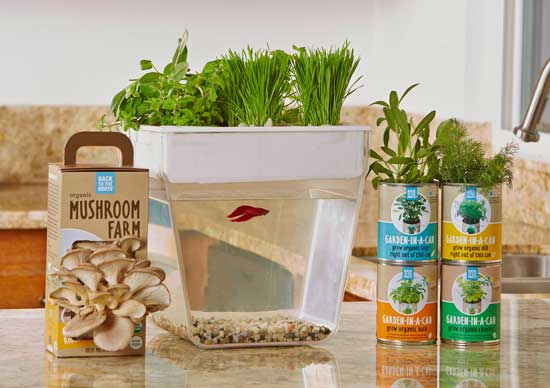 Deliciously DIY
Do-it-yourself kits are a way for consumers to make a connection to their food in an "instant" world, explained a representative of the Brooklyn Brew Shop, a company that produces kits for making everything from beer and sparkling wine to bagels and cream cheese and pretzels and beer cheese; its newest release is a sauerkraut kit. Back to the Roots' plant-growing kits let buyers grow herbs, mushrooms, and now tomatoes easily at home, and the company's website provides curricula for teachers and parents to help children engage with food production. Morinaga's new Make Your Own Tofu Kit is the first of its kind, according to marketing manager Cally Casey; the kit contains soymilk and nigari that the consumer combines inside a water bath.
Copper Cow Coffee, spotlighted by the Specialty Food Assoc.'s Purcell as one of the most innovative products of the show, is a Vietnamese coffee single-serve pour-over kit; users place the paper filter over their cup and pour in hot water and the included sweetened condensed milk for on-the-go specialty coffee. SistersGourmet has been producing jarred cookie mixes for more than 20 years, but usage has increased substantially in recent years as consumers look for "speed scratch" solutions that give them the tools to make something in their own kitchens without having to assemble all the ingredients, says Andy Dollar, director of sales and marketing; the company has cookie mix offerings for all seasons and many occasions, including tailgates, as well as muffin and scone mixes. Organic Home Cranked Ice Cream Mix, meanwhile, is a frozen ice cream base that consumers simply thaw then process with their choice of mix-ins in their own ice cream makers for customizable frozen treats; the company's slogan is "pick a flavor, every flavor."