Are you one of those people who latch on to buzzwords? "Innovation," "Big Data" and the "Industrial Internet of Things" (IIOT) are some of the hot topics in manufacturing circles. For many years, 3-D printing has been labeled an emerging technology that would revolutionize the manufacturing of just about everything. How useful is this technology in the food industry today and how long will it take for it to really challenge the way we do business?
Additive manufacturing, often used interchangeably with the term 3-D printing, refers to any process where material is added systematically to manufacture a product, usually in a layer-by-layer fashion. This is in contrast to typical machining operations where material is removed to achieve the desired outcome or design. Various 3-D printing technologies have emerged over the years, and each has specific applications and strengths:
• Stereolithography is a process that uses a laser or UV light to cure a photopolymer. This process enables the production of high quality parts in materials that can cover a wide range of applications.
• Powder-resin processes use a binding agent to bond powder together to form a solid part. In each layer, the bonding agent is "printed' onto the surface of the powder in the same way that an inkjet printer would print on paper.
• Selective laser sintering processes use a laser to fuse or melt powdered material together.
• Fused Deposition Modeling (FDM) refers to processes where material is extruded through a nozzle on a machine that is programmed to deposit it according to the design being produced.
3-D Impacts Niche Applications
Additive manufacturing has found a home in niche industries where specific technologies are used in the daily production of parts and the support of production processes in other ways. In the medical industry, prosthetic joints are printed to match the shape of a patient's bones, obtained from 3-D scan data. Formula One racing teams use additive manufacturing for its speed in prototyping and testing new designs and to manufacture parts in shapes that cannot be made by conventional machining What about the food industry? Suppliers have found rapid prototyping useful in developing their products and services. The packaging industry relies on 3-D printing to help perfect packaging design, particularly in glass and plastic bottles, where an aesthetically pleasing, customized shape is often a driver for choosing this type of packaging. The ability to see a product in a realistic, transparent sample, filled with the product and labeled appropriately, vastly increases the level of confidence with which brand owners approve their designs. Producing these prototypes can be done in a few days, helps avoid costly changes to molds, and shortens the overall time to market. Filling line manufacturers also use 3-D printed prototypes to create custom change parts for lines before the packaging has been produced by the supplier in order to shorten commissioning times on projects.
In the production of food, additive manufacturing first found a home in the confectionery market, mainly confined to niche products where customized designs are required for short production runs.
Perhaps the most hype that is currently being generated in the realm of 3-D printing for the food industry is the capability to print food directly into a specific shape or design. Solutions are being sought for commercial and home users and, although companies are taking a long time to commercialize this technology, a few restaurants in the UK, Spain, and United States are already producing food from a 3-D printer in their kitchen.
Future Food Applications
Once 3-D technology for printing food has matured, it could open a range of possibilities: for astronauts to print their desired meal from food stored in cartridges or printing softer, processed food for the elderly that still looks like the real thing. This may all become a reality if the associated complexity of these processes can be managed.
For food applications, most often the food materials in the printer will need to be in the form of a paste that can be extruded or a powder that can be fused by heat or the addition of a binding agent. The pre-processing of food to prepare it for printing adds complexity to the overall process and may offset some of the gains to be had by using the technology.
One of the main barriers to implementing 3-D printing technologies is that the printing technology is slower and more costly than current manufacturing techniques. There needs to be another compelling reason to opt for additive manufacturing, such as an easily customizable offering to the customer, the manufacturing of complex shapes, or a benefit from the way in which ingredients are stored or used.
Food Packaging Applications
Many South African companies have opted to wait until 3-D printing has proven itself to guarantee a return on investment. However, for packaging companies, it has become a part of daily business, through in-house printing and the use of service bureaus.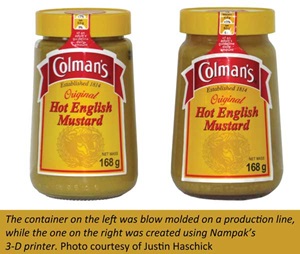 Packaging companies currently use 3-D printing mainly for producing prototypes that enable customers to see how their product will appear on shelf when the packaging is produced and filled. Once a design is complete, this can be transferred to a printed format that can be printed. The printing of a part can take anything from a few hours to a whole day, depending on the size of the model and the technology used. These parts can then be spray painted to match the desired color or filled and labeled appropriately.
As 3-D printing technologies advance and the capabilities of printed materials improve, the application for manufacturing molds and tooling for production machinery becomes more promising. Already South African companies use additive manufacturing to make pilot molds for manufacturing products. Work in this arena is still in development and, when it matures, could open up opportunities for customizing packaging for short production runs in a cost-effective manner.
While some companies find it cost effective to run their own 3-D printers in-house, others may be better off using a service bureau to produce their parts. One of the main advantages of a service bureau is that they often have access to a range of printers with different materials, enabling them to more easily produce a part that meets a prototype requirement.
If you like to be at the forefront of applying new technology to your business, it may not be too late to be part of the development of 3-D printing of food. More than just a buzzword, 3-D printing is rapidly changing the way we do business.
This article was originally published in FST (South African Food Science & Technology) magazine (Nov. 2017, Vol. 6, No. 3) (www.safst.co.za) and is reprinted courtesy of SAAFoST (South African Association for Food Science & Technology) (www.saafost.org.za).
Justin Haschick is projects manager at Nampak R&D's Customer Solutions Center, Cape Town, South Africa ([email protected]).