Orange mango, strawberry watermelon, blackberry cucumber, and pineapple coconut are just a few of the rising stars in the global flavored waters market, which reached $10.3 billion in 2018, up from $6.5 billion in 2013, according to Euromonitor International. In the United States alone, sales nearly doubled, jumping from $1.3 billion to $2.5 billion during the same time period.
One of the most dynamic categories within soft drinks, flavored water has garnered a significant share of overall bottled water sales and given rise to new market niches that respond to consumers' interest in healthier and more functional beverage options. New product launches increasingly promise to enhance consumers' physical and mental well-being, touting ingredients that are natural, free of added sugars, pH balanced, and in line with popular diet trends, such as keto, paleo, and Whole30.
"The flavored water segment started to emerge about 10 years ago, as consumers looked for more interesting solutions to drinking more water or consuming fewer carbonated soft drinks," says Abigail Storms, vice president of global strategic marketing at Tate & Lyle. Since then, a constant influx of flavors, functional ingredients, and innovations in packaging has helped to shape and propel the market into new territory.
"Flavored and carbonated waters as a category are very reflective of modern trends," says Aga Jarzabek, research associate at Euromonitor International. "Brands look to add value in any way, and they stay on top of their game to appeal to the modern consumer. Sustainability has a strong presence within the category, with many newer brands being available only in cans. Besides being naturally calorie- and sugar-free, brands also follow health and wellness trends through claims of naturally occurring or added minerals and ingredients that hint at some added function besides simple hydration."
The desire to bring added value to the consumer has helped to blur the lines between previously well-defined categories, according to Storms. "Many manufacturers, including some of the market leaders, have taken a lateral growth approach by acquisitions, or simply by launching platforms based on different consumption occasions or consumer propositions than their historical core offering—the flavored sparkling water category is one such example," she says. "One size fits all is no longer relevant, and this is illustrated by the myriad of smaller, innovative businesses that make the category so interesting."
Drinks with functional benefits, less-sweet options, and products with sustainability credentials are just a few examples Storms cites of growing trends. However, entire segments of the market are also being transformed. "Vitamins and minerals have been long used, energy is still a dynamic category, but we can now see the emergence of new types of options, more centered around well-being in this space," she explains. "Of course, with globalization, an increasing variety of flavors and special editions are available, with inclusions, vegetables, and herbs being some of the drivers."
A Softer Soft Drink
It's no secret that health is a driving factor in consumers' food and beverage choices, with an increasing number of individuals choosing flavored waters in place of traditional carbonated sodas. "Consumers are continuing to move away from carbonated soft drinks and other sugary beverages, seeking healthier—yet still satisfying—alternatives," observes Christine Sumecki, senior brand manager at Perrier. "These trends are driving a marked increase in consumption of sparkling beverages in particular, and the industry has responded by introducing a diverse range of healthy products that feature bold fruit flavors and unique ingredients."
"Flavored waters and carbonated flavored waters are definitely used as an alternative to other soft drinks by a lot of their consumers," agrees Jarzabek. "Flavored water is more interesting than plain water but also allows consumers to avoid the added sugars and calories present in other carbonates and juices."
One of the first flavor-driven brands to bring soda alternatives to the attention of consumers was Talking Rain's Sparkling ICE. "These are sweetened, flavored, zero-calorie beverages that brought interest to the beverage retail aisle," explains Storms. "Since then, the level of sweetness in flavored water has decreased; often the still flavored waters include an essence or a touch of flavor playing in the natural space with packaging to reflect the same brand values."
Today, Sparkling ICE offers 16 fruity flavors that are sweetened with sucralose and contain a splash of juice, naturally sourced colors and flavors, and vitamins and antioxidants. Recently the company launched its first line of caffeinated products, Sparkling ICE+Caffeine, which is offered in five flavor varieties: Black Raspberry, Blue Raspberry, Triple Citrus, Strawberry Citrus, and Orange Passionfruit.
Another early entrant into the flavored water market is Hint, founded in 2005 by Kara Goldin, who was looking to jumpstart her own commitment to good health by creating a beverage that offered great taste without the sweeteners, calories, or preservatives found in sodas. Today, the brand is a leader in the flavored water space, offering still, sparkling, and caffeinated still varieties in flavors such as Pineapple Peach, Apple Pear, Mango Grapefruit, and Lemon Cayenne.

Recently Hint added Ginger Sparkling to its lineup, a formulation the company spent more than a decade working on in an effort to capture the bold, spicy notes consumers are coming to appreciate. At the flavor's launch earlier this year, Goldin noted, "It's one of the most complicated flavors to get right as there are many nuanced aspects to ginger. Now that we got it right, we are excited to share it with our fans."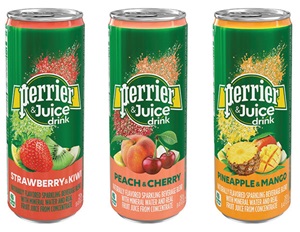 Perrier's recent introduction of its Perrier & Juice drink, which features the company's iconic mineral water mixed with fruit juices, sugar, and natural flavors, is aimed at pleasing consumers looking for a thirst-quenching option with exciting flavor combinations. Available in Strawberry & Kiwi, Peach & Cherry, and Pineapple & Mango, the drinks are invigorated with touches of real apple and lemon juices and contain only 45 calories per 8.45-ounce slim can and 60 calories per 11.15-ounce sleek can.
"We recognized our consumers were looking for refreshing new options that also didn't compromise on flavor," explains Sumecki. "With the launch of Perrier & Juice drink, we are excited to offer a refreshing new option that combines the unrivaled crisp taste of Perrier, real fruit juices, and other natural flavors that consumers can enjoy any time of day."
The emphasis on clean, natural taste is at the core of many successful brands. "Many consumers perceive products with clean label claims to 'taste different' than traditional products," says Keera Perumbala, marketing associate, Sweet & Beverage Flavors at Sensient Flavors. "During primary research by Sensient, consumers mentioned that clean label products 'taste crispier, more robust, and more flavorful' to them. Clean label products convey higher quality and create more natural sensory experiences."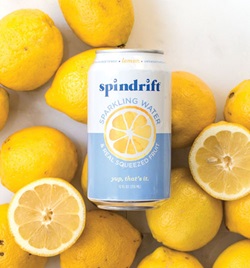 When it comes to clean label, it's hard to get much cleaner than Spindrift's simple recipe of sparkling water combined with real squeezed fruit. Available in 10 flavors, including Cranberry Raspberry, Grapefruit, Lime, Strawberry, Blackberry, and Orange Mango, Spindrift's Whole30-approved sparkling waters contain fewer than 15 calories per 12-ounce serving.
Founder Bill Creelman, who grew up on a farm in Western Massachusetts, was accustomed to eating food that was fresh, seasonal, and unprocessed. In 2010, seeking an alternative to artificially sweetened sodas, he began experimenting in his kitchen and hit upon a winning combination: sparkling water mixed with traceable ingredients and fruit from family farms. Today, Spindrift's commitment to fresh ingredients is reflected by Creelman on the company website: "We are proud to celebrate the fruit, berry, and vegetable farms across America that supply us our ingredients."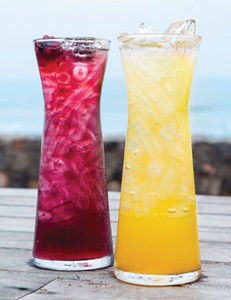 The shift toward better-for-you beverages is also influencing developments in foodservice. S&D Coffee & Tea recently launched a line of infused beverages inspired by Mexico's agua fresca drink. "Better-for-you doesn't need to mean boring," says Helen Griffith, vice president of marketing for S&D Coffee & Tea. "Our new line of Infused Beverages features real fruit juice and is available in eight refreshing flavors like Blackberry Lemonade and Strawberry Watermelon."
From fresh fruit and botanicals to functional ingredients like ginger, flavorful health-forward ingredients are elevating the appeal of water and creating an entirely new beverage experience, notes Griffith. "On-trend options like flat and sparkling flavored waters, functional waters like cactus and coconut waters, and fruit-infused waters can help upsell basic tap water. Our Infused Beverages are perfect as is, but also make a great base for signature mocktails and cocktails, which can help further sales opportunities."
Function Follows Form
Beyond simple, clean ingredients, consumers are looking for health and wellness benefits from their beverages. "Functional health is one of the more popular claims that are on the rise," says Perumbala. "Added nutrients, pH, electrolytes, minerals, protein, and myriad other things give the 'extra'-seeking consumers something extra. While the younger generation Z-ers like the energy drinks, the older Millennials have energy waters to get the jolt of energy that they seek."
At Laird Superfood, the company's tagline, "Optimal Performance. Healthy Living," is reflected in its HYDRATE line of coconut water, which is made with whole food ingredients and boasts 72 trace minerals. The concentrated waters are packaged in pouches and designed to be added to an 8-ounce glass of plain water. Free of added sugars and artificial ingredients, the waters combine freeze-dried coconut water with nutrient-dense powders, such as beetroot, pineapple, mango, and turmeric root, to create a superfood blend that, according to the company, "provides a superior alternative to sugar-laden and processed sports drinks."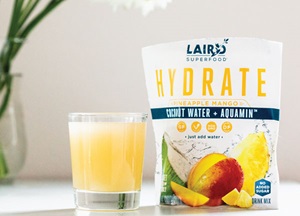 "We wanted to create a product that went beyond flavored water," says Paul Hodge, CEO and co-founder of Laird Superfood. "While our HYDRATE products do come in a variety of flavor options, at the core the product is high-quality coconut water and 72 trace minerals, which provides consumers with many more benefits than if we were just creating a flavored water line. We believe consumers are looking for a functional option, made with real, quality ingredients that actually taste good."
Another functional ingredient making headway is fiber. At Hello Beverages, each 16-ounce bottle of hellowater is infused with 5 grams of fiber derived from chicory root. According to the company, 97% of Americans do not consume their daily recommended amount of fiber. Hello Beverages is aiming to close the gap. Although the company does not align itself with a particular eating program or diet, it acknowledges that every healthy eating plan holds three commonalities: drink more water, consume more fiber, and reduce sugar.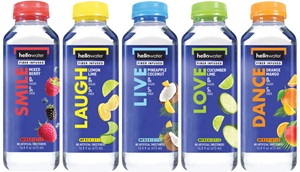 Using stevia as a sweetener, the hellowater line comes in five flavors—Smile Mixed Berry, Laugh Lemon Lime, Live Pineapple Coconut, Love Cucumber Lime, and Dance Orange Mango—and weighs in at 10 calories per bottle. Among the benefits of fiber touted by the company are improved gut health, lower cholesterol, and better control of blood sugar.
Eco-Friendly Endeavors
In addition to using clean, whole-food ingredients that provide functional benefits, the environmental impact of a food or beverage is also top of mind for many companies, as consumers take ecological and social responsibility considerations into account when making buying decisions. Consumers are not only looking for ingredients that are natural and have a clean profile, but they want them to be sustainably sourced and produced.
Says Storms about Tate & Lyle's approach, "We are responding to the demand for greater sustainability in the supply chain. For instance, we recently announced our partnership with Earthwatch, a leading science-led environmental organization, to identify steps to ensure that as the stevia market grows, sustainable growing practices are embedded consistently, and socioeconomic benefits are maximized."
At Laird Superfood, in addition to using clean, whole-food ingredients, Hodge says his company "also focuses on how our product is delivered to consumers. While our products are convenient for those on the go, travelers, busy parents, entrepreneurs, and athletes, our HYDRATE product is not single serve, so it has a lighter footprint, with 19 servings per bag."
Another company focused on having a positive impact, both on the surrounding community and the environment, is Just Water. Based in New York City, the company sources its high-pH, natural still spring water from Glens Falls, N.Y. The alkaline water is infused with organic fruit using a distillation process in which the medium is boiled and the vapor collected. Only a fraction of Glens Falls' excess spring water is bottled by Just Water, and the company says it "pay[s] fairly for it, which puts money back into their community. We're proudly B Corp certified."
Sustainability also goes to the core of Found Beverage Company's manufacturing process. Launched in Australia in 2007, the brand is "based on purity, sustainability, and transparency." The company's flavored waters, available in Elderflower, Cucumber Mint, Watermelon Basil, and Lemon, are made with mineral water from a spring near the Uludag National Park in Turkey and are infused with natural aromas, extracts, and a splash of non-GM beet sugar. Found, which uses bottles made from 100% recycled glass, claims to be "one of the most sustainable beverage companies in the world, and the first carbon neutral certified one."
Found's commitment to environmental stewardship is evident in #THE 100K INITIATIVE, an ocean conservation project designed to highlight the true impact of plastics on marine mammals. As part of the initiative, the company individually numbered 100,000 glass bottles of its infused water, each of which represents a marine mammal affected by ocean plastic, with plans to donate 100% of the profits to Oceana, an ocean advocacy group.
The Future of Flavored Hydration
Standing out in a highly fragmented market requires flavored water companies to be nimble in their response to consumer demands and bold in their exploration of new market niches. Companies that go full-steam ahead with product launches that fill emerging needs and speak to values that resonate with consumers are likely to garner a following, especially when the launch is paired with a well-placed and targeted marketing strategy.
Bulletproof's FATwater, introduced in 2015 by Bulletproof Coffee entrepreneur and biohacker Dave Asprey, is a good example. The product, made from pure, deionized water produced by removing ions through a specialized filter, contains 2 grams of fat sourced from the company's proprietary coconut oil. Sugar-free and enhanced with B vitamins, FATwater entices consumers to "power up on fat-fueled water that amps you up with energy while quenching your thirst."
A recent entrant in the emerging CBD-infused beverage space is Sweet Reason Beverage. Based in New York, the women-owned and operated company debuted a trio of hemp CBD-infused sparkling waters late last year. Available at Dean & DeLuca in New York City as well as online, the beverages come in Grapefruit, Cucumber + Mint, and Strawberry + Lavender. Each 12-ounce glass bottle contains 7 mg of pure hemp CBD with no sugar, sweeteners, carbs, sodium, or artificial ingredients.
Founder Hilary McCain, who points to the three pillars of "Health, Taste, and Quality" as being foundational to her company philosophy, worked with her team for the better part of a year to find the best water-soluble CBD on the market. She calls the process "a labor of love" that resulted in a tasteless CBD from organic hemp that is highly bioavailable and does not require added sugar or sweeteners to mask the flavor.
Another emerging market is wine water, which Forbes magazine declared the 2018 beverage of choice. Companies such as Wine Water and Napa Hills are delivering naturally flavored waters with the antioxidant benefits of red wine but without alcohol, sugar, or calories. Earlier this year Napa Hills debuted its new line of Sparking Waters, available in Cherry Rosé, Peach Grigio, Lemon Chardonnay, and Pinot Berry. The bioactive antioxidant blend used in the wine waters contains resveratrol, a naturally occurring antioxidant in red wine that has been linked to anti-inflammatory, anti-aging, and cardiovascular benefits.
In the future, brand differentiation will play an even larger role in helping beverage companies find and capitalize on a target market for their products. "There are many ways brands differentiate themselves," notes Jarzabek. "One way is through aesthetics; brands like La Croix, Perrier, or Topo Chico have cultivated more than just a distinctive look, but a whole brand identity that inspires brand loyalty. Source- and origin-based distinctions are also important for a brand. For example, the fact that Topo Chico is sourced from Mexico is an important aspect of their brand. The claim of being a mineral or a spring water (rather than just plain old purified) also adds value to a brand."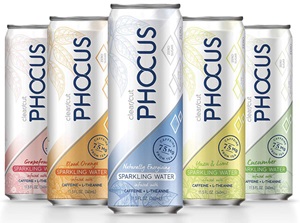 Ingredients provide another avenue for differentiation, especially when it comes to flavor and sweetener options. Perumbala says that Sensient's portfolio includes extracts that meet unique flavoring needs as well as those that are rich in functional ingredients, like polyphenols and other antioxidants. Companies looking for flavor and functionality may decide to explore green tea extracts, for example, as did Phocus, a brand of premium sparkling waters that contain natural caffeine from green tea, along with the amino acid L-theanine. In addition to providing an energy boost, green tea extracts, says Perumbala, "are rich in catechins, compounds which are associated with many health benefits."
The use of plant-based ingredients is likely to remain a central component of health- and wellness-focused beverages, including flavored waters. "Consumers increasingly question the composition and provenance of the foods and beverages they consume, and increasingly look for plant-based options," says Storms. "This is . . . particularly important for flavored waters, given the heritage of the 'water from source' category; all plant-derived options are seen positively." She points to stevia and monk fruit extract, as well as soluble fibers, as examples that benefit from a positive halo. "Consumers demand more performance from naturally sourced options," she adds, "and the end product still has to taste great."
As of 2016, bottled water surpassed carbonated soft drink consumption among Americans, according to the Beverage Marketing Corporation. Since then, flavored water has emerged as a leader on the experimental playground, encompassing a diverse array of trends that show no signs of abating. "The industry," says Sumecki, "has responded to consumers, offering a range of new, unique beverage options." As for the future, she predicts, "A mix of flavor and function will see a rise in product offerings featuring a range of health and performance benefits."
Whatever the next big trend is, the flavored waters market will remain a rich mine for both small and large players. Product innovators who can match their formulation, distribution, and branding efforts with the right demographic targets will be sure to break through and perhaps play a role in reframing a wildly competitive and creative market.