Today's podcast features Kelly Hensel, IFT's senior digital editor, and John Ruff, IFT's Chief Science and Technology Officer. This high-level discussion previews a few of the major trends that both Food Technology Magazine's editorial team as well as IFT's Science and Policy Initiatives team expect to play a major role in 2021. To view the editorial team's 9 food trends to watch for in 2021, visit our Brain Food Blog.
Participants
Kelly Hensel is the Senior Digital Editor overseeing her Culinary Point of View column, IFT.org department, Daily News on ift.org, The Weekly and IFTNEXT newsletters. Prior to joining the IFT staff in 2008, she was an associate editor and web editor for Perfumer & Flavorist, a monthly trade magazine serving the fragrance and flavor industries.

John Ruff is the Chief Science and Technology Officer at IFT. During his 36-year career with Kraft and the former General Foods, he headed R&D for International and North American businesses where he successfully integrated the technical operations of numerous acquisitions, established global centers of expertise and led a worldwide advisory council consisting of external experts who have helped guide Kraft's health and wellness initiatives. John received his M.A. in Biochemistry and a B.A. in Natural Sciences from the University of Cambridge in the United Kingdom.
Host: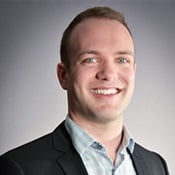 Matt Teegarden, PhD is a food chemist and science communicator, with experience in both industry and academia. Matt is currently the Senior Researcher in the Foods for Health initiative at Ohio State, where he is largely responsible for the development and advancement of scientific operations and communications. Outside of work and IFT involvement, Matt enjoys baking and participating in LGBTQ+ recreational sports leagues around Columbus.