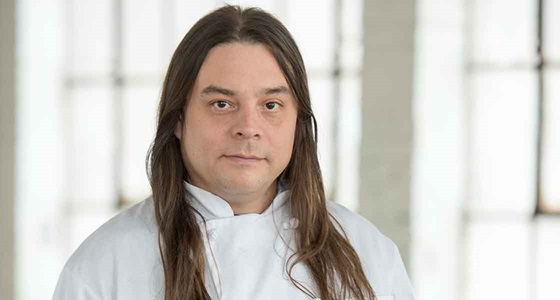 Food scientists and technologists encounter numerous challenges each day as they work to bring better, safer, tastier, and more nutritious foods to consumers. Tackling these challenges often requires critical thinking, teamwork, tenacity, and perhaps a little creativity. Acclaimed Chef Sean Sherman discovered a unique challenge early in his culinary career and drew inspiration to address it from an unlikely source – his heritage.
Born and raised on the Pine Ridge Indian Reservation in South Dakota, Chef Sean Sherman's meals were generally made with government commodity food staples, including canned fruit, canned meat, powdered milk, bricks of yellow government-issued cheese, dry cereals, and oats. While this was the norm on the reservation in the 1970s, it didn't reflect the Native American cuisine of Sherman's ancestors. In fact, early in his culinary career, Sherman realized how little he, and many others, knew about the cuisine of Native Americans before colonization. This realization was the impetus for his lifelong passion to revitalize Native American cuisine for the world to enjoy.
Sherman's humble culinary roots
Sherman secured his first restaurant job washing dishes at a steakhouse in Spearfish, S.D., after moving off the reservation at the age of 13 and continued working in restaurants throughout high school and college. After college, he moved to Minneapolis and within a few years, secured his first executive chef position. It was then he began exploring different types of cuisines, including Italian, Spanish, French, German, Asian, and African. He eventually reached a point in his career when he realized how much he knew about the foods of other cultures, and how little he knew about the foods in his own personal heritage and ancestry.
Uncovering Native American cuisine
Once Sherman started digging into the past, he realized there wasn't much information available regarding Native American culinary history. Thus, began a years-long research expedition.
Sherman reflected on how he grew up on the reservation, what foods were traditional, and what foods had been introduced at a later point in time. He taught himself about foraging wild foods. He read books about the natural botany of the various regions he studied. He read historical texts. He looked through historical pieces with a culinary lens and tried to find instances of people talking about food. He tracked down first-person texts from indigenous people or first-contact texts about when outside people encountered the tribes for the first time. He also talked to many elders.
Cooking up indigenous dishes
What Sherman learned is that because there is so much regional diversity among Native American terrain, it was important to examine each of the different regions, the communities that live there, their culture, and the way they handle food.
From a preparation standpoint, he tries to keep everything as simple as possible. He dehydrates and slow-stews a lot of food. He also cooks things directly, like grilling, because one of the simplest forms of cooking is to have a hot, flat rock that would act as a grill.

As far as ingredients go, Sherman basically took his European culinary education, threw it away, and started from the ground up, leaning heavily on the multitude of plants around him. He only uses indigenous ingredients whenever possible, to show people you can create modern dishes that taste great with the same ingredients his ancestors used. He no longer uses wheat flour, dairy, or sugar. He also doesn't use beef or chicken. Instead, he has fully embraced the different types of plants that grow and wild animals that live in the different regions, saying there are plenty of other protein options and grains available.
Bringing local indigenous food to the forefront
Sherman not only dreams of a day when he can experience healthy, local indigenous foods no matter where he is in North America, he is working hard to make that happen. In 2014, he started The Sioux Chef, a catering business with a focus on identifying, sharing, and educating people on the authentic indigenous foods of North America.
In partnership with the Little Earth Community of United Tribes in Minneapolis, Sherman helped to design and open the Tatanka Food Truck in Minneapolis the following year, featuring indigenous foods of the Dakota and Minnesota territories. He later published his cookbook, The Sioux Chef's Indigenous Kitchen, which gives people a taste of modern indigenous cuisine of the Dakota and Minnesota territories and was recognized with the 2018 James Beard Award for Best American Cookbook.
In 2018, Sherman co-founded the North American Traditional Indigenous Food Systems (NāTIFS), a non-profit dedicated to addressing the economic and health crises affecting Native communities by re-establishing Native foodways. He and his team travel the country, working with indigenous chefs, farmers, academics, and leaders to increase education in tribal communities. NāTIFS is now in the process of establishing an Indigenous Food Lab in Minneapolis that will house a restaurant, education, and training center, representing the next step in Sherman's vision to reintroduce Native traditions and indigenous foods to the American cuisine scene.