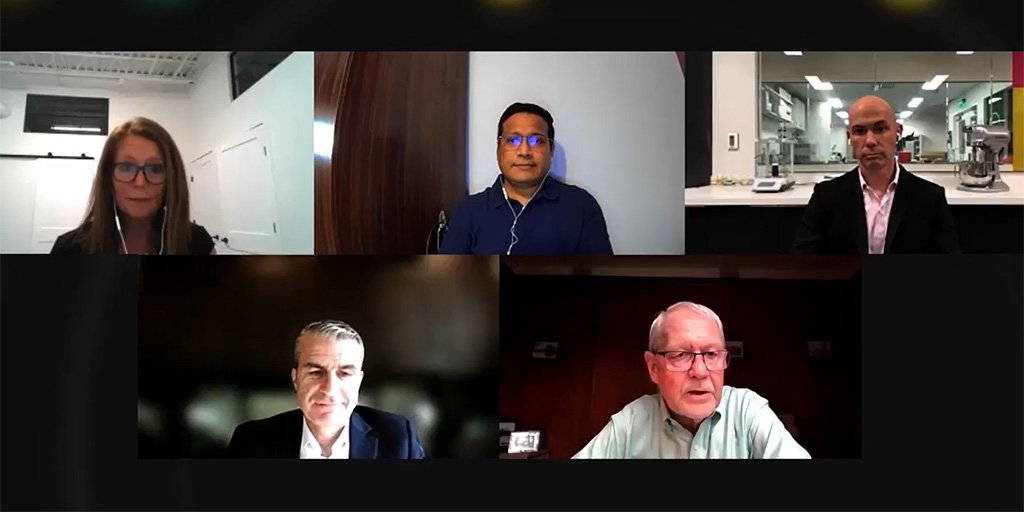 The COVID-19 pandemic plunged millions further into food insecurity, but it also brought issues to the forefront that may help advance the United Nations' Sustainable Development Goal of "Zero Hunger," agreed chief science officers who gathered on Monday for a roundtable discussion during the FIRST virtual event.
"I think the good news is that the pandemic really raised awareness and sensitivity of a very broad population to the need for food security," said Michael Leonard, chief technology officer, Motif FoodWorks, which focuses on the plant-based market.
"I think the pandemic taught us all," Leonard continued. "We saw the dynamics for traditional ag supply chains that got severely disrupted to a point where people wouldn't have been able to get food unless there were alternative nutrition sources that were able to come to market."
And that, Leonard reflected, underscores the importance of building scale and agility into the alternative protein supply chain to allow the industry "to be able to truly diversify some of that risk during times of shortage and outages."
Florian Schattenmann, chief technology officer for Cargill, agreed that COVID-19 "amplified the importance" of the Sustainable Development Goals, and noted that Cargill has continued its investment in innovative alternative protein sources, including cell-cultured products.
What's more, the pandemic has highlighted the importance of individual health and well-being, with a particular focus on building immunity, Schattenmann observed. "I think this idea of food and nutrition as a really big platform of health and well-being has gotten stronger during the pandemic, and I think that's a big challenge and a big opportunity across the supply chain for all of us … to really step up to the plate."
"I agree [that] function-forward trends in eating are here to stay, and it was only amplified by the pandemic," said Katy Galle, senior vice president, R&D and sustainability, Ocean Spray Cranberries.
Galle said that the time is right for Ocean Spray to "reassess the economic and social topics that we're going to be focusing on over the next several years."
"I think one of the biggest challenges is the agricultural commodity price index, which remains near its highest level since 2013," said Arijit G. Mazumder, R&D director for the Asia, Middle East, and Africa Region of Mondelēz. As of June 2021, Mazumder pointed out, prices were 33% higher than in January 2020.
"Numerous countries are actually experiencing high food price inflation at retail level, which is leading to some pressure on the consumers," said Mazumder. "In addition to that, the weather uncertainties, micro economic conditions, and COVID-19–related supply disruptions are also causing stress to the affordability, availability, and accessibility across demographics."
Mazumder singled out Mondelēz's Cocoa for Life program, which focuses on improving the quality of life for the cocoa farmers that supply the snack maker, as an example of an initiative that helps reduce food insecurity while also bolstering agricultural sustainability.
Advancing supply chain sustainability is a priority for Cargill as well, Schattenmann said. "I come from the chemical industry, [where] if you need more material, you build a bigger plant, or you build another plant, or something. … Yet, our plant is the planet, and it is of limited size, and if anything, urbanization across the world is taking some of the farmland away. So, there are some conflicting areas that we have to overcome, and I think that's where the true challenge lies."
The mandate for food system science and technology professionals, several panelists emphasized, is to apply technology to the development of an affordable, accessible food supply, including healthy ingredients that are cost-effective.
"I think the call to action for all of us, as people who set the technology agendas in our companies, is to consider, what are the implications of the technology platforms we're building today?" Leonard of Motif FoodWorks reflected. "And we should ensure that there's a bridge to enable that accessibility, and to address questions of affordability for the broader community."
---
Registration for FIRST provides access to the on-demand library of sessions through Dec. 31, 2021.