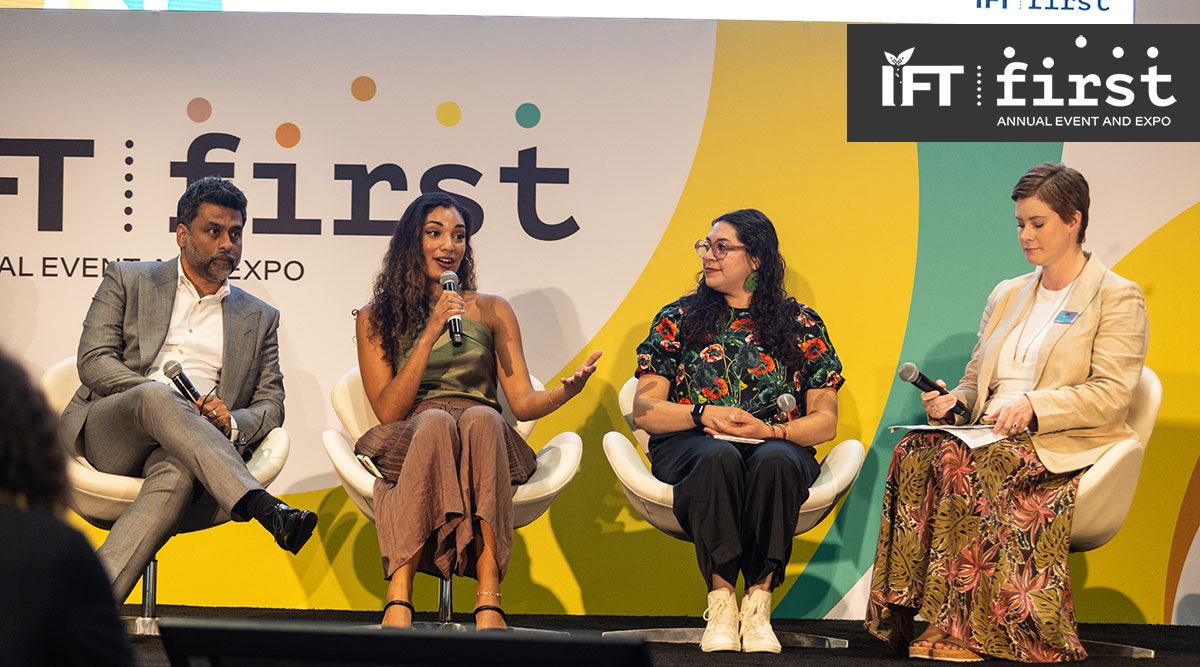 Two-third of U.S. consumers (67%) say that companies must take responsibility for the climate, said Herrish Patel, general manager, Unilever Nutrition North America, speaking in a Monday Business FIRST session titled "Building the Business Case for Regenerative Agriculture."
Statistics like the preceding underscore the need for increased adoption of regenerative agriculture practices, agreed Patel's fellow panelists, Kayalin Akens-Irby, head of growth, Planet FWD, and Minerva Dorantes, a soil scientist with the Soil Health Institute.
In the discussion moderated by Food Technology Deputy Managing Editor Kelly Hensel, Patel detailed some of Unilever's initiatives in support of regenerative agriculture, including a partnership with PepsiCo to support farmers in Iowa who have adopted cover cropping practices. Notably, Patel said, Unilever has committed to having the Hellmann's mayonnaise brand be "100% regen" by 2027, pointing out that currently one-third of Hellmann's mayonnaise is made using ingredients that have been cover cropped, and by 2027, it will be 100%.
Advancing climate-friendly practices like regenerative agriculture will require more government support, the ability to attract more capital, more technology adoption, and industry-wide collaboration, according to Patel. "This is not a race," Patel emphasized. "This is not about competitive advantage. This is about creating a movement."
It's also a long-term effort, Patel said, pointing out that Unilever has been working with farmers in Iowa for more than 18 years. "It's the only way to do a vertical supply chain," he said.
Dorantes helped get the session started by sharing a simple definition for regenerative agriculture: "growing healthy food in a way that is healthy for the environment." Or more technically speaking, she elaborated, it's "an adaptive management approach that focuses on enhancing and restoring ecosystem growth."
Many factors can make it challenging for farmers to convert from conventional to regenerative agricultural practices, Dorantes said, including financial constraints caused by expenses such as those for new farm equipment and new seeds; finding markets willing to pay a premium for regeneratively grown crops; and dealing with criticism from family and friends who are opposed to the transition.
In addition, she pointed out that many farmers don't own the land they farm but instead have relatively short-term leases, which can further complicate their ability to make a long-term investment in regenerative agriculture.
Planet FWD is advancing regenerative agriculture adoption via the company's software platform, which automates lifecycle assessments, reducing their cost by 90%, Akens-Irby said, adding that the company's mission is to decarbonize the food system and advance the transition from conventional agriculture to regenerative agriculture. Using Planet FWD's tools allows companies of all sizes to establish baseline statistics and insights in support of decision-making around regenerative agriculture, Akens-Irby said.
For brands to start prioritizing regenerative agriculture, it's important to increase consumer awareness of regenerative agriculture and to align incentives related to it across the supply chain, Akens-Irby continued. Too few consumers understand the connection between regenerative agriculture and climate change, she said.
Brands that are making ESG-related claims are growing 8% faster than their conventional counterparts, and claims related to regenerative agriculture are among the best-performing claims, Akens-Irby added, citing recent research.