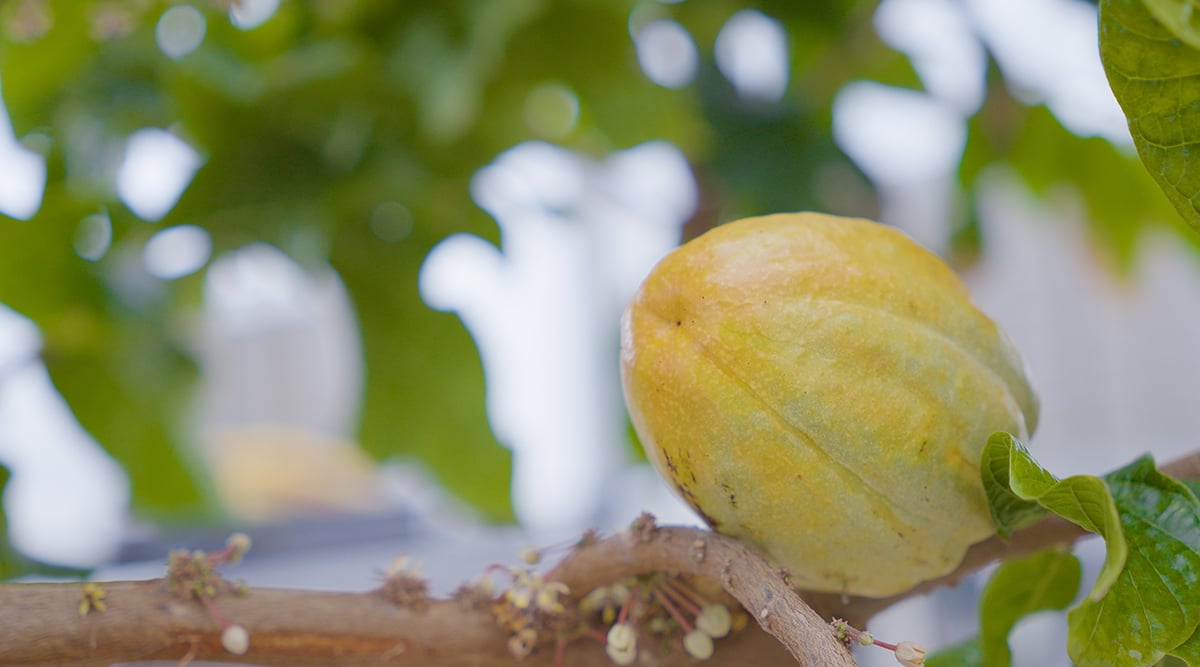 A cacao pod on a tree at Mars' greenhouse facility at the University of California, Davis. Photo courtesy of Mars Wrigley
"Cocoa could be extinct by 2050," says Amanda Davies, chief procurement and sustainability officer at Mars Wrigley, a business segment of Mars Inc. With a warming planet, diseases and pests are becoming increasingly problematic for cacao trees, a crop that can only grow within about 20 degrees north and south of the equator. The loss would be devastating to the 50 million people around the world who depend on the crop for their livelihoods. And who wants to imagine a world without chocolate?
Mars, maker of iconic chocolate treats such as Snickers and M&M's, has a vested interest in ensuring the continued viability of the cacao crop. This is why the company launched its Cocoa for Generations strategy in 2019, backed by a $1 billion investment over 10 years, with two pillars: responsible cocoa for today and sustainable cocoa for tomorrow.
At the heart of the strategy is research and science, which is why the company decided in 2019 to expand its decades-long relationship with the University of California, Davis (UC Davis), by building greenhouses and a genetics and integrated pest management laboratory to study cacao. Despite the universal love for chocolate, the cacao tree is often referred to as an "orphan crop" because it has been the subject of very little agricultural research compared with corn, wheat, and rice. Mars is hoping to change that.
"One of our goals for Cocoa for Generations is to increase the scientific community capacity building," explains Joanna Hwu, senior director of cocoa plant science and operations at Mars Wrigley. "It's really building the process of upskilling and getting the word out that cocoa is a crop that is worth researching … so we can go from an orphan crop to a modernized crop."
By being located on the UC Davis campus, Mars benefits from working side by side with university students to conduct studies on everything from how cocoa trees deal with drought stress to what amendments can be added to the soil to strengthen and support root growth. The 20,000 square feet of greenhouse space operated by Mars is focused on three different areas: conservation, characterization, and accelerated breeding.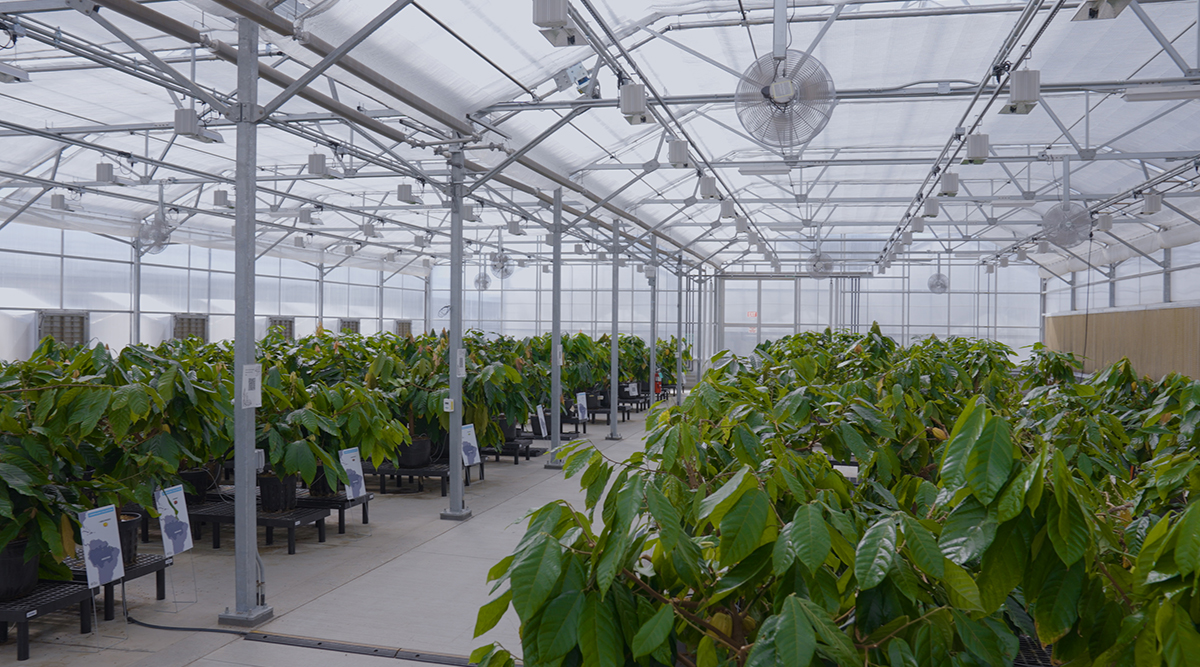 The Mars cacao conservation greenhouse at UC Davis. Photo courtesy of Mars Wrigley
Conservation is essential to the future of the cacao plant because it is a living collection, meaning it can't be frozen or stored in a seed vault. "That also means that if a very productive tree in any given place is lost, it's lost forever," explains Hwu. The conservation greenhouse at UC Davis has nine of 11 genetic groups of cacao strains, representing 80% of the plant's genetic diversity.
Mars' efforts to ensure the continued lineage of such a large sample of the world's cacao varieties also enable its scientists to study that large sample for various traits, like drought response. In one study, the researchers reduced the amount of water given a collection of cacao plants by 75% for two weeks. They used a lysimeter to precisely measure the amount of moisture loss in the soil of each plant. At the end of two weeks, only one plant survived.
"What that means for the field is that we will be able to study what is it about the genetic group that makes it so tolerant," says Hwu. "And then we'll be able to screen and look at the reference library we have and say which variety currently that are planted in commercial use has that genetic group." That would enable the scientists to give actionable insight to farmers about what variety to plant for increased drought tolerance.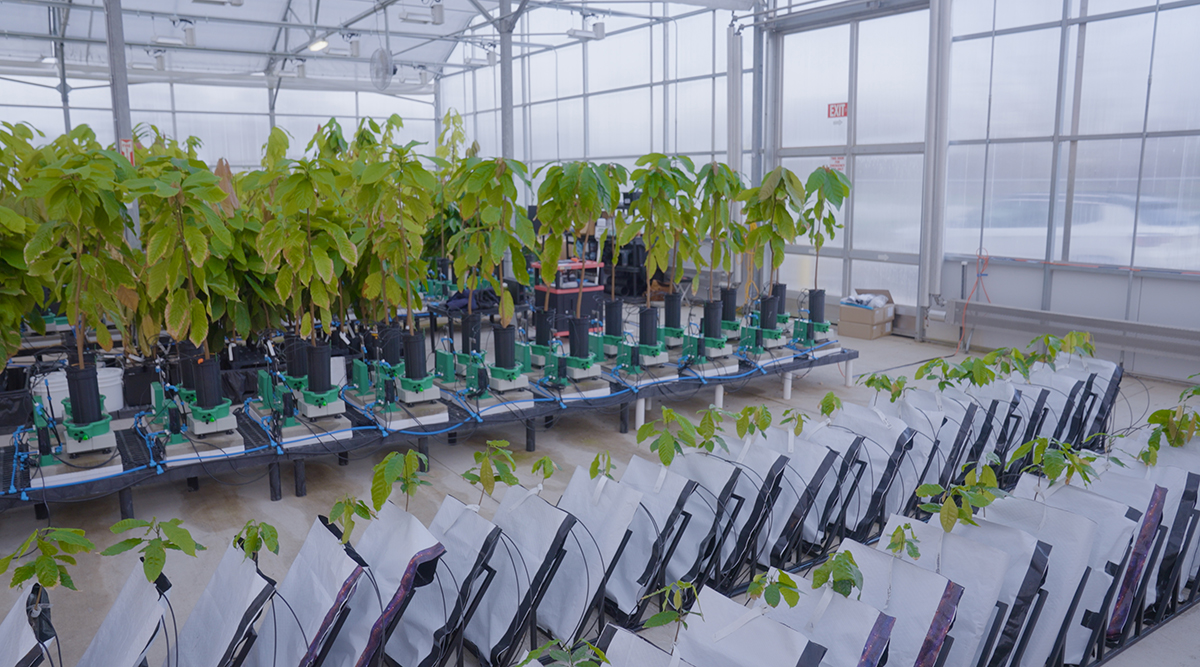 Mars' researchers conduct drought tolerance testing and monitor rootstock growth of the cacao plant. Photo courtesy of Mars Wrigley
The second Mars greenhouse on the UC Davis campus is called the characterization room. This is where researchers work to understand the biological, physical, physiological, and chemical traits of the plant. "We need both the genetics and the biochemical and physiological traits for us to do the breeding," explains Hwu, which takes place in the third of Mars' greenhouses on campus.
While the drought tolerance tests mentioned previously enable Mars to give actionable insights today, they also help inform the cacao trees of tomorrow. "We can continuously improve the drought tolerance by breeding better with stock planting materials," says Hwu. This breeding is done using genomic selection, which allows Mars to "combine genetic and phenotypic trains together to breed faster," continues Hwu.
This is critical given the current situation farmers face on the ground—increasing drought due to climate change and lower yields due to pests and disease. In fact, with FAO data Hwu estimates that farmers are only producing 10% of the output they could theoretically achieve. Reaching the max potential is going to take a holistic approach to plant health.
"We're taking a very, what I call a holistic plant medicine approach," says Hwu. "Because we're not looking at just productivity, which is above ground, we also look at the below ground, which is a more holistic way of looking at the soil, the genetics, and then the environment."
Between the $1 billion investment, the greenhouses and labs at UC Davis, and the research farms in Ecuador, Brazil, and Indonesia, it's clear that Mars is determined to continue providing chocolate for future generations of chocolate lovers. As Amanda Davies, chief procurement and sustainability officer at Mars Wrigley, puts it, "the world we want tomorrow starts with how we do business today."