Conserving water, recycling waste, creating a transparent supply chain, and partnering with environmental groups and each other are just a few of the measures food companies are taking in an effort to promote sustainability while feeding the world.
An increasingly important element of corporate social responsibility (CSR), sustainability has evolved from an expected part of good corporate citizenship to a driver of business strategy and a key decision-making consideration for consumers.
"More and more, we're hearing from our customers and consumers that they want foods that are produced in a sustainable manner," says Courtney Hall, protein technical sustainability manager at Cargill, "and part of that is knowing how their food is sourced. They also want to play an active role in the decision-making process of what they consume."
According to research conducted by the Inter-national Food Information Council Foundation (IFIC), 59% of consumers surveyed in 2018 said it was important that the foods they purchased and consumed be produced in a sustainable way, up from 50% in 2017 (IFIC 2018). Nielsen confirms that consumer awareness is not only on the rise but is playing out in purchasing decisions, with 64% of U.S. households buying sustainable products in 2018, up 4 percentage points from a year ago (Nielsen 2018).
The financial benefits of operating sustainably can be considerable—ranging from increased revenue and market value to a boosted bottom line. The highest sales growth in retail, according to research conducted earlier this year by Nielsen and Nielsen Product Insider, is coming from products derived from sustainable farming, at 14%, those with social responsibility claims, at 8%, and those from sustainable resource management, at 6% (Nielsen 2018).
At Unilever, its most sustainable brands, which include Lipton, Hellmann's, and Knorr, grew 46% faster in 2017 than the rest of its business and delivered 70% of its turnover growth. The brands are part of the Unilever Sustainable Living Plan, launched in 2010 with the goal of decoupling the company's growth from its environmental impact while expanding its positive social impact.
Consumers Call for Clarity
One of the primary concerns of food consumers is transparency, particularly when it comes to how products are manufactured and what is in them. According to a report by The Hartman Group, 69% of consumers would like companies' sustainability practices to be more publicly visible (Figure 1).
"Openness, honesty, and transparency are becoming the currency of trust for consumers who care about sustainability," explains Laurie Demeritt, CEO of The Hartman Group. "They want to see corporate responsibility efforts that indicate an authentic commitment to ethical action—especially on packaging. Transparency is particularly key for retailers, whom consumers view as arbiters of sustainability standards and curators of sustainable products."
To answer the transparency call, more companies are taking the time to communicate their sustainability goals, practices, and philosophies publicly in an effort to raise awareness about sustainability issues and what manufacturers are doing to address them, and to provide information consumers need to make informed buying decisions.
A recent example is Kraft Heinz, which went public last year with its 2017 Corporate Social Responsibility Report, which put the company's corporate citizenship and sustainability efforts front and center with its commitment to "promoting socially responsible practices across our supply chain, setting aggressive environmental goals, improving the products we sell, and making impactful advancements in communities—all with a commitment to transparency and two-way dialogue."
Among the actions Kraft Heinz plans to take is the transition to 100% cage-free eggs in all operations by 2025. It also committed to the global expansion of its product nutrition guidelines, with a target of 70% compliance by 2023. The guidelines represent the foundation of the company's nutrition and wellness approach, recommending limits on calories, saturated fat, sodium, and sugar, while encouraging nutritious food groups—such as fruits, vegetables, whole grains, lean protein, and low-fat dairy—in addition to wellness attributes like natural and organic.
At Hershey, the company's 2017 Corporate Social Responsibility Report unveiled its Shared Goodness Promise, which centers on "our business, our planet, our communities, our children," and includes such goals as achieving purpose-driven growth, reducing the company's environmental impact by 2025, improving 10 million lives, and nourishing 1 million minds.
The report also acknowledges the many ways that consumer preferences are changing—including the demand for healthier snacks, more transparent supply chains, and products made from responsibly sourced ingredients. In response to these consumer concerns, Hershey has committed to "using our long-held food philosophy of non-negotiable quality and innovation to reimagine some of our core snacks while also taking on exciting new brands. We also continue to work towards more sustainably sourced ingredients, including cocoa, palm oil, sugar, and coconut, while empowering our consumers with more information through QR codes on our packaging."
The ability to provide consumers with accurate information about the foods they buy depends on having a transparent supply chain, and ingredient suppliers represent an important link in the chain. Roquette, a leading plant-based ingredient supplier, has adopted a sustainable development approach that encompasses its worldwide activities. Built around a foundation of four pillars—sourcing, innovating, biorefining, and acting—the company's sustainability goals have defined commitments and key performance indicators, as well as continuous improvement goals and specific 2025 targets.
The holistic nature of the aforementioned sustainability practices, and their positioning within a larger CSR framework, underscores the prominent role they have come to play in overall business strategy. Jeremy Burks, Roquette executive vice president, global business units & commercial, believes that sustainability has evolved in recent years, driven by strong expectations from consumers, and represents an opportunity to meet the needs of stakeholders, stimulate innovation, and strengthen global performance.
"By integrating CSR into the company's business strategy," he says, "organizations can achieve the ultimate goal of creating both social value and corporate value for all our stakeholders, customers, employees, consumers, and society at large."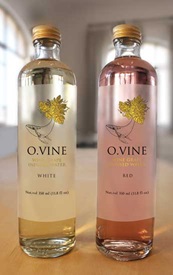 Innovation Abounds
With numerous avenues available for promoting sustainability, it's no wonder that companies are exploring novel approaches to product development, including the use of recycled waste and by-products. A prime example is Wine Water, an Israeli spring water company headed by former winery CEO Anat Levi, which uses wine grape skins and seeds to create nutraceutical compounds that are infused in O.Vine, the company's signature product, which will be launched in the coming months.
Levi discovered a unique opportunity as a winery CEO in 2013 when a third of her vineyard's grapes were lost due to a technical glitch. By combining sustainability principles with inventive approaches to product development, she found a hidden opportunity and pursued it, and is now using the same principles to guide her vision at Wine Water.
"We cannot ignore the stress and damage that the Earth is facing, and we, as humans, have the ability to change it," she says. "We are facing so many challenges that we need to reinvent ourselves and our models . . . [and] work together to overcome challenges and create innovation-driven products."
Adi Seifert, chief technical officer of Wine Water, adds, "It's a real challenge to develop a product that has everything—it's fun, fruity, and fresh, with natural ingredients, low calories, a clean label, and no preservatives. We've optimized the production process to keep all the healthy components of the grape skin and seeds in the beverage, while not compromising on flavor. It's our first step as a company to reduce industrial waste through development of delicious, sustainability-conscious food products."
Pat Brown, former professor of biochemistry at Stanford University School of Medicine, is another forward thinker with an unstoppable commitment to sustainable food development. In 2011, he left Stanford to start Impossible Foods, a venture with a single-minded purpose: to replace animal-based foods with delicious, nutritious, and affordable meat and dairy foods made directly from plants.
After spending five years studying why people crave meat, then analyzing meat sources at the molecular level and working to recreate the texture, taste, and aromas using plant-based ingredients, he debuted the Impossible Burger in 2016. The product quickly gained a following, and Brown scaled up his company, inaugurating a factory in Oakland to produce more than 1 million pounds of plant-based meat per month. Today, the Impossible Burger is available in more than 1,800 restaurants across the United States.
Despite the rapid growth of Impossible Foods, its focus on ecological and conservation concerns continues to take center stage. The company's first sustainability report, released in 2017, noted that the Impossible Burger uses about 75% less water, generates about 87% fewer greenhouse gases, and requires around 95% less land than conventional ground beef from cows. It's produced without hormones, antibiotics, cholesterol, or artificial flavors. The report goes on to state that "widespread adoption of plant-based meats will make it 100% possible to feed the population, provide nourishment and enjoyment, and help preserve the planet for future generations."
There's no question that the popularity of plant-based foods is on the rise. But conscious consumerism doesn't necessarily mean vegan. The Natural burger from foodservice company Sodexo, made from a 75/25 blend of beef and mushroom, balances nutrition and flavorful ingredients to create an enjoyable eating experience. The Natural is an example of an emerging category of blended foods that are plant-forward but include smaller additions of meat, resulting in fewer calories and less sodium and cholesterol—as well as a reduced carbon footprint that both omnivores and flexitarians can feel good about.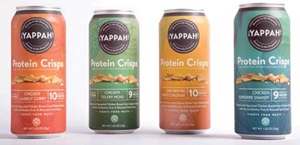 Reducing food waste while inspiring people and partners to rethink their relationship to food and how it impacts society is the goal of Tyson Innovation Lab's ¡Yappah! brand, launched earlier this year. The first product to debut under the new brand, Protein Crisps, was created with the help of several partners, among them Molson Coors. The crisps come in four flavors and are crafted from rescued and upcycled vegetable and grain-based ingredients that might otherwise be left behind.
¡Yappah! is designed to be an umbrella for the development of future products and product categories, all of which will be launched with the goal of helping to address major social and sustainability issues related to food. "The ¡Yappah! brand mission is unique, important, and far-reaching," says Rizal Hamdallah, head of Tyson Innovation Lab. "Through this launch, we intend to address global food challenges such as food waste. For the ¡Yappah! brand, sustainability is not an add-on, it's the DNA. Fighting food waste is just the beginning."
Joint Efforts
Finding inventive ways to conserve, reduce, and recycle often requires the melding of different perspectives and areas of expertise. Collaborations between environmental groups and food and ingredient manufacturers are becoming one of the most successful ways to tackle the challenges that accompany a commitment to sustainable food production.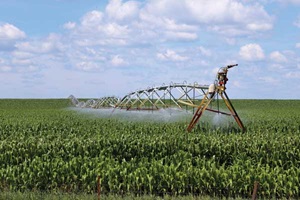 Take the recent partnership between The Nature Conservancy and Nestlé Purina and Cargill, the goal of which was to improve the sustainability of the beef supply chain by reducing the amount of water used to irrigate row crops grown to feed cattle in Nebraska. The three-year project was initiated through the efforts of the Midwest Row Crop Collaborative, a group of leading companies and conservation organizations focused on accelerating farmer-led programs in water conservation, water quality, and soil health in key agricultural states. The irrigation solution developed by the project is expected to greatly reduce water use while providing a scalable solution that farmers can adopt across the country.
"The goal is to enroll 50 farmers in the project to impact 75,000 acres," explains Cargill's Hall. "Farmers will have access to first-of-its-kind smart weather sensors from Arable Labs to use in fields to remotely control and manage their irrigation units, enabling them to precisely manage irrigation through their smartphones. This technology not only optimizes irrigation, but also saves farmers energy and labor. We estimate that the program will save 2.4 billion gallons of irrigation water over the three years, which is equivalent to the water used in roughly 7,200 households."
At International Flavors & Fragrances (IFF), recently named to Barron's 100 Most Sustainable Companies index, the company's partnership with Mars Wrigley Confectionery is helping to improve the viability of mint farming in India through a program called Shubh Mint, which is part of a larger global project that helps to further mint plant science and support mint farmers and their communities.
One million smallholder farmers in India produce 80% of the world's mint, and their modest incomes are being squeezed because of declines in crop production, putting their farms and communities at risk. IFF is helping women gain skills that will help to offset the financial pressures caused by challenges to the mint crops through its sponsorship of a community center through READ India, a nonprofit organization that builds community library and resource centers and launches small businesses to empower women and create educational and economic opportunities in rural areas.
"Our sustainability vision is to lead positive transformational changes toward a regenerative, healthy, and abundant world," explains Michael Hershkowitz, global director, product sustainability, at IFF. "Our philosophy is rooted in the desire to do the right thing for people and the planet, and our approach is one based around the concept of circular design."
An Evolving Definition
It's clear that older, narrower definitions of sustainability are being overthrown in favor of more all-encompassing approaches that challenge companies to be proactive about finding new opportunities to extend their environmental stewardship and CSR initiatives. According to the 2017 Cone Communications CSR Study, "2017 will be remembered as the year that redefined corporate social responsibility."
Alison DaSilva, executive vice president, CSR/purpose at Cone, a Porter Novelli company, explains, "Although CSR will always be grounded in business operations, the stakes have gotten a lot higher. Companies must now share not only what they stand for, but what they stand up for."
Research from The Hartman Group confirms this. "Fairly recently, environmental and social justice issues have become standard household talking points," notes Demeritt, "with issues such as the Paris Climate Accord, dramatic weather events, and natural disasters making sustainability issues much more tangible to consumers than in the past. In addition, economic inequality, health care, tax reform, and the role of immigration in our economy—all of this has brought labor issues back to the forefront as well."
Although climate change, once the leading driver for sustainability, remains an abiding concern, most consumers are unsure how to address it, notes Demeritt. Other sustainability trends she sees rising include "a growing awareness of waste—especially food waste—water issues, and concerns over animal welfare."
The study conducted by Cone Communications shows that more and more, consumers are taking action based on their perception of a company's level of commitment to sustainability and other social responsibility issues, including rewarding or punishing a company based on its values and actions (Figure 2), and doing research to ascertain whether a company is authentic or not (Figure 3).
"In these divisive times, consumers are starting to see the real impact of their voices—as well as their dollar," says Whitney Dailey, vice president, marketing/research & insights at Cone. "Today's activist consumers are looking to support brands that align with their personal values, and they're ready and willing to buy or boycott companies based on alignment with those values."
Central to consumers' perceptions is the food and beverage category. Demeritt explains, "Our research has shown over the years that consumers view the food and beverage category as salient across all zones of responsibility (environmental, social, economic, and personal) and in fact consider the category as one of the most important sustainability issues. As one consumer said, 'Food is so basic. Everyone must have it, and it impacts everything. So it only makes sense that sustainability has to start with food.'"
But what qualifies as a sustainable food or beverage? It varies, says Demeritt. "For less engaged consumers, healthy food is seen as inherently more sustainable: fresh, less processed foods—especially organic—are seen as 'better for me, better for the world.' For more engaged consumers, standards are higher. The most sustainable foods are those one has grown oneself, and beyond that, whole foods—preferably domestically produced—that one processes and cooks oneself."
For food and ingredient companies, sustainably produced products start with practices that are good for both the company and the consumer. Rafael Vayá, vice president, corporate social responsibility, at ASR Group-Domino Specialty Ingredients, believes that means producing branded and private label sugar, sweetener, and syrup products lawfully, ethically, humanely, and responsibly. "In order to fulfill our strong commitment to CSR, we look beyond where our products are going and also focus our attention on where they are coming from," he says. "Because the sustainability of our products and supply chain is one of our core values, the traceability of our raw sugar supply chain and verification that our inputs are produced in a socially responsible manner reach the highest level of importance."
One of the most visible examples of the importance of focusing on fair trade practices is in cocoa production. Cultivated by millions of small farms in Africa, Asia, and Latin America, cocoa has a far-reaching economic and environmental impact. Ensuring a transparent and ethical supply chain is a central concern to food companies and ingredient suppliers who use and produce it.
At Olam Cocoa, the company's sustainable and traceable sourcing program, AtSource, provides environmental and social insights into the journey of a variety of cocoa products, from seed to shelf, through a digital dashboard. Simon Brayn Smith, head of sustainability for Olam Cocoa, explains, "The sourcing tool enhances our ability to assess and positively influence the environmental footprint of Olam's 4.7 million smallholder farmers, and intervene in our cocoa supply chain through tailored sustainability programs.
"AtSource was born of an urgent need for a new set of tools to inform and plan social and environmental initiatives at the scale and urgency required to benefit farmers, rural communities, and [the] planet," he continues. "It's become increasingly clear that the Earth's capacity to continue to provide water, nutrients, and a stable climate is at a tipping point, and reliable, consistent data and insights, like that provided by AtSource, are required to counter these trends."
Answering the Call
Clearly, the broader implications of sustainability are resonating with companies and the public, opening up new avenues for food and ingredient manufacturers looking to exert positive change while gaining the goodwill of consumers. According to Nielsen, shoppers "want to improve the world around them, and one way they are doing that is by aligning their purchasing with their personal beliefs (Nielsen 2018)." The firm's 2017 global survey on sustainability showed that 67% of Americans said they are making healthy or socially conscious food purchases a priority, and 48% intend to change their consumption habits to reduce their environmental impact (Nielsen 2017).
Research from The Hartman Group underscores the expanding nature of consumers' expectations. "Consumers view sustainability more holistically than ever before, as a term encompassing interconnected sets of issues related to being both a responsible consumer and a responsible citizen," says Demeritt. "While retaining strong environmental associations, definitions of sustainability also overlap with notions of personal benefits for individuals, especially those related to health and wellness."
According to Cone Communications, 63% of respondents to its 2017 CSR Study were hopeful that businesses will take the lead to drive social and environmental change in the absence of government regulation, and 78% want companies to address key social justice issues. "Consumer expectations of companies continue to be on the rise," says Dailey. "Now, not only are companies expected to address issues within their operational footprint, but also issues that extend beyond. Consumers want companies to have a seat at the table—or even lead—in solving hot-button issues from racial equality to gun control."
"There is no room for tokenism in today's sustainability efforts," says Olam Cocoa's Smith, "and industry-wide there has been a shift to an impact-focused approach." Sustainability practices have transitioned, he believes, "from compliance to proactive intervention, tackling core issues, such as child labor, raising farmer livelihoods, and improving environmental impact."
Addressing global issues in ways that will result in permanent, widespread change is a tall order. But for companies willing to take a fresh look at their practices and retool or reinvent them to reduce their environmental impact and spur positive social change, the rewards can be big: improved brand image, greater consumer trust, rising revenue, and employees who are proud to work for a company doing its part to preserve the planet for future generations.
Margaret Malochleb is associate editor of Food Technology magazine ([email protected]).