The 2018 IFT annual event promises to be both exciting and educational. One of the event's themes, "A Matter of Importance," has relevance in that food processing innovation is critical to advancing the science of food and feeding the minds that feed the world.
Prior to the annual meeting, the short course Food Science for the Non-Food Scientist offers three sections on food processing: "Food Engineering and Processing," "Impact of Processing on Nutritional Quality of Foods," and "The Role of Processed Foods in Delivering Nutrition." This basic knowledge is important, and this popular short course supports that critical knowledge base.
On Monday, July 16, at 7:45 a.m., two food processing sessions are scheduled: "Engineering Approaches to Food Safety, Quality, and Shelf-Life: A Primer on Applications to Moisture-Controlled, Thermally Processed, and Chilled/Frozen Foods" and "Low Energy Electron Beams: Effective and Environmentally Friendly Surface Decontamination for Food and Packaging."
At 10:30 a.m. on Monday, July 16, there are three sessions related to food processing. The first is "The Challenge of Meat Alternatives: Stepping Up to the Center of the Plate." The second session, "Advances and Challenges in the Design, Development, and Implementation/Commercialization of Novel Food Processing and Packaging Technologies," promises to be very informative. Concurrently, the visionary session titled "Innovations in Cost Reduction for the Cheese Industry" will unveil recent technology innovations supporting the cheese industry.
Finally, at 3:30 p.m. on Monday, July 16, there will be two food processing symposiums, both of which are related to topics highlighted in previously published Processing columns. The first session, which is on "Emerging Drying Technologies for Efficient Manufacture of Dried Ingredients for 3-D Food Printing Application," will highlight 3-D food printing, the topic of the Processing column in April 2017. Concurrently, "Recent Developments in Application of Membrane Filtration Technologies for Cheese and Beverage Manufacture" will be held. Forward osmosis/one membrane technology, was the topic of the Processing column in March 2017.
Opportunities to learn about food processing will continue on Tuesday, July 17, beginning at 10:30 a.m. with what promises to be an engaging panel titled "Tales from the Field: Challenges in Implementing Food Processing in Developing Countries." Concurrent with this panel is a session titled "Novel Technologies for Pre- or Post-Drying Treatments for Dairy and Food Products." Applications of new processing technologies such as radio frequency dielectric heating, atmospheric plasma, and impinging jet drying will be discussed. Cold plasma and radio frequency processing were Processing column topics in February and September 2016, respectively.
At 12:30 p.m. on Tuesday, July 17, a session on high pressure processing, "Innovation in Hybrid, High Pressure Thermal Processing for Commercial Manufacturing of Premium Ready-to-Eat Foods and Beverages," will occur. In addition, at 12:40 p.m. on Tuesday, July 17, there will be a timely symposium on extrusion titled "Current Innovations, Challenges, and Strategies in Extrusion of Plant-Based Proteins." Ending the day at 2:15 p.m., there will be a session on "Advances and Implementation of Ultraviolet Light Technology in Beverage, Dairy, and Grain Applications."
On the last day of the annual event, Wednesday, July 18, there will be more interesting processing sessions. Starting at 8:30 a.m., "Shedding Light on Food Safety, Quality, and Nutrition: Opportunities and Challenges with Light-Based Technologies" will continue the previous day's discussion of light-based technologies. The final three processing-related sessions will focus on high pressure processing, evidence of how very important this technology is to the food industry. The session at 8:30 a.m. is titled "High Pressure Processing of Meats: Validation and Pathogen Destruction as Influenced by Formulation and Processing." The second one, at 10:30 a.m. is titled "High Hydrostatic Pressure: A Non-Thermal Technology to Increase Safety and Valorization of Traditional Raw-Like Foods." And at 1:15 p.m., the third session, titled "Industrial Adoption and Validation of High Pressure Based Minimal Processing Technologies," will take place.
I would also like to call your attention to the numerous excellent poster sessions and the innovative program provided under the IFTNEXT banner. Posters also support understanding food processing and provide the means to interact directly with the researchers who performed the studies. IFTNEXT is hosting a variety of sessions on start-ups, some of which are focused on processing innovations.
May you enjoy gleaning more knowledge about food processing at this year's annual meeting.
---
Exhibitor Information
Highlights of some of the processing-related exhibits that will be on display at the IFT18 food expo follow.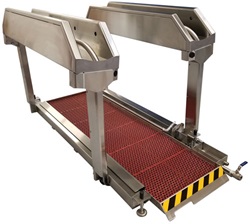 Developed for high-throughput areas, Meritech's ProTech XV is capable of sanitizing gloved or ungloved hands with an E-3 "no-rinse" hand sanitizing solution while simultaneously sanitizing footwear. Its clean-in-place features like a tilt-up pan for cleaning under the machine, simple controls, and stainless steel design for in-place wash down make cleaning and sanitizing the machine fast and efficient. An automated footwear sanitizing unit for dry and semi-dry environments, the Sani-Sole Dry Step is another innovation from Meritech, which the company will introduce at IFT18. The Sani-Sole Dry Step uses D2 EPA registered sanitizer for fast evaporation and can accommodate footwear of any style with its fast-evaporating 50% alcohol solution. A strategically placed Sani-Sole unit will reduce pathogens and cross-contamination risks at visitor, delivery, and/or main entrances. Meritech, meritech.com, Booth S333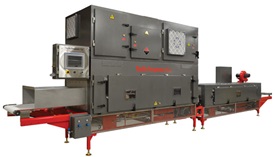 New Macrowave CeleroTherm pasteurization systems from Radio Frequency Co. feature a hybrid layout. In the first zone, a radio frequency heating system provides for rapid and uniform heating of material followed by an integrated heat retention zone designed to prevent product cooling during the required hold time. All HACCP variables are monitored, recorded, and alarmed as needed for the development of a validated process. Offering an alternative to irradiation or fumigation, Radio Frequency's pasteurization systems are well-suited to bagged or bulk production applications; penetration depth and uniform heating are effective for killing microbes without affecting product quality. The company's Bantam post-baking dryers are designed for bandwidths up to one meter, producing 3,000 pounds per hour or less. Radio Frequency Co., radiofrequency.com, Booth S642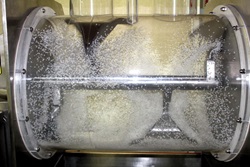 From three to seven more rental units will join the lineup of processing equipment available for rental from B & P Littleford within the next year. The company's rental equipment ranges from Littleford plow mixers and double arm mixers to pusher centrifuges and its proprietary TriVolution compounder. B & P Littleford designs and builds a large selection of mixing, drying, reacting, extracting, compounding, sterilizing, and separation equipment for large- or small-scale manufacturing applications. The company also offers full-service testing and pilot production at its Saginaw, Mich.–based testing center. B & P Littleford, bplittleford.com, Booth S4433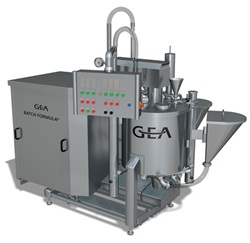 The redesigned Batch Formula Test Mixer from GEA has been upgraded in four key areas: hygiene, flexibility, efficiency, and footprint while maintaining the core features of high-shear mixer combined with low-shear agitator in the same vessel and lowest-point drainage for maximum product recovery. In terms of hygiene, GEA has eliminated sharp edges and dead zones in the machines, pipework, and valve systems. The Batch Formula Test Mixer now features direct steam injection, which has increased its flexibility, allowing for production of a broader product range. Another key feature is its integral CIP (cleaning in place) system, which reduces the footprint, makes product changeover faster, and reduces both water and chemical consumption. GEA is a turnkey supplier of plant design and processing equipment installation services with expertise in extraction, mixing, clarification, filtration, homogenization, pasteurization, cleaning, product recovery, concentration, and drying. GEA Group, gea.com, Booth S1626
A unique fiber filter capable of replacing equipment ranging from pre-thickening screens to centrifuges as well as a full line of dewatering screw presses are available from Vincent Corp. Featuring fine filtration of high GPM throughputs, the fiber filter can operate continuously with a fabric filter that is vibrated clean by the process flow so that it requires only occasional back-flush cycles. Fiber filters may be used to thicken flow ahead of a screw press, to remove fiber from press liquor, or completely independently. The company recently introduced an FF-3 fiber filter with a 3-inch diameter rotor, which pairs well with its CP-4 laboratory press, making it possible to test the full range of Vincent's equipment in a small lab setting. Vincent Corp.'s rental fleet includes more than 150 machines. Vincent Corp., vincentcorp.com, Booth N6726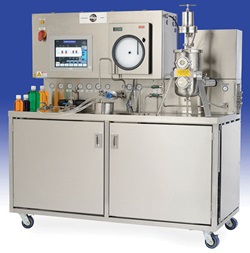 MicroThermics' small-scale UHT/HTST/aseptic process solutions reduce R&D costs and increase efficiency. Customizable processing equipment yields production-quality juices, coffee/tea, milks, yogurts, puddings, and more. Aseptic laboratory fillers are capable of continuously filling consumer-style plastic bottles. The expanded MicroThermics' technical team provides training, tune-ups, preventive maintenance, and custom services. Or the company's Miniature Plant Trial Services can make products for clients. MicroThermics, microthermics.com, Booth S1002
Safe Sterilization USA (SSUSA) has announced the verification of its Reno, Nev., facility, Safe Sterilization USA West, as a gluten-free facility. Safe sterilization is a proprietary continuous heat and steam treatment for bio burden reduction in dry food ingredients without the use of chemicals or radiation, allowing ingredients to retain color, aroma, nutrition, and flavor. A GMP/NSF, Orthodox Union Kosher, and Oregon Tilth Organic certified plant, SSUSA West is capable of toll processing four tons per cycle. Safe Sterilization USA, safesterilizationusa.com, Booth S4551
Patented Electronic Cold-Pasteurization (ECP) technology treats products such as fruits, vegetables, herbs, and ready-to-eat commodities for insect infestation, bacteria, mold, and pathogens, reducing foodborne illnesses and extending shelf life. This e-beam technology can be paired with ScanTech's logistics services. The company builds, designs, and operates ECP treatment facilities. ScanTech Sciences, scantechsciences.com, Booth S243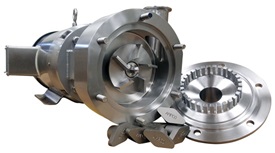 SHEAR-max high-shear inline mixer from Ampco Pumps is designed for single-pass or batch-style processing of liquids and semi-solids. An innovative wedge-style rotor allows solids into the shear zone while efficiently employing motor horsepower. Three model sizes are offered, ranging from 1 to 400 GPM. The SHEAR-max features a single-piece stator for easy inspection and cleaning. Its capabilities include dispersing, dissolving, emulsifying, de-agglomerating, homogenizing, or simply blending. Ampco Pumps, ampcopumps.com, Booth S623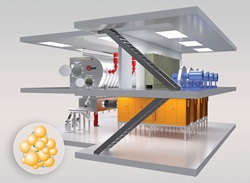 Modflex, a compact, new fluidized bed system for the continuous spray agglomeration of fine powders and powder blends, allows for the production of uniformly porous, virtually dust-free, highly soluble, and easily dosed granules. The process also ensures the homogenous incorporation of ingredients into agglomerates. Modflex is specifically designed for production volumes of 100–3,000 kg/h and offers a combination of low height with space-saving filters and an overall compact footprint, making it particularly suitable for use in confined spaces or rooms with low ceilings. Glatt also offers modular, next-generation process controllers under the GlattView Varia banner. Two standard options are available: Varia, the entry-level version and Varia+, which is designed for highly automated systems and provides extensive information and diagnostic functions. The scalable, open SCADA system for process visualization is used with the latest generation of Siemens controllers. Glatt Air Techniques, glatt.com, Booth S4521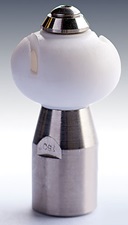 High-efficiency TWK series nozzles from Bex clean bottles, kegs, plastic crates, and tanks and also handle machine clean-in-place applications. The nozzles have a self-rotating head and provide 360-degree spray coverage in a compact assembly. They can be installed in any orientation and are ideal for vessels up to 10 feet in diameter. TWK series nozzles operate up to 100 psi and 180° F. Self-cleaning and self-lubricating, the nozzles feature two slots that deliver a concentrated, high-impact spray to the target area. Bex tank mixing eductors, air atomizers, and riser assemblies for processing and facility maintenance applications will also be highlighted at the food expo. Bex Inc., bex.com, Booth N7311
Gerardo Morantes, director of food safety for Buhler will discuss "Industrial Application of Low-Energy Electron Beams" from 7:45 a.m. to 8:45 a.m. on Monday, July 16, in room S404A in McCormick Place. Morantes will describe the way in which nonthermal LEEB (low-energy electron beam) technology reduces the level of foodborne bacteria on dry products, including grains, seeds, nuts, and spices. The environmentally friendly process is safe for operators, takes only milliseconds, leaves no harmful residues, and does not generate wastewater. At the food expo, Buhler will showcase its plant design and consulting expertise as well as its processing systems portfolio, which includes extrusion and drying equipment. Buhler, buhlergroup.com, Booth S3609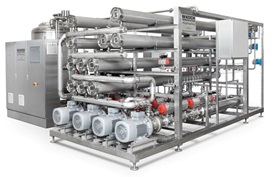 Hollow fiber, spiral, and tubular membranes in a full spectrum of pore size and molecular weight cutoffs are available from Koch Membrane Systems for clarifying, concentrating, or purifying process liquids. Koch Membrane Systems specializes in working with customers at all stages of product and process development—from lab-scale conceptual testing and early-stage development through pilot demonstration to full-scale production, allowing companies to optimize their membrane separation processes. Koch Membrane Systems, kochmembrane.com, Booth N7119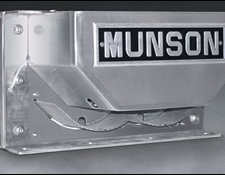 A wide selection of mixing and blending equipment for dry bulk food products and food products in solids-laden liquid or paste form are available from Munson Machinery. Munson's lineup includes rotary batch mixers, ribbon/paddle/plow blenders, vee-cone blenders, fluidized bed mixers, rotary continuous mixers, and variable intensity blenders. A new sanitary lump breaker from Munson features side removal bed screens for rapid, thorough wash down. The all-stainless, low-profile unit, model RDC1515-SS reduces agglomerates and friable materials being discharged from process equipment, storage vessels, and shipping containers. Material entering the 15-inch square inlet is reduced in size by dual rotors with three-point, single-piece stainless steel breaking heads rotating with minimum clearance inside a curved, perforated bedscreen. Munson Machinery, munsonmachinery.com, Booth S4022

Tara McHugh, PhD, Contributing Editor
Research Leader, USDA Agricultural Research Service, Albany, Calif.
[email protected]