Recognizing individuals and team members for their remarkable contributions to food science and technology has been an IFT tradition since 1942, when the first Nicolas Appert Award was presented. Today, the Achievement Awards include 19 different categories and represent excellence across a spectrum of contributions, including those pertaining to research, applications, and service.
The awards are decided by a jury of IFT members and volunteers who have been appointed by the IFT Office of the President. Led by a chair, the jury reviews nominations, completes ballots, and notifies IFT of the winners. Award selection is made possible by the dedication and service of the members who volunteer as jury participants and by those who nominate their peers for recognition.
"The Nicolas Appert Award is the most prestigious prize offered for professionals in food science and technology," says Dennis Heldman, 2018 recipient of the award. "The prestige of this recognition has many dimensions.
"As a new member of the faculty, one of the first courses I was asked to teach was Thermal Processing of Foods. The concepts presented in this course began with Nicolas Appert, and this dimension provided an excellent way for students to connect to the incredible scientific developments occurring in the past 200 years," adds Heldman. "A second dimension of prestige is the association with the previous recipients of the award. A review of this list provides a quick connection to food science professionals who have provided leadership for the profession, as well as their significant scientific contributions. To be mentioned with these mentors, advisors, and colleagues is a truly humbling moment."
This year's recipients will be honored at IFT19 during the Awards Celebration on Sunday, June 2, in the La Nouvelle Ballroom at the Ernest N. Morial Convention Center in New Orleans. Family and friends of the recipients are welcome to attend, as are all IFT19 attendees. Afterward, attendees are invited to continue the celebration at the Welcome Reception.
Congratulations to the 2019 Achievement Award recipients!
Nicolas Appert Award
D. Julian McClements, PhD
Professor, University of Massachusetts
David Julian McClements is the recipient of the 2019 Nicolas Appert Award. McClements is a distinguished professor in the Department of Food Science at the University of Massachusetts. He specializes in food biopolymers and colloids, with an emphasis on using structural design approaches to improve food quality, nutritional value, and safety. He has authored five books, edited six books, filed 12 patents, and published over 900 scientific articles. He has received awards from the American Chemical Society, AOCS, International Union of Food Science and Technology, IFT, Society of Chemical Industry, and UMass in recognition of his achievements. He is a fellow of the Royal Society of Chemistry, American Chemical Society, and IFT. His research has been funded by the U.S. Department of Agriculture, National Science Foundation, NASA, and the food industry. He is co-editor of Annual Reviews in Food Science and Technology and a member of the editorial boards of numerous other journals.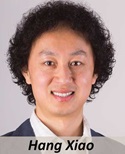 Babcock-Hart Award
Hang Xiao, PhD
Professor, University of Massachusetts
Hang Xiao is the recipient of the 2019 Babcock-Hart Award for his exceptional scientific contributions, which have had a positive impact on advances in health and well-being. His work has focused on the development of diet-based strategies for the prevention of chronic diseases. An example of the uniqueness of his work is the study of how bioactive dietary compounds are extensively metabolized by different human tissues, as well as the gut microbiome, to produce new compounds with potent disease-preventive effects. This information can enable food manufacturers to develop foods that will have a direct impact on the improvement of public health.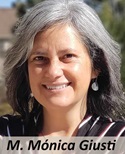 William V. Cruess Award for Excellence in Teaching
M. Mónica Giusti, PhD
Professor and Graduate Studies Chair, The Ohio State University
Mónica Giusti, professor of food science and technology at The Ohio State University, is the 2019 recipient of the William Cruess Excellence in Teaching Award. Comments from current and former students unanimously acknowledge her sincere attention to enhancing their knowledge and inspiring their drive toward excellence. The students refer to her as their mentor, a role model, a leader in food science, and an innovative teacher. She connects with her students at a personal level, discovers their special talents, and encourages independent thinking while supporting them in overcoming hurdles and moving to the next level of success.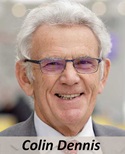 Carl R. Fellers Award
Colin Dennis, PhD, CFS
Chair of Board of Trustees, IFISPublishing and British Nutrition Foundation
Colin Dennis is the recipient of the 2019 Carl R. Fellers Award for his lifelong dedication to bringing honor and recognition to the profession of food science and technology, and to enhancing the effectiveness of all food scientists through exemplary leadership. Dennis has held senior management and leadership roles in R&D, analysis and testing, and training and consultancy in government institutes in the United Kingdom and Norway and in commercial research and technology organizations, including 21 years as CEO of CampdenBRI. He has also held visiting professorships in universities and provided scientific, technical, and strategic leadership in not-for-profit organizations and professional institutes, including serving as president of IFT and the Institute of Food Science and Technology. An enthusiastic and dedicated volunteer, he has committed much time to mentoring colleagues, including students and new professionals.
W.K. Kellogg International Food Security Award and Lectureship
Christiani Jeyakumar Henry, PhD
Director, Clinical Nutrition Research Centre. A*STAR and Professor, Department of Biochemistry, National University of Singapore
Christiani Jeyakumar Henry is the recipient of the 2019 W. K. Kellogg International Food Security Award and Lectureship. An eminent food scientist and nutritionist, he established the Clinical Nutrition Research Centre in Singapore in 2011. His research interests are glycemic control, functional foods, body weight regulation, and refugee nutrition. His work has received numerous awards, including the British Nutrition Foundation Prize and the recent Niigata International Food Award. A fellow of the International Academy of Food Science and Technology, Henry has published over 320 papers and presented at over 380 international conferences. Media involvement includes the highly successful TV program Food Files, hosted by National Geographic.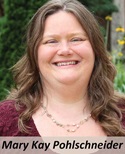 Elizabeth Fleming Stier Award
Mary Kay Pohlschneider, PhD
Senior Faculty Lecturer, The Ohio State University
Mary Kay Pohlschneider is the 2019 recipient of the Elizabeth Fleming Stier Award. Pohlschneider is a senior lecturer at The Ohio State University in food science and technology, where she teaches Introduction to Food Processing, HACCP, Food & Health Controversies, Caffeine Science, and Chocolate Science. In 10 years as a faculty member, she has become known for her passion for the science of foods—notably cookies, ice cream, coffee, and especially chocolate. She is a mentor for the campus-wide Second-year Transformational Experience Program and excels at advising food science undergraduates. She is a tireless student advocate, an effective ambassador for the science of food, and a remarkably pleasant person. Her love for her work and for her students is reflected in her election as 2017 Teacher of the Year.
Myron Solberg Award
Ken Lee, PhD
Professor, The Ohio State University
Ken Lee is the recipient of the 2019 Myron Solberg Award. A professor of food science at Ohio State, his many roles include serving on boards, as president of Phi Tau Sigma, and currently as a member of the IFT Board of Directors and director of OSU Food Innovation. He is an IFT Fellow and a Fellow of the American Association for the Advancement of Science. Lee earned his BS at Rutgers and PhD at UMass Amherst. He was tenured at the University of Wisconsin–Madison, then recruited to Ohio State as chair in 1990.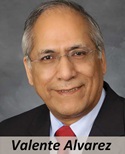 Bor S. Luh International Award
Valente B. Alvarez, PhD
Professor and Director, The Ohio State University Industries Center
Valente Alvarez is the recipient of the 2019 Bor S. Luh International Award. Alvarez is an internationally renowned scientist whose outstanding efforts sustain an exchange of ideas across the globe, making an impact through research, outreach, and service. His research efforts have contributed to food and dairy processing, product development, ingredient functionality, and quality. His leadership and tireless organization and international collaborations foster better understanding of global food issues by transferring technology to those who need and use it in countries such as Latin America, Europe, Asia, the Middle East, and Africa.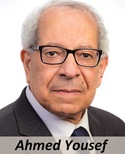 Gerhard Haas Achievement Award
Ahmed Yousef, PhD
Professor, The Ohio State University
Ahmed Yousef is the recipient of the 2019 Gerhard Haas Award. He is being recognized for outstanding achievements in the development of approaches to improve microbiological food safety. Yousef's research has encompassed several important food safety areas, including development of novel ozone-based decontamination technologies to reduce pathogens in foods, identification of natural peptide antimicrobials for control of foodborne pathogens, discovery of how foodborne pathogens adapt to industrial processing parameters and its implications, and determination of mechanisms of inactivation by ultra high pressure. His research has provided the food industry with a variety of tools and techniques to improve the microbiological safety of many food products.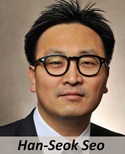 Samuel Cate Prescott Award for Research
Han-Seok Seo, PhD
Associate Professor and Director of the University of Arkansas Sensory Service Center, University of Arkansas–Fayetteville
Han-Seok Seo is the recipient of the 2019 Samuel Cate Prescott Award for Research. Seo is a creative sensory scientist who combines an interdisciplinary background with skills that contribute to improved quality of life through healthy and joyful eating behavior. He is associate professor and director of the University of Arkansas Sensory Service Center in the Department of Food Science at the University of Arkansas, Fayetteville. He holds a PhD in food and nutrition and a Doctor of Medical Science in otorhinolaryngology from Seoul National University (Seoul, Korea) and the Technical University of Dresden (Dresden, Germany), respectively. Seo has published 106 articles in peer-reviewed journals, including the Journal of Food Science, Scientific Reports, Human Brain Mapping, and Food Quality and Preference. His work has been frequently cited by the scientific community and supported by various funding agencies. He serves as an editorial board member of multiple journals, including the Journal of Sensory Studies and Food Quality and Preference.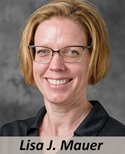 Research and Development Award
Lisa J. Mauer, PhD
Professor of Food Science & Director of the Center for Food Safety Engineering, Purdue University
Lisa J. Mauer is the 2019 recipient of the Research and Development Award. A professor of food science and the director of the Center for Food Safety Engineering at Purdue University, she is well known for her innovative work on food ingredient architecture and water-solid interactions. Her research on deliquescence, amorphization, noncovalent intermolecular interactions in solid dispersions, blends of crystalline and amorphous ingredients, new salt forms of vitamins, starch, and moisture sorption has improved the quality, nutrition, and shelf life of low- and intermediate-moisture foods.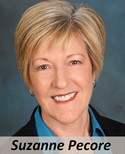 Sensory and Consumer Sciences Achievement Award
Suzanne Pecore
Sensory Science Consultant, P & D Consulting LLC
Suzanne Pecore is the recipient of the 2019 Sensory and Consumer Sciences Achievement Award. As a highly respected sensory scientist, Pecore has made a strong contribution to the sensory community—from her work in the food industry to her extensive involvement and leadership roles in professional organizations. She is an excellent example of an industry-centered sensory scientist who has contributed her sensory knowledge and guidance to many colleagues and across many disciplines.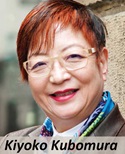 Calvert L. Willey Distinguished Service Award
Kiyoko Kubomura, PhD
President, Kubomura Food Advisory Consultants
Kiyoko Kubomura is the 2019 recipient of the Calvert L. Willey Award and is being recognized for her years of distinguished service to IFT. With over 25 years of IFT membership, Kubomura has served on many IFT committees and juries, in addition to serving as an IFT champion within the Japan Section and as a section councilor and executive committee member. Kubomura has tirelessly introduced, described, explained, interpreted, and generally represented IFT to her many colleagues and associates in Japan. She frequently has been the first woman to hold various professional roles in the field of food science in Japan. Her particular interest has been in mentoring younger Japanese food industry professionals and promoting cooperation between academia and industry, and she sees IFT as a great platform to advance these collaborations.