Background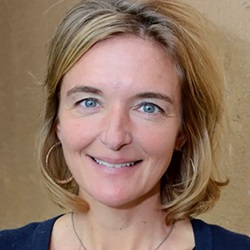 Julie is currently the chief innovation officer at PURIS Holdings, LLC. Her responsibilities include managing the R&D innovation process, while developing and executing new technologies in finished food and beverage products. Julie is also responsible for identifying new business opportunities and innovation strategies in the growing market of plant-based foods. The integration of this role leads to new capabilities, new architectures with partners, new business models, and new industry structures to educate and serve those opportunities—all while driving the growth of the plant-based arena.
Previously, Julie led Ingredion's global plant protein strategy and innovation program. This role was essential to Ingredion's future growth in plant protein and pulse-based ingredients. She was tasked with identifying, building, and maintaining strategic relationships with partners and customers in the global plant protein landscape and driving internal go-to-market and technical teams to achieve global leadership and breakthrough innovation in plant protein.
Julie holds five U.S. patents, with one additional patent pending approval. In addition, she is a founding member of Protein 2040, an initiative to feed the growing world population with sufficient protein by 2040.
IFT Highlights
Julie has been an IFT member since 1994 and has been involved in various aspects of the association. Her participation includes leading the Keystone IFT Section and New Professionals Group, reviewing scientific papers and sessions, and orchestrating IFT Annual Event and Expo events.
Education
MS in food science and nutrition from Drexel University
BS in food science from Penn State University