As a global organization, IFT embraces and values the various cultures, life experiences, and perspectives that make up its membership. The month of October recognizes and celebrates Global Diversity Awareness Month and National Disability Employment Awareness Month, which both are intended to help elevate the conversation on how difference strengthens how we understand and experience the world. IFT member Charles Diako, PhD, shares his story about how his childhood experiences in Ghana brought him to the science of food.
---
Growing up in a small village called Tokuroano had its perks. The communal life, the starry nights, the intermittent glow of fireflies, and the crickets happily chirped the night away while we played under the moon light and sat by the fireside listening to stories from grandma or grandpa. Many who grew up in a Ghanaian village on the West African coast will feel nostalgic about memories just like these.

But each dawn, the rising sun revealed the stark realities of poverty, which included inadequate access to nutritious food and healthcare, among other things. In addition to the numerous challenges pervasive in such impoverished places, being diagnosed with polio at age 3 added another layer of hardship to my life. I lived in a culture that celebrated physical strength and lacked understanding of people with disabilities of any kind, so it was common to be marginalized and sometimes excluded on the basis of my physical disability.
Beset with many physical and cultural hurdles, I became very discouraged, but my mother knew the stark reality of our circumstances. "Go to school now or go hungry in the future," she would say. I have always kept these words from her close to my heart as I sought to mentally push against the socio-cultural norms that attempted to cave me in emotionally and mentally.
And so with crutches in both hands, I would think about health and food and imagine a future in which I wouldn't have to worry about going hungry as I made my way through school. This dream would eventually bring me to Washington State University, where I furthered my understanding of food from test tube to tongue as a sensory scientist. I am now a senior lecturer at Massey University in New Zealand where I co-teach courses in sensory science and innovative food product design and development.
My engagement with IFT began when I was a pursuing my PhD and has continued post-graduation, largely because of my desire to give back to the organization that provided me with valuable career development and leadership opportunities. I was fortunate to be one of the 2014 Feeding Tomorrow Graduate Scholarship recipients, which helped me continue my academic pursuits. I have also had the opportunity to present research during two IFT Annual Events, both as posters and an oral presentation for the Sensory and Consumer Science Division. In 2018, I was selected to participate in the Emerging Leaders Network (ELN) and subsequently served as one of two ELN liaisons on the New Professionals Work Group for 2019. I recognize the immense opportunity and access I've had within IFT as a person with a disability and want to help others like me see themselves as capable and deserving.
Though our preferences may be different, professionals in the science of food are all too familiar with what constitutes a good meal. It is usually made with many ingredients that are diverse in color, aroma, flavor, taste, and texture. Despite their uniqueness, each of these elements contribute to a pleasant food experience. I often compare IFT to a good meal. As a globally diverse organization, IFT brings members from different backgrounds, abilities, cultures, perspectives, and skill sets together to address current and future challenges to food safety and security. We are fortunate to be part of an organization that prioritizes and embraces the differences we each bring to the table, and hope that no matter what physical, mental, or emotional limitations you live with, you always see the possibilities and potential impact you can have on the world around you. Because I do.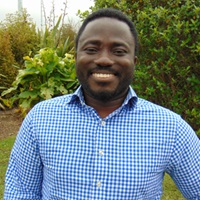 About Charles Diako, PhD
Dr. Charles Diako is a senior lecturer in the School of Food and Advanced Technology at Massey University in Auckland, New Zealand, teaching courses on Food Product Development and Sensory Science. He was awarded his PhD in Food Science from Washington State University in 2016. A six-year member of IFT, Charles is an active member of the New Professionals Work Group and Emerging Leaders Network.