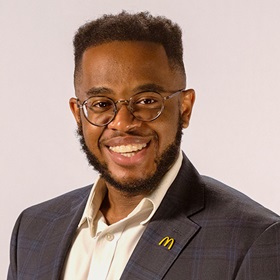 Nick Tarleton is only a handful of years out of college and already holds the title Supervisor of U.S. Supply Chain Management for McDonald's Corporation. Part of his recipe for success in the workplace: employee resource groups.
"As a young professional, I know how difficult it is to feel a sense of inclusion and equity when joining a new company—especially as a member of an underrepresented group and during the middle of the pandemic," says Nick. "Resource groups help me get connected to people who have similar backgrounds and may have overcome similar obstacles whether personal or professional."
At McDonald's, Nick leads cultural communications for the company's African American Council (MA2C) and participates as a "member/ally" in every one of its Employee Business Networks—the Young Professional Network, the Hispanic Employee Business Network, the Disability Inclusion Group, and others. "I've had opportunities to use my voice and creativity to put on employee engagement events that brought together and created safe spaces for Black employees," he says. Prior to that, his leadership of a similar group at The Kraft Heinz Company resulted in company sponsorship of Chicago's annual Bud Billiken Parade, the official back-to-school celebration and demonstration of Black pride and culture on the city's South Side.
Nick is bringing that leadership expertise to IFT as chair of the African, African American, Black Resource Group. "Underrepresented groups are entering academic, government, and industry sectors of the food system, yet it's still difficult to show up in these spaces as our authentic selves," he says. "IFT Member Resource Groups connect people from the same profession—which is powerful."
He has seen that power effect organizational change, from retaining and attracting new talent to improving marketing practices toward underrepresented groups. Perhaps most inspiring, though, is the relationship-building potential: "Resource groups invite allies to champion their colleagues, advocate for them, and provide powerful mentorship opportunities by getting to know them more," Nick says.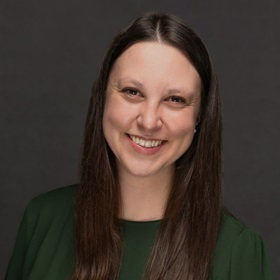 Amy DeJong, PhD, couldn't agree more. A senior process development engineer at Mars Wrigley in Chicago, she chairs the company's Women of R&D resource group and participates in IFT's Women's Resource Group.
"Resource groups help people feel more connected to their colleagues," Amy says. "When you feel like you belong at work or in an organization like IFT, it is exponentially easier to thrive."
Amy got her start with IFT in 2009 as a student leader, serving as the competition chair, then IFTSA President. She's since gone on to serve as a committee member for the Annual Meeting Scientific Program Advisory Panel (AMSPAP) and currently serves on the Awards Task Force. Earlier this year, she joined the board of IFT's Chicago Section. Along the way, she's kept diversity and inclusion in her sights.
"Any small thing I can do to make the organizations I am part of a bit more welcoming is important," Amy says. "Through my involvement, I've felt a greater sense of belonging myself, while becoming more aware of my own biases." She encourages her science of food peers to follow suit. "It doesn't have to be a huge time commitment," she adds. "Opportunities can range from attending a workshop or event to taking on a larger leadership role."
Modest efforts can make a big difference in an organization's day-to-day culture—and the end result is worth it. "Nobody should feel like they have to change who they are or hide who they are in the workplace," Amy says. "This can add enormous stress that is not good for mental and physical health and consumes a great deal of energy that could otherwise be spent on advancing the science of food. When workplaces are inclusive, everybody wins."
Nick and Amy invite you to learn more about IFT's identity-based Member Resource Groups and how you can get involved. They also encourage you to consider joining—or maybe even starting—a resource group where you work.