New technique analyzes fat structure in foods
A new analytical technique has been developed at the U.S. Dept. of Agriculture's Agricultural Research Service. The technique is designed to simplify the complex, time-consuming task of predicting how certain fats will change during processing and storage. The technique may help product developers in formulating improved margarines, shortenings, and cooking oils with improved taste and a longer shelflife.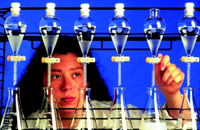 Since triglycerides play a key role in flavor and texture, food product developers determine their levels to predict how product quality will change during storage. Current analytical procedures for triglycerides can take months. Lipids must first be extracted either for total lipid estimation or for further analysis to be performed. Lipids are isolated, free of non-lipid materials for accurate further analysis.
As an alternative, ARS chemist William E. Neff and Florida-Atlantic University researcher W. Craig Byrdwell, formerly with ARS, developed an analytical technique to help food manufacturers shave months off product development. The two researchers worked together at ARS' National Center for Agricultural Utilization Research in Peoria, Ill. 
The new technique is reversed-phase high-performance liquid chromatography (HPLC)/atmospheric pressure chemical ionization (APCI) with mass spectrometry (MS). The new hyphenated technique (HPLC/APCI-MS) simplifies identifying triglycerides. 
Seed oils, such as canola, corn, soybean and sunflower, are a complex mixture of triglycerides. Mass spectrometry helps the researchers identify each individual triglyceride. APCI-mass spectrometry breaks fat molecules into a few large pieces. The researchers can see intact triglycerides before they break down to form negative byproducts during storage or high-temperature frying. The technique is especially helpful for evaluating sunflower and soybean oils, which have no standard reference for their chemical composition. 
Using the new technique, the scientists identified 35 to more than 100 triglycerides in just two hours. The technique also correlates triglyceride composition with the physical properties it imparts to food: melting range, mouth-feel, and reaction to refrigeration. 
For more information, contact Gary R. List, Food Quality and Safety Research, ARS National Center for Agricultural Utilization Research, Peoria, Ill. (phone 309-681-6388; fax 309-681-6679; e-mail [email protected]; Web site: http://www.ars.usda.gov/is/pr/2000/000705.htm).
--- PAGE BREAK ---
Fast analysis of water
The presence of various compounds in large amounts in water often hinder efforts to detect contamination. Integrating sample treatment, component separation, and component detection into a single hyphenated technique overcomes the problem. Scientists at TNO Nutrition and Research, Zeist, the Netherlands, developed a technique that subjects the sample to solid-phase extraction after which separation can take place using gas chromatography. Then spectrometric methods such as MS, IR, and atomic emission detection are used to detect the various components. The method is said to be sensitive and applies to compounds with a wide range of volatilities. 
Since extraction and separation are both coupled online, the analyses that are present on the extraction column are directly and quantitatively incorporated into the gas chromatograph. This enables the system to be miniaturized and automated using a minimal amount of solvent. The problem of introducing large amounts of samples into the gas chromatograph has been solved by the development of a solvent vapor exit. 
For more information, contact Thomas Hankemeier, TNO Nutrition and Food Research, Utrechtseweg 48, P.O. Box 360, 3700 AJ Zeist, Netherlands (phone 31-30-6944297; e-mail: [email protected]). 
PATENTS
Patents this month describe a system for measuring tissue size and marbling in an animal and detection of food pathogens. For a complete description of these patents go the U.S. Patent Office Web Site at http://www.uspto.gov/.
System for measuring tissue size and marbling in an animal. U.S. patent 6,084,407, filed 9/10/1998, issued 6/4/2000 to J. Ellis, assigned to Pheno Imaging, Inc. Describes a computerized system scans an animal using Magnetic Resonance Imaging to produce digital pixel values representing internal tissue. The pixel values are coded as gray scale values representing the density of the scanned tissue. The computer system then classifies each pixel, based upon its gray scale value, as representing fat, muscle, cartilage or skeletal tissue. Once classified, the percentage of intramuscular fat is calculated and presented on the screen of the computer system. Once the pixel data is classified, a perimeter around the muscle being scanned is defined by separating the muscle tissue from the surrounding tissue, and, the area of the muscle is calculated and presented to the user of the system. Multiple scans are performed along one dimension of the animal to determine the volume of the muscle.
Oligonucleotides for the detection of salmonella. U.S. patent 6,080,545, filed 5/22/1998, issued 6/27/2000 to M. Popoff and M. Fellous, assigned to Institut Pasteur. Describes a new means, consisting of nucleotide sequences, for the detection, especially after amplification, of the DNA or of the cDNA of S. enterica or S. bongori. The genus Salmonella contains two species, Salmonella enterica, a species divided into six sub-species, and Salmonella bongori. Salmonella is among the agents responsible for the most common cases of food poisoning in developed countries. The salmonellae responsible for food intoxications belong predominantly to the subspecies I of S. enterica. The inventors have sought to develop a means for allowing the specific and sensitive detection of all the salmonellae of the species S. enterica and/or S. bongori. 
Detection of bacteria of genus Listeria using nucleic probe hybridization techniques. U.S. patent 6,090,551, filed 9/29/1997, issued 7/18/2000 to C. Mailat and B. Sallen, assigned to Bio Merieux. Describes a single-stranded nucleotide fragment belonging to a variable region of the ribosomal RNA 23S of species of the genus mycobacterium. The invention uses oligonucleotide probes or primers to test for the presence or the identification of bacteria of the genus Listeria. Listeria are Gram+ bacteria belonging to the Listeriaceae family which is subdivided into two genera. Only the L.monocytogenes species exhibits pathogenicity for man. Since 1981, L. monocytogenes has been recognized as the agent responsible for several food intoxication epidemics. The mortality rate associated with these epidemics is very high, about a third of the cases resulting in abortion or death. It is therefore important to develop a bacteriological diagnostic test that is sufficiently specific and sensitive to allow rapid and selective detection of the L. monocytogenes species, which can be used in the food industry. This invention overcomes the disadvantages of traditional methods by using a genetic marker in a process of detection by nucleic acid hybridization combining specificity, sensitivity and speed.
--- PAGE BREAK ---
Products & Literature
MOLECULAR FORCE PROBE is a pico-Newton sensitive, single-axis force measuring instrument. The technology is based around a flexible cantilever with a sharp tip that deflects in response to the small forces resulting from the interactions between the cantilever tip and the sample. The instrument is said to be five times as sensitive as commercially available atomic force microscopes. The instrument also uses a separate sensor to linearize the movement of the cantilever, a feature especially important for stretching long biopolymers. The instrument has an open mechanical design that allows for a wide range of samples and mounting schemes. The software allows for instrument control, data acquisition, and data analysis. Applications for the instrument are found with soft samples in biology, pharmacology, biomaterials, and polymers. For more information, contact Asylum Research, 601-C Pine St., Santa Barbara, CA93117 (phone 805-692-2800; www.AsylumResearch.com) —or circle 300.
LABORATORY EQUIPMENT supplier, A. Daigger& Co., has launched a Web site that enables customers to purchase products online. The site includes all 18,000 items in the company's print catalog. It is updated each month with special offers and new products. For more information, contact A, Daigger & Co., Inc., 675 Heathrow Dr., Lincolnshire, IL 60069-4206 (phone 847-478-9000; fax 847-478-9025; www.daigger.com) —or circle 301.
BEEF TENDERNESS may be measured with the BeefCam™. The non-invasive video imaging system is said to provide an accurate measurement of beef tenderness and palatability. It operates in real-time at common line speeds, providing quality data required for product sorting and premium branding programs. For more information, contact Smart Machine Vision, Inc., 11491 Sunset Hills Rd., Reston, VA 20190 (phone 703-834-2121; fax 520-962-8079)-—or circle 302.
CAPILLARY-SCALE HPLC the CapLC System, is geared toward users working with minute sample amounts—mainly proteins and peptides. The system is said to offer an 80-fold improvement in mass sensitivity over conventional analyticalscale LC systems. The system is capable of 1-40 μL/minute flow rates without flow-splitting. For more information, contact Waters Corp., 34 Maple St., Milford, MA 01757 (phone 508-478-2000; www.waters.com) —or circle 303.
MICROBIOLOGICAL TESTING SYSTEM, the D-Count, is a new automated testing system that is said to provide sensitive microbiological results in hr. The system has the ability to perform a range of different applications for total viable counts and yeast counts such as: 30-min yeast counts in juice concentrates; 20-hr yeast detection in fermented milk products; 20-hr sterility testing in desserts; and 24-hr sterility testing in UHT products. The testing procedure is fully automated and up to 60 samples can be processed per hr. For more information, contact Chemunex (phone + 33 (0) 1 49 59 20 00; fax + 33 (0) 1 49 59 20 01)—or circle 304.
DETECTOR employs a concentration detector, viscometer, and light scattering detector acting in concert, with each detector providing complementary but different information. This triple detector is said to allow the determination of absolute molecular weight, intrinsic viscosity, and molecular size. The unit provides information on the conformation, structure, branching, and aggregation characteristics of a sample. For more information, contact Viscotek, 15600 West Hardy Road, Houston, TX 77060 (phone 281-445-5966; fax 281-931-4336; e-mail [email protected]) —or circle 305.
CENTRIFUGE, the 2028R, is a new centrifuge designed for the cell culture laboratory. The hybrid machine is said to be capable of both high- and low-speed centrifugation. The refrigerated centrifuge handles a variety of applications including cell harvesting and culture refreshment. This unit features a 4 x 280mL swinging bucket rotor and assorted fixed angle rotors, a capacity of twenty 15mL conical tubes at 3,000 x g, sealed microtiter plate carriers and cyto-centrifugation accessories, and a rapid rotor exchange system. The centrifuge is said to offer the operator protection through automatic imbalance detection, an armored chamber, and an advanced lid interlock. For more information, write to NAPCO, 170 Marcel Drive, Winchester, VA 22602 (phone 800-621-8820 or 540-869-9892; e-mail [email protected]) —or circle 306.
--- PAGE BREAK ---
DATA LOGGERS have a delayed start capability, data storage of 32,512 sample points, and a 5 year battery life. The data loggers are available in 4 models; a model for temperature and humidity, single channel temperature, dual channel temperature with remote probe, and a model for universal input. For more information, contact Dickson Company, Customer Service, 930 S. Westwood Avenue, Addison, IL 60101-4997 (phone 800-323-2448; fax 800-676-0498; e-mail [email protected]; www.dicksonweb.com) —or circle 307.
PATHOGEN DETECTION, Dextex, is a new food pathogen detection system designed for food processors to catch the presence of harmful bacteria. The system has the ability to test for multiple pathogens simultaneously, including Listeria, E. coli O157:H7, Salmonella, and Campylobacter. The detection system is a self-contained, automated testing instrument which is said to use patented detection methods and a new proprietary growth medium to test for contaminants in meat, poultry, and other types of perishable food. For more information, contact VWR Scientific Products (www.vwrsp.com) —or circle 308.
INFRARED SENSOR, the Sniff IR, is a new explosion-proof infrared detector gives warning when carbon dioxide levels reach dangerous concentrations. Applications include food processing and packaging, laboratories and research facilities, breweries and wineries, greenhouses, and various industrial processes. The detector is equipped with weatherproof housing and adjustable alarm levels. For more information, write to Sensor Electronics, 5500 Lincoln Drive, Minneapolis, MN 55436 (phone 800-285-3651)—or circle 309.
SAFETY CABINETS are rated as Class II biohazard and are designed to protect the operator, product, and environment. The Type A cabinets are suitable for work with agents assigned to biosafety levels 1,2, or 3 in the absence of volatile toxic chemicals and volatile radio nuclides. The Type B cabinets are built for agents assigned to the same biosafety levels, but are treated with minute quantities of volatile toxic chemical and tracer amounts of radio nuclides required as an adjunct to microbiological studies. For more information, contact BioPro International Inc., 265 Conklin Street, Farmingdale, NY 11735 (phone 516-249-0099; fax 516-249-0494; e-mail [email protected]) —or circle 310.
MEASURING SYSTEM, the CUS 31, is a turbidity measurement system consisting of an analyzer and sensor, which can be installed directly into the waterline. Due to the self-calibrating opto-electronics, it is said that the sensor is without drift, eliminating re-calibration needs and reducing maintenance. The analyzer allows the user to monitor all parameters including pH, conductivity, dissolved oxygen, chlorine, suspended solids, and turbidity. For more information, contact Endress + Hauser (phone 800-428-4344; www.endress.com) —or circle 311.
CHART RECORDER is an ambient temperature chart recorder designed for refrigerators, freezers, storage areas, laboratories, and computer rooms. The single pen recorders are offered in 5 different temperature ranges with ± 2°F accuracy. Designed to be placed directly into the area to be measured, the recorder is portable, weighing 5lb, and is said to be suitable for HVAC energy audits. The recorder is supplied with 60 replacement six-inch circular charts. The chart is visible while recording. In addition, the recorder features a large LCD current temperature display with a low batter indicator. The recorder included a power adapter and polycarbonate case. The recording pen is replaceable. For more information, contact Telatemp Corporation, 351 S. Raymond Avenue, Fullerton, CA 92831 (phone 800-321-5160; fax 714-870-8136; e-mail [email protected]; www.telatemp.com) —or circle 312.
HOMOGENIZER, the Panda, is a benchtop, high-pressure homogenizer designed to handle feeds at viscosity up to 20,000 cP and temperatures to 194°F, without feed pumps. The homogenizer is said to process small volumes of liquids and pumpable fluids, homogenizing sample at rates up to approximately 160mL/min at pressures up to 21,750 psi. This unit feautres a corrosion-resistant, stainless steel compression head, suction, and delivery ceramic ball valves, built-in pressure adjusting capabilities, and optional second homogenizing stage. Special gaskets for aggressive materials are available. No cooling water is required due to a special piston packing. For more information, contact Niro Inc., Niro - Soavi Division, 1600 O'Keefe Road, Hudson, WI (phone 715-386-9371; fax 715-386-9376) —or circle 313.
INFRARED THERMOMETER, the DHS150 XEL, is a laser-sighting, handheld, non-contact infrared thermometer that is said to measure temperatures from -26° to 932°F or -32° to 500°C. The thermometer is designed for professional use in demanding surface temperature applications and offers a dual temperature display with a °C and °F switchable display, as well as a max, min, and average value display. The thermometer features a rubber "nose" bumper for durability, tripod attachment, and locking trigger for extended use in fixed positions. An auto-off/auto hold feature displays the last reading for 6 seconds after trigger release, then shuts the unit down automatically. This unit is battery operated. For more information, contact Wahl Instruments, Inc., 234 Weaverville Highway, Asheville, NC, 28804-1228 (phone 828-658-3131; e-mail [email protected]; www.instrumentgroup.com) —or circle 314.
by JAMES GIESE
Associate Editor