Research at North Carolina State University during the mid- to late 1980s resulted in commercially viable extended-shelf-life liquid egg products. The three investigators, Ken Swartzel, Hershall Ball, and Mohammad Samimi, were able to apply aseptic technology to egg products to achieve a shelf life of more than 12 weeks under refrigerated conditions. This new process revolutionized the concept of liquid egg products, since conventional liquid egg products had a refrigerated shelf life of only about 5 days. The aseptic liquid eggs are produced and marketed under the brand name Easy Eggs by Michael Foods, Minneapolis, Minn. The work earned IFT's Food Technology Industrial Achievement Award in 1994.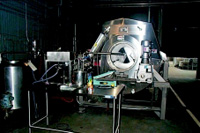 According to Mo Samimi (phone 510-215-3345), now President, Food Science & Engineering Consulting, El Cerrito, Calif., the NCSU technology requires sophisticated aseptic systems and expensive equipment, so it can be utilized only by egg processors capable of handling the high capital investment. A new process he developed, and for which he received U.S. patent 6,024,999 on February 15, 2000, is able to overcome these problems, he said. He used a hot-fill process and non-aseptic packaging to achieve the same shelf life for liquid egg products without using aseptic technology. The patent rights have been assigned to Carolina Egg Development Corp., Nashville, N.C. The company doesn't produce liquid eggs but is negotiating with several egg companies to license the process. 
In the process, shell eggs are cracked, and the contents are passed through a preheated plate-type heat exchanger and immediately filled into plastic pouches, bottles, or any other suitable container at 150–160ºF. The package is sealed and placed in a hold area maintained at pasteurization temperature. Because the contents are hot, the eggs and the package are both pasteurized at the same time. The pouches are processed continuously through a Cooker-Cooler, a combination machine which contains two rotating augers, or cylinders, one residing in hot water, and the second in cold water. The first cylinder accomplishes the hot-hold portion of the process, and the second accomplishes the cooling. The entire heating and cooling portion of the process takes a total of 45 min. 
All the systems of the hot-fill process are commercially available. The preheating system consists of a conventional plate heat exchanger, pumps, homogenizer, flow-diversion valve, and controls. The current pilot-plant operation (shown in photo at left) uses an Autofill pouch-filling unit manufactured by Microthermics, Raleigh, N.C. (phone 919-878-8045) and the Cooker-Cooler manufactured by Lyco Manufacturing, Inc., Columbus, Wis. (phone 920-623-4152). Since none of the systems require aseptic technology, the overall cost is significantly lower for the hot-fill process than the previous technology, Samimi said. 
The system can handle 1,000 lb/hr and package sizes up to 10 lb. Other systems can be built to any size. 
A test system has been installed in the pilot plant of The National Food Laboratory, Inc., Dublin, Calif. An inoculated pack with Listeria innocua and samples for shelf-life testing have been prepared, and 12-week shelf-life results are due this month. According to NFL senior scientist Neal Ewing (phone 925-551-4271), the initial results show good microbial reduction and further tests are planned to confirm those results. 
Samimi said that the process allows particulates to be included in the product, and he is working on producing quiche mixes, omelet mixes, and cake mixes. 
PATENTS
Process for the use of pulsed electric fields coupled with rotational retorting in processing meals ready to eat (MRE). U.S. patent 6,083,544, filed 6/19/1998, issued 7/4/2000 to K.M. Addeo, assigned to K.M. Addeo. Describes a process for preparing ready-to-eat meals, such as the military's meals ready-to-eat (MREs) using both pulsed electric fields (PEFs) and rotational retorting to reduce the time that the food is exposed to heat. The PEF is used to aid in inactivating microorganisms in the food, so the food may then be exposed to heat only long enough to obtain the desired sensory characteristics. Because the PEF inactivates the microorganisms in the food, the food does not have to be exposed to high temperatures for a prolonged time. As a result, the food is sterilized without losing the desired sensory characteristics or nutritional value.
Microwaveable popcorn product and method. U.S. patent 6,083,552, filed 2/23/1999, issued 7/4/2000 to A. Kershman et al., assigned to SMTM Group. Describes preparation of microwave snacks that include mixtures of popcorn and an expandable or puffable food pellet. The gelatinized dough pellets puff or expand upon heating in a microwave oven. They may be in the shape of cylinders, hollow barrels, spheres, chips, flakes, etc. The popcorn and pellet mixture is preferably contained in an expandable bag or rigid tub with an oil/fat slurry. Although the popcorn requires a longer heating period to pop, the explosions created by the popcorn agitate the pellets to minimize burning and clumping of the pellets.
---
Products & Literature
DRYER/COOLER, the Airflow Two, features a top module and a bottom module that are bolted together. The chambers are physically separated to manage air flow through each conveyor independently, even within the same drying section. Airflow can be up or down. This design minimizes temperature drop by passing the air though only one bed of product prior to recirculation. The dryer/cooler is available in two- and three-pass, 10-in-wide models. For more information, contact Extru-Tech, Inc., 100 Airport Rd., Sabetha, KS 66534 (phone 785-284-2153, www.extru-techinc.com) —or circle 315.
REDUCTION OF AGGLOMERATES, lumps, and solids is accomplished by the Delumper™ Crusher Model 1077L. The teeth on a smooth rotating drum intermesh with special sizing combs to reduce solids size in one pass without producing fines, overgrinding, or causing heat rise. For more information, contact Franklin Miller Inc., 60 Okner Pkwy., Livingston, NJ 07039 (phone 973-535-9200, fax 973-535-6269)—or circle 316.
SHORT KETTLES have been added to the line of steam-jacketed kettles. The stainless-steel kettles are reduced in height but provide the standard capacities. With a lower rim height than other staionary kettles, the Short Series™ kettles allow shorter workers to cook in or clean them without the risk of burns and other injuries caused by having to stand on crates, reach over, or lean on the kettles. The kettles are avaialble in 40-, 60-, and 80-gal capacities. Kettle heights range from 32 to 35 in, only waist-high on a 5-ft-tall worker. The kettles have splash-proof solid-state control panels and solid-state temperature controls. For more information, contact Cleveland Range, Inc., 1333 E. 179th St., Cleveland, OH 44110 (phone 216-481-4900, fax 216-481-3782, www.clevelandrange.com) —or circle 317.
NONINVASIVE LIQUID-LEVEL INDICATOR, Model 7000-TS, for all thermoplastic tubing can also be used to indicate the presence or absence of liquid in the tube. As liquid intersects the field generated by the clamp-on sensor, the change is detected by the transmitter amplifier, which causes the relay contacts to change state and actuate any alarm or control functions connected to the switch. Developed specifically for the food industry, the indicator can be added anywhere in the processing or packaging operation without affecting existing sanitation, and it can be left in place during steam sterilization of the tubing. A quick-opening latch permits rapid relocation of the switch. The switch is unaffected by color, opacity, density, viscosity, or pH. For more information, contact Bernhard, Inc., 508 Center St., Kennett Square, PA 19348 (phone 800-541-7874 or 610-444-6400, fax 610-444-1985)—or circle 318.
OZONE SURFACE SANITATION SYSTEM is a mobile unit that sprays ozone-enriched cold water, providing plant facilities with an environmentally friendly alternative to conventional hot water, chlorinated water, or other harsh chemical surface-sanitation treatments. The ozone kills bacteria, viruses, mold, spores, yeast, and mildew. The system produces a disinfectant wash that sanitizes and disinfects as it sprays ozone-enriched water onto surfaces such as walls, floors, drains, tables, conveyors, processing equipment, containers, barrels, bins, tanks, and tubs. The ozone is generated within the system, eliminating the need to handle bulky drums of chemicals, and no mixing of chemicals is required. For more information, contact Air Liquide, America Corp., 2700 Post Oak Blvd., Houston, TX 77056 (phone 713-624-8000)—or circle 319.
TEMPERATURE INDICATORS are available for use with turkey breasts, bone-in chicken breasts, and rolled or formed poultry parts, as well as whole turkeys. The Pop-Up® Timers, which indicate to the consumer when the poultry is done, can be used in standard or convection ovens, microwave ovens, barbecues, and rotisseries. For more information, contact Volk Enterprises, Inc., 5470-B Oakbrook Pkwy., Norcross, GA 30093 (phone 770-441-1443, fax 770-441-3258, www.volkenterprises.com) —or circle 320.
HOW WASTEWATER PRETREATMENT by dissolved air flotation clarification has helped a bacon processor salvage waste fat and assure compliance for projected wastewater flow increase from plant expansion is described in a 2-p newsletter. The system installed at Marburger Foods, Inc., Peru, Ind., salvages fat at the rate of 35,000 lb/week. Flocculated water enters each dissolved air flotation cell and is mixed with a side stream of recirculated, clarified water that contains very finely dispersed dissolved air. The air creates microscopic air bubbles that attach to solid particles and carry them to the surface of the water, where the floated sludge is skimmed off and transferred for removal and recovery. The clean water, substantially free of solids, is ready for discharge or further treatment. For a copy of Food Processor Wastewater News™, Vo.l 1, No. 1, contact the equipment manufacturer, Precision Environmental Systems, P.O. Box 668, Springfield, MO 65801-0668 (phone 417-865-2240, fax 417-865-0906)—or circle 321. 
by NEIL H. MERMELSTEIN
Senior Editor