A pilot-plant demonstration unit for freezing layers of sauce onto individually quick frozen (IQF) foods is being installed this month at Air Liquide America Corp.'s food laboratory in Countryside, Ill. The Cryomix™ C2 demonstration unit, with a capacity of 250–450 lb of finished product, will be available for testing by food companies under actual production conditions.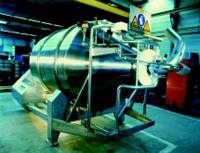 IQF foods have been available since the 1960s. Products are frozen in individual pieces rather than in blocks, allowing the user to take as much of the product out of the package as he or she desires at a time. The process is widely used to produce frozen vegetables, meat and poultry, and meals.
Food companies have provided additional convenience for the consumer and for foodservice operators by including sauce in the packages of IQF foods, and these products, such as broccoli with sauce, have become popular. However, packages of IQF foods that also contain sauce generally either include a separate packet of sauce within the package of frozen food or include frozen pellets of sauce mixed with the frozen food. However, both methods have some user drawbacks with regard to portion control. With a separate packet of sauce, the user might not want to use the entire package of food at one time, so may not know the proper proportion of sauce to add, as well as not know what to do with the remainder of the sauce. With pellets of sauce mixed with the frozen food, if a person does not want to use the entire package, he or she might end up pouring out only a few pellets one time and many pellets another time; in other words, the amount of sauce would be inconsistent and difficult to control.
Air Liquide's equipment coats individual pieces of food with the correct amount of sauce, so that no matter how many pieces of food the user removes from the package, the correct amount of sauce, as determined by the product manufacturer, will be present. 
According to Joanne Burrows (708-579-7740), Air Liquide America's Manager of Business Development for Food and Beverage, a large food processor in France wanted to market rice coated with sauce, so Air Liquide France got together with Armor Inox, S.A., a French manufacturer of stainless-steel equipment, in 1995 to develop a system to do that. The result was the Cryomix system (Cryomix is a trademark of Armor Inox, used by Air Liquide under license). Since then, the system has been installed in various plants in France and other European countries, and a wide variety of sauce-coated foods have been marketed, including stir-fried vegetables, vegetable mixtures with and without meat, fish, or poultry; pasta; rice, paella, chili con carne, meat balls, and others. 
Several systems have been installed in the United States, producing combination products for foodservice. Much of the product testing was done at the Armor Inox plant in Mauron, France. The new demonstration unit will now enable testing to be conducted in the U.S. as well.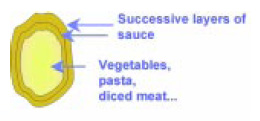 Every product combination—food and sauce—is different, Burrows said. Air Liquide has conducted hundreds of tests in France to determine the optimal process—the appropriate sequential injection of sauce and product and injection of cryogen—for all types of products and sauces, ranging from light to viscous.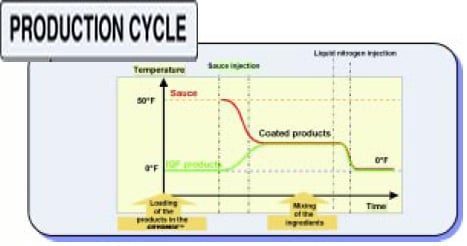 The system uses sequential injections of sauce and liquid nitrogen to freeze layers of sauce onto IQF products, coating each piece of product completely and uniformly, at coating ratios as high as 50%. The system can be easily integrated into food companies' existing production systems. 
IQF product at 0°F is fed into the chamber, then sauce and liquid nitrogen are injected. The sauce is injected through the back end in the production system and through the door in the demonstration unit. The liquid nitrogen enters the chamber through a central injection point on the door. When the door is closed, the entire tumbler and door rotate completely around. The central injection point is in the center of the door and stays stationary while the door and tumbler rotate. A patented cryogenic rotary joint allows for the door to be opened and closed while maintaining the integrity of the vacuum-insulated liquid nitrogen piping. 
The liquid nitrogen passes through a central lance or rod through the center of the tumbler and is sprayed onto the product through one or more nozzles. The liquid nitrogen enters at –320°F, and the liquid sauce at 50°F. As the liquid nitrogen leaves the nozzle, it vaporizes, instantaneously freezing the layer of sauce onto the product. Alternating the injection of sauce and cryogen builds up layers of sauce, providing consistent levels on all particles. Baffles inside the unit provide gentle action, so fragile products don't get damaged. 
The system can also be used with liquid carbon dioxide, with a slightly different injection system. The liquid CO2 enters at –109°F. When it's injected, it vaporizes instantaneously, producing CO2 snow and CO2 gas. For either cryogen, a tank is generally situated outside the plant, with an insulated line to the unit. 
The current production unit has a capacity of 3,000 lb of finished product. Depending on the product and the desired amount of coating, a batch can take 10 min to 1 hr. Burrows said that an improved version of the production unit will be introduced in January 2001. Among other things, the door system and the sauce injection system have been improved and the nitrogen injection system optimized. The basic process remains the same, allowing representative results to be obtained with the demonstration unit. 
According to Kent Renz (708-579-7908), Air Liquide America's Cryogenic Application Manager, the variables to be controlled include the amount of IQF product to be coated and the amount of sauce (i.e., the coating ratio), the sauce feed rate, the barrel speed, and the amount and timing of cryogen injection and sauce injection. All of these variables can be controlled by a programmable logic controller. Once the process has been worked out, these variables can be programmed into the PLC. The user then simply pushes a button, and the PLC takes it from there, controlling the tumbler rotation speed, the sequenced injection process (sauce and liquid nitrogen or CO2, the batch cycle time, etc.). The PLC can also control various automatic options such as the clean-in-place system. 
The system has been used with all types of sauces and gravies, ranging in viscosity from extremely low viscosity (almost like water) to high, and a full gamut of food products and sizes (most no larger than a meat ball). To determine the optimal processing conditions for any combination of food and sauce requires empirical testing, Renz said. Having the demonstration unit available in the U.S. makes it easier for food companies in the U.S. to test their products.
PATENTS
Process for removing oil from food products. U.S. patent 6,111,119, filed 1/14/1999, issued 8/29/2000 to R.B. Trout et al. Describes a process for recovering oil from food products that involves storing the organic solvent vapor used as the extracting medium in a vapor recovery tank between extraction phases. After a liquid organic solvent, such as propane, is used to extract oil from the oil-bearing food products, the solvent is vaporized and at least some of the solvent remaining on the defatted food solids is recovered, e.g., by opening a valve leading to a vapor recovery tank which has a pressure lower than the pressure of the extraction vessel. By using several such tanks, solvent of decreasing oil concentration can be sequentially used as the extracting medium during a single extraction phase. The process is particularly applicable to the removal of cocoa butter from cocoa powder.
Process for preserving taste and reducing bacteria in frozen seafood products. U.S. patent 6,143,343, filed 7/6/1999, issued 11/7/2000 to D.W. Wilson. Describes a process for reducing bacterial contamination in oysters by freezing them and maintaining them in cold storage. An ice glazing seals the raw product in a thin layer of ice, which preserves the original taste during cold storage. The process involves removing the top shell of the oyster, rapidly lowering the temperature of the shucked oyster to below 0ºF, spraying the oyster with a fine mist of water to form a thin layer of ice on the surface, and placing the oyster in cold storage at a temperature no higher than 0ºF for at least 10 days.
Extraction of pectin by microwave heating under pressure. U.S. patent 6,143,337, filed 4/30/1999, issued 11/7/2000 to M.L. Fishman et al., assigned to U.S.A. Describes extraction of high-quality pectins from pectin-containing plant materials with microwave energy under pressure. The pectins have higher molecular weight, size, and intrinsic viscosity than pectin extracted by conventional heating techniques. The process involves making a mixture of pectin-containing plant material and an acidic aqueous medium, placing the mixture in a closed microwave-transparent container, applying microwave energy at a frequency and for a time sufficient for temperature and pressure inside the container to increase, and for pectin extraction to occur, cooling the mixture, and separating the extracted pectin from the residue.
System for controlling the pasteurization heat treatment, in particular of packaged food products, in tunnel-type pasteurizers. U.S. patent 6,142,065, first filed 5/29/1998, issued 11/7/2000 to G. Panella et al., assigned to SASIB S.p.A. Describes a control system that, in the case of irregular operation of the pasteurizer, regulates the heat cycle by monitoring the temperature of the product in basic subzones of the pasteurizer, evaluating the temperature of the product recorded upstream, and intervening to ensure the continuation and conclusion of the pasteurization of the product that had already entered the heat treatment zone at the time of interruption of operation.
---
Products & Literature
ROBOTIC RETORT BASKET INDEXER, the Ribbi Backsaver, is a low-cost device for loading and unloading baskets into retorts, designed to bridge the gap between a fully automated batch retorting system and manual retort loading operations. The pushbutton-operated robot eliminates the need for a retort operator's pushing and pulling baskets to load and unload the retort, and it also eliminates costly forklift loading mishaps, which damage both the retort basket and the retort door. Retort operators don't have to use a basket hook, or go into the retort to get the last baskets. Baskets are transferred to the robot's conveyor from either a push cart or forklift truck. The robot moves the basket to stage it at the mouth of the retort, links it to an existing basket in the retort to form a train, then indexes the train of baskets into the retort for processing. For more information, contact Allpax Products, Inc., 13510 Seymour Myers Blvd., Covington, LA 70433 (phone 504-893-9277, fax 504-893-9477)—or circle 321.
PROCESSING AND PACKAGING SYSTEMS for potato chips, tortilla chips, and other snacks are available preassembled, prepiped and wired with single-point connections for air, gas, water, and electricity. Fryer systems, for example, can be ordered with the oil filter, pump, piping, and even storage tanks preassembled on a single skid which can be positioned beside the fryer or in a remote location. For more information on the modular snack systems, contact Heat and Control, Inc., 21121 Cabot Blvd., Hayward, CA 94545 (phone 800-227-5980 or 510-259-0500, fax 510-259-0600)—or circle 322.
DRY INGREDIENTS APPLICATOR, the Coatronic, is designed to apply a 36-in-wide curtain of dry seasonings and granular or powdered coatings at 300–2,700 lb/hr. The unit features variable-speed flow rates and can be used in high-speed conveyors or drum systems, as well as with products requiring high seasoning levels, such as cereals and snack foods. For a 2-p data sheet describing the unit, contact Allen Machinery, 500 E. Illinois, Newberg, OR 97132 (phone 503-538-3141)—or circle 323.
STEAM-JACKETED MIXER KETTLES in the HA Series feature a horizontal agitator design which allows for thorough, efficient mixing and ease of cleaning. The kettle is said to cook food more thoroughly, regardless of its texture, because the horizontal agitator design lifts and folds heavy, delicate, chunky, thin, or thick products. The blades are totally enclosed, spring loaded, and Teflon coated, allowing the blades to hold tight against the kettle surface for effective scraping. Mixing action continuously scoops and folds the center of the product for faster cooking, with variable agitator speed control. For more information, contact Cleveland Range, Inc., 1333 E. 179th St., Cleveland, OH 44110 (phone 216-481-4900, fax 216-481-3782, www.clevelandrange.com) —or circle 324.
MODULAR MINI-DAIRY designed for small operations can process up to 1,325 gal of milk/hr. Four production lines are available: processing and packaging of milk; production and packaging of cream and butter; production and packaging of yogurts and cottage cheese products; and production of soft or processed cheeses. The equipment that is included varies with the production line. The available equipment includes milk storage tanks, packaging units, cream separators, pasteurizers, maturation tanks, molds, and presses. For more information, contact Elecrem, 50-52 rue Louveau, BP 36, 92321 Chatillon Cedex, France (phone +33 1 58 07 14 00, fax + 1 58 07 14 14 15)—or circle 325.
TRANSIT THERMOMETERS, called ColdSNAP, indicate whether product has been exposed to undesired temperature during shipment. The thermometers consist of a bimetallic sensing element that snaps at a predetermined temperature, turning an indicator window bright red. The thermometers are designed to replace delicate chemical sensors and fragile glass with a tough, reliable, easy-to-read, critical cold temperature recorder. They are available in both descending (cooling) and ascending (warming) versions and will detect critical temperatures from –20ºC to 40ºC with an accuracy of ±2ºC. The unit is activated by the user and can be shipped and stored outside of special temperature-controlled environments. It features a self-adhesive backing for easy attachment to the product being protected. For more information, contact Telatemp Corp., 351 S. Raymond Ave., Fullerton, CA 92831 (phone 800-321-5610 or 714-879-2901, fax 714-870-8136, www.telatemp.com) —or circle 326.
by NEIL H. MERMELSTEIN
Senior Editor