Gable-top paperboard cartons have been ubiquitous containers for milk for so long that most consumers take them for granted. But gable-top paperboard cartons may have embarked on a new-old opportunity: dry foods.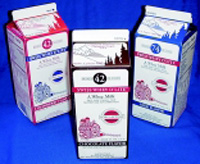 An example is Kellogg's new very special calcium-fortified K cereal in a "half gallon" gable-top paperboard carton. The fit is good: this calcium-enriched cereal is intended to be eaten with calcium-containing milk, and the "milk carton" emphasizes the calcium value (from the cereal) that is important to the osteoporosis-prone population. Pepperidge Farm has packed Goldfish cracker snacks in gable- top paperboard cartons for some years, and at least one candy maker uses the gable-top for chocolate-covered malt balls. Now others are moving into this handy package.
The number of gable-tops used for milk packaging has been declining steadily for several years. Extrusion-blow-molded high-density-polyethylene bottles have captured a big chunk of milk packaging in the United States by virtue of reclosure. Gable-tops didn't get busy solving reclosure until the plastic bottle had grabbed the lead. Most dairies know that milk can be converted from a commodity product in attractive full-body-label plastic bottles, so the plastic bottle is firmly  entrenched, except for the school milk program.
Gable-tops are the packages of choice for fruit beverages. Indeed, juice producers such as Coca-Cola (Minute Maid) and Pepsi Cola (Tropicana) have a heritage of market orientation. They have been immersed in a development sequence founded in part on packaging innovation employing gable-top paperboard cartons. Single-strength not-from-concentrate juice is the basis for the drive, having captured the market from the frozen concentrate many years ago. But the development required aseptic-type processing and packaging coupled with very special interior barrier coatings engineered to reduce scalping of flavor from the contents. But the ubiquitous barrier plastic bottle remains a formidable competitor in the fruit beverage packaging arena.
So traditional juice and milk markets are threatened, and gable-top packagers are looking for more outlets. What is more natural than to consider that dry foods can be better packaged in gable-top paperboard cartons than in alternative conventional structures? By virtue of their plastic coatings and heat-seal closure systems, gable-top paperboard cartons should be excellent barriers for all those environmental vectors that cause deterioration in dry foods—and be popular with consumers.
Waxed gable-top paperboard carton structures were designed to be erected in wet environments of dairies during the 1920s. Paperboard didn't sell to the milk deliverymen, and glass was the container of choice until the 1950s came along with the supermarket. These new self-service stores wanted one-way packaging. Gable-tops filled the bill, were easy to handle, and didn't break. They weren't reclosable, but Americans were resourceful and learned to cope.
The polymer technologists developed extrusion coating of polyethylene on paperboard, which provided water and water vapor resistance, and could be heat sealed. The square cross-section was the result of the setup machinery, which was later redesigned for some other shapes. Lots of development resulted in a package with a coated seam that retained flavor and didn't scalp the natural flavor of orange juice or milk. Just about the time that the suppliers produced a near-perfect package for milk and juice, new developments in other package forms occurred.
During the late 1960s, the extrusion-blow-molded, high-density-polyethylene bottle was developed, and dairies could fabricate packages from plastic resin pellets in their own plants in line with their milk filling operations. Now the dairies were in the bottle-making business, just as they had been in the carton-erecting business with gable-top paperboard cartons.
Cartons could be printed in spectacular pictorials but were not until the 1980s, when the juice packagers decided to embark on their venture into not-from-concentrate product. Cartons were opaque, which set up a controversy over riboflavin retention. For those who do not read the scholarly literature, this discussion still occupies considerable paper, and, we must imagine, electronic space. But cartons have been the package of choice for the not-from-concentrate juice processors, despite some drawbacks. Gable-top cartons are not exactly easy to stack, so most secondary packaging is single layer, a disadvantage. Further, retail display is almost always single layer—not so bad, since few shelves are high enough for multi-layer display.
Meanwhile, plastic bottles continued to penetrate the market and cannibalize the gable-top paperboard carton. Without adding much to the graphics, or even taking advantage of the almost infinite shape possibilities, plastic bottles had easy open and reclosure, seen as consumer benefits.
So what about our old standby, paperboard and its more successful "stepchild," gable-top paperboard cartons? Food packaging professionals are cognizant of the barrier and reclosure deficiencies of the conventional paperboard folding carton. The rectangular or brick-shaped carton is still a favored shape that fits both retail and home shelves. Cartons still represent one of the really great decorating substrates.  
So, we are witnessing two fascinating thrusts by paperboard interests: one is the traditional plastic-film-lined carton in new shapes; and the other is the gable-top paperboard carton, which requires no interior liner to achieve its barrier properties. The former is more traditional, employing the interior sealed pouch as the primary package and barrier, but taking advantage of the stiffness of paperboard to form interesting new shapes, such as gable tops. Have you noticed the carton shape for another line of premium Kellogg's cereal, Country Inn, or the Betty Crocker rice mixes, both bag-in-box?
For decades, food packaging technologists have postulated replacement of the lined paperboard folding carton with a monolithic carton. The combination of easily filled and sealed interior plastic film pouch within an exterior carton for physical protection and graphics is effective and economic. Coated paperboard with a heat-sealed carton structure is less expensive than the two-component packaging of a lined carton. A single structure would be fabricated on one machine rather than the two needed for bag-in-box.
Suppliers have taken the first steps with application of their mainstream polyethylene-coated structures for cereals, snacks, and pet foods and some hotel/restaurant/institutional products such as dry eggs and mashed potatoes.
Relatively little research is required to employ gable-top paperboard cartons for non-liquid foods. New formats can markedly enhance the consumer attributes of the packages to render them even more consumer friendly.
Two major manufacturers, Tetra Pak and International Paper, can reach into their extensive research laboratories and extract barrier innovations that they have been developing and applying to other package forms.
If Tetra Pak could change its aseptic carton from brick to an octagonal Prisma shape, then the carton team of Tetra Pak could certainly develop new shapes to excite the food marketers of America and the world. And why must the gable top be a gable? If the forever-conservative folding carton structural designers could form steeples and low sloping roofs and angled tops, then the engineers of International Paper and Tetra Pak might offer these currently offbeat shapes sealed on equipment using the basic technology. All of the gable-top paperboard carton makers offer screw caps for liquids, so a derivative might be applicable for the new generation of gable-top paperboard cartons.
Most of the technical elements are in position: barrier, structure, the equipment to erect in-line, fillers from the dry foods realm that can be readily adapted, closure features, economics. The opportunity is two sided: suppliers have the ability, the ideas, and the resources, and food packagers are looking for new, more effective packaging for their dry products.
PATENTS
Packaging unit for continuously producing sealed packages, containing pourable food products, from a tube of packaging material. U.S. patent 6,112,498, filed 6/15/98, issued 9/5/2000 to L. Hansson et al., assigned to Tetra Laval Holdings & Finance S.A. Describes a packaging unit for continuously producing aseptic sealed packages containing a pourable food product from a tube of packaging material filled with the food product.
Blends of polyethylene for extrusion coating. U.S. patent 6,110,599, filed 3/26/98, issued 8/29/2000 to R. Edwards et al., assigned to Eastman Chemical Co. Describes a blend of at least three different polyethylene-based components which can be extrusion coated onto a substrate to give a strong bond with short curing times.
Multilayer breathable film. U.S. patent 6,114,024, filed 7/31/96, issued 9/5/2000 to N.F. Forte, assigned to Kimberly-Clark Worldwide, Inc. Describes a method of making a stretched, multilayer breathable film having the combination of properties of providing a barrier to microorganisms and a barrier to blood and bodily fluids.
---
Products & Literature
DUAL-OVENABLE CONTAINERS
made from a plastic that permits very high and very low temperatures are being used for a line of refrigerated meals by Iservio's. The meals, called
Fresh Italian Classics
, offer all-natural, low-fat meals, including Risotto with Italian chicken sausage and mushrooms, Pasta fagioli with Italian chicken sausage, Rotini pasta with Italian chicken sausage and chard, and Penne pasta with Italian chicken sausage and roasted red pepper sauce. Wood River Foods, Inc., a leading food processor of refrigerated fresh meals, has also began to use the VersaTray package for its line of prepared foods. For information about the VersaTray materials, contact Eastman Chemical Co., Kingsport, TN 37662 (phone 423-229-2239) —
or circle 325.
LOW- TO NO-MIGRATION ADHESIVES provide the performance of solvent borne adhesives with low VOC content of 100% solids technology. LAMIN8  adhesives have essentially zero migratory components when used at high temperatures. The adhesives are used in flexible packaging applications including fresh-cut product, and boil-in-bag applications. They provide good clarity for graphics and can be easily processsed at high speeds. For more information, contact H.B. Fuller Co., 3530 Lexingrton Ave. N., St. Paul, MN 55126 (phone 651-236-3195, www.hbfuller.com) —or circle 326.
by AARON L. BRODY
Contributing Editor