Analytical Instruments Showcased
More than 20,000 registrants attended Pittcon'03, the annual Pittsburgh Conference on Analytical Chemistry and Applied Spectroscopy held in Orlando, Fla., on March 9–14, 2003. The conference, said to be the world's largest event for showcasing developments in laboratory science, included a scientific conference and an exposition for scientific and analytical instruments.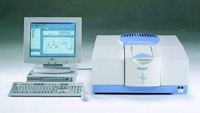 The technical program included more than 2,000 presentations and more than 80 short courses. The program covered the core methods and techniques of analytical chemistry, applied spectroscopy, and chemical instrumentation, as well as new and traditional applications of analytical methodology. Application areas featured included the biological and life sciences, environmental analysis, food analysis, and quality assurance.
The exposition attracted more than 1,000 companies exhibiting in about 750,000 sq ft of exhibit space. This month's Laboratory section presents brief descriptions of some of the latest instruments, accessories, and software applications applicable to food analysis that were exhibited. For more information about the conference or for information about next year's conference, see www.pittcon.org.
E-Nose and E-Tongue Instruments may be used in a variety of food and beverage applications. The E-Nose is a screening tool for aroma and VOC analyses. It allows verification of incoming raw materials and detects taints/off-odors before product shipment. The instrument features chemical sensors, mass spectrometry, and control charting. The E-Tongue is designed for measuring dissolved compounds and taste substances in liquids. It allows product conformity testing, taste default detection, bitterness masking, and substance quantification. For more information, contact Alpha MOS America, 33 North River St., Hillsborough, NJ 08844 (phone 908-359-9396; fax 908-359-9398).
Moisture Analyzer, the Computrac, is designed to accurately measure moisture levels in liquids and most oils. Results are achieved in as little as 3 min and may be displayed as percent moisture, parts per million moisture, or micrograms of water. Designed to correlate with the Karl Fischer titration method, the instrument is said to offer a fast, chemical-free process to check moisture in liquids, oil samples, and lyophilized samples with high accuracy and repeatability. The user-friendly menu and simple pushbutton operation offers less potential for user error. The instrument is designed for use by the floor technician or the laboratory chemist. For more information, contact Arizona Instrument, 1912 W. 4th St., Tempe, AZ 85281-2491 (phone 602-470-1414).
Muscle Texture Analyzer, the Rigotech, is said to be a unique analytical instrument for measuring shortening and isometric tension in relation to rigor development and tenderness in meats. Developed in conjunction with the Swedish Meat Research Institute, the instrument is used to determine the optimum cooling conditions for meat tenderness. The instrument simultaneously measures isometric tension and shorting and provides continuous, accurate computer-controlled registration of rigor development. For more information, contact ATS Rheosystems, 52 Georgetown Rd., Bordentown, NJ 08505-2405 (phone 609-298-2522).
--- PAGE BREAK ---
High-Purity Pressure Gas Regulators for specialized laboratory applications are available. The series includes panel-mounted "EZ Mount" models; a series of compact "Mini Regulator" models ideally suited for lecture bottles and small cylinders; and a series of "Point of Use" models for final-stage regulation, including wall-mount, panel-mount, and bench-mount versions. For more information, contact Airgas, 259 N. Radnor-Chester Rd., Suite 100, Radnor, PA 19087-5283 (phone 610-902-6270).
Atomic Absorption Spectrophotometer, the AnovAA® 300, is said to be a robust, simple flame system AA Spectrometer with the highlights of a high-end system. An intuitive touch screen of high light intensity provides simple operation, making the external PC and keyboard superfluous. For more information, contact Analytik Jena AG, Konrad-Zuse-Str. 1, Jena 07745 Germany (phone 740-369-9385).
Benchtop Zeta Potential Analyzer, the DELSA 440 SX, analyzes data from four scattering angles. The simultaneous multi-angle analysis simplifies data interpretation. It also distinguishes between particle charge heterogeneity and diffusion effects over a wide range of particle sizes. The instrument is automated and provides a simple analysis which can detect small charges. It also measures particle size distribution. For more information, contact Beckman Coulter, 4300 N. Harbor Blvd., Fullerton, CA 92834 (phone 714-773-6783).
Refractometers for refractive index RI) and Brix measurements are available. They include hand-held refractometers covering a multitude of scales and applications, Abbe mechanical refractometers for special applications, and automatic digital refractometers. The new RFM800 series comprises three standard models that allow users to select the instrument that suits their particular ap plication. Models vary according to measuring range, resolution, and accuracy. The RFM870 offers the highest specification with RI range of 1.30–1.70 and operation to 100°C. All RFM800 models are equipped with standard scales: RI and sugar % (°Brix) and with sucrose-based automatic temperature compensation. Many other scales are available and can be provided as optional additions to the standard software. For more information, contact Bellingham & Stanley, 1000 Hurricane Shoals Rd., Bldg. D, Ste. 300, Lawrenceville, GA 30043 (phone 770-822-6898).
pH/Ion Meter, the Metrohm 781, provides pH measurement and ion concentration determinations using ion-selective electrodes (ISEs). The unit can perform the ion measurements either by using an established calibration curve or by performing standard additions. The new ion meter can automatically control standard additions, calibrations, and stirrer speed and power to ensure consistent measurements under the same conditions. It also offers the latest in optimization with GLP-compliant electrode testing and automatic monitoring of service and GLP intervals. For more information, contact Brinkmann Instruments, One Cantiague Rd., Westbury, NY 11590-0207 (phone 800-645-3050 or 516-334-7500; fax 516-334-7506).
Ion-Trap Mass Spectrometer, the Esquire High-Capacity Trap (HCT), is said to offer faster and more sensitive analysis for protein analysis. It combines higher ion-storage capacity with a scan mode. It also features a scan mode for 26,000-Dalton/sec analysis, while retaining better than unit mass resolution. The scanning mode is said to be 5–6 times faster than other older-generation ion traps or recent triple quadrupole–derived "linear" traps. The high-capacity trap together with the scan brings full m/zscan ion-trap sensitivities for metabolites into the sub-picogram level for the first time, an order-of-magnitude sensitivity improvement over existing ion traps. For more information, contact Bruker Daltonics, 15 Fortune Dr., Manning Park, Billerica, MA 01821 (phone 978-667-9580).
--- PAGE BREAK ---
Fat Analyzer, the Smart System5, uses NMR technology combined with microwave drying capability to provide accurate results without solvents or calibration. The system is said to not require frequent calibration like NIR and FTIR instruments and not be affected by changes in the color or texture of the sample or be dependent on sample uniformity. The system software stores methods and test results and guides the user through tests. For more information, contact CEM Corp., 3100 Smith Farm Rd., Matthews, NC 28104 (phone 704-821-7015).
Water Activity may be measured with the AquaLab Series 3 model TE. The temperature-controlled meter allows the user to have a temperature-stable sampling environment without the need of an external water bath. It allows the user to choose (on-screen) at which temperature to sample. The temperature is then monitored and controlled with internal thermoelectric components. The sample data can be output to a computer or printer via an included serial RS232 interface cable, allowing the user to organize data quickly and easily. For more information, contact Decagon Devices, 950 NE Nelson Ct., Pullman, WA 99163 (phone 509-332-756).
HPLC Refractive Index Detector, the Summit® RI-101, is said to provide high sensitivity and high precision together with a range of new validation and productivity features. Built-in tests verify important instrument parameters, including noise, drift, lamp age, and temperature accuracy. A startup sequence automates purging, equilibration, autozero, and control of baseline stability and noise. An optimized temperature-control system ensures fast baseline stabilization after system start. The instrument can be fully controlled by the company's chromatography management system, or can operate in standalone mode. A full-color liquid crystal display shows an online signal plot and provides fast access to instrument settings and performance parameters. The unit is said to be ideal for analysis of components with poor UV absorption such as alcohols, sugars, saccharides, fatty acids, and polymers. For more information,contact Dionex, 1228 Titan Way, Sunnyvale, CA 94088-3606 (phone 408-481-4275).
Turbidity Meter, the Oakton T-100, may be used to measure turbidity in a variety of applications. The sealed optical system of the meter uses an infrared light source to deliver high accuracy across the 0–1,000 NTU range. Designed with ease of use in mind, four-point pushbutton calibration and automatic prompts make calibration a snap. The large custom LCD displays the results from a 15-mL sample in less than 6 sec. The unit's waterproof, dustproof, IP67-rated housing floats if dropped in water. Additional features include auto-off, diagnostic error messages, and auto-ranging function throughout the entire range. The power-saving function takes more than 1,000 readings with a single set of AAA batteries. The meter includes four primary standards, cuvettes with light-shield caps, batteries, and easy-to-follow instructions in a carrying case. For more information, contact Cole-Parmer, 625 E Bunker Ct., Vernon Hills, IL 60061 (phone 847-327-5859).
Dissolved Oxygen Probe measures dissolved oxygen in the wastewater treatment plant. The luminescent dissolved-oxygen (LDO) probe uses no anodes, cathodes, or electrolyte solutions, and has no membrane to clean or replace and no electrolyte solutions to replenish, and does not require frequent calibration. It can be used in many places throughout the wastewater treatment plant, such as aeration basins, aerobic and anaerobic digesters, and nitrification and denitrification tanks. The probe utilizes a sensor coated with a luminescent material. Blue light from an LED is transmitted to the sensor surface and excites the luminescent material, which emits red light as it relaxes. The time from when the blue light was sent to when the red light is emitted is measured. The more oxygen that is present, the shorter the time it takes for the red light to be emitted. This time is measured and correlated with the oxygen concentration. The LDO probe is said to be simple to operate and offers users reduced maintenance and infrequent calibration, while increasing the accuracy and speed of dissolved oxygen measurements. For more information, contact Hach Co., P.O. Box 389, Loveland, CO 80539 (phone 970-207-1077).
--- PAGE BREAK ---
Spectrophotometer, the ColorQuest XE, may be used to measure transparent, translucent, and opaque liquids and solids for properties such as reflected color, opacity, brightness, strength, transmitted color, APHA, and haze. The instrument has a variety of applications in the food industry. The company also recently introduced the ColorQuest XE-Touch, a self-contained, reflectance/transmittance spectrophotometer. It has all the features of the original instrument plus a touch screen. The LCD display is back-lit and can be read in any lighting environment. The display has a touch screen that facilitates ease of operation and saves bench space. An alphanumeric keypad display on the touch screen simplifies sample identification and data entry. Data can be output directly to a printer. For more information, contact Hunter Associates Laboratory, 11491 Sunset Hills Rd., Reston, VA 20190 (phone 703-471-6870; fax 703-471-4237).
Analytical Testing Services Web Site (www.neolytica.com) provides comprehensive analytical testing services, enabling customers to better leverage capital, equipment, and personnel. The site is a global network of independently qualified analytical facilities, and offerings include analytical testing, consulting, laboratory information management systems (LIMS), supply ordering, training, sample management, and knowledge base management. The site is said to simplify outsourcing by identifying the most appropriate resources from its extensive network of internationally recognized, qualified labs; initiating contracts; managing multiple projects with multiple labs; and customizing reports and tests to meet customer specifications. For more information, contact Neolytica, Inc., 3606 W. Liberty St., Ann Arbor, MI 48103 (phone 800-704-4034).
Fourier-Transform Infrared Spectroscopy may be done with the new FTIR Prestige. The instrument features a highly optimized, high-energy throughput optical system that results in an S/N ratio of 40,000:1. It is said to be ideal for a wide range of applications, including thin layers, which require maximum sensitivity. It can measure in the near-IR, mid-IR and far-IR ranges with the simple exchange of the light source, beam splitter, and detector. Users can easily accomplish these component changes. In addition, the instrument can be customized into an application-specific analysis system using a wide variety of sampling accessories available. The system features "Quick Start" automatic accessory recognition which identifies the accessory when installed, sets optimum measurement parameters, and performs validation functions to ensure accurate data collection. For more information, contact Shimadzu Scientific Instruments, Inc., 7102 Riverwood Dr., Columbia, MD 21046 (phone 800-477-1227, fax 410-381-1222, www.ssi.shimadzu.com).
General-Purpose Spectrometers in the 200T Series of compact, general-purpose analyzers feature easy operation and an ergonomic design. They are used for both qualitative and quantitative nondestructive analysis of liquids, solids, powders, pastes, slurries, films, coatings, and many other materials. To start the measurement, the operator presses the analyze key. The unit's menu-oriented software runs the measurement and initiates a printout of the results on the built-in printer. Sample preparation time is low, and the results are available within seconds. The units are configured with the optimal x-ray tube and proportional counter to ensure the best performance possible for the price. For more information, contact Spectro Analytical Instruments, GmbH & Co., KG Boschstr. 10, 47533 Kleve, Germany (phone 011-49-2821-8-92-0; fax 011-49-2821-8-92-22-00).
Protein Separation and Identification Studies may be performed with the Empore Affinity system. The system covalently couples proteins, peptides, antibodies, and ligands in a 96-well plate. The plates are useful for protein expression and antibody separation studies. The basis of the technology is the ability to create a particle-loaded membrane, or disk, using any sorbent particle. The particles are tightly held together within an inert matrix that does not interfere with the activity of the particles in any way. The membrane fabrication process is said to result in a denser, more-uniform extraction medium than can be achieved in a traditional solid phase extraction (SPE) column or cartridge prepared with the same size particles. For more information, contact 3M, 3M Center, Bldg. 270-2A-08, St. Paul, MN 55144-1000 (phone 651-736-1274).
--- PAGE BREAK ---
Quadrupole ICP-MS Instruments are designed to achieve gigahertz sensitivity while delivering improved performance. Sensitivity is a key factor in detection limits with this inductively coupled plasma–mass spectrometry (ICP-MS) are technique, and with environmental and other regulations calling for increasingly lower detection limits, it is becoming increasing used in a number of industries. A patented ion-mirror system enables increased sensitivity, effectively focusing all ions, regardless of their mass, into the entrance of the quadrupole, resulting in a transfer efficiency up to 20 times better than that of conventional ICP-MS theory. The new instrument features another world first—the only all-digital detector with up to nine orders of linear dynamic range. Users will be able to determine low and high concentration analytes without the need for time-consuming dilution and without the need for cumbersome analog-to-digital conversion. For more information, contact Varian, Inc., 2700 Mitchell Dr., Walnut Creek, CA 94598 (www.varianinc.com).
Single Quadrupole Mass Detector, the EMD 1000, is said to offer mass detection to scientists who require additional sensitivity and specificity for their laboratory's HPLC system at an affordable price. The new instrument will allow scientists to generate mass information in their own laboratories, minimizing the need to send out samples for advanced analysis, and maximizing the knowledge gained from each sample analysis. The instrument is said to complement existing LC/UV systems with mass detection. The instrument, with a mass range up to 1,000 atomic mass units, offers the performance and robustness required for routine mass detection. For more information, contact Waters Corp., 34 Maple St., Milford, MA 01757 (phone 508-478-2000; fax 508 872 1990).
General Laboratory Products are available through on-line ordering at www.daigger.com. The company offers many different products, including items for the science education markets. For more information, contact A. Daigger, 620 Lakeview Pkwy., Vernon Hills, IL 60061 (847-478-9000x236).
Beverage Monitor, the LAN 9000, is said to combine state-of-the-art optics with the latest in electronic and computer technology for continuous on-line monitoring of Brix diet and CO2. The instrument is said to have improved constant-temperature control and reliable detector technology that provide precise, stable results. An advanced infrared-based optical system eliminates inaccuracies found with other measuring techniques where undesirable compounds may contribute to the measured value. The monitor is controlled through a touch-screen interface. Remote and multiple system operation can be achieved using the optional Windows-based software that collects and displays real-time run data for the monitor, package sensor, and up to four additional line parameters such as pressure, temperature, and product flow rate. For more information, contact OI Analytical, P.O. Box 9010, College Station, TX 77842-9010 (phone 979-690-1711; fax 979-690-0440).
--- PAGE BREAK ---
High-Purity and Reagent-Grade Chemicals and laboratory equipment for life science and high technology research, development, and production are available. Products include solvents, chirals, organics, organometallics, inorganics, polymers, stains and dyes, and laboratory equipment. Products highlighted at Pittcon included specialty and pre-blended solvents, specialty glassware, new spectroscopy software, and products for organic synthesis. For more information, contact Aldrich/Sigma, 1001 W. St. Paul Ave., Milwaukee, WI 53233 (phone 800-521-8956).
Water Generator, the Nano-pure Diamond, may be used to generate high-purity water for a variety of laboratory applications. It is also now available with Total Organic Carbon (TOC) monitoring. The TOC monitor operates on the theory of oxidizing organic compounds by high-intensity UV exposure and measurement of the resultant change in conductivity. The unit can achieve water purity up to 18.2 megohms-cm that exceeds ASTM, CAP, and NCCLS Type 1 water requirements. The unit's resistivity monitor is field calibratable to NIST standards, eliminating the downtime of sending the unit in for calibration. Models are available for analytical and life science applications and are wall or bench mountable. For more information, contact Barnstead/Thermolyne, 2555 Kerper Blvd., Dubuque, Iowa 52001 (phone 319-556-2241; fax 319-589-0516).
HPLC Packing, called Kromasil®, is silica-based and developed for analytical and process-scale applications. It is available in bulk and in slurry-packed columns, from 4.6 mm ID to 4 in ID, all with analytical performance. The packing is said to have superior mechanical and chemical stability, and a high available surface area. For more information, contact Akzo Nobel/EKA Chem, 204 Spring Hill Rd., Trumbull, CT 06611 (phone 203-459-4376).
Teflon Wash Bottles are said to offer excellent chemical resistance over a broad temperature range and are ideal for aggressive solvents and high-purity applications. The 500- and 1,000-mL bottles have colorful polypropylene hang tags that accept standard-size labels and can be written on for easy identification. The autoclavable bottles' nozzle, stem, and closure assembles are Tefzel* ETFE, the bottle is Teflon FEP and the nozzle O-ring is fully synthetic EPR. All materials are low in extractables for high-purity applications. The adjustable ETFE nozzle comes to a full stop position and provides a steady stream without sputtering, reducing the potential of splashing. For more information, contact Nalge Nunc International, Dept. 75 Panorama Creek Dr., Rochester, NY 14625 (phone 800-625-4327; fax 585-586-8987).
by JAMES GIESE
Internet Editor