Although I was not able to attend this year's IFT Annual Meeting + Food Expo®, through the miracles of electronic communication I was able to be involved second hand. With the able assistance of my colleague and packaging expert, Brian Wagner of Packaging and Technology Integrated Solutions (PTIS), who delivered my presentations and roamed the floors of IFT's mammoth meeting and exhibition, I can provide you with the following analysis of the packaging-related events and exhibits.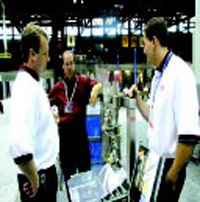 Riester-Davis Award
Among the most significant events at the Annual Meeting was the presentation of the Food Packaging Division's Riester-Davis Award for lifetime achievement in food packaging to Cryovac Sealed Air's Charles Barmore of Cryovac Sealed Air Corp. The award is named for two pioneers of food packaging who helped found one of IFT's most highly successful divisions. The winner each year is very carefully selected from an array of very deserving professionals who have made major positive contributions to the world food packaging scene. To demonstrate the validity of the rigorous selection process, the 2002 and 2003 winners of IFT's Industrial Scientist Award, Larry Bell and Ray Bourque, were both previous Riester-Davis awardees.
During his tenure at Cryovac Sealed Air, Barmore was instrumental in their development of packaging for fresh-cut and case-ready fresh meats. He is regarded today as the country's leading expert on packaging of irradiated foods. Congratulations to him for a job well-done now and in the future!
Short Course
The Food Packaging Division cosponsored with the Product Development Division a pre-Annual Meeting continuing education program on "Developing New Food Products for a Changing Marketplace." Organized under the auspices of the University of Georgia's Food Product Innovation and Commercialization Program by Anna Resurreccion and me, the two-day program featured more than a dozen speakers experienced and successful in conceptualization, development, and commercialization of food products.
Singular to the organizing University of Georgia group and its short course are the inclusion and integration of professional chefs, marketing, engineering scale-up, packaging technology and design, economic analysis, and consumer evaluation and feedback. To my knowledge, no other product development offering incorporates food marketing professionals, members of the Research Chefs of America, Packaging Hall of Fame designers, professional engineers, and food scientists and technologists and provides university graduate credits.
--- PAGE BREAK ---
Symposia
The Food Packaging Division also sponsored several symposia during the Annual meeting
• Intelligent Packaging. Standing room only was the order at the symposium on intelligent packaging—packaging that senses environmental change and generates a signal—chaired by Leslie Cook of Cryovac Sealed Air. Robb Clarke of Michigan State University discussed the role of radiofrequency identification (RFID) in tracking food packages in the complex distribution system. Increasingly employed in a passive mode, the technology promises more interactively responsive means to follow packages as device costs come down.
Avery Dennison provided an overview of some of the more interesting mechanisms being forwarded to signal actual changes in packaged food products. Platinum group metals coupled with chromophores/fluorophores respond to volatile sulfur and/or amine compounds generated from microbiological growth in meats, poultry, and/or seafood, generating signals that can be seen or read instrumentally.
A multidisciplinary group from Auburn University is in the midst of research on the responsiveness of electronic sensors to analogous microbiological spoilage reactants. Although Jim Cox of Cox Technologies, Inc. was unable to attend, his paper described some semi-commercial "freshness" sensors that detect and colorimetrically signal volatile spoilage reactants from seafood. Antigen/antibody reactions sense microbiological growth and generate an acoustic wave which can then be converted into an RFID signal.
Are any of these sensing/signaling sciences sufficient for incorporation into the structures of packages of food vulnerable to spoilages about which target consumers are seriously concerned? Or are these sensors all extensions of elements that must ultimately be linked to effect a meaningful output? Can electronic devices be effectively employed on food packages to accurately inform users of the content quality? That intelligent packaging might be the route to the next generation of packaging to improve functionality for delivery of safe quality food products provokes some real thinking by thoughtful professionals.
JP Laboratories demonstrated new polymerized diacetylene technology to generate package color change when the food content has reached a high or low temperature, such as being inadvertently frozen.
Topping the collection of expert speakers was Ted Labuza, who reviewed the complicated universe of time–temperature indicators, which ultimately will be applied for temperature control. Among the many experimental technologies that have been offered over the years are the three that are commercial today: chemical (Lifelines™ Vitsab®), diffusion (3M Monitor Mark®), and electronic (Avery Dennison's Infratab).
Obviously, a host of intelligent packaging is straining to emerge from the cocoon of the laboratory and enhance the commercial scene, with innovative thinking as a foundation for potential.
--- PAGE BREAK ---
• Value of Packaging. Providing insights into the indispensable roles of food packaging beyond protection was a spectacular session, "Value of Packaging: Packaging to Enhance Marketability," chaired by Tom Powers and Teri Mascuch. Food scientists and technologists must comprehend that the science of food transcends the laboratory and pilot plant, and that effective interaction with the target consumer is integral to their objectives. Package design is far more than mechanisms to erect barriers to the perpetually hostile natural environment. It is the vehicle to gain consumer confidence and to enable the consumer to use and consume the product as intended.
Many professionals cite the adage, "The Package is the Product," because the package is the entity seen and perceived by the consumer and often interpreted as the product, Brian Wagner asserted, delivering my presentation in my absence. He highlighted an array of food and beverage package structures that have totally altered our distribution systems: two-piece aluminum carbonated beverage cans; polyester bottles; easy-open convenience closures; zipper reclosures; modified-atmosphere packaging for fresh-cut produce; aseptic packaging for fruit beverages; reduced-oxygen packaging for processed meats and salty snacks; and a host of other packages that will change our consumption habits: automobile snack canisters, microwavable containers for soups, self-heating packages, and active packaging.
• Packaging for Astronaut Food. The groups working with NASA fascinated their audiences with their plans for long space voyages to Mars, discussing the issues surrounding the need to feed astronauts for as long as three years. Current space food is made ambient-temperature shelf-stable by thermal sterilization, water activity control, and dehydration. Although some controversy has arisen, the probability of retort pouch foods' retaining their biochemical quality stability for up to three years is not high enough to guarantee the variety and quality expected. Oxygen control beyond current commercial practice will probably be required. Furthermore, packaged food will be supplemented by crops grown and processed on the Martian space station—a formidable challenge for food scientists on Earth.
• Bioterrorism. An IFT Food Packaging Division symposium on deterrence of bioterrorism that might intrude into our food delivery system addressed a host of issues, not the least of which was packaging. Industry, government regulatory, and military professionals offered their perspectives on maintenance of product integrity and ensuring that the packaging would not be a vehicle for transmittal of biological agents. Among the industry offerings was use of packaging-line machine vision to automatically monitor and signal breaches in package integrity that might have been generated by overt human action. Also suggested were further applications of intelligent packaging devices such as time–temperature integrators and microbiogical pathogen indicators such as those discussed above
--- PAGE BREAK ---
Technical Papers
Reaching beyond the symposium papers were dozens of volunteered papers on university research and development on packaging that may represent the basis for the far-distant future.
• Edible Packaging. The papers were dominated by edible packaging, seemingly funded forever by agricultural commodity supporters, Film and sheet materials produced from starch and vegetable and animal protein, with and without plasticizers, and active package enhancers were evaluated for their water vapor and oxygen barrier and antimicrobial properties. This year, the potential antimicrobials cinnamaldehyde and lactoferrin were incorporated into fish, soybean, and peanut protein films and coatings with generally better than neutral results under laboratory conditions. Rhetorically, one might ponder how the investment in edible packaging compares with that being poured into research on thermoplastic package materials and structures by the petrochemical organizations with their multibillion capitalizations in their materials.
• Thermoplastic Package Materials. These materials were well-represented at the Annual Meeting. Cornell University's Joe Hotchkiss and his associates offered some unique polyethylene surface modification chemistries, such as sulfuric acid to improve linkages with biologically active molecules, and radiofrequency plasma treatment, to improve wettability and hence printability of polyester and polypropylene as well as reduce microbiological counts. The controversial chemical effects of ionizing radation on plastics such as highand low-density polyethylenes, nylon 6, polystyrene, polyvinyl chloride, and polycarbonate were reported by several different groups as not being unsafe.
• Oxygen Barrier Quantfication. Further in the realm of passive packaging was a description from University of Guelph of an intriguing technique for quantifying oxygen barrier in plastic bottles. Bottles are filled with an oxygen-sensitive dye in liquid. As oxygen permeates the bottle, colorimetric changes occur that mimic package oxygen barrier performance by visibly showing the actual pathways by which the gas enters the bottles.
• Active Packaging. The ever-popular active packaging was hardly unseen: University of Georgia graduate student Heather Oliver reported on her odorscavenging research sponsored by the U. S. Army Soldier Systems. Evaluations were performed on several alternative adverse volatile lipid oxidation odor removers such as molecular sieves, cyclodextrins, polyethylene imine, and activated carbon in sachet and label format. Results demonstrated that the old stand-by activated carbon functioned without upsetting the basic flavor profile of the contained peanut-based food.
Virginia Tech's Joe Marcy reported on aldehyde scavengers in polyester to remove polyester processing reactants and thus protect flavor-sensitive water contents. And at least two other papers described ethylene removal for extending shelf life of fresh produce via active packaging. Among the newest antimicrobials under test is cetylpyridinium chloride.
• Reduced-Oxygen Packaging of Seafood. A series of publications from the University of Florida on seafood microbiology presented data on reduced-oxygen packaging, long a source of concern to regulatory agencies. Minimization of risk of growth of Clostridium botulinum type E, which is capable of low-temperature growth and toxin production with no odor, is achievable by a number of coincidental hurdles, one of which is the employment of package materials with specified high gas (i.e., oxygen) permeation rates. The results demonstrate that the surface area of the package structure enters into the calculation as a very critical influencing variable. It is evident that the concept of reduced-oxygen packaging to safely extend the microbiological shelf life of seafood remains very much alive for the many commercial interests closely monitoring the situation.
--- PAGE BREAK ---
Exhibits
Some of us who have spent a lifetime or less in food packaging like to think that both IFT and our industry associates might just be missing an opportunity by not overwhelming the floor of Food Expo with packaging exhibits. Without in any way diminishing the importance of the many fine packaging events around the country and the world, IFT offers a venue for packaging suppliers to meet the folks who develop and improve on food products, almost all of which are packaged to provide safety, quality, and convenience.
Too few organizations offering primary food packaging were present. Here are some of those which were:
Multisorb Technologies, Inc., 325 Harlem Rd., Buffalo, NY 14224 (phone 800-445-9890, fax 716-824-4128, www.multisorb.com) exhibited its active-packaging mix of moisture absorbers and oxygen scavengers in sachet and label forms.
Scholle Corp., 200 W. North Ave., Northlake, IL 60164 telephone 708 562 7290, fax 708 409 9349, www.bagnbox.com Scholle showed its bag-in-box pouching systems for liquids.
Texmac Inc., 3001 Stafford Dr., Charlotte, NC 28208 (phone 704-394-0314, fax 704-392-1621, [email protected]), distributor for Joven, demonstrated its pinhole detector for pouch integrity.
As usual, several organizations offering bulk ingredient packaging for food ingredients were prominent:
Bonar Plastics, 1005 Atlantic Dr., West Chicago, IL 60185 (phone 800-295-3725, fax 630-293-0930, www.bonarplastics. com), featured its retail display boxes.
SpaceKraft, a Weyerhaeuser Business, 4901 W. 79th St., Indianapolis, IN 46268 (phone 800-599-8943, fax 317-871-6993, www.spacekraft.com) showed its semibulk bag-in-box corrugated fiberboard shippers.
Paper Systems, Inc., 321 S.W. 4th St., Des Moines, IA 50309 (phone 515-280-1111, 515-280-9219, www.papersystems. com), exhibited its EZ-Bulk corrugated container system with valved evacuation devices.
Smurfit Stone, 450 E. North Ave., Carol Stream, IL 60018 (phone 630-260-3500, fax 630-260-6864, www.smurfitstone.com) showed its bulk bag packaging containing baffles to support flowable contents.
CHEP, 8517 S. Park Cl., Orlando, FL 32819 (phone 800-243-7872, fax 407-226-4629, www.chep.com) introduced plastic pallets in addition to its traditional wood pallets and intermediate bulk containers.
For descriptions of other packaging exhibits at Food Expo, see p. 153 of the June 2003 issue and p. 73 of the July issue.
by Aaron L. Brody
Contributing Editor
The author is President and CEO, Packaging/Brody, Inc., Duluth, Ga. E-mail: [email protected].