"Driving Growth and Sustainability Through Innovation" is the theme for the 2008 IFT Annual Meeting & Food ExpoSM, and its implicit focus on restoration and preservation makes it an appropriate choice for the event's return to New Orleans. Just as the city is experiencing a rebirth in the aftermath of Hurricane Katrina in 2005, so too does the Annual Meeting & Food Expo June 28 - July 1, provide an opportunity for professional sustenance and renewal, allowing attendees to reconnect with colleagues and suppliers, hear cutting-edge research presentations, and get a close-up look at the latest ingredients and technologies.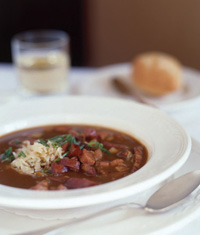 The Annual Meeting will offer about 15 sessions that directly address an aspect of environmental sustainability and its impact on the food industry, including a general session on that theme. As always, the agenda will reflect a combination of traditionally popular events and activities as well as some brand new approaches and offerings. For example, this year, for the first time, scientific program sessions will be split along five application-oriented tracks - a move designed to make it easier for attendees to manage their schedules and hone in on presentations of greatest interest. Also new this year are peer-selected Supplier Solution Sessions, which have been designed to provide attendees with an easy way to receive in-depth information and varied perspectives on food and beverage formulation and processing issues - all without leaving the expo floor. This year's sessions will focus on the topics of salt reduction, fiber, proteins, and weight management. (See sidebar on page 31 for a schedule of sessions.)
The event also will provide attendees with a chance to support the local community by participating in a hunger-fighting initiative. IFT has teamed with Second Harvest Food Bank of Greater New Orleans and Acadiana for a program of fund-raising and volunteer activities. (For more information, see sidebar on page 35.)
More than 20,000 food industry professionals are expected to converge in New Orleans for the Annual Meeting & Food Expo. The Food Expo in the upgraded New Orleans Morial Convention Center will boast offerings from more than 900 exhibitors.
A City Reborn - and Ready
The Annual Meeting & Food Expo was last held in New Orleans in 2005, just weeks before the hurricane hit. The devastating impact of that natural disaster has been widely chronicled. What may not be quite so well known is the fact that, thanks to the far-reaching renovation and restoration efforts that followed Katrina, the downtown district and popular tourist destinations - while retaining their distinctive charm and character - now enjoy a sparkling new luster. That impression was confirmed by members of IFT's Exhibit Advisory Committee (EAC), who traveled to New Orleans this past fall to check on the city's readiness for the IFT show.
"I was gratified and thrilled to find that the city was every bit as vibrant and full of life as I remembered it was on my many past visits," said Sharrann Simmons, EAC member and Senior Marketing Manger, Cognis Nutrition & Health.
"The city is very impressive - cleaner and more inviting than I anticipated," stated EAC member Nancy Richerson, Tradeshows & Events Manager, Wild Flavors Inc. "The enormous amount of renovation within New Orleans has made a huge difference."
--- PAGE BREAK ---
Most of the city's hotels have been remodeled; the tally for hotel renovations over the past two years is in excess of $400 million. Overall, 209 metropolitan area accommodations are open, with 32,000 of an eventual total of 38,000 hotel rooms available. New hotel developments include the opening of the Hilton St. Charles Hotel in 2007 and Harrah's Hotel in 2006. At the New Orleans Morial Convention Center, a $60 million facelift includes new flooring and furnishings, hotel-like finishes, and a brighter, more engaging ambiance.
New Orleans has hosted an IFT exposition eight times since 1940. In the aftermath of Katrina, there was some discussion about whether the city would be ready and able to support the 2008 event, said Heidi Voorhees, IFT Vice President of Strategic Initiatives. After visiting New Orleans several times and meeting with city officials there, it was clear that plans could move forward.
"We have a long history of successful events in New Orleans, and we look forward to a continuation of that success," Voorhees said.
"I think New Orleans always has been and always will be a great convention destination," Simmons reflected. "And I think today, even more importantly, there's almost an obligation for Americans to visit New Orleans and to keep the economy going as it always has been."
Here's a look at some of the activities, programs, and educational opportunities slated for The Annual Meeting & Food Expo.
Early Learning Opportunities
The educational options begin even before the official start of the Annual Meeting & Food Expo with a series of eight Short Courses held Friday, June 27, and Saturday, June 28, at the Hilton New Orleans Riverside. Taught by experts, these interactive courses are designed to deliver in-depth, practical information with only a modest time investment.
Topics of this year's courses include: "Concept to Commercialization - Blending Culinary Arts & Food Science," "Food Safety for the Non-Food Scientist," "Food Science for the Non-Food Scientist," "Ingredient Applications for Product Innovation and Consumer Health," "Labeling Requirements and Implications for Foods Marketed in the U.S.," "Managing and Communicating Food-Related Crisis Situations," "Microencapsulation in Food Applications," and "Sensory and Consumer Research in Food Product Development."
The courses require registration fees in addition to the Annual Meeting registration. Details and registration information are available at www.ift.org/IFT08.
--- PAGE BREAK ---
Awards Celebration
The atmosphere will be celebratory at the Awards Celebration Saturday evening, June 28, at the convention center. The event will honor the 13 IFT Achievement Award laureates and 23 newly elected Fellows for their contributions to the field of food science and technology.
At the event, IFT President John Floros will recap IFT's year and present a preview of what's ahead in his State-of-the-Institute address. He also will introduce incoming IFT President Sheri Schellhaass and President-Elect Marianne Gillette, both of whom will take office in September.
The session will be followed by a Networking Reception, where attendees can meet and congratulate the evening's honorees, as well as network with friends and colleagues.
Keynote Session
On Sunday morning, June 29, innovation expert Tom Kelley will help get the creative juices flowing with his keynote session address. Kelley is a best-selling author and the General Manager of IDEO, a design and development firm that designed such cutting-edge products as the Apple mouse and the Palm V. Kelley will share both big-picture insights and specific concepts that can be used to foster innovation within an organization. The Keynote Session is sponsored by www.HFCSFacts.com.
The winners of IFT's Food Expo Innovation Awards competition will be announced at the keynote session.
Stay on Track with the Scientific Program
The Scientific Program Sunday - Tuesday will serve up a wealth of timely and relevant information. Nearly 200 educational sessions and more than 1,400 presentations, each led by experts in their respective fields, are planned. It will be a chance to learn about the very latest research and its applications in food science, discover new products and technologies, and share ideas with colleagues.
All symposia, workshops, panel discussions, and roundtables have been grouped within one of the following tracks: Science Fundamentals, Applied Science, New Products and Technologies, Student Programming, and Professional and Business Development.
The New Products and Technologies Program is among the highlights of the Annual Meeting's scientific and educational programming thanks to its focus on recently commercialized technologies. It includes three sessions and 22 presentations. The first session on Sunday afternoon focuses on ingredients. The next is on Monday morning, June 30, and covers analytical methods. The third session is a Table Top Showcase on the expo floor on Monday afternoon.
--- PAGE BREAK ---
Theme General Session
On Monday morning, industry experts will focus on the timely theme, "Environmental Sustainability and the Supply Chain." Speakers from Barry Callebaut, General Mills, Blu Skye Sustainability, and McDonough Braungart Design will participate in the discussion of sustainability.
The sustainability General Session is sponsored by Cognis Nutrition & Health, a featured sponsor of the 2008 IFT Annual Meeting theme and educational programming related to selected theme components.
Tuesday Trend Panel
On Tuesday morning, July 1, Food Technology Contributing Editor and leading trend tracker A. Elizabeth Sloan will lead a discussion under the banner, "Developing Products for Green, Gray, and Growing Consumers." This session, the Food Technology Presents Trend Panel, is positioned to deliver new insights into key consumer behavior drivers, health and nutrition concepts, and the "greening" of the food industry. The Trend Panel presentation is sponsored by DSM.
Town Hall Meeting
All members are invited to IFT's annual Town Hall meeting on Tuesday afternoon. It's an opportunity to hear updates on current and future IFT initiatives, ask questions, and connect with members from around the globe.
At the Expo
The halls of New Orleans Morial Convention Center will be a hub of activity during Food Expo hours from 11 a.m until 5:30 p.m. Sunday - Tuesday. As always, comfortable shoes are a must because Food Expo booths and events will occupy 220,000 sq ft of space. Here's a peek at some of what's planned.
Food Innovation Awards. This IFT competition honors the most innovative products, technologies, ingredients, instrumentation, equipment, or services - or new applications of existing products and services - commercially introduced by Food Expo exhibitors since January 1, 2007. The award winners - selected by a panel of nine judges from nearly 50 entries - will be identified by a floor decal and with the award on display in their booth.
Mintel Pavilion. Four fast-paced Mintel presentations will be held each day of the expo, featuring insights drawn from the Mintel Global New Products Database.
At 11:30 a.m. daily, presenter Maria Caranfa will zero in on the role that fresh claims and organic and natural products are playing in foodservice menus in a presentation titled "The Fresh Factor."
--- PAGE BREAK ---
New product experts Lynn Dornblaser and David Jago will be center stage for three pavilion presentations daily, each of which will conclude with product sampling. The times and topics are as follows: 12:30 p.m. - "Ingredient Sustainability;" 2:30 p.m. - "Inherent Goodness of Ingredients;" and 4:30 pm. - "Formulating Healthy Food for Kids."
Innova Pavilion. The inspiration will come from around the globe at the "Taste the Trend" pavilion, where members of the Innova Market Insights team will be on hand to answer questions and guide visitors through the display. The Innova experts are trained to help food industry representatives match flavors and formulas to current consumer trends - all with the benefit of Innova's unique perspectives on international flavors, trends, technologies, packaging and consumer insights.
IFT/RCA Culinology® Demonstrations. Food science and the culinary arts will come together with delicious results when IFT food scientists and chefs from the Research Chefs Association team up with student members from IFT and RCA to present culinology demonstrations on the expo floor.
This year's theme, "The Sustainable Plate: From Farm to Table," will provide each team with the chance to convey the challenges and opportunities associated with creating a wholly sustainable meal option. Each day, a different team will present its take on food development - from ideation to finished product.
Special Interest Pavilions. Those seeking a one-stop destination for information on emerging industry trends will find just that within the expo's Special Interest Pavilions. Pavilions are built around the following areas of interest: organic food ingredients, healthy food ingredients, food safety and quality services and technologies, and international capabilities.
A Taste for Science. As the afternoon draws to a close on Sunday and Monday, the IFT Foundation will host "A Taste for Science" reception on the expo floor. During the reception, cash bars will serve beer and wine, with a percentage of the proceeds donated to the Foundation to fund programs designed to help develop the next generation of food scientists. As a special treat, Food Expo exhibitors will be serving their organization's food samples or appetizers.
Student Association Activities
Many of today's food science students have already begun to help shape the future of IFT, and the Annual Meeting & Food Expo will serve up a full plate of activities for students. This year, in addition to the IFT Student Association booth, a lounge area in the convention center has been designated specifically for students. Among the programs developed for student members will be a symposium on navigating informational resources and another on diversity and multinational teams. Career development sessions also are planned.
--- PAGE BREAK ---
Here's a preview of some of the other programs and events that are in store for students.
Product Development Competition. Student teams from Cornell, Michigan State, Ohio State, University of Illinois, University of Minnesota, and Virginia Tech will vie for recognition of their product development achievements in a competition sponsored by Mars Inc. Oral presentations are slated for Sunday; product posters will be displayed on Monday.
IFTSA Mixer and Welcome Assembly. Students will mix and mingle while viewing the IFTSA Chapter of the Year displays on Monday evening at the Hilton Hotel. PepsiCo is sponsoring the mixer and Chapter of the Year competition. The mixer will be followed by the Student Association Welcome Assembly. The assembly will include an introduction of IFTSA leadership and presentation of recognition, including Chapter of the Year and Most Improved Chapter awards, Product Development Competition winners, Fun Run winners, and Excellence in Leadership awards, which are sponsored by Campbell's.
College Bowl Competition. Things will get competitive again at the Food Science and Technology College Bowl Competition on Monday evening, following the Welcome Assembly. The event is partially sponsored by General Mills and Pepsico.
Research Paper Competitions. Finalists in the Graduate Research Paper Competition and the Undergraduate Research Paper Competition will present their papers on Tuesday morning. Winners will be announced at the Phi Tau Sigma Awards Reception Tuesday evening in the convention center. The IFTSA will award prizes to the graduate student winners, and E.&J. Gallo Winery, sponsor of the undergraduate competition, will recognize these winners with prizes.
Student Association Party. This informal event on Tuesday evening will be held near Bourbon Street. More information on the party will be available at the Student Association booth.
New Professionals Mixer
A social event, geared specifically to those who are new to the profession, is planned for Sunday evening. It will provide an opportunity for those who attend to socialize and network while enjoying the atmosphere and ambiance of New Orleans.
Employment Bureau and Career Fair
The 2008 IFT Employment Bureau at the Annual Meeting & Food Expo offers both job seekers and employers an easy and efficient way to meet and interview onsite. The Employment Bureau will be open Sunday - Tuesday. New this year is a Career Fair that will be held on Saturday afternoon in the Employment Bureau and will allow potential employers and professionals to meet informally.
--- PAGE BREAK ---
Food Science Outreach
All IFT members, especially Food Science Ambassadors, are invited to take part in a Food Science Outreach Workshop on Monday morning. The workshop will provide guidance on using food to teach science. Participants will practice quick and easy experiments from IFT's "Food Science Activity Guide."
More to Follow
Our look ahead at the Annual Meeting & Food Expo continues in the following pages, where Food Technology editors preview selected technical sessions, papers, and exhibits.
A full list of Food Expo exhibitors and their booth numbers, plus the Scientific Program as of press time, follows the editors' previews. In addition, the complete Scientific Program, abstracts, and exhibitor descriptions are available in searchable form online at www.ift.org/IFT08.
It's all part of our goal of setting the stage for you to experience a productive, sustaining, and revitalizing visit to New Orleans for IFT's 2008 Annual Meeting & Food Expo. We hope to see you there!
Mary Ellen Kuhn is Managing Editor of Food Technology magazine (
[email protected]
.)
---
Explore the Nuances of Nanoscience
For the third consecutive year, the IFT International Food Nanoscience Conference will be held in conjunction with the Annual Meeting & Food Expo, building understanding of one of the most innovative and controversial research areas in food science and technology. It begins Friday evening, June 27, and continues during the day on Saturday at the Hilton Riverside.
Altaf H. Carim, Program Manager, Nano-scale Science and Electron Scattering Centers, U.S. Dept. of Energy, will deliver the keynote address on the topic, "Prospects and Tools for Nanoscience: Applications, Characterization, and User Facilities."
The conference also will feature technical presentations and discussions of key topic areas - from regulatory issues to potential societal concerns, as well as a luncheon address by Robert J. Nicolosi, Professor of Nutritional Sciences and Director, Center for Health Disease & Research, Division of Nano-Medicine at the University of Massachusetts, Lowell.
Conference sponsors are Advanced Foods & Materials Network and Holland's Agency for International Business and Cooperation.
--- PAGE BREAK ---
Field Trips Offer an Insider's View
For a real-world learning experience, sign up for one - or more - of IFT's Technical Field Trips to the companies listed here.
Motivatit Seafoods Inc. (Monday morning). This family-owned seafood business specializes in processing oysters, using a patented high-pressure process created by the company founder.
Chef John Folse & Co. Manufacturing Plant. (Monday afternoon). This chef-owned food manufacturing company produces custom-manufactured foods for the retail and foodservice industries in a state-of-the-art manufacturing facility.
Community Coffee Co. (Tuesday morning). An importer, roaster, and distributor of premium coffees and teas, Community Coffee Co. is the largest family-owned retail coffee brand in the United States.
Kleinpeter Farms Dairy LLC. (Tuesday all day). This field trip includes a stop at the dairy's production plant and modern farm facility, where 700 cows are milked twice daily.
---
Help Fight Hunger in New Orleans
Looking for a way to give something back to the community? This year's Annual Meeting & Food Expo offers such an opportunity thanks to IFT's partnership with Second Harvest Food Bank of Greater New Orleans and Acadiana.
You can sign up to volunteer or make a contribution when you register for the Annual Meeting & Food Expo. It's not too late to help, however, even if you have already registered. Simply log back on to the Web site and select "Purchase Tickets Only" or email [email protected] for more information. Volunteer slots are available on Saturday morning or afternoon or Wednesday morning.
Potential volunteer activities include:
Sorting unmarketable (yet safe and nutritious) surplus grocery items;
Repacking donated food products into cases to be distributed to member agencies and the needy families they serve;
Stuffing back packs with ready-to-eat meals and snacks for school children at risk of hunger to help needy families bridge the gaps over weekends and holidays and until access to federal breakfast and lunch programs resumes; and
Traveling with the Second Harvest Mobile Pantry to deliver food directly to needy families in their communities.
Cash contributions also will be accepted at Second Harvest donation stations set up in the registration area of the Annual Meeting & Food Expo and at the Networking Reception.
The need is great. A 2007 U.S. Census Bureau survey calculated the Louisiana poverty rate at 19.2%, with more than half (54%) of this population residing in the area served by Second Harvest Food Bank of Greater New Orleans and Acadiana. One of every four persons living in poverty in this area is a child.
"In addition to the already unprecedented need for assistance in the hurricane-affected regions of Louisiana, a spike in need has recently occurred as federally sponsored disaster relief locations and shelters have closed and brought another wave of evacuees back to their home areas of the state," said Natalie Jayroe, President and CEO of the local Second Harvest food bank.
"To serve this population of clients, the food bank needs to maintain a monthly distribution rate of between 3 and 4 million pounds of product over the next five years, serving at least 50,000 people a month," she added.
--- PAGE BREAK ---
Biotechnology Division Marks 25th Anniversary
Biotechnology, as it relates to food and agriculture, has the potential to deliver enormous benefits on a global scale and has resulted in major developments in genetically modified crops and livestock selection and breeding. In response to the remarkable advances in the 1970s in genetics, molecular biology, and bioprocessing, members of IFT in 1983 formed the Biotechnology Division.
Thus, at the 2008 IFT Annual Meeting, a special symposium will be held on Monday afternoon to celebrate the 25th anniversary of the Biotechnology Division. At this symposium, an overview of the history, evolution, and future of food biotechnology will be presented by Dallas Hoover, one of the division's founding members. This will be followed by the Divisional Lecture delivered by Roger Beachy, a leading authority in the field of biotechnology. Since the introduction of genetically modified (GM) food crops in 1995, more than a billion total acres of GM soybeans, maize, cotton, canola, papaya, and squash have been harvested and consumed. It is estimated that more than a trillion meals containing GM products have been eaten, all with a remarkable history of safety.
Beachy's presentation will discuss examples of new GM crops being developed, and challenges for adoption of food crops with enhanced nutrition, drought tolerance, and disease resistance.
Beachy is the founding President of the Donald Danforth Plant Science Center and is responsible for setting its scientific mission. He is recognized for his work in molecular virology, gene expression, and, in particular, for development of transgenic plants that are resistant to virus infection and of a chemical gene-switching system for use in plants.
Roger Beachy will share his expertise at the Biotechnology Division symposium.
---
Fitness for a Cause
It's fun, it's good for you, and it supports the IFT Student Association and IFT Foundation. It's the annual 5K Fun Run, which kicks off at 6:30 a.m. Monday in New Orleans' beautiful Audubon Park.
If you'd like to run - or walk a mile - for this worthwhile cause, the advance registration fee is $15 for students, $25 for all others. On-site registration is $30. Pledge forms are available, too. For more information, contact Elizabeth Plummer at [email protected].
Participants in last year's Fun Run raised more than $45,000 for the IFT Foundation's Scholarship Fund.
---
Registration Information
To register, or for more information on the Annual Meeting & Food Expo program, visit
www.ift.org/IFT08
.