The Food Packaging Division's 2017 Distinguished Lecturer, Gordon Robertson, author of Food Packaging: Principles & Practice and a food packaging consultant, discussed the role of bio-based polymers derived from food byproducts in enabling more sustainable plastic packaging. "In a world of finite resources, the use of nonrenewable fossil oil and gas for plastic packaging is clearly unsustainable, leading to increasing interest in renewable bio-based resources for plastics. While much attention has been given to biodegradable thermoplastic starch and polylactic acid [PLA] as possible replacements, these polymers are not sustainable because converting a solid material to a gas via biodegradation or composting cannot be viewed as sustainable," Robertson declared. "Bio-polyethylene and bio-polyethylene terephthalate account for over 80% of current commercial bio-based plastic food packaging. It is much better to recycle the material or recover the feedstock energy. While reducing environmental impacts of packaging should continue, the move to bio-based but not biodegradable packaging will continue with two new polymers with great barrier properties leading the way: polyethylene furanoate and polytrimethylene furandicarboxylate." Clearly bio-based polymers that are recyclable and reusable are more sustainable than degradable polymers.
Nanotechnology with antimicrobial abilities has the potential to reduce food waste from farm to retailer as well as from retailer to consumer and thus addresses reducing food waste in the entire value chain. During the session "Nano-Enabled Packaging to Increase Food Safety and Decrease Food Waste," Tony Jin of the U.S. Dept. of Agriculture's Agricultural Research Service described the effectiveness of nanodispersions of zinc and magnesium oxides and titanium dioxide within packaging to reduce microbial activity. Hongda Chen of the U.S. Dept. of Agriculture's National Institute of Food and Agriculture addressed the social aspect of nanotechnology as applied to packaging. And Umet Yucel of Kansas State University discussed his research team's work on the role of homogeneous dispersions within nanopackaging applications.
"The latest development in active packaging can effectively reduce the need for food additives and preservatives without compromising product shelf life and freshness," said Sunil Mangalassary of California State University, Los Angeles, during the session "Active Packaging to Enable Clean Labeling." Walter Stockley of Sealed Air Corp. highlighted modified atmosphere packaging, Mangalassary reviewed antimicrobials, and John Solomon of Clariant Corp. discussed oxygen absorbers as packaging solutions.
Poster Competition
During a poster presentation, PhD candidate Zhuangsheng (Jason) Lin examined the efficacy of technologies in reducing spoilage due to oxidation. "A key starting point for innovation in food packaging is the research that is being conducted by our talented student members. IFT division poster competitions give top students the chance to share their research and network with leading industry professionals," explained Maxine Roman of Kraft-Heinz. Winners of the Food Packaging Division's poster competition are as follows: 1st place, Ziynet Boz, University of Florida; 2nd place, Yupeng Gao, Louisiana State University; and 3rd place, Zhuangsheng (Jason) Lin, Cornell University.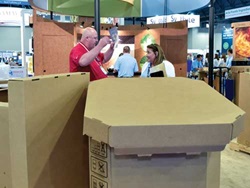 On the Exhibit Floor
Skypac Solutions, Xiamen, China (skypacsolutions.com), highlighted its ability to offer customers the capability of printing 10 colors on rollstock and on premade doy, flat bottom, spouted, and retort and resealable pouches. For larger scale packaging, SpaceKraft and ReadyFill by International Paper, Indianapolis, Ind. (internationalpaper.com), are recyclable alternatives to drums and bottle-in-cage systems. Representatives explained these innovations to steady traffic. CHEP Pallecon Solutions, Livonia, Mich. (cheppallecon.com), discussed how sustainability and cost savings goals can be met with its processes for container tracking and management.
Food Packaging Division
The 2017 Riester-Davis-Brody award was presented to E. Jeffery Rhodehamel of Clemson University. Rhodehamel provided the following advice to recent graduates starting a career in packaging: "Do not limit yourself. There are boundless opportunities in packaging. There is also real value in diving into a specific area of packaging like food packaging because of the depth of opportunities Continuing to focus on any specific area brings innovation in research and the industry." Rhodehamel considers packaging to be a major solution to reducing food waste. "As we look deeper into packaging sustainability beyond light weighting and alternative materials, the analysis shows that the carbon footprint of food waste is often more than the packaging. This requires a complex conversation with consumers, brand owners, and researchers to ensure packaging can better protect our food supply," Rhodehamel added.
Claire Koelsch Sand, PhD, is contributing editor to Food Technology magazine ([email protected])