In this edition of New Product Explorations, we look at what was trending at this year's Sweets & Snacks Show and share some tips for gluten-free baking from cookie company Cheryl's.
What's Trending in Sweets and Snacks
This year's Sweets & Snacks Show marked the 20th anniversary of the National Confectioners Assoc.'s (NCA) signature event, welcoming 810 exhibitors—a 30% increase from 2015. While candy has always been a key part of the annual event, its focus has increasingly shifted toward a fairly equal split between sweets and snacks companies, according to Susan Whiteside, vice-president of public relations and marketing communications for the NCA.
This makes sense, as snacking has become a routine part of many consumers' daily diets, often standing in for "real" meals and helping them pack in the protein they desire. It makes sense too that consumers may be thinking of candy as an occasional treat, especially in light of today's concerns over added sugars and obesity. To help deliver the information consumers want to make informed decisions about these treats, the NCA announced a new initiative by some major chocolate and candy companies to provide transparency about their products. Under the initiative, Mars Chocolate, Nestlé USA, Ferrero, Lindt, Ghirardelli, Russell Stover, and Ferrara Candy Co. pledged their commitment that 90% of their products will have front-of-pack calorie labels and half of individually wrapped products will contain 200 calories or less per pack. Take a look at the slideshow above to explore some sweets and snacks that are also focusing on health, and read on for a look at some of the other trends on display at the show.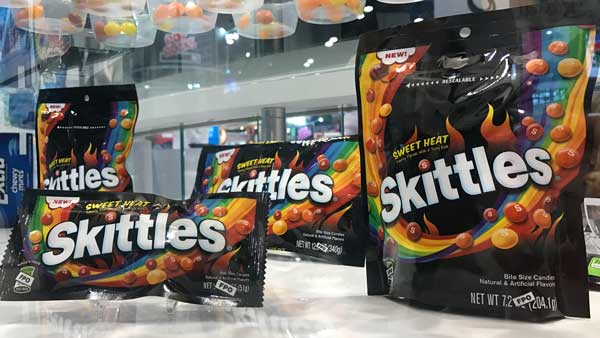 Sweet + Spicy
Sweet heat was a recurring theme at the show, as Whiteside predicted it would be. Nerds new Lucha Grande! "duel" flavor packs include a Mango Chile flavor, while Jolly Rancher showed its Jolly Rancher Hotties candies in flavors such as Blue Raspberry Sriracha and Cherry Habanero. Wrigley's Skittles brand released its Sweet Heat flavor, which the company says provides "fruity flavors with a spicy kick." Fruit chews Starburst are also available in this flavor, and the company says spicy has become mainstream across the United States in recent years.
On the snacks side, Hawaiian Host showcased its Mauna Loa Honey Sriracha and Mango Chipotle macadamia nuts, and Country Archer sampled its Sweet Jalapeño and Mango Habanero beef jerkies. Dear North offers its Alaskan Salmon Bites in a hot pepper and honey flavor, while Little Bird Kitchen's A Handful of Hot & Sweet trail mixes contain the company's Fire Bites Spicy Chocolate alongside savory ingredients like peanuts and sunflower seeds.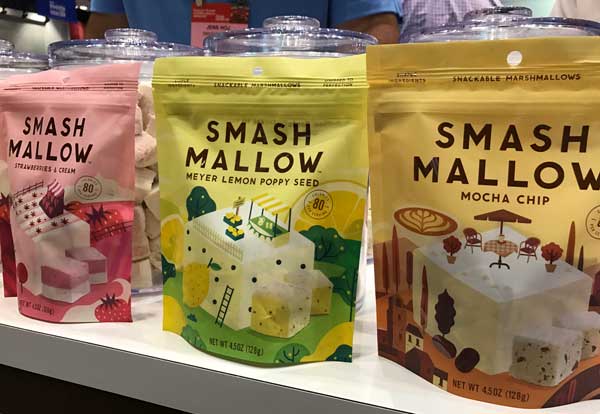 Totally Textured
While many sweets and snacks are naturally crunchy, Whiteside says that many products on this year's floor combined crunchy, chewy, soft, and creamy in new ways. Ferrara Candy Co.'s Trolli Sour Gummi Crunchers combine a gummy center with a sour hard shell, while Now and Later Shell-Shocked add a crunchy candy coating around a chewy Now and Later. Sixlets Jawbreakers pair a fruit-flavored hard candy with a chocolatey center, and Jolly Rancher Triple Pop proclaims itself chewy, crunchy, and sour.
In the world of chocolate, Hershey's Cookie Layer Crunch bars combine cookie bits and a creamy element with a chocolate coating, while its Reese's Stuffed with Crunchy Cookie adds cookie pieces to the classic peanut butter cup; this treat follows in the footsteps of last year's introduction of a cup studded with Reese's Pieces. Even marshmallows have texture; SmashMallow snacking marshmallows come in several flavors with crunch, including Meyer Lemon Poppy Seed and Mocha Chip.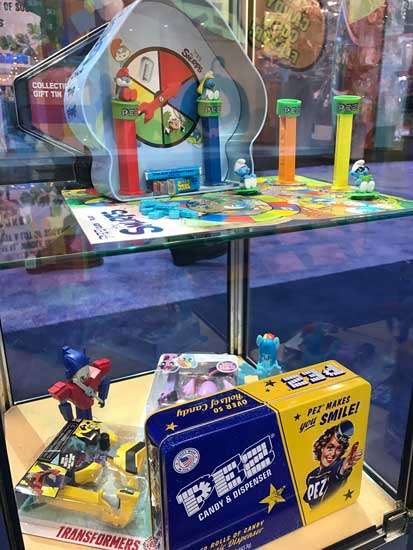 Rad Retro
Many people fondly remember the treats of their childhood, and several companies played on nostalgia to bring back some snacks from the past. PEZ showed a retro-styled game set that uses PEZ tablets as its pieces, while Jelly Belly announced that its BeanBoozled Throwback Edition brings discontinued flavors out of retirement. Ethel M Chocolates—a brand of Mars Chocolates whose name references the founder's mother—says it is rereleasing the original Mars Bar, as well as a nougat-filled bar called Forever Yours that's similar to a Milky Way.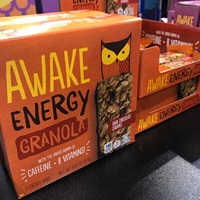 A Jolt of Energy
Consumers love pairing coffee with chocolate, but some products are letting them cut out the middleman when they're looking for their caffeine boost. Wild Ophelia's Cold Brew Chocolate Coffee Bites feature on-trend cold-brew coffee filling inside a chocolate coating and contain the caffeine of about half a cup of coffee. Awake Caffeinated Chocolate bars contain about one full cup, and its Energy Granola contains caffeine as well as B vitamins. Java Me Up's Coffee Bars also contain half a cup, and these snack bars pair organic shade-grown coffee with toasted whole grains and crunchy seeds. Get Up and Go also turned to a snack application for its caffeine treat, offering Energy Shot Cookies and Energy Shot Muffin Tops that draw on green coffee bean extract.