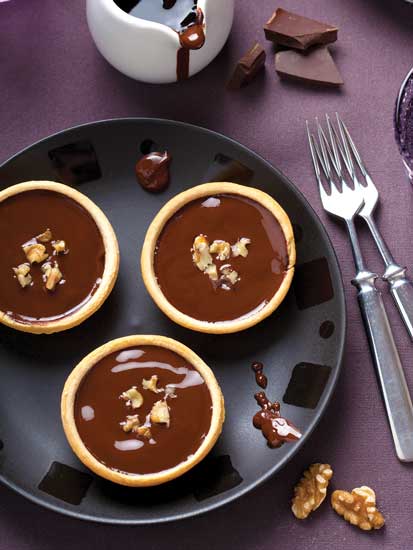 Controlling ganache texture
Understanding how ganache functions as a system and how differences in chocolate composition affect its textural and rheological properties may allow for greater control over the final product. A study in the Journal of Food Science examined ganache formulations that varied in dairy source (cream or butter) or solid fat content (SFC), and composition or type of chocolate. Melting temperatures for all ganache formulations were lower than for chocolate, indicating that cream milk fat globules rupture during processing and mix with cocoa butter.
Altering the SFC of chocolate affected ganache hardness, spreadability, melting enthalpy, and resistance to deformation. Chocolate systems made with constant fat content and greater amounts of defatted cocoa powder relative to sugar or nonfat milk powder yielded ganache that was harder, less spreadable, and more resistant to deformation. Ganache made with commercially produced dark, milk, and white chocolates behaved similarly to model chocolate systems.
Ganache attributes are affected by chocolate crystalline fat content, in addition to particle phase volume—greater levels of cocoa powder, which is mostly insoluble, strengthens ganache structure, producing a firmer product, whereas greater levels of milk powder and sugar, which dissolve in the aqueous cream component, produce a softer ganache.
Tracking use of Nutrition Facts
Although Nutrition Facts labeling can help consumers achieve better quality diets, a study published in the Journal of the Academy of Nutrition and Dietetics showed that among a population-based sample of young adults, only about one-third (31.4%) used the labels frequently.
Use was significantly higher for women, participants with high education and income, and among those who prepared food regularly. Individuals who were physically active, overweight, or who were trying to lose, gain, or maintain weight also used the labels more often.
Among the label components most frequently used were sugars (74.1%), total calories (72.9%), serving size (67.9%), and the ingredient list (65.8%). Compared with nonusers, Nutrition Facts label users consumed significantly more fruits, vegetables, and whole grains, as well as fewer sugar-sweetened beverages. Users also ate more frequently at sit-down restaurants but less frequently at fast-food restaurants compared with nonusers.
The researchers recommended continued study to improve label use, such as leveraging weight- or health-related goals, and meeting consumer preferences concerning label content.
The economics of food waste
About 21% of the American food supply goes to waste, much of which takes place at the consumer level. But the choice to throw out leftovers may be a rational one based on time and food safety, according to a study published by Purdue University researchers in Applied Economic Perspectives and Policy.
In one study scenario, participants were asked what they would do with leftovers from a meal. Respondents were more likely to save leftovers if the meal was cooked at home, if the meal cost $25 per person (as opposed to $8), if there were leftovers enough for a whole meal, and if no future meals were planned.
The results, say study co-author Jayson Lusk, distinguished professor and head of Purdue's Department of Agricultural Economics, show that people are making rational decisions about their time, money, safety, and potential enjoyment of leftovers. For example, a consumer is unlikely to box up and carry home an inexpensive restaurant meal or portions of a meal that don't reheat well, such as french fries.
In the second scenario, participants were asked what they would do with a carton of milk that was one day past expiration. This time, one variable stood out. "Probably the biggest effect we saw was that if the milk smelled a little off, you were much more likely to throw out the milk," Lusk said. However, the results also indicated that "sell by" and "best by" dates can be confusing, and that more education is needed, particularly for consumers who are likely to discard milk even when it smells fine.
One-stop source for food data
The U.S. Department of Agriculture (USDA) is creating a new food data system called USDA FooDS, which will incorporate all USDA foods and nutrient composition databases under one umbrella. The goal is to integrate all food composition data managed by the Beltsville Human Nutrition Research Center Nutrient Data Laboratory. This includes data developed under the National Food and Nutrient Analysis Program, historical data from the USDA National Nutrient Database for Standard Reference, data from the USDA Branded Food Products Database, and expanded basic chemical research data on food composition.
Two other components of USDA FooDS are the Food and Nutrient Database for Dietary Studies and the Food Patterns Equivalents Database. These databases have been the foundation for nutrition guidance initiatives like the Dietary Guidelines for Americans and for development of daily reference intake values by the National Academy of Sciences.
In addition, USDA FooDS will contain data on emerging bioactive components such as flavonoids and isoflavones, plant-derived compounds that are potentially associated with decreased risk of cancer and cardiovascular and inflammatory diseases.
"Connections to other websites that may provide additional related information are planned," says Nutrient Data Laboratory research leader Pamela Pehrsson. "We are striving for USDA FooDS to be integrated, automated, and much more valuable to the user."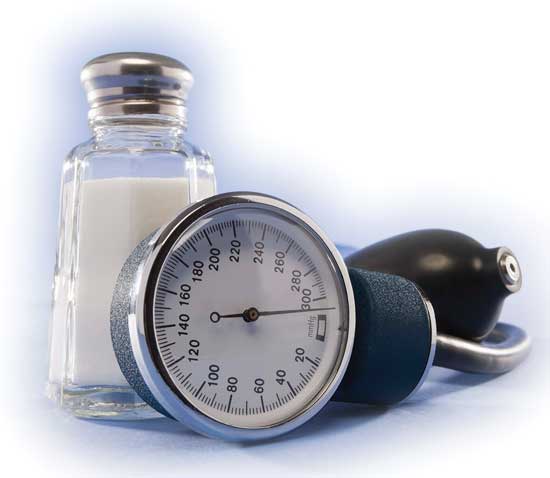 High salt intake raises blood pressure
A healthy diet may not offset the effects of high salt intake on blood pressure, suggests a new study. The research, published in the journal Hypertension, showed that people eating higher amounts of salt had higher blood pressure—no matter how healthy a person's overall diet.
The team studied data from the diets of 4,680 people, aged 40–59, from the United States, United Kingdom, Japan, and China. The volunteers were tracked over four days, and two urine samples were taken during this time. The researchers found a correlation between high blood pressure and higher salt intake, even in people consuming a high amount of potassium and other nutrients.
Previously, experts believed that eating high amounts of fruit and vegetables might counteract the effect of high salt. While these foods tend to lower blood pressure, the new research suggests they do not counteract the adverse influence of salt.
Queenie Chan, joint lead author of the research from the School of Public Health at Imperial College London, said, "We currently have a global epidemic of high salt intake—and high blood pressure. This research shows there are no cheats when it comes to reducing blood pressure. Having a low salt diet is key—even if your diet is otherwise healthy and balanced." She added, "As a large amount of the salt in our diet comes from processed food, we are urging food manufacturers to take steps to reduce salt in their products."
---
News Bites
• Blue Diamond announced the launch of its 100% pure, premium almond oil for the food ingredients market.
• Bunge has completed its acquisition of a 70% ownership interest in Loders from IOI Corporation Berhad. The acquisition establishes Bunge as a global leader in business-to-business oil solutions with expanded value-added capabilities.
• Chef Anthony Russo's artisanal pizzas are now available exclusively at Fairway Market locations in New York.
• Church & Dwight, the parent company of Arm & Hammer Animal and Food Production, has acquired Passport Food Safety Solutions, a leading provider of a systems approach to help meat and poultry processors address food safety standards.
• The DuPont Nutrition & Health Microbiome Venture announced a strategic research and development partnership with the Center of Food and Fermentation Technologies in Tallinn, Estonia, that will focus on developing cultivation and bioprocess capabilities for next-generation probiotics.
• DSM and digital health company Mixfit have announced a strategic partnership to deliver personalized nutrition solutions that provide individuals with the nutrients they need for optimal health based on a comprehensive set of health and activity measurements.
• Firmenich has opened a new Culinary Discovery Center in Bangkok, Thailand, to serve as the group's hub for Southeast Asia.
• Flagship Food Group, the maker of 505 Southwestern sauces, salsas, and snacks, has acquired certain assets of Es Mi Tiempo, owner of the Select New Mexico brand of premium green chile food products, from the state of New Mexico.
• HelloFresh has acquired Green Chef, the USDA-certified organic meal kit company.
• Hershey announced plans to invest $60 million to expand its chocolate production complex at Humboldt Industrial Park in Hazleton, Pa.
• Kraft Heinz has launched Springboard, a platform that will focus on supporting and developing brands that make healthy, organic, and experiential products.
• Nellson Nutraceutical announced the opening of its new, 300,000-square-foot nutrition bar manufacturing plant in Ontario, Calif.
• Nestlé Canada plans to make an investment of $51.5 million to increase production capabilities at its London ice cream factory, which supplies all of Canada with brands like Häagen-Dazs, Parlour, and Drumstick.
• Nestlé Waters North America announced that its Cabazon and Los Angeles, Calif., factories have received certification against the rigorous Alliance for Water Stewardship Standard, with the Cabazon facility achieving Gold certification—the first facility in North America to do so.
• Stauber USA, distributor of ingredients and solutions to the nutritional, food, pharmaceutical, cosmetic, and pet care industries, has entered into a strategic partnership with CoreFX Ingredients, manufacturers of custom dry dairy, cheese, and lipid ingredient solutions.
• Unilever will locate its global headquarters in Rotterdam, joining its Food & Refreshment Division, which is already based in the Dutch city.

Margaret Malochleb,
Associate Editor
[email protected]