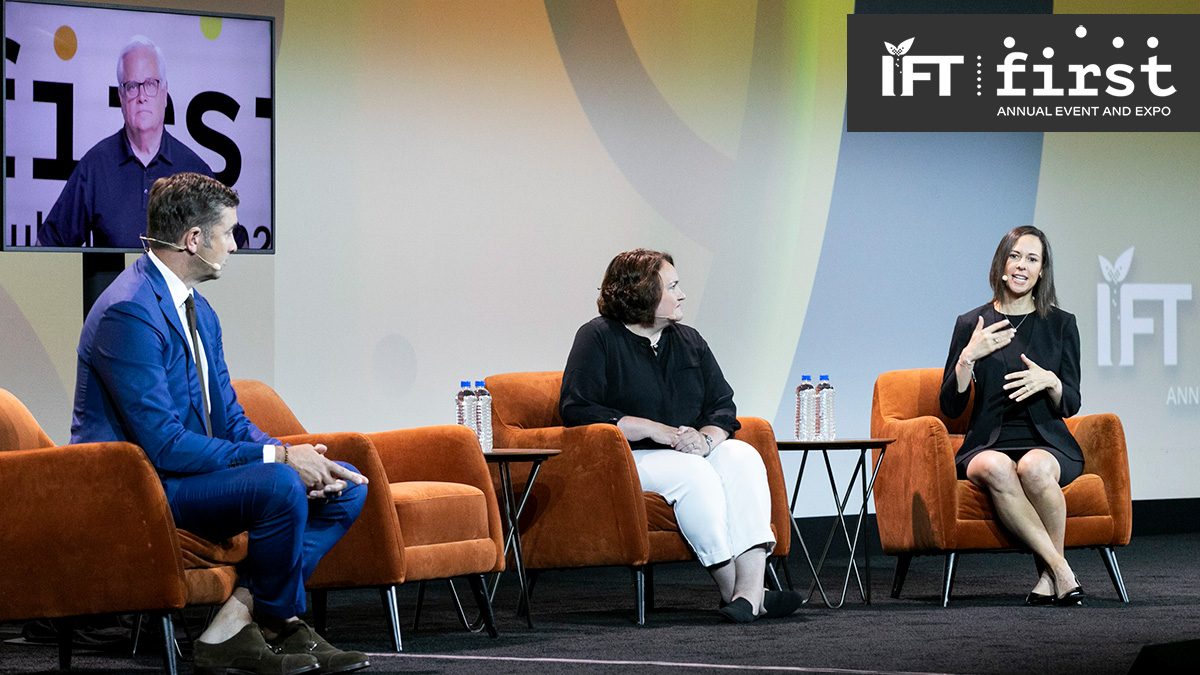 "Risk management from a food safety perspective needs to be much more connected in this day and age with the supply chain challenges that we are seeing," said Sean Leighton, global vice president of food safety, quality and regulatory affairs at Cargill, moderator of the "Recalls, Outbreak Response: The Current Food Safety Landscape, Trends and Future" featured session at IFT FIRST on July 12.
While retailers and manufacturers have significantly improved food safety programs, supply chain and transportation issues caused by COVID-19 are creating risks, panelists told attendees.
Food safety risk assessment, management, and communication by itself is not enough, Leighton said. "We are seeing incredible shifts in supply due to the COVID pandemic, but also due to this war in Eastern Europe. We are being asked to source from locations that present different and new risks. Price volatility actually represents some risks," he noted.
Supply chain is the biggest concern going forward, agreed Stacey Popham, vice president of quality, food safety, and regulatory, Americas at Barry Callebaut.
Food fraud is an issue due to these challenges, so a risk assessment approach needs to be inclusive—biological, physical, food fraud, and others, Popham noted.
Knowing your suppliers is also essential in risk management, according to Popham. "A piece of paper like a third-party audit or a certification or documentation sent from a supplier is not going to be enough to identify and protect potential high-risk ingredients," said Popham. "You need to be in the factories—yours and [your] suppliers. It is the boots on the ground that identify and stop the issues."
"It is knowing your supplier," agreed Hilary Thesmar, chief science officer and senior vice president of food safety programs, at Food Marketing Institute.
"It's things as simple as not letting stores source on their own, having corporate programs for supplier approval, and making sure there is a vetting process. Is there a magic system that works? No. I think all of the industry is learning this," Thesmar stressed.
Retailers carry a huge amount of risk, particularly in the fresh meat, seafood, and produce departments, because the "foods that are healthiest for us are also great vectors for bacterial growth because they have a lot of nutrients," explained Thesmar.
Establishing relationships between manufacturers and the supply chain is a priority, "but then you let the lawyers get involved," cautioned Bill Marler, managing partner & owner at Marler Clark LLP.
Companies often rely on indemnity agreements and contracts between themselves and their suppliers as a "safe haven," Marler said. "If there is a problem, that problem is going to wind up on your lap anyway. So sometimes, relying too much on the lawyers to get you out of the problem takes you away from the things that really need to drive food safety, which is relationships between the whole supply chain."
According to Thesmar, manufacturers and retailers have made incredible strides in food safety and recalls, with less than 10% of recalls having illnesses associated with them. Retailers' strong food safety policies and procedures have led to that overall improvement, she noted.
However, to take food safety to the next level, Thesmar said there needs to be better communication between agencies and from the agencies to retailers, communication to the supply chain, and communication to customers.