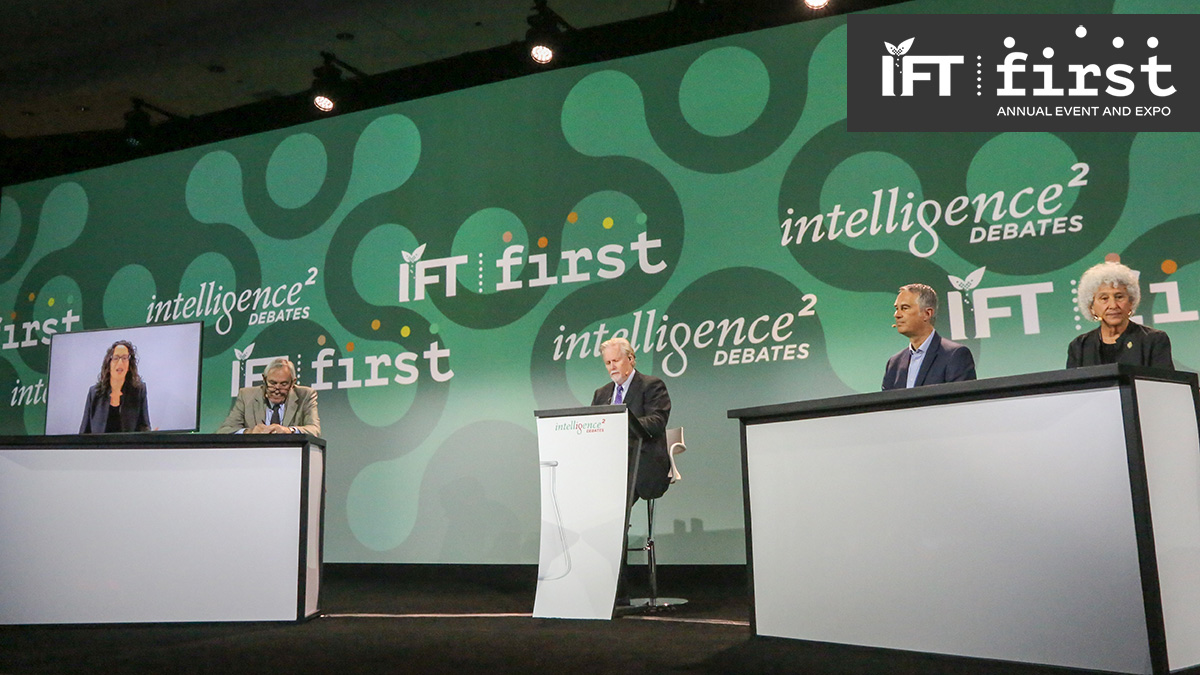 Day one of IFT FIRST got off to an invigorating start with a performance by Walt Whitman and the Soul Children of Chicago, followed by a riveting keynote debate around the topic of processed foods. The question: Should we eat more processed foods? Organized by IFT and Intelligence Squared, a media company that conducts live debates, the session featured two industry experts arguing each side of the debate.
On the pro-processed foods side, Amy Webb, CEO of Future Today Institute, and Michael Gibney, emeritus professor of Food and Health at University College Dublin, presented an argument that as climate change, political upheavals, and supply chain woes escalate, the world will need more processed foods to ensure a safe and accessible food supply. Arguing that society needs to eat less processed foods due to the increasing rates of obesity and related health ailments and the link to consumption of highly processed foods was Marion Nestle (pictured below), Paulette Goddard professor of Nutrition, Food Studies and Public Health, Emerita at New York University, and Kevin Hall, senior investigator at the National Institute of Diabetes & Digestive & Kidney Diseases at National Institutes of Health.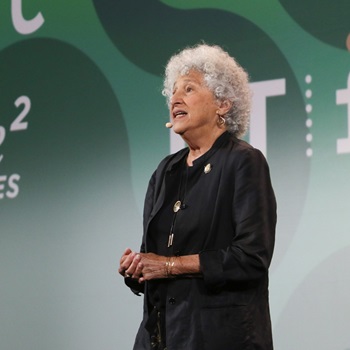 Moderated by John Donvan, author and correspondent at ABC News, the debate took shape in three rounds—opening statements, a round in which the debaters addressed each other directly and took questions from the moderator, and closing statements.
Webb kicked off the debate with her opening statement cautioning against an overreliance on labels, explaining that they "obscure nuance," which she says is required to think critically about issues like processed foods. She offered the example of a nutritionally dense whole grain bread that is, by NOVA's classification system, deemed "ultra-processed," but offers more nutritional benefits than "minimally processed" homemade brioche.
NOVA's classification system classifies all foods into four groups according to their level of industrial processing—from unprocessed or minimally processed to ultra-processed. The system itself has been hotly debated in the industry and that undercurrent of contention was present throughout the debate.
Ultra-processed food is "the most important nutrition concept to come along since vitamins," said Nestle in her opening statement. Citing U.S. Centers of Disease Control and Prevention (CDC) statistics that 74% of Americans are overweight or obese, Nestle posited that it aligns with the increase in availability of processed foods beginning in the 1980s. Since then, she claims, the number of calories in the U.S. food supply has gone from about 3,000 calories/day to 4,000 calories/day per person. According to Nestle, numerous studies conducted since 2009 (when the NOVA classification system was first proposed) have revealed a close association between obesity and consumption of ultra-processed foods. "A major public health priority is to reduce consumption of ultra-processed foods," said Nestle.
Arguing that food processing has resulted in the reduction of major health issues, Gibney offered the example of foods (like cereal) fortified with folic acid, which have reduced the incidence of spina bifida by 50%. In addition, Gibney (pictured below) believes that the "future will demand plant-based foods more and more," most of which are considered ultra-processed.
Hall's arguments for consuming less processed foods centered around an experiment he conducted with 20 men and women, who were on a diet of ultra-processed foods for two weeks and then a diet consisting of no foods deemed ultra-processed for two weeks. Notably, the nutrients of concern were the same in both diets. He found that when the group was on the ultra-processed food diet, they ate an average of 500 more calories/day than when they followed the diet with no ultra-processed foods. The question, said Hall, becomes what is the mechanism that makes people consume more of these foods? He continues to conduct studies to work to reveal that mechanism and recognizes that it will take years to get to the heart of the problem.
While Hall sees the need to reduce our consumption of ultra-processed foods, he acknowledged that he doesn't see ultra-processed foods as all bad. "We need ultra-processed foods," he said. "But we don't need to eat them more." He understands that processing has led to the creation of nutritionally beneficial food products but sees the unintended consequences as significantly detrimental. For example, Hall said that with all the calories available, we have wasted more food than we have consumed.
Prior to the debate, attendees were asked to submit their response to the debate question: "Should we eat more processed foods?" At the conclusion of the debate the audience was polled again to see if opinions had shifted. While the same percentage (52%) of the audience responded "yes" both before and after the session, the number of "no's" went from 28% to 33%, with the remainder voting undecided.
Donvan may have said it best at the end of the debate summarizing that the pro side seemed to be arguing for more "good processed foods" while the con side seemed to be pushing for less "bad processed foods." Perhaps the two sides of the processed food debate aren't that far apart after all.