PepsiCo, Inc. used Denver as a test market in 1998 for Storm, a new caffeinated lemon-lime soft drink. Light Storm, a zero-calorie version, hit Denver retail outlets, a year later. The testing included in-store product sampling, coupons for free two-liter bottles, and special television and radio advertising. Unfortunately, Denver was about the only place Storm sold well, and the brand eventually was pulled.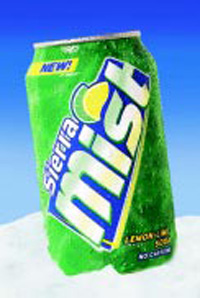 In October of this year, Pepsi announced that it would try again with Sierra Mist, a new lemon-lime soft drink without caffeine that it hopes will compete effectively against 7-Up and Sprite in the $6.5-billion flavor segment. But this time, right before Halloween, the company went directly to national distribution with the product.
This shift in strategy is not unique to Pepsi. An increasing number of food processors are skipping lengthy local test markets in favor of fast regional and national rollouts.
"If you keep a product in test market for two to three years, it's almost impossible to keep your competitors from finding out," states Constance Maneatey, a Bear, Stearns analyst covering consumer product companies. This gives the competition a strategic advantage in launching countermeasures that may include alternative products, promotions, or targeted advertising—often aimed at skewing test market results.
"Data mining" is one technique that enables processors to accelerate new product development and launch. This technique uses scanned data, correlating product tracking and frequent shoppers from the retail level, and consumer data from the processor level gleaned from both conventional research and Internet-based tracking. This information allows product marketers to form more precise consumer profiles for both new and existing products. Companies such as Procter & Gamble are using the Internet to conduct new-product and line-extension research. Samples are mailed to demographically targeted consumers, or storyboards are posted on password-secure Web sites. Feedback is collected via e-mail.
Grocery shopping on the Internet also has opened up new possibilities and challenges for product testing. Internet grocers such as Webvan Group, Inc., allow time-starved consumers to place orders on the Internet and receive deliveries at preset times.
"While online grocery shopping accounts for just a fraction of total grocery sales right now, the sheer number of players getting into this arena is an indication that many consumers are interested in a vastly different shopping experience," explains Manly Molpus, president of the Grocery Manufacturers of America.. "As an industry, we need to be especially in tune with both younger shoppers, who use the Internet for just about everything, to aging baby boomers, who will turn more and more to the convenience of the Internet as traditional shopping becomes more burdensome."
On-line shoppers never enter the supermarket, so conventional sampling and data collection isn't possible. In its place are new Internet methods of presenting virtual samples, coupons, and trial incentives.
"Technology advances such as data mining and sales via the Internet may open the door to a new understanding of how consumers want to shop—not simply how we think they should shop," states Molpus. A study entitled "Data Mining for Precision Consumer Marketing," released by GMA earlier this year, examined how frequent-shopper data can be analyzed to pinpoint annual brand sales and gross margins and improve new-product-launch results. The study contained the following insights: • Most company brand managers were surprised by the low percentage of 100%-loyal consumers and by the large percentage of category-buying households who had never tried their product. • Diverse types of shopping-behavior attributes for specific consumer segments can be tracked over time and utilized for more-effective marketing programs. • Marketing directly to specific households based on consumer product and promotion preferences is a viable addition to grocery manufacturer and retailer strategies. • Mass marketing might not be as cost effective when calculated utilizing actual household market potential in place of the number of households exposed, leading to more-effective trade spending. • An efficient data mining partnership between manufacturers and retailers of any size could cover initial project costs and begin generating a net return on investment in the second to fourth year of a partnership. • For many brands, about 70% of sales revenue comes from about 30% of category buyers. • Traditional marketing and sales performance measures must be refined as organizations become increasingly consumer-centric in their strategies. Refining may replace traditional test marketing, which involves targeted distribution of a product in an area based on key demographics, with virtual test marketing, where the communities are cobbled together via the Internet. This saves time and money and can keep a new product off competitive radar screens. 
According to a recent report from Andersen Consulting LLP, "It is becoming simpler and more cost-effective to obtain information about consumers. Entering food markets has never been easier—new companies may begin competing with only virtual channels for sourcing, making, moving, promoting, selling, and servicing goods. For traditional consumer products companies, keeping up requires rapidly addressing changing supply and demand opportunities and threats within the constraints of existing technology, processes, and organizations." 
by PIERCE HOLLINGSWORTH
Contributing Editor