Because of the vast majority of exhibits relating to ingredients at the IFT Food Expo, many people consider it an ingredients show, but that's not actually the case.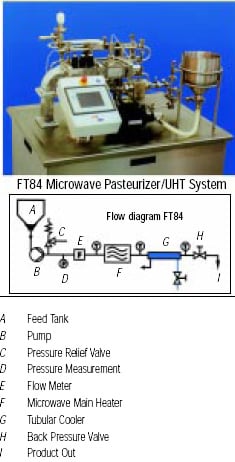 There are a number of other types of exhibits, including processing, packaging, instrumentation, and various services. Here are some brief descriptions of some of the processing and services items exhibited at this year's IFT Food Expo.
New miniature-scale microwave introduced. Armfield Limited, Ringwood, Hampshire, United Kingdom (phone +44[0]1425-478781), provider of miniature-scale R&D equipment for the food and pharmaceuticals industries, showcased a miniature-scale microwave UHT/HTST unit which can raise product temperature from ambient to 140°C in under a second. The 6,000-Watt microwave, called the FT84, is intended for very rapid heating of small quantities (0-20 liters per hour) of viscous, non-viscous, an even non-homogeneous products. Typical applications include baby foods, pâté, pasta, puddings, custard, sauces, soups, pharmaceuticals, gelatin, and milk, among others. Product temperatures up to 160°C can be reached with some products capable of rising from ambient to 14°C in less than one second. (photo at left).
New division and facilities for freeze-drying equipment company. Freeze-drying equipment supplier Atlas-Stord Denmark A/S, Rødovre, Denmark (phone +45-70-27-13-14) announced the establishment of the Atlas Food Division, which was established to strengthen the company's activities and increase its competitiveness while still maintaining high product quality from manufacture to final assembly and test. The division has a new facility which was is technologically state of the art.
Company showcases new in-line process viscometer. Brookfield Engineering Laboratories, Inc., Middleboro, Mass. (Phone 508-946-6200) introduced its new and improved STT–100 in-line process viscometer. The viscometer has a unique chamber design which allows rapid cleaning in place while permitting maximum throughput during normal operation. It can be used in various processing applications in the food and dairy industry, including for chocolates, tomato juices, concentrates, and other free-flowing products that require an easy-clean design. It allows continuous in-line measurement and control of viscosity, which helps ensure proper flow characteristics before the product is packaged.
New high-speed knife blender displayed. Cole-Parmer Instrument Co., Vernon Hills, Ill. (Phone 888-409-FOOD) introduced its new High-Speed Knife Blender (model 04183-00) from German manufacturer Retsch, which specializes in sieving and milling technology. More powerful than a blender, yet not quite a mill, these high-speed processors feature a heavy-duty industrial dual motor and special knife-cutting system that guarantee complete homogeneity of a wide variety of sample types—from dry materials to samples containing water, fats, and oils. Ideal for food applications where a standard blender just won't do. Available in a dual-speed standard knife blender or a variable-speed programmable model.
Canning company develops new safety feature. Can packaging and processing equipment supplier Dixie Canner Co., Athens, Ga. (phone 706-549-1914) showcased a new safety feature it developed for its seamers. The new safety operating system incorporates double-hand switches that must be simultaneously depressed to activate the seamer. The updated safety feature does not compromise the ease of operation.
--- PAGE BREAK ---
New small-scale spray dryer displayed. Liquid and powder processing equipment development and engineering company GEA Niro Inc., Columbia, Md. (www.niroinc.com) introduced its SDMicro™ Spray Dryer. The spray dryer helps pharmaceutical or chemical companies evaluate spray drying during the early stages of product development. It is a fully functional spray drying plant in very small scale (3.4-6.7 oz or 100-200 ml). It features a high-efficiency cyclone and bag filter, as well as two-fluid nozzle atomization.
Company showcases newly patented evaporator. MCD Technologies Inc., Tacoma, Wash. (253-476-0968) showcased its newly patented Refractance Window Model 1 Evaporator. It provides a better, gentler, and more natural way to concentrate sensitive products. Operating at low temperature and at atmospheric pressure rather than in a vacuum, the evaporator keeps product flavor locked within the product. Other results include superior color, flavor, aroma, and nutrient retention.
Company introduces new CPC purification technology. POS Pilot Plant Corp., Saskatchewan, Canada (phone 306-978-2800) highlighted its new Centrifugal Partitioning Chromatography (CPC) purification technology. The technology allows processors to create ultra-pure compounds from natural products. The technique allows researchers to develop innovative compounds. It can create purified materials that cannot be produced with other methods and achieves higher levels of purification than previously possible.
New versatile sanitation system showcased. Sanitation systems supplier Sanitech Corp., Springfield, Va. (703-569-8174) highlighted its new Sanitech Mark-III system. The Mark Series sanitation systems are engineered to de-grease and sanitize production equipment and general plant areas. The machines do not use chemicals; instead, they combine pressure and temperature into a wet steam that melts grease and oils thermally, rather than chemically. All models are portable and simple to operate. The Sanitech Mark-III system is the line's most versatile model. It produces a 1,000-PSI of wet steam pressure at temperatures up to 330° F. The higher wet steam pressure makes it ideal for large retail and wholesale bakeries.
Company introduces new baking soda cleaning system. Independent HACCP and thermal processing authority TechniCAL, New Orleans, La. (phone 504-733-0300) introduced the SodaBlaster Cleaning System. It's a process that uses Baking Soda propelled by compressed air through special blasting machines to remove surface contaminates. Baking soda is water soluble and environmentally safe. It cleans the most delicate surfaces, while protecting the workers.
--- PAGE BREAK ---
New extruder highlighted. Wenger Manufacturing Inc., Sabetha, Kan. (phone 785-284-2133) showcased its new TX Magnum II extruder. The machine is re-engineered for higher speeds, increased power, and greater production output rates. It is a fully intermeshing, self-wiping twin screw extruder that delivers cost-saving benefits. It operates at higher speeds than other extruders and has increased power and thrust-load capacity. It is ideally suited for the production of shape-texture and density-sensitive products such as premium petfoods and aquatic feeds, specialty animal feeds, textured vegetable proteins, and starch-based industrial products.
Laboratory now offering GMO detection services. Development services company Covance Laboratories, Vienna, Va. (phone 888-541-LABS) introduced its new genetically modified organisms (GMO) detection services. In addition to the traditional nutritive and residue analyses, Covance is now offering GMO screening services, as well as qualitative and quantitative testing. In addition to GMO detection, the company can conduct the analyses required to confirm that products which contain GMOs meet the nutritional and chemical standards required by regulatory agencies. 
Labeling and product development software updated. ESHA Research, Salem, Ore. (phone 800-659-ESHA) highlighted the new version of its Genesis R&D product formulation and labeling software. The program automates and integrates hundreds of tasks, handling the details of product development through labeling and beyond. It provides the nutritional analysis of any food or combination of foods with instant results.
Company highlights new name, software. The former EuroWare Associates, now Selerant Development and Regulatory Tools, New York, N.Y. (Web www.selerant.com) showcased WinCHEM®, a product development and regulatory software designed specifically for the food, beverage, and flavor industries. The software helps manage complex projects and formulations in order to arrive at optimum results easily. It meets all regulatory requirements for flavor, food, and beverage producers worldwide and can be customized to fit specific needs.
New interactive software links focus groups and product tests. Tragon, Redwood City, Calif. (www.tragon.com) highlighted its marketing research breakthrough, Voice of the Consumer (VOC). VOC is a flexible, interactive bridge between focus groups and product tests. The program is designed to guide product development and marketing prior to largescale testing. It consists of a two-day format in which consumers first assess a specific category from a purely cognitive basis. The cognitive session is followed by a series of sensory tasks designed to determine any unmet needs, potential for increasing product usage, and brand imagery. Tragon is a strategic, decision-making, and implementation partner linking marketing, R&D, and quality control/quality assurance to create products and brands.
by Sara Langen,
Assistant Editor