Sprinkled among the hundreds of flavor, ingredient, and processing equipment exhibitors dispensing samples of luscious foods and beverages at IFT's 2002 Food Expo were several dozen companies displaying packaging materials and technologies. Considering that more than 150 papers and presentations on food packaging attended by 500 or more IFT members were part of the IFT Annual Meeting, the presence of so many innovations on the exhibit floor should come as no surprise.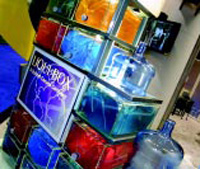 The competition was fierce from the ice cream, cheese, drink, snack, and popcorn samples being thrust into IFT members' hands and mouths. Indirect competition arose from the following week's WorldPak 2002 at Michigan State University, which attracted more than 400 packaging professionals from around the world to participate in more than 190 presentations. But relatively few of the on-campus presentations focused on food, ensuring that IFT retains its title as the top food packaging event on the planet.
Packaging Innovations
Most of the packaging exhibitors at Food Expo targeted their bulk handling structures and systems directly at the host of IFT exhibitors and visitors whose outputs are ultimately large volumes of food components entering production. Too few packaging innovators aimed their developments at the masses of IFT professionals engaged in developing new foods and beverages for consumers or seeking to improve the delivery systems for current products. Not that bulk handling needs to be relegated to a secondary position in the hierarchy of food packaging.
It is, however, time for food packaging suppliers to recognize the singular position of IFT in providing the major forum for food packaging and therefore being a serious venue to reach those who make key decisions on packaging for food and beverage products. Since more than 40% of all food scientists and technologists list themselves as being directly involved in food and beverage product development, and since packaging is an indispensable integral of food product development, IFT's Food Expo should be graced with many more representatives of packaging than currently seen. Hopefully there will be more packaging exhibitors next year.
Meanwhile, here are my observations on the packaging innovations I saw on the exhibit floor near Disneyland.
• Barrier Plastic Trays. CPT-Green Tek offered a range of barrier plastic trays, expanded polystyrene barrier trays, crystallized polyester trays, and flexible laminations developed and manufactured in Israel. A flexible structure for reduced-oxygen packaging for sliced cheese and processed meat is a nine-layer coextrusion. Pizza was shown packaged in a thermoformed semi-rigid barrier plastic tray closed with a peelable resealable film. CPT-Green Tek, 415 E. Fulton, Edgerton, WI 53534 (phone 608-884-2244, www.cptplastics.com).
• Aseptic Pouches. By acquiring bag-in-box systems maker Liqui-Box earlier this year, DuPont Canada expanded its range of offerings from consumer into institutional sizes of systems for aseptic packaging in flexible pouches. Liqui-Box systems employ preformed pouches with injection-molded-plastic filling/dispensing fitments heat sealed to the pouches. Applied for refrigerated and refrigerated extended-shelf-life products, the systems also use barrier pouches presterilized with ionizing radiation to permit aseptic operation. Liqui-Box applications are largely in sizes up to 300 gal for institutional and industrial products.
DuPont's contribution to the mix is aseptic vertical form/fill/seal systems capable of filling sizes from 50 mL to 64 oz—i.e., for both retail and hotel/restaurant/institutional outlets—at rates of up to 60 pouches/min/head. Using 35% hydrogen peroxide at 55º C to achieve sterility of the package material, the systems reach an Fo of 6, making them acceptable for low-acid foods. Among the low-acid fluid products being commercially aseptically packaged on DuPont systems are cheese sauce, sour cream, iced cappuccino, smoothie mix, and nutritional beverages.
The DuPont vertical system is also available for non-aseptic operation and is widely applied for Canada's well-known pasteurized milk pouches as well as for water, syrup and wine. DuPont Pouch Systems, 201 Blair St., Whitby, Ontario L1N5S6, Canada. Liqui-Box Corp., 6350 Worthington-Galena Rd., Worthington, OH 43085 (phone 614-888-9280, fax 614-543-7165, www.liquibox.com). 
• Reusable Aseptic Containers. Global Container Management offers a range of reusable, returnable, aseptic (or non-aseptic) rigid cylindrical steel containers to distribute liquids such as juice, juice concentrates, edible oil, and chocolate. The company owns the containers and controls their logistics throughout distribution. Global Container Management, 2100 Plaza Tower One, Englewood, CO 80111 (phone 800-245-2200, www.microstarlogistics.com).
• Seal Integrity Evaluation. Perceptics Corp., a Northrop Grumman company, has developed SealSafe™, a machine vision system directed at the flange of hermetically sealed plastic and plastic composite containers to detect flawed seals. The on-line system detects product on the flange or in the seal area after the seal has been made. Used commercially for retort trays, and in test for standup flexible pouches, the system is capable of handling up to 150 trays or 350 small cups/min. The system utilizes infrared reflection or stroboscopic visible light reflection to detect deviations in the seal exterior by measuring radiation intensity. Perceptics Corp., 9737 Cogdill Rd., Knoxville, TN 37932 (phone 865-966-9200, www.perceptics.com).
• Sealing Equipment. Dixie Canner Co. demonstrated its versatile low-volume double seamers for hermetically sealing metal tops to rigid metal, composite paperboard, and plastic cans. An important offering for food packaging development technologists is the range of laboratory benchtop and pilot units for research and development programs. In addition, the company offers a line of complementary exhaust boxes, retorts, controls, and instrumentation. Dixie Canner Co., 786 E. Broad St., Athens, GA 30601 (phone 706-549-1914, fax 706-549-0137, www.dixiecanner.com).
Active Packaging
Despite the numerous conferences, trade literature references, and the IFT Food Packaging Div.'s two events during the 2002 IFT Annual Meeting, only three companies exhibited active packaging: Media Info, Mitsubishi, and Multisorb Technologies.
• Antimicrobial Film. Media Info represents Japan's Satsuki for Mustard Power, a wasabi-based natural antibacterial/antifungal incorporated into a label or a flexible film to retard the formation of microorganisms on foods. Although the claim was for no odor from the inclusion, the samples in the booth certainly were highly odorous. Allyl isothiocyanate (AIT) from wasabi, or Japanese horseradish, has been applied commercially in Japan and is being tested in the United States as a package antimicrobial. Media Info, 1850 W. 169th St., #D, Gardena, CA 90247 (phone 310-329-7704, [email protected]).
• Oxygen-Scavenging Film. Mitsubishi Gas Chemical has developed a ferrous iron–containing flexible film suggested for use in standup flexible pouch structures. An organic ascorbic acid oxygen scavenger is another technology for applications in which metal detectors cannot be used. Mitsubishi Gas Chemical America Inc., 520 Madison Ave., New York, NY 10022 (phone 212-752-4620x105, fax 212-758-4012, www.MitsubishiAgeless.com).
• Oxygen-Barrier Resin. Multisorb Technologies showed its MXD6 metxylylene diamine oxygen-barrier nylon plastic resin also applied now with a transition metal catalyst for direct oxygen scavenging in plastic bottles and film structures. Combinations of nylon MXD6 and ferrous iron are being developed to offer synergistic oxygen scavenging. The company also exhibited desiccant-containing sachets intended to control moisture contents at dry levels. Multisorb Technologies, Inc., 325 Harlem Rd., Buffalo, NY 14224 (phone 716-631-4700, fax 770-631-8519, www.multisorb.com).
• Oxygen-Scavenging Sachets. Both Mitsubishi Gas Chemicals and Multisorb Technologies exhibited sachets employing ferrous iron particles. Both companies also offer their oxygen scavengers in label format.
Bulk Containers
Here are some of the bulk containers I mentioned being exhibited this year: I mentioned being exhibited this year:
• Modified-Atmosphere Containers. The 3-ft3, reusable, hermetically sealed, rigid ABS plastic containers are engineered to hold modified atmosphere for fresh fruit and vegetables such as broccoli florets, melons, strawberries, and blueberries during distribution. The containers are filled and evacuated, then back flushed with an appropriate initial gas mixture intended to extend the refrigerated shelf life of the contents. For high respiration contents that are vulnerable to respiratory anaerobiosis, a microperforated membrane placed over a grill allows controlled entry of air. Since they do not have self-contained refrigeration, the containers must be used in a refrigerated environment. The containers are being tested by the military and commercial organizations for fresh produce, and by snack food makers to distribute bulk salty snacks for later packaging. SLX International, Inc., 3453 Empresa Dr., Suite A., San Luis Obispo, CA 93401 (phone 800-883-9121 or 805-541-8356, fax 805-541-8320, www.slxinc.com).
• Returnable Bulk System for Liquids. This unique system has a heated baseboard to reduce the viscosity of the contents for ease of dispensing at the destination. Capable of holding 132–1,000 gal (based on multiples of 55-gal drums), the returnable, reusable units are fabricated from galvanized steel with polyethylene film inner liners. Electrical resistance units in the base permit heating of the contents when required. The majority of applications are for dairies to ship milk products. TNT Container Logistics, Inc., 2605 White Oak Cl., Unit B., Aurora, IL 60504 (phone 800-272-2129 or 630-236-9562, fax 888-730-3199, www.pallecon.com).
• Disposable intermediate bulk container (IBC). The 330-gal, triple-wall Liquiplex® container is fabricated from double-wall corrugated fiberboard and has an internal polyethylene film pouch liner for liquid containment. The octagonal-shaped container is intended to be placed on a standard 40-in x 48-in pallet. Among the applications are honey, molasses, and soy sauce. Longview Fibre Co., 6055 E. Washington Blvd., Suite 318, Los Angeles, CA 90040 (phone 323-725-6150, fax 323-725-6341, www.longfibre.com).
• Knock-Down Container. The EZ-Bulk® 330-gal, octagonal corrugated fiberboard container with polyethylene inner liner is received in knocked-down condition and erected by the packager for filling with liquid contents. Exotainer is the trade name for a flexible plastic IBC for outdoor use. Paper Systems, Inc., 321 S.W. 4th St., P.O. Box 6188, Des Moines, IA 50309 (phone 515-280-1111, fax 515-280-9219, www.papersystems.com).
• Bag-in-Box Bulk IBCs. The 330-gal multiwall-corrugated-fiberboard bulk IBC and all-plastic IBC for liquids were exhibited. Plastic is used instead of wood for the pallet and cap. The six-ply containers often achieve 30 round trips. The company offers equipment to aseptically fill bulk containers and heaters to elevate the temperature of the contents. SpaceKraft, a Weyer-haeuser Business, 2086 Dayron Cl., Marietta, GA 30062 or 4901 W. 79th St., Indianapolis, IN 46268 (phone 800-599-8943, fax 317-871-6993, www.spacekraft.com).
• Collapsible IBCs. Returnable, reusable, collapsible plastic shells contain 330-gal polyethylene liners for liquid contents. The Air-Evac® Starfish™ and Blowfish™ liner systems employ air injection to permit filling or discharge from either top or bottom. A.R. Arena Products, Inc., 2101 Mt. Read Blvd., Rochester, NY 14615 (phone 800-836-2528 or 716-254-2180, fax 716-254-1046, www.arenaproducts.com).
• Flexible IBC for Dry Products. The container, lined with woven polypropylene fiber, is capable of containing up to 8,000 lb of dry contents. Custom fabricated, the containers can be used for powders such as flour, sugar, and creamers. Atlas Bag, 1701 Winthrop Dr., Des Plaines, IL 60018 (phone 847-227-1701, [email protected]).
Exhibitors Generate Excitement
Those who plod the vast reaches of the IFT Food Expo just looking for whatever awaits them are often pleasantly dazzled by the exhibitors. Those who are organized and focused may be enlightened. Although the IFT Annual Meeting & Food Expo Program and Exhibit Directory is invaluable in guidance, many exhibitors either hyperbolize or understate their developments in print. More important is the excitement that can be generated by those staffing the booths—the information on packaging from the great majority indicates a true passion for the products and services being offered.
Although the number of food packaging innovations was not overwhelming, their quality reflects a deep and broad expanse through which food and food packaging technologists can explore.
by Aaron L. Brody, Contributing Editor