Food processing equipment changes slowly because so many technologies are well established and it is hard to make a dramatic development. Since IFT's Food Expo emphasizes flavors and ingredients, it is difficult to find exciting news about processing equipment. But there is some. Here are some of the processing exhibits I found interesting at this year's Food Expo: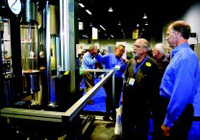 Extruding different colors and shapes. Wenger showed samples of pet foods extruded in at least two colors. Some pieces were solid colors, while others had both colors in one piece. In the never-ending race for novelty and eye appeal in pet foods and snacks, producing multiple colors and shapes in one machine has been a challenging goal. Existing products with various colors and shapes typically are made on multiple machines, which complicates manufacturing, as each machine must run at the same time. Wenger's new technology, which involves injecting dye near the exit of the machine will be a welcome option for the extruded products industries. Wenger Manufacturing, Inc., 714 Main St., Sabetha, KS 66534 (phone 785-284-2133, fax 785-284-3861).
In-line viscometry. Brookfield has long provided a number of laboratory viscometers that use rotating spindles to measure torque as a function of rotational speed. By use of calibration fluids, useful values of Newtonian and non-Newtonian viscosity can be determined. Robert McGregor, Sales and Marketing Manager, said that Brookfield now offers an in-line rotational instrument to monitor viscosity of flowing fluids. The instrument is designed to 3-A standards and can be cleaned in place. Typically, it is mounted in a by-pass line, measuring a continuous sample from the main flow. Brookfield Engineering, 11 Commerce Blvd., Middleboro, MA 02346 (phone 800-628-8139 or 508-946-6200, fax 508-946-6262, www.brookfieldengineering.com).
High hydrostatic pressure. A few years ago, few people had heard of high hydrostatic pressure as a preservation technique, but this year the largest manufacturer of such equipment, Avure Technologies (formerly Flow International) won the IFT Food Technology Industrial Achievement Award. Avure had a large booth at Food Expo, where they displayed batch and semi-continuous equipment. The largest current application is guacamole, but fruit juice is also being treated to comply with the Food and Drug Administration regulation for juice without using excessive heat. Avure Technologies, 26500 64th Ave. S., Kent, WA 98032 (phone 800-610-1798, fax 253-813-3285, www.avure.com).
Microwave processing. MicroThermics manufactures miniature equipment for universities and industrial pilot plants. The company's latest product, according to David Miles, Vice-President, is a unit that uses focused microwave energy to heat temperature-sensitive products very quickly without fouling. The microwave heater will raise the temperature by 171ºF in about 1 sec. Hold times can be varied as necessary, and preheaters, coolers, and homogenizers can be arranged as desired. The technology is licensed and has not yet been scaled to commercial size. MicroThermics, Inc., 3216-B Wellington Ct., Raleigh, NC 27615 (phone 919-878-8045, fax 919-878-8032).
Flavor essence extraction. Flavourtech has developed the spinning cone column for concentration of heat-sensitive materials such as flavor essences. They offer the spinning cone column in combination with other equipment in an Integrated Extraction System to recover flavors from coffee, tea, and other botanicals. Flavourtech Americas Inc., 1458 Industrial Ave., Sebastopol, CA 95472 (phone 707-829-6216, fax 707-829-6211, www.flavourtech.com).
Freeze concentration. GEA Specialty Products Div. of Niro Process Technology offers an integrated freeze concentration system which uses scraped-surface heat exchangers and a wash column in which melted ice water is used to wash ice free of concentrate. Freeze concentration uses less energy than evaporation but has suffered from loss of solids with the water. The same process can be used to purify wastewater streams. GEA probably sells more to chemicals and waste treatment than to food industries, but the system is used for fruit juices and coffee extracts. GEA Specialty Products Div., Niro Process Technology, 's-Hertogenbosch, The Netherlands (phone 011-31-736-390-390). Niro Inc., 1600 O'Keefe Rd., Hudson, WI 54016 (phone 715-386-9371, fax 715-386-9376, www.niroinc.com).
Extrusion. Buhler and Clextral offer competing twin-screw extruders for pet foods, cereal, and snacks. Benoit Delaval, President, explained that Clextral has always used electrical induction heating for its barrels. Albert Lucia, Sales Manager–Pasta, says that Buhler is currently promoting a pasta press, the Polymatik, which is a low-pressure extruder that mixes and forms but does not cook. Buhler, Uzwil, Switzerland (phone 011-41-71-955-3797). Buhler Inc., P.O. Box 9497, Minneapolis, MN 55440-9497 (phone 763-847-9900, fax 763-847-9911). Clextral Inc., 14450 Carlson Cl., Tampa, FL 33625 (phone 813-854-4434, fax 813-855-2269, www.clextral.com).
Extraction. Littleford Day uses its agitated mixer in combination with vacuum and solvent condensers to contact and extract various materials. This equipment is good at size reduction and exposure of biomaterials that might be otherwise difficult to contact with solvent. Littleford Day Inc., 7451 Empire Dr., Florence, KY 41042 (phone 859-525-7600, fax 859-525-1446, www.littleford.com).
Irradiation. As with high-pressure processing, a few years ago irradiation was not to be found on the floor of the Food Expo. But now IBA/Sterigenics offers commercial equipment which can treat whole pallet loads of food, according to Pauline Pastore, Director of Irradiation Processing (908-647-0401). Pauline is based in Liberty Corner, N.J. and represents a joint venture of Ecolab and IBA offering a complete food safety program including irradiation. IBA/Sterigenics, 1401 Morgan Cl., Tustin, CA 92780 (phone 901-681-9006, fax 901-681-9007). 
Breading. Bettcher Industries displayed a small-scale batter and breading application system suitable for foodservice. The concept is to offer savings from preparing such items in a kitchen rather than purchasing pre-breaded foods from others. The systems are also appropriate for pilot plant or laboratory use. Bettcher Industries, Inc., 6801 State Rte. 60, Birmingham, OH 44816 (phone 800-321-8763 or 440-965-4422, fax 440-965-4900, www.bettcher.com). 
Compounding, extrusion, and material handling. Coperion combines three formerly separate firms—Buss, Waeschle, and Werner & Pfleiderer—into one source for compounding, extrusion, and bulk material handling. These functions are often found in various combinations in cereal, pet foods, and snack manufacturing. Coperion Corp., 663 E. Crescent Ave., Ramsey, NJ 07446 (201-825-6412, fax 201-825-6491, www.coperion.com).
Software. Best Software, providers of Platinum for Windows by Best, an accounting and business management software package, presented BatchMasterPFW, a set of modules to help with manufacturing. The modules include Materials/Inventory, Purchasing, Production, Order Entry, Formula, Laboratory, Costing, MSDS, and Materials Requirements Planning (MRP). These modules all integrate with Platinum to provide a complete data management system. Best Software, 56 Technology Dr., Irvine, CA 92618 (phone 800-854-3415, fax 949-753-0374 www.bestsoftware.com).
by J. Peter Clark, Contributing Editor