September 2002 marked the 50th anniversary of the first Tetra Pak packaging system. Conceived, according to legend, in Rueben Rausing's kitchen in Sweden, the invention represented the birth of a new concept—a paperboard composite for the containment of fluid milk.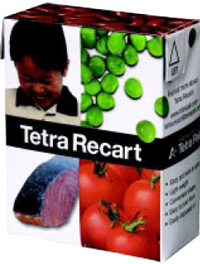 Derived from observation of Mrs. Rausing's home-made sausage making, the package was fabricated from roll stock material to produce an economic and efficient tetrahedral shape. The shape, with end heat seals at 90° angles to each other, has returned to the market to fascinate Generation X. Shortly after Rausing's delivery by horse-drawn cart of his first machine to a local dairy, the tetrahedral form was married to a new technology called aseptic, and ambient-temperature, shelf-stable-beverage distribution was born. All of this and more was recounted in detail by Tetra Pak executive Gordon Robertson in his article, "The Paper Beverage Carton: Past and Future," in the July 2002 issue of Food Technology.
As everyone over the age of 60 clearly recollects, in 1952 the few who flew did so in propeller-driven DC-3s and Constellations, called their friends on dial telephones, and drove in Hudson, Studebaker, and DeSoto automobiles. The United States was engaged in a "police action" in Korea (younger readers might recall M.A.S.H.), and food was packaged in lead-soldered steel cans, cellophane, and nitrocellulose-coated or waxed paper. Fluid milk was delivered to homes in returnable glass bottles, and hardly any of the population ate away from home. That was the way it was as the U.S. Army sparked research into irradiation of foods and retort pouch packaging, and the electronics industry struggled to apply radar to microwave cooking. It's amazing how a historical retrospective reveals the prolonged agonies of how our ancestors created our contemporary food packaging technologies, some of which we are still developing.
Rausing's remarkable accomplishments of 1952 and later were abetted by the European recovery from the devastation of World War II. Just as important, however, was his vision of the potential for the essential aseptic processing and for integrating processing and packaging equipment with materials and structures. Evidently, he and his sons maintained this perspective throughout their professional lives, and left this legacy to the new generation: to have a holistic view so far removed from the main-stream that it drives us into new dimensions for delivering beverages and now all foods that better meet consumer demands for safety, quality, and convenience.
Driving the Frontiers of Food Packaging
The celebration of Tetra Pak's first half century reflects a remarkable and on-going tale of driving the very frontiers of food packaging: some of the organization's developments, such as the Tetra Brik package, which was incredibly successful in changing the drinking habits of consumers around the world; and some, such as the multi-layer/multi-material Rigello plastic beer bottle, which were obviously introduced before their time. But when you are the forward edge of food packaging, you must expect some failure. The research that has been the very foundation of Tetra Pak's growth—and occasional setbacks—to become one of the world's largest packaging systems suppliers is extending us beyond the reaches of our imagination, with the potential to again alter consumer food eating behavior.
What is Tetra Pak's tomorrow? As anyone who has read the trade and business press knows, the company is striding far beyond its paperboard composite origins and entering the realm of plastic and barrier-plastic bottles applicable for protection of carbonated beverages, including beer. Plasma-discharge silica-coating technology has promised to enhance the oxygen and water-vapor barriers of films and bottles to permit their use for juices and other sensitive food contents. Will silica coating become the means to improve the barriers on otherwise nonbarrier plastics? Will Tetra Pak's singular deposition technology become the method of choice? Thin-film coating appears to be preferred over trying to develop new plastic resins, such as liquid-crystal polymers or polyethylene naphthalate, or doping with nanocomposites. A vigorous intermaterial competition is underway, hardly unlike those fought previously by Tetra Pak with its composite paperboard and expanded-polystyrene structures.
The Tetra Top package has been known for several years: the composite-paperboard, brick-shaped carton is topped by an injection-molded plastic fitment. Incredibly, the plastic piece covering the entire top opening of the carton is injection molded in line onto the base brick—almost an insert-injection-molding operation. By molding directly on the composite paper-board, the hot plastic of the top and the plastic coating on the paperboard fuse to ensure a hermetic seal. Injection molding also ensures a precision fitment that can and does have easy open and reclosure features. Tetra Top is another representation of the Rausing/Tetra Pak philosophy of integration of materials and processes to achieve a consumer-directed functional objective.
The company is immersed in intelligent packaging—radiofrequency identification—and is seeking to render the technology economic: to use its signals to effect instant checkout in grocery stores, to communicate to a microwave oven the exact time/power-level sequence required to heat a packaged product, or to inform consumers a bit about the temperature history of the product. Maximum temperature reached has been incorporated into the label of Tetra Brik milk cartons using thermochromatic inks. Such inks register the maximum temperature and show the consumer whether the milk has been exposed to too-high temperatures during distribution or even in the home.
In the vanguard of aseptic packaging, Tetra Pak has demonstrated a cognizance that its historic composite-paperboard-structure foundations may not constitute the totality. The company's recent diversification into all-plastic aseptic packaging in concert with its relatively new plastic bottle–making enterprises propels it into both polyester bottles for still beverages and high-density polyethylene bottles for refrigerated still beverages, part of the rapidly expanding extended shelf life (ESL) approach. Long experience with the application of hydrogen peroxide in package material sterilization systems and with high-temperature/short-time thermal product sterilization enables Tetra Pak to establish strong platforms even though it may be somewhat late into the market.
New Interests
The company's new direction takes it far beyond its traditional liquid packaging.
• Functional-Food Packaging. Announced at its 50th anniversary gala was Tetra Pak's new commitment to packaging for soy-based functional foods. This is an interesting approach, since the target is a specific food product category that begs for enhanced preservation and packaging to boost its unsteady sales around the world. The company is sort of returning to its technical roots in fluid milk, and addressing a basic product category with all the innovation that has driven the organization for this past half century.
• Foodservice. Another demonstration of Tetra Pak's new interests is its recognition of foodservice as a related but separate market entity. Far beyond merely applying mainstream Tetra Pak processing and packaging technologies to the foodservice market, the company has created another organization to specifically develop solutions for this market. A new foodservice "university" is being opened in London, United Kingdom. In this facility, customers from the foodservice industry will learn how to apply the latest in food and food packaging technologies for their operations. Chefs, cooks, managers, food suppliers, and equipment makers will come together to share experiences among themselves and, through Tetra Pak professionals, to improve safety and quality and reduce costs.
• Retortable Carton. Perhaps the most visible manifestation of Tetra Pak's entry into areas besides beverages is its Tetra Recart™ retort carton (recart is an acronym for retort carton), probably the first paperboard composite packaging structure that has been seriously applied to "traditional" canning for low-acid foods. This powerful concept has already been honored by peers by being declared a 2002 DuPont Award winner. Obviously the result of a major investment of time and money, the package has the general appearance of a Tetra Pak Brik, but with a laser-perforated easy-open "flap" to facilitate access by the consumer to the solid/particulate contents.
Knocked-down composite blanks incorporating a special coated water-resistant paperboard, plastic strips to protect the raw edges, aluminum foil as the principal barrier, and polyolefin as the adhesive and heat sealant are erected into rectangular solid shapes in line. The open-bottom cartons are filled at up to 400 packages/min, a speed comparable to that achieved on conventional metal-can lines. Carton tops are hermetically heat sealed and aligned on racks separated from each other for heat transfer. The racked cartons are entered into precisely pressure-controlled retorts. Batch steam-air retorts are used to increase the temperature to 120°C for 2 hr, after which cooling takes place to meet the thermal sterilization requirements for low-acid foods for ambient-temperature distribution.
Rectangular solid shapes occupy 60% less volume than cylindrical cans. Stacking is reportedly easier. The mass of package materials to contain a particular volume is very much lower than with metal. And, of course, the graphic potential is far greater with a flat surface than with a cylindrical face.
Whether consumers will concur with the research or with the early returns is a question that will be answered in the future, but Tetra Pak is continuing the quest, a reflection of its reading of the market. In Italy, Nestlé's Friskies pet food packaged in the Tetra Recart has achieved a 10% market share, far exceeding projections.
Tetra Recart is another example of the bold thinking by the familial and philosophical descendants of Rueben Rausing. Although semantically a box maker, Tetra Pak has thought outside the box for a half century. If the demonstrations at its anniversary celebration in its home town of Lund, Sweden, are any example, the food world stands to benefit from the company's continued commitment to delighting consumers through innovation in integrated packaging systems.
PRODUCTS & LITERATURE  
Gas Monitoring of modified-atmosphere packages is accomplished by the fully automatic, TGC in-line oxygen analyzer. The analyzer determines the oxygen content or oxygen and carbon dioxide content of every package. The analyzers easily integrate with automated form/fill/seal, tray-packing, and flow-wrapping machinery to provide fast, efficient, nondestructive gas measurement at the point where the sealing jaws create the package seal. The 50-msec measurement time does not delay or impede packaging-line output. For more information, contact PBI-Dansensor America Inc., 139 Harristown Rd., Glen Rock, NJ 07452 (phone 201-251-6490).
PET Water Bottle capable of being dispensed through 12-oz-can vending machines has been developed for Suntory Water Group, Atlanta, Ga. The innovative 11.5-oz container works within height and diameter constraints of can vending machines, while still meeting the capacity requirements of existing filling equipment. The container was named a 2002 AmeriStar Award winner in the Beverage Category by the Institute of Packaging Professionals. The container uses a low-profile 38-mm cap, running on nontraditional blow-molding equipment, and a base design that accommodates internal pressure and special capping requirements. The containers withstand standard pallet stacking as well as column stacking on their sides in vending machines. For more information about the PET Vend Bottle, contact Constar Div. of Crown Cork & Seal, 1 Crown Way, Philadelphia, PA 19154-4599 (phone 215-552-3722, fax 215-552-3707, www.crowncork.com).
Produce Trays made of thermoformed polyvinyl chloride are available in sizes designed to fit into a new "half shoe-box" size case (9.75 in 3 11.25 in) that is emerging as a standard for club stores. The Panta-Pak® produce trays are designed to line the produce box and cushion the fruit as it goes from field to consumer. Three cavity options are available to accommodate fruit diameters of 3-5/16 in, 3-3/16 in, and 3 in. For more information, contact Pactiv Corp., 1900 W. Field Ct., Lake Forest, IL 60045 (phone 877-692-6163 or 847-482-8812, fax 847-482-4529, www.pactiv.com).
Reusable Intermediate Bulk Container, the Unitote, enables flavor manufacturers to safely ship natural, nature-identical, and synthetic flavors, as well as mixed flavors, in large volumes. The rotationally molded IBC features a seamless, one-piece polyethylene container set in a rugged polyethylene base that accommodates lift trucks on all four sides. A 7-in top port and 2-in valve create an airtight seal that protects against product decomposition and oxidation. The Unitote is available in 275- and 330-gal capacities and features permanent, moldedin markings at 55-gal intervals. For more information, contact Meese Orbitron Dunne Co., 535 N. Midland Ave., Saddle Brook, NJ 97663-5521 (phone 800-829-3230, fax 201-796-5820, www.meese-inc.com).
by AARON L. BRODY
Contributing Editor
President and CEO, Packaging/Brody, Inc.
Duluth, Ga.