When attending the 2002 All Candy Expo, held June 4–6, in Chicago, I have to confess I felt a little old. Sort of like a parent listening to his kid's music. I mean I grew up with product names such as Snickers and Circus Peanuts and let's not forget one of my personal favorites Pez.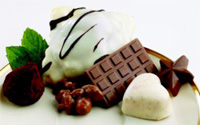 Now I come across names like Atomic Fizzzion, Toxic Waste Hazardously Sour Candy, Butt Ugly Martians, Stinky Feet, X-Tra Sour Goo, Sweet and Sour Worms, FizzUrps, and, yes, even "vomit" jelly beans (in homage, I hope, to Harry Potter, and not to late-night revelers). As I think you can see, it can all be somewhat disorienting, especially for a guy who thought that Pez was pretty wild and crazy for the time. 
Putting their names aside for the moment, some of these products are quite creative in their use of ingredients. For example, in Atomic Fizzzion, pressurized carbon dioxide is injected into the candy in its molten form, trapping tiny bubbles inside when it cools into a solid. As the candy nuggets dissolve in the mouth, tiny explosions result. Adding to the experience is red-hot cinnamon flavor. 
Children can turn a glass of water into a bubbly beverage (ala Alka Seltzer?) by placing a FizzUrps candy tablet into a straw and then into a glass of water. Another product, Nibble Notes Candy, is described as an edible candy paper on a miniature clipboard that comes with a pen filled with food coloring. When sprinkled on the tongue, Lunar Bubble Dust Bubble Gum transforms into a tutti-frutti wad of gum. All three of these products are produced by the same manufacturer, CAP Candy.
Obviously products like these are oriented to the younger, more rebellious crowd, and their success will most likely depend on that segment. 
As for me, especially when I'm in a state of confusion, I turn to a more reassuring confection—i.e., CHOCOLATE. And all chocoholics out there will be happy to learn that chocolate continues to do very well. In fact, chocolate candy sales increased 3.6% in 2001. 
Consumers are reportedly purchasing more bags of snack-size chocolate bars and bite-size chocolate candies, as well as showing a growing preference for higher-quality, gourmet chocolates. Scientific studies continue to look at the potential health benefits of chocolate, especially its antioxidant properties and the ability of dark chocolate to raise HDL cholesterol levels. A variety of flavors are being added to chocolate, including exotic fruits, spices, herbs, and coffees. And chocolate's versatility is demonstrated by such new products as chocolate-covered sunflower seeds, chocolate-flavored mints and gum, and chocolate-covered gummi bears or jelly beans. One interesting example, Scorned Woman Chocolate Jalapeño Fudge, is described as providing a sweet heat and is probably aimed at the adult market. Another example is Strawberry Pepper Cocoa D'Arriba Bar, which combines fresh pepper with strawberries in a chocolate bar. 
Candies, traditionally associated with indulgence and fun, are increasingly promoted for their health properties as well. The category of "functional confections" may include chocolate containing increased levels of antioxidant polyphenols, confections with the addition of cholesterol-lowering phytosterols and phytostanols, and candies fortified with a variety of vitamins and minerals. In a related category, diet candy sales increased 8.1%. Alternatives to conventional sweeteners are finding application in sugar-free gums, reportedly the fastest growing confectionery segment. Breath freshener gums have been introduced which are said to also reverse tooth decay and whiten teeth.
--- PAGE BREAK ---
Hispanic consumers are also influencing the future development of confectionery products. Overall, 10% of candy consumed in the United States is eaten by the Hispanic population. A variety of confections that might appeal to these consumers were highlighted at the All Candy Expo. 
From the company Mazapan de la Rosa comes Tinis Chocolate-Covered Corn Flakes; Pulparindo, an extra hot salted Tamarino pulp; and Dagger, an effervescent hard candy with chili powder flavor. The Hispanic Bag Line, available from Montes USA, Inc., features Fruit Amigos (chewy fruit candy), Ricos Besos (creamy chocolate toffee), Fresitas (fruit-filled strawberry candy), and Milkolo (coconut milk toffee). 
Other examples include Coronado Lollipops, made with a rich, creamy classic caramel, Coronado Cajeta, that is especially popular in Hispanic households; Dulce de Leche M&Ms launched by Masterfoods USA; Gina's Mango Mio, intense mango fruit flavors in four variations that are poised to penetrate the U.S. market; and various candies in exotic fruit flavors. 
Consumption of novelty candies grew 8.7% in 2001 and 68% over the past five years. Examples might include products that combine a toy with a treat, colorful containers of candy powders, bubble gum dust, exploding candy pellets packed in plastic test tubes, and edible candy notepads. 
In today's confectionery marketplace, traditional products (some of them even American icons) often get a new twist—in terms of flavor, texture, ingredient combinations, size, even form or shape. One can find fruit-flavored malt balls; cotton candy in sour flavors such as lemonade, watermelon, sour apple, and sour berry; marshmallows made with carbon dioxide; candy branded cookies and nutrition bars; candy corn in a variety of different flavors such as Chocolate 'n Caramels or Caramel 'n Apples; caramel corn covered in chocolate; wax lips that turn into gum; caramels combined with peanut butter; jelly beans with a buttered toast flavor for those who, I suppose, like eating candy for breakfast; and bon bons consisting of chocolate, peanut centers, and crunchy wafers. 
The possibilities seem endless as every candy manufacturer is getting into the act. Even the producer of the Tootsie Roll, an American icon if there ever was one, has introduced several new products. These include Black Ice Blow Pops, which are blackberry flavored with a black gum at the center that does not stain the mouth; Tootsie Roll Pop Miniatures, a mini-size version of the candy with the traditional chewy Tootsie Roll center; and, yes, even Tootsie Rolls, now available in new metallic wrappers designed to keep the candy softer longer. 
I mentioned the above confectionery products to give some idea of the broad opportunities that ingredient suppliers (as well as processors and packagers) have in the area of confections. It seems that nothing—not a dragging economy or terrorist attacks—can slow down the growth of confections and their innovative ingredient developments. 
--- PAGE BREAK ---
Today's confectionery ingredients provide a premium functionality and frequently a health value to these products. And, of course, they do all this while still allowing the final product to satisfy the consumer's desire for indulgence. Hopefully, when all these considerations are met, the final result is a high-quality confection that can be enjoyed by both adults and children. The photos in this article help demonstrate the many forms that confections can take. 
Let's now look at some of the recent ingredient developments that may meet some of today's trends. Some of these developments were highlighted at the 2002 IFT Food Expo, held in Anaheim, Calif. (Also, if you're interested, plan on attending the IFT Continuing Education Program, "Confectionery Technology and Processes," which will be held at Cornell University on October 1–3. See sidebar on page 68 for more information.) 
This article will discuss such developments as the use of dietary fibers in functional candy concepts, encapsulated carbon dioxide, plant sterols that can lower cholesterol, a new process to reduce fat bloom, alternatives to traditional sweeteners, an array of flavors, and many others. 
Keep in mind how these ingredients can solve specific problems associated with confectionery manufacture, while helping to bridge the consumer's desires for indulgence and health.
Dietary fibers help create functional candy concepts. Dietary fibers, inulin and oligofructose, can be used to create confectionery formulations with less sugar and more fiber. These functional candy concepts, which included sugar-free chocolate, fiber and calcium chews, and anti-stress lozenges, were highlighted at the 2002 IFT Food Expo by Orafti Active Food Ingredients, 101 Lindenwood Dr., Malvern, PA 19355 (phone 610-889-9828; fax 610-889-9821; www.oraftius.com). 
In an interview with Food Technology, Scott Noar, Manager of Applications, Technical Services, discussed the functionality and health value of these fiber ingredients, marketed under the names Raftiline® (inulin) and Raftilose® (oligofructose). 
For example, sucrose may be replaced with a blend of 75% polyol and 25% inulin to create a compound coating with a profile comparable to that of regular chocolate. Polyols, used in sugar-free chocolate to replace sugar, tend to have a cooling effect on flavor. The use of inulin is said to eliminate this effect, yielding a product more like regular chocolate. Furthermore, inulin allows Maillard browning reactions to occur, providing mild, caramelized flavor. When high-intensity sweeteners are used, inulin has a synergistic effect, providing less aftertaste with a more rounded flavor, similar to regular chocolate, as well as lower costs through reduction in the amount of sweetener used. 
In the chocolate formulation discussed by Noar, inulin can provide a variety of health advantages. First, it reportedly adds 1½ g of fiber. Second, because it is a slowly fermenting compound, it is easier to tolerate and reduces digestive discomfort. Third, an enriched form of inulin, Raftilose Synergy 1, can permit a functionality claim such as "Boosts Calcium Absorption." This recently introduced ingredient is clinically proven to boost calcium absorption at lower use levels. A double-blind placebo-controlled study demonstrated that 8 g/day of the ingredient increases calcium absorption by 20%. Orafti is currently working with a major chocolate company to develop compound coatings in which inulin is replacing maltitol (the most common polyol in sugar-free chocolate) on a 3:1 ratio. 
Other applications discussed by Noar included hard candy formulated with oligofructose to provide 2–3 g of fiber as well as have prebiotic benefits; a chewy candy, Fiber Chew, providing (1) increased calcium absorption with Raftilose Synergy 1, (2) the addition of soluble dietary fiber, and (3) a source of calcium; and an antistress lozenge made with oligofructose (providing 3 g of fiber per candy), ginseng, vitamin C, and selenium. 
Machinability of these confections is said to be similar to that of full-sugar formulas, offering processing benefits.
--- PAGE BREAK ---
Pop Goes the Candy. Encapsulated confectionery ingredients, marketed under the name Confecshure™, are available from Balchem Encapsulates, P.O. Box 175, Slate Hill, NY 10973 (phone 877-222-8811; fax 845-355-4204; www.balchem.com). Encapsulated acidulants—such as malic and citric acids—and a variety of mixin ingredients have application in sour or fruit candies, chocolates, mints, chewing or bubble gums, and all major confectionery product categories. 
Common problems that the confectionery industry faces include undesirable interaction or degradation of flavors, absorption of moisture, sugar inversion, hygroscopicity, and discoloration during the rigors of shipping and storage. The encapsulated ingredients are said to help overcome these problems, allowing the confectioner to control the specific time, temperature release, and reaction of active ingredients. Through proprietary microencapsulation technologies, ingredients are protected from degradation and early reaction, and deliver optimum performance. 
At the 2002 IFT Food Expo, Balchem highlighted Confecshure Burst™, encapsulated carbon dioxide in popping candy. According to the manufacturer, the development takes advantage of the "Pop Rocks" trend, which is enjoying resurgence in the candy market. Featured in mint, cinnamon, and chocolate, the candy contains hydrophobic encapsulated CO2 that creates a popping experience when eaten. The encapsulation technology prevents the CO2 from being released until the precise moment it is consumed. In addition, low-melt technology means that the popping candy will burst in the mouth without having to be chewed. 
Also, at the show, a variety of innovative confectionery items using popping candy as an ingredient were showcased by Pop Rocks, Inc., 8150 Leesburg Pike, Suite 600, Vienna, VA 22182 (phone 703-883-8261; fax 703-790-5933; www.pop-rocks.com). 
The company—incorporated in early 2002 by Zeta Espacial S.A., a leading manufacturer and seller of Popping Candy™ items since 1979— has developed four divisions for launching a wide range of innovative confectionery items for children and adults to meet specific trends and requirements of the U.S. market. 
Introduced at the IFT Food Expo was the company's Bulk Division, which uses popping candy as an ingredient in ice creams, chocolates, cereals, and other applications. The ingredient can be combined with chocolate, as a coating or as a filling, to create a variety of popping confections, including chocolate bars, eggs, balls, animals, or any molded figurines. This new division joins three others that the company recently developed to promote not only popping candy—both as a retail product and as an ingredient—but other types of confectionery products as well. 
The Novelties Division offers innovative and interactive confection items, including Magic Fizz Dips, a lollipop with fizzy powder to dip and lick; Splash Roller, a roller-shaped lollipop to dip in liquid candy which paints the tongue; and Popping Candy Hair Fashion, a pouch of popping candy with a hair fashion ponytail available in different colors. 
The Adults Division, created to comply with the trends and tastes of adult consumers, offers sugar-free deposited candies. First item to be launched by this division is Olrait, a candy in a toffee flavor. 
The Popping Candy Division features Pop Rocks® Dips, a pouch containing popping candy and a lollipop available in various flavors such as sour apple and sour strawberry. Since its introduction, the concept has been further expanded by including a gum lollipop with a watermelon flavor. 
The company is reportedly working on other confectionery-related developments such as color-changing Pop Rocks, new CO2 release systems, new flavors such as coffee, and, of course, new applications that can help differentiate the product in the marketplace.
--- PAGE BREAK ---
Confections highlight exotic flavors. A variety of confections formulated with tropical and exotic flavors were spotlighted at the 2002 IFT Food Expo by Wild Flavors, Inc., 1261 Pacific Ave., Erlanger, KY 41018 (phone 859-342-3600; fax 859-342-3610; www.wildflavors.com). Some of the applications are particularly designed for ethnic consumers.
Natural and Artificial Dulce de Leche Flavor featuring the rich and creamy combination of traditional dairy and dark caramel was incorporated into Leche Latino Chocolate Truffles, a favorite from Argentina.
Natural Berry Flavor highlighting a mix of raspberry, strawberry, blueberry, and cherry flavors was used in All-American Berry Pie Hard Candy, a confection suitable for adults and children. 
Pectin candy with a new line of natural colors were highlighted. Regional spicy notes was combined with classic ethnic type flavors. For orange-colored candies, Natural Mandarin Orange Flavor, Natural Orange Color, and Natural Chili Blend Flavor (added to sanding sugar) were used. For yellow-colored candies, Natural Lulo Flavor, Natural Yellow Color, and N&A Tamarind Flavor (added to sanding sugar) were used. 
Other colored candies included pink (Natural Sweet Grapefruit Flavor and Natural Red Color), green (Natural Mandarin Lime Flavor and Natural Green Color), and red (Natural Moraberry Flavor and Natural Red Color). 
A tropical hard candy fortified with vitamins served as an example of a functional confection with filling. Its outer coating containing 5% juice featured citrus compound, a blend of orange, lemon, mandarin, and lime flavors, along with vitamins A, C, and E. Its filling was formulated with a tropical fruit preparation (containing 40% fruit) which provided the taste of pineapple and mango. Each 1-oz serving reportedly delivers 100% of the RDA for vitamins A, C, and E. 
Multi-fruit hard candy with B-vitamins was also showcased. Outer coating consisted of a blend of raspberry, blackberry, and black currant flavors, and contained 5% juice. The filling contained a 40% fruit preparation providing the taste of raspberry, blackberry, and black currant along with vitamins B-6 and B-12. Each 1-oz serving delivers 100% of the RDA for the B-vitamins. 
A nutritional bar containing a powerful new coconut flavor delivered 230 calories and 8 g of fat.
Combining indulgence with health. A chocolate candy bar bite demonstrating indulgence and health was highlighted at the 2002 IFT Food Expo by Archer Daniels Midland Co., P.O. Box 1470, Decatur, IL 62525 (phone 217-424-5200; www.adm-world.com). A complete listing of ingredients in the formulation is available along with nutrition information. A serving size (about three bites) is said to provide 250 calories (70 from fat), 8 g of protein, and no cholesterol. 
Covered in ADM milk chocolate, the bar bite is high in soy protein and fortified with CardioAid™-S, an ingredient made with plant sterols that can help reduce cholesterol. Each bite contains Novasoy® soy isoflavones concentrate, which may provide heart, bone, and other health ingredients. Also featured in the formulation is ADM's newest ingredient, Enova oil, a vegetable-derived diacylglycerol oil that can reportedly help maintain a healthy weight because it is burned as energy instead of stored as fat. Each bite is packed with more than 18 essential nutrients, including a natural-source vitamin E. 
ADM Cocoa, a leading processor of cocoa beans, develops and produces chocolate and cocoa products designed to meet the specific needs of its customers and consumers' taste preferences. The product line, marketed under three brands (Ambrosia®, De Zaan®, and Merckens®), includes a full range of natural and dutched cocoa powders, cocoa butter, cocoa liquor, chocolate and compound chips and chunks, as well as chocolate and confectionery coatings. 
--- PAGE BREAK ---
In the past, chocolate has been promoted for its functionality and indulgence aspects. But in recent months, its potential health benefits are increasingly being explored. For example, chocolate is a rich source of polyphenol antioxidants that may help guard against cancer and heart disease. 
A booklet, Chocolate Health, developed by the Chocolate Manufacturers Association with technical assistance from the American Dietetic Association, reviews the scientific literature regarding chocolate and health to help place in perspective the nutritional and medical aspects of this food. By communicating current factual information about chocolate, health professionals can help consumers understand how chocolate can be part of a healthy eating plan based on balance, variation, and moderation. For those interested, ADM has copies of the booklet.
Dairy ingredient can replace gelatin in gummi-style candies. Gummistyle candy featuring whey protein concentrate and whey mineral concentrate was highlighted at the 2002 IFT Food Expo by Dairy Management Inc., 10255 W. Higgins Rd., Rosemont, IL 60018 (phone 847-803-2000; fax 847-803-2077; www.doitwithdairy.com). 
Researchers at the Wisconsin Center for Dairy Research developed a technology for whey proteins to perform as a replacement for gelatin in gummi-style candy. The formulation uses WPC 80, a whey protein concentrate containing 80% protein. 
According to K.J. Burrington, dairy ingredients applications center coordinator, "Once we figured out the trick, it was relatively easy. A manufacturer would have no trouble modifying the make procedures to include whey protein concentrate 80 instead of gelatin, for a product that can be considered kosher." 
The highlighted candy, Gummi Drops, consists of Corn Syrup 62 DE, Water, Granulated Sugar, Whey Protein Concentrate (WPC 80), Glycerol, Gum Blend (Satiagel PG 500), Whey Mineral Concentrate/Milk Calcium, Trisodium Citrate, Kiwi Flavor, and Green Color (Blue #1, Yellow #5). 
Burrington noted that combining whey protein concentrate with the gum blend provides gelling properties that give the candy a chewy texture. Furthermore, the addition of whey mineral concentrate/milk calcium to the formulation provides a nutritional benefit because each serving supplies 10% of the daily requirements of calcium. The gummi drops demonstrate a popular trend in Japan for candies fortified with beneficial vitamins and minerals. 
DMI representatives reported that the product demonstration was a major success at the IFT Food Expo, proving to be a unique application for whey protein and suggesting that other applications were possible. 
Use of dairy ingredients in confectionery products can provide special functionality properties such as gelation, viscosity, water-binding, emulsification, and flavor, as well as help the nutritional profile of products designed for consumers of all ages—from childhood to the mature years.
New process controls fat bloom in chocolate. A seed crystallization process for successful control of fat bloom has been developed by Buhler-Bindler, CH-9240 Uzwil, Switzerland (phone 41 71 955 31 36; fax 41 71 955 35 82; www.buhlergroup.com), in a cooperative effort with chocolate producers and Zurich-based Swiss Federal Institute of Technology. 
Fat bloom is that thin gray layer of fat crystals that can cover the surface of chocolate, creating an unappetizing appearance. The new process—called the SeedMaster System—reportedly keeps chocolate products free from fat bloom longer and is characterized by three steps. 
--- PAGE BREAK ---
First, a cocoa butter crystal suspension is created. The liquid cocoa butter is partially crystallized in a specially developed shear crystallizer. The mixture of microscopically small crystals and cocoa butter then undergoes further processing in a conversion tank. Here, the crystals are converted to their most stable form. 
Second, the chocolate mass to be precrystallized must be cooled without causing crystallization. To achieve crystal-free cooling of the chocolate, static or dynamic heat exchangers are applied, which enables efficient cooling at elevated water temperatures. To ensure temperature control and optimal quality, the company developed a thermostatically controlled concept tailored to the process. 
Third, the cocoa butter crystals are added at a controlled rate to the precooled chocolate mass and then uniformly mixed with it in a dosing and mixing unit. Mixing is done by a static mixer which ensures gentle and efficient mixing. 
As a result, it is no longer necessary to preform the crystals throughout the product. Rather, it is enough to precool the individual ingredients while further crystallization can take place within a short time after the seed crystal suspension has been added. This may be done, for example, in a continuous mixing and forming process.
According to the company, as the chocolate mass is seeded directly with stable cocoa butter crystals, the possible processing temperature is 2 to 4°C higher than for conventional masses precrystallized in tempering machines. These higher temperatures offer a number of advantages. For example, high-viscosity masses become easier to process because the heat reduces the viscosity. Moreover, this makes it possible to reduce the fat requirement in low-viscosity masses. Because of the presence of crystals with a maximum melting temperature, seed crystallization is more resistant to temperature fluctuations. This ensures a more uniform precrystallization state. 
The company notes that particular benefits of seed precrystallization are obtained with chocolate-like masses whose continuous fat phase contains other fats and oils in addition to cocoa butter, such as hazelnut or almond oil, hardened vegetable fats containing lauric acid, and similar substances. The microscopically small, stable cocoa butter crystals have numerous crystallization nuclei. These will allow fast crystallization of the remaining fat. The high number of crystal nuclei creates a dense, fine crystalline structure which greatly retards fat migration. 
The seed crystallization process was thoroughly tested and optimized by Buhler on a commercial scale. Today, installations are operating successfully at the project partners' sites. The applications of the new process depend greatly on the user's objectives. These may range from significant improvement of fat bloom stability to raising the efficiency in processing low-fat or high-viscosity masses.
Acquisition adds to confectionery portfolio. A comprehensive line of chocolate and confectionery ingredients are produced by Wilbur Chocolate, Lititz, Pa., a business unit of Cargill Inc., P.O. Box 5625, Minneapolis, MN 55440 (phone 952-742-6000; fax 952-742-7393). Furthermore, a new acquisition announced at the 2002 IFT Food Expo will help expand this product portfolio. 
Wilbur Chocolate acquired Omnisweet, a Burlington, Ontario-based manufacturer of specialty compound chips, low-melt ice cream flakes, and other value-added products. The facility will be used to produce nutritionally fortified coatings and inclusions, as well as uniquely colored and flavored products including the new Wilbur line of Duo Nuggets, available to Wilbur customers throughout North America. The company will be renamed Wilbur, Ltd.
--- PAGE BREAK ---
Spicy flavors in metal tins? A sour hard candy marketed for adults is a new addition to the Kraft's Altoids line of candies, that "curiously strong" brand imported from Great Britain. The new candy, Altoids Sours, is available in citrus and tangerine flavors and is described by the manufacturer as "two flavors so sour they come in a metal tin." The hard candy was highlighted at the Food Marketing Industry Convention and Educational Exposition 2002 by Kraft Foods Inc., Three Lakes Dr., Northfield, IL 60093-2753 (phone 847-646-2000; fax 847-646-2800; www.kraftfoods.com). 
Speaking about metal tins, it is interesting to note the number of confections that now come in these packages, emphasizing such qualities as convenience, upscale appearance, gourmet quality, and possibly even health (instead of a traditional pill box, we have a metal tin containing goodies that might help alleviate stress). The following are just a few examples that were highlighted at the All Candy Expo: Penguin Caffeinated Chocolate Mints (three of the sugar-free energy mints contain the same amount of caffeine in a serving of a cola beverage); Jelly Bellies, a version of which can be packaged in metal tins; Scriptures Candy (sugar-free breath mints shaped like Christian fish symbols, and packaged with inspirational scripture verses printed on the inside of the lid of the metal tin); and Vichy Mints (mint import made using Vichy waters from the Spa Village of Vichy, France). 
Along with the metal tin proliferation, comes also a great flavor explosion, and one can't help wondering what might be next in terms of flavors for mints, hard candies, and other confectionery products. Again, this is pure speculation on my part—I don't have any inside information from specific candy manufacturers on what flavors are being secretly developed in a laboratory somewhere—but one possible answer might lie in the culinary trends that we have seen dominate other food categories. 
When thinking about culinary, spices and herbs quickly come to mind, of course. Wouldn't it be interesting to develop a hard candy that was "curiously spicy" such as ginger or basil or tarragon? (I'm not going to include garlic as a possible candidate even though I love garlic.) In addition to their culinary implications, flavors such as these might suggest different preferences that the Asian or Hispanic consumer might have. And one can easily imagine dining out at an ethnic restaurant and being served an after-dinner candy that was ginger flavored. Perhaps different spiced candies could be marketed around the Chinese Zodiac—with each animal having a different spicy flavor. 
Another possibility might lie in the combining of different flavors to create a third flavor, much like you do when eating different flavored Jelly Bellies. This could probably be done via encapsulation. 
This may also be a good time to develop products such as these. At the 2002 All Candy Expo there were different breath mint products that were intensely flavored. Cinnamon, in particular, seems like a "hot" flavor now. And so it wouldn't seem that surprising if we start seeing spicier confectionery flavors.
Alternatives to conventional sweeteners. Earlier in this article, I mentioned that sugar-free gums are reportedly the fastest growing confectionery segment, and that a variety of alternatives to conventional sweeteners are finding application in these and other confectionery products. 
Recently the Food and Drug Administration granted general use approval for neotame, a no-calorie sweetener developed by The NutraSweet Co., 699 N. Wheeling Rd., Suite 103, Mount Prospect, IL 60056 (phone 847-463-1705; fax 847-463-1755). Neotame is produced by hydrogenating aspartame with 3-3-dimethylbutyl-aldehyde, a chemical change which increases the sweetness level. The product is said to be 40 times sweeter than aspartame and 8,000 times sweeter than sucrose. It is suitable for use in a broad range of applications, including candy and chewing gum. 
--- PAGE BREAK ---
Also, a variety of new confections in the marketplace are made with sucralose, giving them the sweetness of sugar without the calories and unpleasant side effects associated with some sugar-free sweeteners. Sucralose, made from sugar, is manufactured and marketed under the name Splenda by McNeil Specialty Products Co., 501 George St., New Brunswick, NJ 08903-2400 (phone 732-524-6336; fax 732-524-1807). For example, Schuster Marketing Corporation, Milwaukee, Wis., unveiled a gum product, Blitz Sugar Free Powder Gum, which is sweetened with sucralose. The sugar-free gum is made with a no-heat process that intensifies flavors such as berry, fresh mint, and spearmint. 
Sweetener alternatives can also enhance the functionality of the product. Sugar-free hard candies using a hydrogenated starch hydrolysate (HSH) called Stabilite™ SD30 was featured at the 2002 IFT Food Expo by Innova LLC, a joint venture of SPI Polyols, Inc., and Grain Processing Corp., 321 Cherry Lane, New Castle, DE 19720-2780 (phone 800-789-9755; fax 302-576-8569). The ingredient is said to improve stability, prevent cold flow, and provide a clean flavor. 
The spray-dried hydrogenated starch hydrolysate is a low-sweetness powder that is higher in molecular weight and lower in hygroscopicity than other ingredients of this type. It can be dissolved in water to produce clear, noncrystallizing syrups at concentrations up to 75%.
Stabilite HSH powders may be used to extend the functionality of isomalt in sugar-free candy with no impact on stability and can impart a greater range of solubility in the candy. This broader solubility range reportedly improves the perceived sweetness and flavor release of the candy piece. The powder also minimizes isomalt's propensity for surface crystallization which can impart a rough texture to the surface of the candy. The powder will also raise viscosity of the cooked isomalt candy during processing, making the candy easier to handle throughout the process.
The HSH powder can be incorporated into any existing isomalt hard candy formula at levels up to 50%. It is easily dissolved in water and can be used in any standard hard candy manufacturing process.
Potential acquisition of chocolate maker provides a sweet deal. Hershey Foods Co.—the nation's largest candy and chocolate maker—recently announced that it is considering selling the company, preferably to another food corporation, in a deal that may be worth more than $10 billion. Hershey is the maker of such confectionery products as Hershey Kisses, the Hershey chocolate bar, Reese's Peanut Butter Cups, Jolly Rancher candies, and various other brands.
Business publications have reported that such companies as Kraft Foods Inc., Nestlé S.A., Wm. Wrigley Jr. Co., and PepsiCo may be potential bidders. 
The news that Hershey is up for sale obviously can have a major impact in the area of confectionery products and their future development. For example, the company that acquires Hershey can also increase its snack food presence as well. 
In recent months we have seen a variety of cookie bars made with confectionery ingredients being introduced. M&M Mars, a division of Mars, Inc., unveiled three new products: Cookies & Snickers, Cookies & Milky Way, and Cookies & Twix. From Kraft came Chips Ahoy! Cookie Barz and Oreo Cookie Barz. Also, we have seen other snacks forms such as popcorn drizzled with milk chocolate or white fudge (ConAgra's Crunch 'n Munch Drizzlers). 
An acquisition of Hershey may incorporate some of its confectionery products into new snacking applications. Furthermore, Hershey brands are very popular, creating exciting co-branding opportunities. 
We may also see some health-promoting developments resulting from the acquisition, especially if the purchaser has a nutraceuticals division. Nutritionally fortified coatings, inclusions, and a variety of other value-added products may be created, bridging indulgence with health. 
Of course, regarding the potential acquisition and its consequences on future product development, we'll just have to wait and see. But by the looks of things, it could be a real sweet deal for the company that eventually acquires Hershey, which is reported to have a 30% share of the confectionery market.
--- PAGE BREAK ---
Problem-solving ingredients developed for noncariogenic chocolates. When formulating sugarless, noncariogenic chocolates, certain functionality problems need to be addressed. For example, sugar alcohols cannot form caramel compounds—traces of which are necessary for developing a full chocolate taste. Furthermore, they have a cooling effect when dissolving in the mouth which is not characteristic for chocolates. Traditionally, another problem has been in the development of milk powder alternatives that have satisfactory sensory properties. 
Ingredients that overcome these problems have been reportedly developed by researchers at Danisco Sweeteners, headquartered in the United Kingdom. 
Made from glucose, an improved polydextrose-based bulking agent marketed under the name Litesse® II is said to develop a slight warming effect which compensates for the cooling effects of sugar alcohols. The ingredient also forms the low amounts of caramel substances necessary for a full chocolate taste. The manufacturer recommends for no-sugar-added and sugarless chocolates the combined use of anhydrous lactitol and the improved polydextrose type. 
The company has also developed a spray-dried milk powder substitute containing all components of milk or skim milk, as well as sugar substitutes such as lactitol instead of milk sugar (lactase). Called Minolac®, the ingredient resembles regular milk powder in appearance and taste, and in the production of chocolate, behaves like regular milk powder, resulting in noncariogenic products that taste similar to traditional milk chocolates. 
Chocolates produced with polydextrose, sugar alcohols, 10–14% milk powder substitute, and 3.5–5.0% of milk fat is said to contain less than 1% fermentable sugars. Chocolate made with this formulation is labeled "milk mineral couverture." The additional use of 2–3% milk calcium increases the milk mineral content. 
For more information about these developments, write to Danisco Sweeteners, 440 Saw Mill Rd., Ardslay, NY 10502 (phone 913-764-5407).
Confection contains fruit and vegetable extracts. "Fruity bears," a prototype gelatin-based confection containing dietary phytochemicals derived from fruits and vegetables, was highlighted at the 2002 IFT Food Expo by GNT USA, Inc., 660 White Plains Rd., Tarrytown, NY 10591 (phone 914-524-0600; fax 914-524-0681; www.nutrifood.com). 
Marketed under the name Nutrifood®, the liquid extracts provide standardized levels of phytochemicals (carotenoids, anthocyanins, and polyphenols) that can carry out protective functions similar to those that occur in living plants. 
Manufactured by a physical means without the use of any chemical solvents, the extracts offer a new and more convenient way to get the recommended daily servings of fruits and vegetables in foods and beverages. 
The highlighted confectionery application, for example, is said to contain the equivalent of about 50 g of common fruits and vegetables (based upon the content of dietary phytochemicals, mainly carotenoids and anthocyanins.) The application comes in dark fruity bears (containing extracts from as many as 10 different fruits and vegetables, all rich in flavonoids or carotenoids; red fruity bears (containing extracts from carrots, tomatoes, and pumpkins, rich in carotenoids, especially lycopene, beta-carotene, and lutein); orange fruity bears (containing extracts from carrots, rich in carotenoids); and yellow fruity bears (containing extracts from pumpkins, rich in lutein). 
Ingredients in the confection may be labeled as glucose syrup, gelatin (pork), fruit and vegetable extracts, flavoring agents, citric acid, and beeswax (glazing agent). The application contains no artificial colors.
--- PAGE BREAK ---
Fiber ingredient may be used to enrich dark chocolate. Dark chocolate enriched with fiber ingredients can provide health-promoting benefits while meeting the needing for indulgence. Marketed under the name Fibregum PIRX 61410, the fiber ingredient is available from Colloides Naturels, Inc., 1170 U.S. Highway 204, Bridgewater, NJ 08807 (phone 908-707-9400; fax 908-707-9405; www.cniworld.com). 
According to the manufacturer, the ingredient is a soluble dietary fiber which can be quantified by the AOAC method, and is a prebiotic fiber which can stimulate intestinal microflora. It does not alter the grinding, conching, and tempering process for the development of chocolate, and the chocolate is said to keep its organoleptic qualities intact. 
A formulation of a typical chocolate at 60% cocoa made with 5% fiber ingredient is available. 
Also a brochure highlighting the company's confectionery ingredients is offered. The range of ingredients include gelling agents for gum confections, whipping agents for chewy confections, film-forming agents for coating, and compression agents for tables and pastilles.
Gummi worms fortified with calcium source. Calcium-fortified gummi worms containing TruCal™ milk mineral complex were highlighted at the 2002 IFT Food Expo by Glanbia Ingredients, Inc., 525 6th St., Monroe, WI 53566 (phone 800-336-2183; fax 608-329-2828). 
The fortified gummi worms (featured in the company's corporate blue and orange colors) are said to have excellent mouthfeel with no chalkiness. They are fortified with milk minerals including dairy calcium, magnesium, phosphorus, and zinc. It has been shown that all these minerals are necessary for optimal bone health.
Confectionery ingredients are offered in different sizes, shapes, and colors. Mixed colored nonpareilles, mixed colored sugar strands, dark brown (cocoa) sugar strands, and other confectionery ingredients are available from Hanns G. Werner GmbH & Co., Hafenstrasse 9, D-25436 Tornesch, Germany (phone 49-4122-9576-0; FAX 49-4122-9576-0; www.werners.de). Available in different sizes and flavors, the ingredients are suitable for use in confections, bakery products, and ice creams. 
The company works with customers to develop new products. Special coatings, flavorings, colorings, nutrition value, and specifications are part of the service.
Medium-chain triglycerides prevent fat recrystallization. Medium-chain triglycerides have physical properties that can help prevent unsightly fat recrystallization in chocolate coatings. Marketed under the name Neobee, the healthy fat ingredient is available from Stepan Co., 100 W. Hunter Ave., Maywood, NJ 07607 (phone 201-712-7642; 201-712-7648; www.stepan.com). 
Solid Neobee 1095 prevents fat migration in chocolate coatings. When used in a coating formulation, the ingredient is said to eliminate recrystallization of fat into white blooms, creating a more stable and visually appealing product.
Neobee M-5, a colorless, odorless, flavorless oil, migrates to the surface of an uncoated bar to prevent it from sticking to packaging materials, resulting in a no-mess appealing product within an easy-to-open package. 
As a healthy fat ingredient, medium-chain triglycerides provide nearly twice the energy found in proteins or carbohydrates. They are quickly metabolized by the body, making it appropriate for use in high-powered convenience foods.
--- PAGE BREAK ---
Surface treatment agents provide candies with a high gloss finish. Ready-to-use polishes, glazes, and anti-sticking agents for confectionery applications are available from Centerchem, Inc., 20 Glover Ave., Norwalk, CT 06850 (phone 203-822-9800; fax 203-822-9820; www.centerchem.com). These surface treatment agents are marketed under the name Capol. 
Aqueous-based polishing agents are suitable for all panned confections. Products are specifically formulated for chocolate and compound coated surfaces, as well as hard and soft sugar panned items. They will decrease process time and enhance the appearance of the finished confection. When combined with confectionery glazes, improved surface durable will result. 
Many of the polishing agents are single-step systems that are operator friendly. Polishes are also available that will reduce volatile organic compound (VOC) emissions, while providing excellent gloss. At the 2002 IFT Food Expo, the company highlighted its newly formulated low-VOC polishes and glazes for jelly beans and hard-sugar-shelled products. They may also be used for pharmaceutical tableting applications. Ready to use, these one-step products are said to provide excellent barrier films with high gloss finish. 
A complete line of anti-sticking agents is offered for all starch molded and extruded applications, including gummies, licorice, pectin jellies, and sugar-free products. All offer the optimum functionality for the specific confectionery type produced. Flavored agents are available, and different oil systems are possible to meet labeling requirements. According to the manufacturer, these products will enhance gloss and transparency, while keeping even the stickiest and most hygroscopic items free flowing. A complete line of release agents for equipment surfaces is also available. 
Barrier coatings offer functional film-forming properties to help decrease oil or moisture migration. Oil, solvent, and water-based systems are available with varying barrier properties. Pre-coating agents are available in both liquid and powder form. Applied as an intermediate coating, these products will decrease oil or moisture migration between layers of a finished confection or baked good. 
Brochures are available describing how these products increase gloss and surface stability, provide packaging ease, keep sticky items free-flowing, and increase oil and moisture resistance by forming barrier films.
Key lime and dulce de leche flavors find application in candies. Confectionery products can be formulated with a wide variety of innovative flavors available from Bell Flavors & Fragrances, Inc., 500 Academy Dr., Northbrook, IL 60062 (phone 847-291-8300; fax 847-291-1217; www.bellff.com). 
For example, hard candy discs showcased at the 2002 IFT Food Expo are made with the company's new key lime and dulce de leche flavors. Also highlighted were mild mint-flavored breath sprays, pressed dextrose tablets made with a variety of basic fruit flavors, and other flavors suitable for confectionery items and replacements for vanilla extract.
Concentrated powder unlocks flavor in cocoa fat. A concentrated free-flowing powder—called Cocoa Buds—is said to be made by a process which unlocks the flavor hidden in cocoa fat and offers confectioners an alternative to cocoa powders which deliver harsh or shallow chocolate flavors. The ingredient is developed by Butter Buds Food Ingredients, 2330 Chicory Rd., Racine, WI 53403 (phone 262-598-9900; fax 262-598-9999; www.bbuds.com). 
According to the manufacturer, the powdered ingredient can be used to round out chocolate flavor and the richer, longer-lasting cocoa fat notes without adding significant volume or fat. A typical usage of 0.5% is said to contribute less than 0.07% fat. It may be used in such applications as chocolate coatings and candy.
--- PAGE BREAK ---
Lactic acid helps to enhance sweet flavors in confections. Use of lactic acid and other acidulants is of major interest to confectioners. Research has shown that combinations of acids, such as citric and lactic acid, are beneficial in enhancing several sweet flavors to their maximum potential. The tartness and astringency of citric acid in combination with the sustained sourness of lactic acid are able to enhance a broad spectrum of sweet flavors in confections. 
Lactic acid and its derivatives such as potassium or calcium lactate are produced by Purac America, Inc., 111 Barclay Blvd., Lincolnshire, IL 60069 (phone 847-634-6330; fax 847-634-1992; www.purac.com). At the IFT 2002 Food Expo, the company focused on the versatility of lactic acid in a number of applications, including confections. 
According to the company, formulating hard-boiled candy, fruit gums, and other confectionery products with liquid lactic acid results in a mild acid taste and low inversion levels. A powdered form is available for acid coatings. 
Another area of interest for confectioners may be the use of these acidulants for mineral fortification. They are preferred for their neutral flavor, high bioavailability, solubility, and stability.
Customizable system provides better flavor delivery. Customizable flavor delivery system for confectionery products and other applications was introduced at the 2002 IFT Food Expo by Loders Croklaan, 24708 W. Durkee Rd., Channahon, IL 60410-5249 (phone 815-730-5200; fax 815-730-5202). Called BetrFX™, the system is designed to meet specific requirements for taste, texture, aroma, color, and mouthfeel. 
According to the company, unlike traditional flavor products that use a fixed carrier, the system allows manufacturers to select the performance characteristics of the product, providing them with a better overall fit with their requirements. Working with the manufacturer, the company custom formulates the product, including the fat carrier used. By customizing the characteristics, such as melting temperature, the right texture, taste, and mouthfeel are provided. 
The flavor delivery system enhances the finished product by providing clearly defined pockets of flavor, color, and texture. It blends easily and evenly into mixes, there is no color bleeding when used as inclusions, it does not inhibit yeast action, and it retains product integrity. 
The flavor system is available in a variety of shapes and sizes, including nuggets, flakes, rods, and chips. Because of the system's flexibility, it can be used topically, it can be swirled or mixed throughout the product, and it can be used in laminations or as inclusions. 
In addition to confections, the system is suitable for use in bakery products, cereals, snacks, meats, culinary dishes, and foodservice applications.
--- PAGE BREAK ---
Flavor combinations developed for confections. New flavors and flavor combinations for confections and other applications have been developed by Ottens Flavors, 7800 Holstein Ave., Philadelphia, PA 19153 (phone 215-365-7800; www.ottensflavors.com). 
New Toasted Coconut Caramel provides the rich notes of sweetened and toasted coconut combined with the rich buttery nuances of traditional caramels. 
New Mandarin Orange provides sweet juicy profiles characteristic of the natural food. The versatile flavor is said to have refreshing yet mellow citrus notes and is suitable for use in chocolate truffles and other confectionery products. 
A number of healthy alternatives for traditional confections such as candy bars continue to be developed and are showcased at major food shows such as the IFT Food Expo. These prototypes may have significant impact in the future marketplace. 
For example, a raspberry yogurt energy bar made with soy ingredients was featured by DuPont Protein Technologies, P.O. Box 88940, St. Louis, MO 63188-1940 (phone 314-982-1983; fax 314-982-1121; www.solae.com. Formulated with Solae™ soy protein, the application is described as an all-family food bar that may be used as a replacement for traditional candy bars. 
A new vitamin chew for kids was highlighted by Fortitech, Inc., Riverside Technology Park, 2105 Technology Dr., Schenectady, NY 12308 (phone 518-373-5155; fax 518-372-5599; www.fortitech.com). This product contains vitamins A, C, D, and E and an array of B-vitamins essential for energy, metabolism, and proper nerve and muscle function. 
Currently, nutrition bars focus on sweet flavors, fruit flavors, and coatings similar to candy bars. To add variety, a savory nutrition bar containing a vitamin premix was featured by Watson Nutritional Ingredients Division, Watson Foods Co., Inc., 301 Heffernan Dr., West Haven, CT 06516 (phone 203-932-3000; fax 203-932-8266). Savory flavors such as nacho cheese, pizza flavor, and sun-dried tomato with basil and cheese are some examples of products that can be developed. 
Peanut butter, a popular ingredient in confections, may also be used in the creation of convenience bars that serve as an alternative to traditional confections. Also, by combining peanut butter with chocolate, even more indulgent alternatives can be created. A chocolate-peanut butter Grab-n-Go nutrition bar was highlighted by Farbest Brands, 160 Summit Ave., Montvale, NJ 07645 (phone 502-429-0999). 
Finally, think about products such as these and their incorporation with other ingredients. 
Sour flavors—very popular with today's children—may be combined with certain nutrients that kids may be missing. Dairy ingredients, such as yogurt or cheese, can be partnered with soy ingredients for interesting and novel creations. Alternatives such as ingredients derived from sunflower seeds may be used in place of peanut butter for fillings. Traditional ingredients such as carbon dioxide candy can add their own unique popping sensation to more healthy products such as candies enriched with vitamins or an array of dietary fibers. 
And the possibilities go on and on, illustrating how confectionery ingredients can bridge indulgence with health.
--- PAGE BREAK ---
Confectionery Program Focuses on Ingredients, Technology, and Processing
"Confectionery Technology and Processes," the subject of a program cosponsored by IFT's Continuing Education Committee and Cornell University, will be held on October 1–3, 2002, at Cornell University, Ithaca, N.Y.
The program, redesigned into a 2½-day lecture and laboratory workshop, will cover all the important aspects of candy making, including the role of key ingredients and processes on the manufacturing of chocolate, cremes, caramels, hard candy, and panned or gelled confections.
Mel Warnecke, formerly with E.J. Brach and Sons and now a technical consultant for Warnecke Technical, will lead the program with a thorough examination of confection technology. Functionality of major ingredients will be explored in various confections along with manufacturing processes.
Eric Shinsato, Corn Products Co., will focus on the use of sugar, corn syrup, starch, gelatin, milk, fats, acids, intensity sweeteners, flavorings, and other major confectionery ingredients. He will provide detailed information on their properties and relationships to confectionery technology.
Robert Croft, formerly with World's Finest Chocolates, will discuss chocolates and compound coatings, their manufacture, formulations, and applications.
Michelle Frame, Montrose-Haeuser Co., Inc., will cover the various factors affecting the panning operation.
In the mornings, the presenters will discuss ways to maximize and create new products with these ingredients and the manufacturing processes involved. In the afternoons, the attendees will go to the laboratory at Cornell University and participate in the making of the various confections.
The conference is intended as an introduction to confectionery technology for those technologists, chemists, group leaders, candy technologists, and technical managers engaged in food and bakery industries. Marketing, operational, and other administrators, quality personnel engaged in candy manufacturing, and ingredient suppliers may also find it very useful to attend.
More information can be obtained from Dean Duxbury, Director of IFT Continuing Education, or phone 312–782–8424.
---
More Ingredient Developments from 2002 IFT FOOD EXPO®
In the August issue of
Food Technology
, we provided exclusive post-show coverage of the 2002 IFT Food Expo. As a special bonus to our readers, here are a few more ingredient developments from the Expo that we rounded up in this Product Update.
Mojo Marinade Sauce featured a flavor system that combines sour orange, garlic, cumin, oregano, and black pepper. The system can deliver a bold and tangy Cuban flavor to such applications as chicken, pork, seafood, and beef. For more information, write to Wild Flavors, Inc., 1261 Pacific Ave., Erlanger, KY 41018 (phone 859-342-3600; 859-342-3610; www.wildflavors.com).
--- PAGE BREAK ---
"Culinary Creations" is a selection of recipes designed to further define the numerous applications that can use poultry fat and broth powders offering varying degrees of flavor and mouthfeel. A new agglomerated Chicken Broth (3542) provides a balanced savory, meaty flavor profile and an agglomerated Turkey Broth/Fat Powder (7406) provides a smooth creamy mouthfeel and a rich, intense turkey flavor. The selection of recipes using these ingredients is intended as a guide for food technologists and demonstrates the versatility of these products. For more information, write to International Dehydrated Foods, Inc., 3801 E. Sunshine, Springfield, MO 65809 (phone 417-881-7820; fax 417-881-7274; www.idf.com).
Sauteed vegetable concentrates available in paste form offer consistent flavor, aroma, and color. The newly introduced line includes Sauteed Onion Paste, Sauteed Onion Paste (with onion pieces), and Sauteed Garlic Paste. These highly concentrated products are said to provide a nonsalty, sweet taste and aroma and are room temperature stable. For samples and more information, write to Nikken Foods Co. Ltd., 1820 South Third St., St. Louis, MO 63104 (phone 502-292-3285; fax 502-292-3283).
Dairy concentrates—called Cheese Buds—are available in new flavors: Asiago, Cotija, Manchego, Monterey Jack, and Swiss. Other newly launched dairy concentrates include Buttermilk Buds and Liquid Cream Concentrate. These ingredients are said to provide the natural attributes of butter, cream, and cheese. They are made by a patented microbial process which releases highly potent dairy flavors trapped in the milkfat of cream, butter, and cheese. For more information, write to Butter Buds Food Ingredients, 2330 Chicory Rd., Racine, WI 53403 (phone 262-598-9900; fax 262-598-9900; www.bbuds.com).
New natural flavors impart smokey bacon and char grilled burger taste to a variety of applications. Smokey Bacon Natural Flavor may be used as a savory enhancement in soups, sauces, and gravies. The vegetarian, kosher-certified ingredient is available as an easy-to-use dry powder. Char Grilled Beef Type Natural Flavor works well in meats and gravies, sauces, and soups. The degree of grilled note and the type of grilled flavor can be customized for individual application. It is available in a dry powder. For more information, write to Innova, 2021 Swift Dr., Oak Brook, IL 60523 (phone 800-246-9223; 630-928-4820; www.innovaflavors.com).
Comprehensive resource providing dried plum ingredient meat research is available on one convenient compact disc. Meat processing-related abstracts and papers, product descriptions, and handler information are included on the disc, which serves as a valuable resource and tool for researchers, technologists, and food manufacturers. Data confirms dried plums' antioxidant capabilities, which are key to combating "warmed-over flavor" in precooked meats, extending shelf life in raw meats, and antimicrobial power. Three papers cover the course of the research, expanding on current applications for dried plums, as well as new product potential. For more information on the free disc, write to the California Dried Plum Board, 3841 N. Freeway Blvd., Ste. 120, Sacramento, CA 95834 (phone 916-565-6232; fax 916-565-6237; www.CaliforniaDriedPlums.org).
Two new grades of acid-stable cellulose gums are available for use in media containing acetic, citric, and lactic acids. Marketed under the name Cekol®, the acid-stable gums enhance thickening and stabilization without compromising clarity. For more information, write to Noviant, Inc., 3000 Corporate Dr., Ste. 260, Morrow, GA 30260 (phone 770-960-9967; fax 770-960-1267; www.noviantgroup.com).
Modified food starch—called Inscosity™ B656—offers cold water swelling, ultrasmooth surface appearance, and cold or hot water dispersibility. Use of the starch in creamy ranch dill and ranch vegetable dips was demonstrated. For trial formulas, write to Grain Processing Corp., 1600 Oregon St., Muscatine, IA 52761-1494 (phone 563-264-4265; fax 563-264-4289; www.grainprocessing.com).
Product reference guide provides a detailed overview of such products as flavor delivery systems, agglomeration, emulsifiers, filling fats, cocoa butter equivalents, high-performance fats, high-stability oils, encapsulated ingredients, coating or anti-bloom fats, pastry fats, and shortenings. The new reference guide was developed to assist customers in finding the best solution to meet their needs. It is indexed to ease navigation and simplify use. For more information, write to Loders Croklaan, 24708 W. Durkee Rd., Channahon, IL 60410-5249 (phone 815-730-5200; fax 815-730-5202).
--- PAGE BREAK ---
Formulation sheets for foods and beverages highlighting innovative use of flavors are available. Formulations include Vegetarian Roll (Ginger NaturalFlavor), California Roll (Wasabi Natural Flavor), Lychee Berry Dream (Lychee Natural Type Flavor and Natural Raspberry Flavor), Etern-Tea (Chrysanthum Tea Natural Type Flavor), Pearl of Jade (Rosemary Natural Flavor and Lime Soluble Essence), Peking Citrus Marinade (Orange Natural Flavor and Ginger Extract), and Beijing Yogurt Sauce (Garlic Natural Flavor and Lime Soluble Essence). For more information, write to Metarom USA, 150 Dorset, Ste. #199, South Burlington, VT 05403-6256 (phone 1-888-882-5555).
A variety of flavors were said to capture organoleptic qualities typical of California cuisine. Bamba Berry Flavor, reminiscent of smooth mixed berry jam, may be used in juice drinks, alcoholic and nonalcoholic beverages, smoothies, yogurts, and carbonated drinks. Natural Vegetarian Chicken and Beef Flavors called SavoryPlus™ simulate authentic molecular characteristics of meat flavor building blocks and may be used in soy based applications such as nuggets and burgers. Also highlighted were creative condiments such as Raspberry Flavored Sweet & Spicy Mustard, Chipotle Flavored Ketchup, and Mango Flavored Barbecue Sauce.
Kiwi fruit distillate is said to impart a fruity, green flavor to many food systems. Called Kiwifruit Treattarome 9770, it is particularly effective in clear natural beverages and natural juice blends, and has been applied to drinks, juices, alcoholic drinks, dairy products, and dressings. Distilled from the named food, the product provides a balance between the fresh, green bean-like components and the sweet, ripe esters. For more information, write to Florida Treatt, Inc., P.O. Box 215, Haines City, FL 33845 (phone 863-421-4708; fax 863-422-5930; www.treatt.com).
Flax ingredient, a highly concentrated source of flax lignans, is suitable for use in cereals, bars and snacks, capsules and tablets, soft gels, and other products. Called LinumLife, the standardized and shelf-stable ingredient is said to deliver up to 100 times more lignans than whole flaxseed or other flax ingredients. Lignans are a type of phytoestrogen that clinical studies are suggesting may confer health benefits in numerous areas, including coronary heart disease; menopausal symptoms; prostate, breast, colon, and bone health; antioxidant properties; and renal protection. For more information, write to Acatris Inc., USA, 3300 Edinborough Way, Minneapolis, MN 55435 (phone 952-920-7700; fax 952-920-7704; www.acatris.com).
Flavors for butter have been developed. Raspberry Flavor for Butter is suitable for use in sweet breads, muffins, toast, biscuits, or scones. It consists of sugar, natural raspberry flavor with other natural flavors, dried raspberries, and other ingredients. Herbes de Provence Seasoning for Butter is a savory spread which enhances dinner rolls, biscuits, toast, or any other bread. It may also be used as a topping for baked potatoes, fish, or vegetables. The seasoning consists of spices, onion powder, and garlic powder. For more information, write to Wixon Fontarome, 1390 E. Bolivar Ave., St. Francis, WI 53235 (phone 414-769-3000; fax 414-769-3000; www.wixon.com).
Pan Asian Flavors are the focus of an 8-p publication from Griffith Laboratories describing the latest trends and technologies. Pan Asian is the confluence of Asian and Western flavors, marked by aromatic ingredients such as ginger and sesame, the spiciness of sweet and hot pepper, and roasted or grilled meats and seafoods. Formulations such as Bombay Spiced Chickey Satay and Lemongrass Encrusted Salmon served with Plum Ginger Sauce and Island Miso Sauce demonstrate these flavors, the latest in the company's Culinary Technovations line. For a copy of the publication, write to Griffith Laboratories, One Griffith Center, Alsip, IL 60803-3495 (phone 708-371-0900; fax 708-371-0900).
--- PAGE BREAK ---
Low-moisture apple pieces have been infused with a red wine extract, making healthy apples even healthier. According to the manufacturer, 18 g of these naturally sweetened extract-infused dried apple pieces have the same amount of flavonoid phenols as five glasses of wine and the dietary fiber equivalent of one whole apple. Studies have shown that red wine polyphenols may reduce the risk of cardiovascular disease and cancer. For more information, write to Tree Top, Inc., P.O. Box 248, Selah, WA 98942-0248 (phone 509-698-1435; fax 509-698-1409).
Roasted peanut extract permits the wide introduction of peanut butter flavor into product lines that are completely water based. The product is said to disperse in water and remain stable for extended periods, have top-note peanut butter characteristics, and have a potent peanut butter flavor so that it can be used in small proportions in the formula. Potential applications include milk, ice cream, drinks, and hard candy. For more information, write to Nutrin Corp., Nutritional Ingredients, P.O. Box 65048, Washington, DC 20009 (phone 202-588-7367; fax 815-550-6246; www.nutrin.com).
Functional lactoprotein called Promilk 852 FB is specially adapted to the formulation of yogurts as well as cheese specialties and processed cheese. The main characteristics of the ingredient are high texturizing properties, a very good solubility, and water binding. It also has good sensorial properties. The ingredient contains a high level of beta-lactoglobulin. For more information, write to Ingredia Dairy Ingredients, 51-53 Ave. F. Lobbedez, B.P. 946-62033 Arras Cedex, France (phone 33-0-3.21.23.80.00; fax 33-0-3.21.23.80.01; www.INGREDIA.com).
Various product lines were high-lighted. Transglutaminase—called Activa™ TG—has the ability to crosslink proteins. The functional enzyme may be used in beef and pork tenderloins, salmon and tuna filets, bacon-wrapped scallop medallions, and turkey medallions. Aspartame for sugar replacement in liquid carbonated and noncarbonated beverages, dry beverage mixes, dairy and bakery applications, and other products was demonstrated. A line of soy sauce products (San-J) was featured in meatballs, marinated chicken satay, and cream cheese dip. For more information, write to Ajinomoto USA, Inc., Country Club Plaza West, 115 Century Rd., Paramus, NJ 07652 (phone 201-261-1789; fax 201-261-6871; www.ajiusafood.com).
Breakfast drinks made with health-promoting and functional ingredients were spotlighted. Sunrise Orange is a 2% juice fortified with green tea polyphenols and grape seed extract. Sunrise Tropical Noni formulated with natural cherimoya flavor is fortified with a vitamin blend, fiber, and a yogurt base. Smoothies—Oregon Wild Berry and California Peach—is fortified with green tea extract and grape seed extract. Formulations are available for all these drinks. For more information, write to Blue Pacific Flavors & Fragrances, Inc., 1354 S. Marion Ct., City of Industry, CA 91745-2418 (phone 626-934-0099; fax 626-934-0089; www.bluepacificflavors.com).
Extracts for tea, fruit teas, instant beverages, and other drinks; confectionery products such as Swiss-type herbal lozenges, fruit drops, herbal pastilles, and licorice products; dairy and bakery products; and functional foods are available. Brochures describe various formulations, including an iced black tea with pear/apple flavor, refreshment with vitamin C and herbal and fruit extracts, and refreshment with flower extracts, including Jasmin, Chrysanthemum, Linden Flower, Orange Flower, Camomile, and Hibiscus. For more information, write to Plantextrakt Inc., 2 Sylvan Way, Parsippany, NY 07054-3806 (phone 973-683-1411; fax 973-683-0177; www.plantextrakt.com).
by DONALD E. PSZCZOLA
Associate Editor