On the evening of June 19, 2003, at a reception in the Longworth House Office Building, IFT President Mark McLellan presented the 2003 IFT Congressional Support for Science Awards to two distinguished members of the United States Congress, Representatives Rush Holt of New Jersey and Frank Lucas of Oklahoma.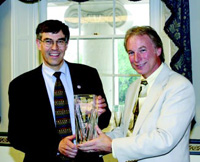 Representative Rush Holt has been an active member of the U.S. House of Representatives since 1999, and a leader in advancing science and scientific programs in Congress. He currently serves on the Committee on Education and Workforce and the House Permanent Select Committee on Intelligence. A physicist and a strong advocate for science, he has introduced a bill in the past two Congresses to reestablish the Office of Technology Assessment, which provided Congress with highly respected, important analysis of scientific and technological issues and their impacts.
He was instrumental in establishing a provision of the "No Child Left Behind" Act calling for $450 million to be spent on math and science professional development through the Math and Science Partnership Program. As a former member of the Budget Committee, he introduced legislation that provided $380 million additional funding for the National Science Foundation and other federal research programs.
He is co-chair of the biomedical research caucus that strives to educate legislators on the importance of adequate NIH funding. He offered an amendment to the Farm Security Act 2001 that directs the Secretary of Agriculture to provide the public with science-based evidence on the safety of food produced through biotechnology applications.
Upon receiving the award, Congressman Holt commented, "I understand how diverse [IFT] is and how valuable that is to bring people from academia, government, and industry so you can really come up with ideas, recommendations, and education materials that understand the issue of food technology."
Representative Frank Lucas has been an aggressive advocate for a strong federal commitment to food-related scientific research and science-based federal policies since he was first elected to Congress in 1994. He represents Oklahoma's 3rd Congressional district.
He received his Bachelor of Science degree in Agricultural Economics from Oklahoma State University. His commitment to research and science led to the committee assignments where he now pursues those objectives. He is Chairman of the House Agriculture Committee's research subcommittee and a member of the House Committee on Science, where he serves on the research subcommittee.
Last year, he served as a conferee on both the 2002 Farm Bill and the Bioterrorism Prevention Act. He is a crusader for science-based agriculture policy, as reflected in his commitment to effective conservation practices, federal support of food and agriculture research, and science-based food safety policies.
Congressman Lucas stated that he "appreciated the help [from IFT] to educate colleagues in Congress on the sound science behind biotechnology decisions." He went on to say, "It would be a shame to squander the tremendous progress in biotechnology and food science that we have made in the last 50 years."
The Congressional Support for Science Award was established by IFT in 2001, first, to recognize outstanding contributions to science-based food policies and, second, to increase the role of science in policy development to enhance the safety, nutritional value, affordability, and variety of foods available to consumers.
Each year, IFT honors two members of Congress, in recognition of their achievements and efforts in making food-related policies that are based on sound science. Last year, IFT honored Representatives Charles W. Stenholm of Texas and Nick Smith of Michigan.
Many IFT members attended the reception, as well as Executive Vice President Daniel Weber and Vice President of Science, Communications, and Government Relations Fred Shank. Senior government officials from several agencies along with congressional members, representatives of trade associations, and representatives of the legal profession were also in attendance.
by JENNIFER MACAULAY
IFT Staff Scientist
Office of Science, Communications, & Government Relations