No longer are standup flexible pouches a peculiar innovation pictorially featured in packaging and marketing trade magazines. Some 40 years after the original Doypak development by France's M. Louis Doyen, standup flexible pouches are mainstream—they are the first choice for food and beverage packaging when product development managers, packaging engineers, and marketing executives are seeking sound vehicles for a new product launch. Although they might not fit every new product strategy, they warrant serious consideration for every product.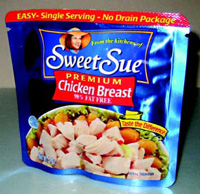 Standup flexible pouches are now commercially applied for all classes of food and beverage preservation: thermal sterilization; hot fill; aseptic; retort; liquid; solid pack; chilled; frozen; flowable powders; granules; meat; seafood; produce; prepared foods; and whatever else might be conceived and developed in a laboratory or experimental kitchen.
For too many years, standup flexible pouches were an aside in the firmament of innovative packaging, too expensive and too difficult. Then Wild Flavors, Heidelberg, Germany, introduced its Capri Sonne® fruit beverages in standup flexible pouches in Europe in 1969. The product has since withstood a tidal assault of aseptic bricks and blocks and pouches and barrier and polyester bottles. When the standup flexible pouch concept emerged as viable, driven by food and beverage marketers' desire for differentiation, suddenly an entire European and Asian kaleidoscope of standup flexible pouch systems rained on the North Americans. Packaging scientists conducted research, published numerous reports, and organized conferences on standup flexible pouches. And some of our sales-oriented friends hyperbolized their attributes. We are now inundated by alternative standup flexible pouch structures offered from around the world.
Pouches that Stand Up
Standup flexible pouches are flexible structures capable of erect positioning on shelves by virtue of a flat base. The bottom is produced by one of several structures: a separate panel adhered to the body wall; a W-shaped gusset formed from part of the flexible face webs; and a foldover and adhered panel with side gussets to form a block-like shape. Conventional pouches are generally pillow style, with fin ends that lie comfortably on their sides. They are fine for distribution and protection, but not so great for display, since they tend to fall over when stood on end.
Standup flexible pouches are simple to describe but somewhat more complex to implement. Thin monolayer or multilayer structures suffer from stresses of gravity and uneven distribution of contents that force the large body walls to bend, fold, or collapse, i.e., to deviate from vertical positioning. If, however, the side walls are engineered with stiffness—such as from aluminum foil or thick plastic—the walls become self-standing. Although some reports suggest monolayer films, most structures are multilayer, with heavy polyolefin interiors to function for bulk and as sealants.
Equipment and Materials
There are numerous suppliers of equipment and materials:
• Preformed Pouch/Fill/Seal Equipment. Most standup flexible pouches today have a triangular cross-sectional shape when viewed from the side. Most today are preformed, i.e., the pouches are fabricated with open tops in converter factories on Totani, Nishibe, Yokohama, Wild-Indag Process Technology, and probably other equipment at up to 720 pouches/min but more commonly at up to 360 pouches/min. The sides are face-to-face heat sealed, and the bottoms are usually gusseted and heat sealed. Preformed standup pouches are delivered to the food or beverage packager in stacks which are placed in the infeeds of packaging machines.
Among those offering packaging equipment for United States markets are Klockner Bartelt (U.S.), Amplas (U.S.), Bossar (Spain), GN (Canada), Laudenberg (Germany), Roberts (U.S.), Hosakawa (Japan), Hensen (Switzerland), MFG (U.S.), Thimonnier (France; the original Doypack), Toyo Jidoki (Japan), and PPi Technologies (agent). Most of the preformed pouch/fill/seal equipment is from offshore suppliers.
• Form/Fill/Seal Systems. A number of standup flexible pouch machines are horizontal form/fill/seal (F/F/S) type, engineered to begin with roll-stock laminations. The web is unwound, folded, and partially heat sealed to produce pouches in line with filling and closure sealing. Among the equipment suppliers offering these machines are Ames Engineering (U.S.), Klockner Bartelt, Laudenberg, Roberts, Talon, Thimmonier, and Volpak (Spain). Outputs for liquid packaging may reach up to 300 pouches/min but are more commonly about one-third lower. Roll stock for in-line F/F/S machines is manufactured by flexible package material converters such as Printpack, Curwood, Kapak, and Nordenia.
• Pouches. Among the major suppliers of preformed standup flexible pouches for American packagers are Kapak, Pyramid, Printpack, Curwood, LMG (formerly Lawson Mardon), C&H, CLP, Exopack, Goglio Luigi, Hosakawa, Nordenia, and Riley and Geehr. Preformed pouches in a variety of structures are widely available from many different converters, some with offshore facilities, some solely domestic, and some with capacities for worldwide distribution.
Contoured standup flexible pouches shaped like a bottle or a mitten or a kitten's profile use more material but offer a visual impact on the retail display and home shelf.
• Adjuncts. Adjuncts for the base pouch provide a differentiating technology: dispensing spouts, easy-open features, and zipper reclosures, all of which are now key to the realm of standup flexible pouch applications for food and beverage products.
Despite their extensive use in other geographies, spouts are not yet widely used in the U.S. They may be applied in pouch making or, less frequently, in-line on F/F/S equipment. Sealing an injection-molded fitment to the interior top corner or center of a pouch while ensuring seal integrity is a challenge for the package machinery engineer.
At the other end of the spectrum, zipper reclosures on standup flexible pouches are almost mandatory; they differentiate the pouch from its pillow pouch and bag-in-box rivals. Alcoa's Presto and ITW's Mini Grip/Zip-Pak are among the companies that supply these devices and the means to apply them on pouch-making or F/F/S machinery.
• Considerations. As is obvious, it is not too difficult to construct a long list of suppliers of machinery and materials for the expanding standup flexible pouch market. Much more challenging is to attempt to classify the suppliers by their specific specialties and application foci. The ability to build a packaging machine is not necessarily an understanding of the singular needs of the hermetic sealing needs, if indeed these are specified.
Incorporation of oxygen barrier into a lamination is not insurmountable until the added dimension of transparency arises. Is extrusion of ethylene vinyl alcohol (EVOH), with its moisture sensitivity, sufficient for liquid contents, or must we consider silicon oxide coating with its relative physical fragility and its limited availability?
All of the packaging equipment cited above—and that is only a partial enumeration—is horizontal. What about the potential for vertical format, such as might be engineered by Triangle or Germany's Rovema with its gusseted-edge square bottom/side standup flexible pouch?
Products in Pouches
Early standup flexible pouches were gusseted-side-wall, flat-bottom blocks with internal stiffeners for hard bakery goods such as cookies. Gable-top closures could be folded over to create weak flat tops. When barrier was incorporated into the flexible material, the package could be an effective bag-in-box paperboard carton so often applied for these products.
Since then, standup flexible packages have been used to contain a variety of other foods and beverages.
• Capri Sun. The product packaging system developed by Wild Flavors for Capri Sonne beverages (sold as Capri Sun® by Kraft Foods in the U.S.) is one of the pioneering total systems approaches for all food and beverage packaging. It began in Europe in 1969, traversed the Atlantic and Pacific, exploded in the U.S. as a children's product/package integral. But aseptic bricks entered and stymied Capri Sun beverages, until about five years ago, when a vigorous competition between the hot-fill standup flexible pouch and the aseptic paperboard composite brick resulted in reversals of market shares.
Competition continued with the entry of (1) hot-fill standup flexible pouches, some with aluminum foil laminations, some with transparent panels, and some with both; (2) pouches with spouts (both one-time-opening and reclosable multi-use, such as the Hosakawa Cheer Pack for beverages and other products with its top central screw-open-and-close spout, and some with zippers; and (3) some with flat tops to offer an alternative device for straw insertion, but most with fin seal tops. The kids who constituted the majority of end users of Capri Sun and other standup flexible pouches of fruit-flavored beverages were intrigued by spectacular product colors, visible through the transparent flexible barrier (EVOH core polymer) back panels.
• Dry Foods. Whatever cues drove the fruit beverage market to new heights spilled rapidly into the dry foods market, which was and is much less challenging technically than colored liquids that are subject to microbiological and biochemical deterioration. For cookies, crackers, salty snacks, chocolate and sugar candies, moisture barrier is the major requirement, even though all food packaging scientists and technologists know that a combination of air removal and oxygen barrier results in far superior products during commercial shelf life. And so the few nuts and salty hot stuff originally highlighted publicly as examples of meaningful applications of standup flexible pouches mushroomed into the entire universe of dry bakery goods and snacks, complementing and displacing lined paperboard folding cartons. Instead of introducing the new products or new versions of traditional products in traditional packages with their ancient deficiencies of being difficult to open, impossible to reclose, and holding too large a volume, standup flexible pouches were tried for Hershey's chocolate candies, Mounds coconut candies, Ritz snacks, Oreos, and other products.
• Other New Products. Simultaneously, refrigerated soups and sauces; dry side dish mixes; dried fruit such as cranberries and blueberries; pet foods and snacks; salad toppings; and an array of bizarre frozen foods (e.g., chocolate Frenchfried potatoes) with more-difficult packaging requirements entered the food market in standup flexible pouches Utilizing polyester/linear low-density-polyethylene materials sufficient for internal product content protection plus zipper closure/reclosures, the new standup pouches initiated awareness and first-time sales. Unfortunately, not every product ensconced in standup flexible pouches passed the indispensable "delight the consumer" test that generates repeat sales essential for new product success. Nevertheless, the food marketing managers and executives identified standup flexible pouches as the prime vehicle to distribute and display their products, and consumers from a diversity of niches have found and embraced standup pouches as contributing to the total value of the product/package integral.
Retort Standup Flexible Pouches
Although this column could continue with enhanced data and information on the multiplicity of standup flexible pouch applications, perhaps the most intriguing is the retort standup flexible pouch. As readers of this column might recall from previous issues, the concept dates to the 1940s, with a main driver being military rations—the often maligned MRE (Meal, Ready-to-Eat) is still made and extensively used today for both troop and humanitarian feeding. The retort pouch sort of faded from high visibility until recent world and local events percolated it back to a position of prominence.
At the turn of the millennium, tuna fish and pet food manufacturers repackaged some of their products to effect a launch of new premium-priced product in new flexible packaging. Cans were "out," and pouches were in—not 100%, but enough to effect more than trivial interest.
Retort pouches appear superficially to be extensions of conventional pouches to reduce the thermal inputs required to achieve sterility and consequent ambient-temperature shelf stability. In practice, retort pouches must be engineered to guarantee hermitic closure and permit ease of opening, resistance to 240ºF and higher sterilization temperature, pressure, and indefinite oxygen and flavor barrier. A critical variable is seal integrity, which is stretched with the addition of a fourth base heat seal on standup flexible pouches. With not inconsiderable effort, standup flexible pouch seal integrity was demonstrated to be acceptable to both government regulators and the involved packagers.
Pet food packagers appear to have settled on preformed pouch/fill/seal equipment matching the 360/min outputs of the pouch-making Nishibe machines to those of the Laudenberg equipment. Tuna, salmon (offshore), and poultry (U.S.) retort pouch packagers are employing both preformed pouch and F/F/S equipment. Among the converters with retort pouch making experience are Kapak, Pyramid (Asia), and Wipf (Switzerland). Retorts such as water immersion or steam water spray from FMC or Surdry are engineered to provide controlled pressure to ensure against bursting of the pouches during heating or the mandatory cooldown period.
Capital investment for a retort standup pouch operation is estimated to be in the vicinity of $4 million for an annual production of 85 million pouches. In theory, at 4¢ per unit, retort pouches cost much less than the equivalent metal cans.
Foods that are currently being retorted in standup flexible pouches include tuna fish, salmon, chicken breast, pet foods, smoked fish, rice, and soup.
Thus, with distinct quality benefits, superb retail display, and excellent economics, food technologists and food packaging technologists can expect to receive an unceasing string of challenges to convert current products to standup flexible pouches and to develop new products that will fit the new generation of shelf-stable packaging.
Indeed, without realizing the technology he had unleashed with his invention, Doyen forged a foundation that has now been established as a leader for food and beverage packagers.
---
How to contact suppliers
Equipment
Ames Engineering:
www.amesengcorp.com
Amplas:
www.amplas.com
Bossar:
www.bossar.com
GN:
[email protected]
Hensen:
[email protected]
Klockner Bartelt:
www.bartelinc.com
Laudenberg: 941-359-6678
MFG:
[email protected]
Nishibe:
www.nishibe.com
Roberts:
www.robertspackaging.com
Rovema:
www.rovema.de
Thimonnier:
www.thimonnier.fr
Totani:
www.totani.co.jp
Toyo Jidoki:
www.tyi.co.jp
Volpak:
www.volpak.com
Wild-Indag:
www.wildflavors.com
Yokohama:
www.yokohama-jidoki.co.jp
Materials
CLP: [email protected] 
Curwood: [email protected] 
Exopack: www.exopack.com 
Goglio Luigi: www.goglio.it 
Hosokawa: [email protected] 
Kapak: www.kapak.com 
Mini Grip/Zip-Pak: www.zippak.com 
Nordenia: www.nordenia.com 
Presto: [email protected] 
Printpack: www.printpack.com 
Riley and Geehr: [email protected] 
Wipf AG: [email protected]
by AARON L. BRODY
Contributing Editor
President and CEO, Packaging/Brody, Inc.
Duluth, Ga.
E-mail: [email protected]